According to Statista, the number of public Wi-Fi hotspots worldwide increased from 362 million in 2019 to 549 million in 2022. Due to the rapid proliferation of mobile devices, tablets, and laptops, more and more people want to access the Internet on the go.
As such, places like shopping malls, hotels, cafes, and airports are installing Wi-Fi hotspots so that consumers have Internet connectivity while they are out and about. However, while these networks have made our lives easier, not many consider the hidden dangers associated with their use.
If you are not using public Wi-Fi without adequate protection, your browsing sessions can be intercepted to steal your personal information. For this reason, make sure you follow these 8 dos and don'ts of using public Wi-Fi.
What Should You Do When Accessing Public Wi-Fi?
When accessing public Wi-Fi, there are several things you should do to protect yourself and your personal information. Here are some tips:
Use a Virtual Private Network (VPN) to encrypt your online activity and protect your privacy.
Only visit secure websites that have "https" in the URL and avoid entering sensitive information.
Turn off sharing and network discovery to prevent others from accessing your computer or device.
Enable your firewall and keep your antivirus software up to date.
Avoid logging into personal accounts or performing financial transactions while on public Wi-Fi.
Consider using a mobile hotspot or tethering your device to your phone's data plan instead.
Use a Virtual Private Network
Undoubtedly, the best way to use public Wi-Fi securely is to subscribe to a reliable virtual private network (VPN). A Wi-Fi VPN, like PureVPN for example, will not only mask your IP address based on the server location you're connected to but also encrypt your Internet traffic from end-to-end for unbreakable public Wi-Fi security.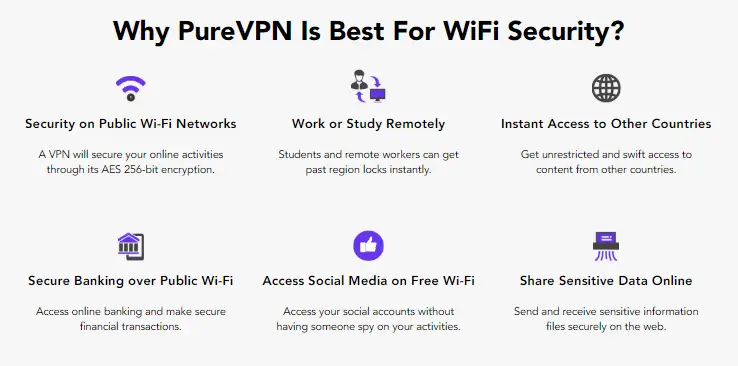 All you have to do is enable the Secure Wi-Fi option for top-of-the-line protection on unsecured public Wi-Fi networks. You'll also have the ability to choose Wi-Fi networks you trust so that your device automatically connects to them (without the VPN toggled on) when in range.
Turn On Your Anti-Virus
This is a no-brainer. If you regularly use open networks, having your device run some anti-virus software is always a good idea so that you stay protected against common threats like adware, spyware, and malware. Don't forget to keep it up to date, otherwise, you can fall victim to newer, unknown threats.
Disable File-Sharing
Whether you're using a Mac or Windows, having file sharing activated can leave your computer and files vulnerable to attackers. Even though the feature allows you to transfer files seamlessly and use printers wirelessly, this becomes a huge security hole while using public Wi-Fi networks, which is why you're better of disabling it.
Set Up a Firewall
Most operating systems have a basic firewall, which you should keep enabled at all times to prevent intruders from targeting your device. More often than not, we turn the firewall off due to the annoying notifications/popups and then forget about it completely. If you have a security program with a better firewall, you can use it instead of public Wi-Fi and DoS attack protection.
What Should You Not Do When Accessing Public Wi-Fi?
Make Online Purchases
While shopping online may seem harmless, you should avoid doing so on unsecured public Wi-Fi networks. After all, when you purchase anything online, you're required to provide sensitive details such as your bank account or credit card information, which could fall into the wrong hands if someone is snooping on your browsing activity.
Access Personal Accounts
Many people access their social media, bank, and other personal accounts on public Wi-Fi without thinking twice. Unfortunately, this could result in your confidential information being compromised and used for criminal purposes like identity theft and fraud, even if you're connected to a secure open network!
Visit Non-Secure Websites
When browsing the web on free Wi-Fi hotspots, make sure to steer clear from HTTP websites. Since these pages don't use any encryption, they can be made to do whatever the bad guys want, including capturing your usernames and passwords. Therefore, only visit sites that begin with HTTPS as they are more secure.
Allow Automatic Connectivity
Most mobile phones, tablets, and laptops have an automatic connectivity feature, which automatically connects your device to nearby available Wi-Fi networks. Though this can be convenient, you might end up accessing a rogue hotspot created by cybercriminals to lure in unsuspecting users and steal their personal information or.
Final Word
Public Wi-Fi can be found just everywhere, and though their usefulness cannot be denied, the use of these networks comes with a plethora of security risks. However, following the dos and don'ts discussed above to the letter, you can safely use public Wi-Fi without having your personal information stolen!
Also read: