Several Windows users report After upgrade to windows 10 Creators update or install recent updates, they getting a notification message Application has been blocked from accessing Graphics hardware While start playing games such as Minecraft, World Warcraft 3, or Fifa, open web Browser Or while working on Graphic applications like Photoshop, Coral draw Auto cad, 3D Max etc. If you are also struggling with this Application Has Been Blocked From Accessing Graphics Hardware, Here is how to get rid of this irritating error and play your favorite games normally.
This error appears that the game wants to access graphics hardware, but Windows has blocked it for an unknown reason. And The main reason behind this error Application Has Been Blocked From Accessing Graphics Hardware is the Incompatible, outdated, corrupted Graphics Driver.
Application Has Been Blocked From Accessing Graphics Hardware
After understanding the problem and Reason behind this error, let's apply the below solutions to eliminate this error. As discussed main Reason for this Error is the Graphics Driver, we first focus on the Installed graphics driver. Install the latest graphic Driver, Reinstall the graphics driver or If the problem started after a recent driver update, then the Rollback driver option will fix this issue.
Start with Basic Troubleshooting check installed Graphic Card for loose attachment and clean dust etc. for this simply open CPU Box -> Remove the Graphics card – clean the card slot on motherboard and graphics card -> Then insert the card properly. Now Start windows normally and start a game check problem solved, If not, follow the next solution.
Reinstall The Graphic Driver
In most cases, this error occurs because something has gone wrong with the driver of your Intel graphics card or Nvidia Graphic card. Therefore, reinstalling the Graphics driver is the best solution to fix this Application Has Been Blocked From Accessing Graphics Hardware Error on windows computer.
Download the latest driver
Firstly, you need to visit the Graphics Card Manufacturer website such as Intel, AMD, NVIDIA to download the latest version of Graphics Driver for your Windows 10 computer. You can select two choices from download an installable file (.exe) or download a compressed file (.zip). We recommend downloading the Zip file.
If you own an NVIDIA graphics card, you will need to visit their Driver Downloads page and input the data about your product in order to check whether there is an update available. Alternatively, you can download their automatic scanner, which will do the same for you.
AMD Radeon users should head over to AMD's site to find a new driver for their graphics card. You can also use the automatic scanner or locate your driver manually.
Intel graphics card users should also head over to Intel Driver Update Utility to update their drivers.
Now, After download the latest graphics driver for your Windows computer, let's follow the below steps to remove the old installed driver and install the latest one.
Uninstall Old Graphic Driver
First, press Windows + X, Or you can Right-click on Windows 10 Start menu then select "Device Manager" from the context menu. This will open the device manager, where all installed drivers will be listed. Next, expand "Display adapters" and right-click on your in-chip graphics card. In my case, it's "Intel® HD Graphics 4600".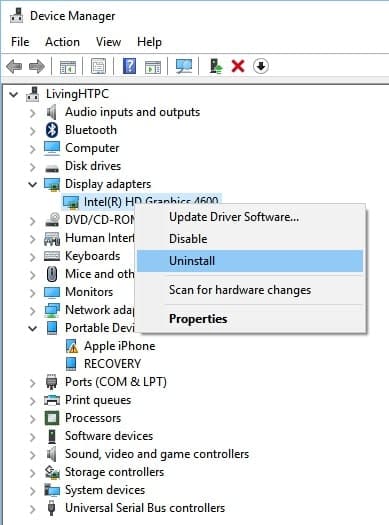 In the next step, choose the "Uninstall" option and tick the "Delete the driver software for this device" checkbox to remove the driver from your Windows PC. Now Restart the windows computer.
Install Latest Graphic Driver
After Restart the computer here, follow the below steps to install the latest graphics driver (Which you downloaded before) on your windows. First, select and download the compressed file (.zip), extract it to a particular folder.
Next open Device manager from Right-click on the start menu and select device manager, Then expand the "Display adapters" option and right-click on your Intel / Nvidia graphics card and then select the "Update Driver Software…" option.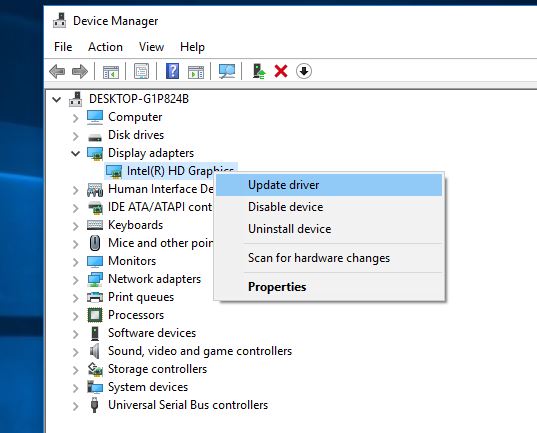 Next, choose the "Browse my computer for driver software" option, And select the folder you have extracted that contains the driver files for the Intel graphics card. Then click on the "Next" button to install the driver.
Once the driver has been installed successfully, you can close the Device Manager and reboot the machine. After the restart, the problem will no longer appear.
Roll Back Driver option
If this problem started only after update the graphics driver, with the old graphics driver windows didn't show any error, then the Roll Back Driver option is the best choice to fix this issue. Note this solution only applicable if you have updated your graphics driver.
Roll Back Driver option will restore the installed driver to the previous version which works without any error. To perform Roll Back driver option open device manager -> expend display driver -> right click on installed graphics driver ( for ex Nvidia driver ) -> select properties – > A new popup will open -> here move to the driver tab and click on Roll Back Driver option as shown below image.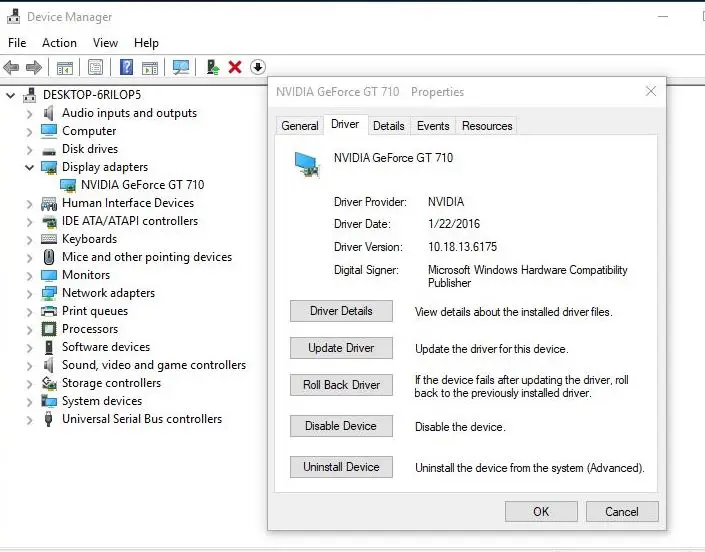 Click yes when ask for confirmation to roll back the driver option, Then after restart windows and check the problem solved.
Windows Registry Tweak
If the method above doesn't work, you can tweak the windows registry to adjust the value of TdrDela entry, which represents Timeout Detection and Recovery. Increasing this value will increase your graphics card's processing time, which helps to get rid of the Application Has Been Blocked From Accessing Graphics Hardware error in Windows 10.
To adjust this value, press Windows + R, type: regedit and then press Enter to open Windows Registry Editor. First backup registry database and look at the left panel and open the following path:
HKEY_LOCAL_MACHINE -> SYSTEM -> CurrentControlSet -> Control -> GraphicsDrivers
Next, create a new DWORD (32-bit) entry named TdrDelay. Then double-click on it and set the value to be 8.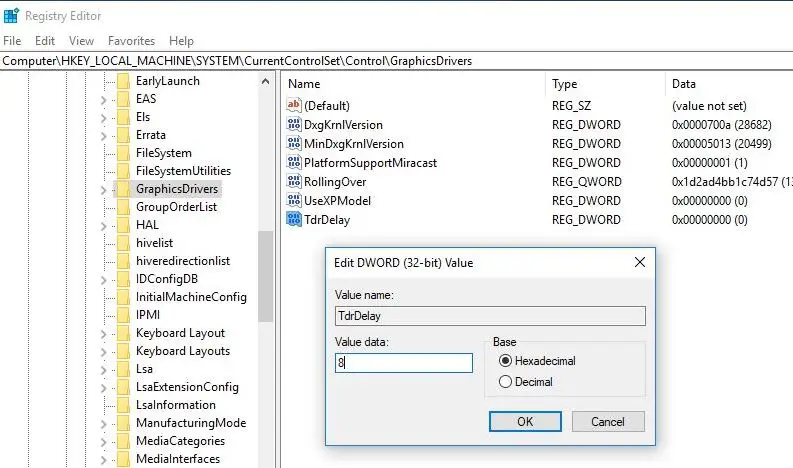 Click on the "OK" button to save the change. After that, close Registry Editor and restart your computer. Check the problem solved If not follow the next solution.
Use System File Checker And DISM Tools
Suppose the above solutions unable to fix the Application has been Blocked from Accessing Graphics Hardware on the windows computer. Then, we need to check other resources To fix this error. In several cases, corrupted or missing system files related to your graphics card can lead to this error. To resolve this, you can use the System File Checker and DISM tools to scan for corrupted/missing files and replace them if available.
Run SFC utility
To run SFC utility and repair corrupted system files first open the command prompt as administrator. You can do this by click on the windows start menu search type cmd select command prompt from search results, right-click on it and select run as administrator.
In the Command Prompt window, type: sfc /scannow and hit the Enter key to execute the command.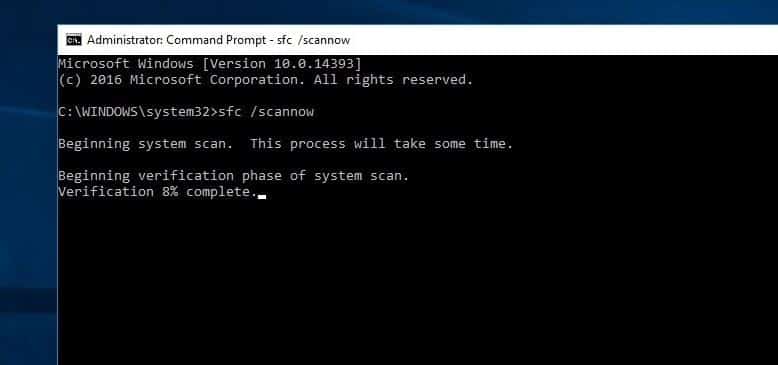 This will start scanning for Corrupted/missing system files If found anything SFC will restore it from a cache folder. So wait for the process to 100% complete.
After the System File Checker tool has done its job, perform the following command to run the DISM tool.
DISM.exe /Online /Cleanup-image /Scanhealth
After the scan process is complete, use this command to repair corrupted files:
DISM.exe /Online /Cleanup-image /Restorehealth
Once it's done, reboot your Windows computer and check again whether the error is fixed or not.
Perform System Restore
In case you have tried all methods above and Still, the error persists, Then I would recommend using Windows System Restore to roll back your Windows OS to a previous working state when it's still in the good state. Otherwise, you can try to reset your Windows 10 computer but keep the personal files. However, if you choose to reset your computer, all installed apps will be removed and you'll have to download and install them again.
These are some best working solutions to fix Application has been Blocked from Accessing Graphics Hardware Error on windows 10 computer. I hope after applying these solutions, you didn't get an Application Has Been Blocked From Accessing Graphics Hardware error on your Windows 10 computer. Still, you have any questions, Suggestion about this error, Feel free to comment below!
Also Read