Did you experience different problems after installing windows 10 update? Here is how to uninstall recent windows updates on your computer.
Recently Microsoft released a new security update KB5023696 for the latest windows 10 version 22H2 with various security improvements and that fixes various bugs, including problems introduced by previous updates to the operating system. But it seems the latest update KB5023696 caused a strange issue by removing components of Windows itself. A number of users reported in online forums and on Reddit that updating to Windows 10 version 19045.2728 by installing KB5023696 ruined the computer, it's very slow or some apps missing.
Notepad.exe has been missing since I install KB5023696 Windows 10 version 19045.2604, it is not in my Recycle Bin, nor is it in System32.
Missing Notepad on Windows 10
Well, with the latest Windows 10 version 22H2, aka October 2022 update Microsoft has made Notepad, MS Paint, and WordPad as optional components. And if your device is affected by installing KB5023696, and by the disappearance of these apps here is how to get them back.
Add a header to begin generating the table of contents
Add from optional features
Right-click on the Windows 10 start menu select settings,
Navigate to apps then select App & features,
Next on the right, click the optional features link.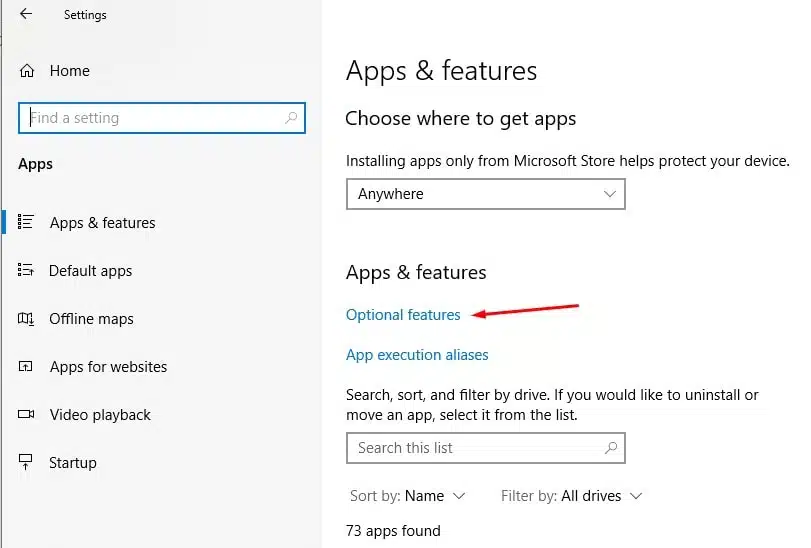 And from here you can opt to reinstall any of the apps you need, to add/install an optional feature (notepad or paint) click add a feature.
Then search for the feature, checkmark on it and click the install button.
That's it, this way you can install Notepad, MS Paint, or MS word as well.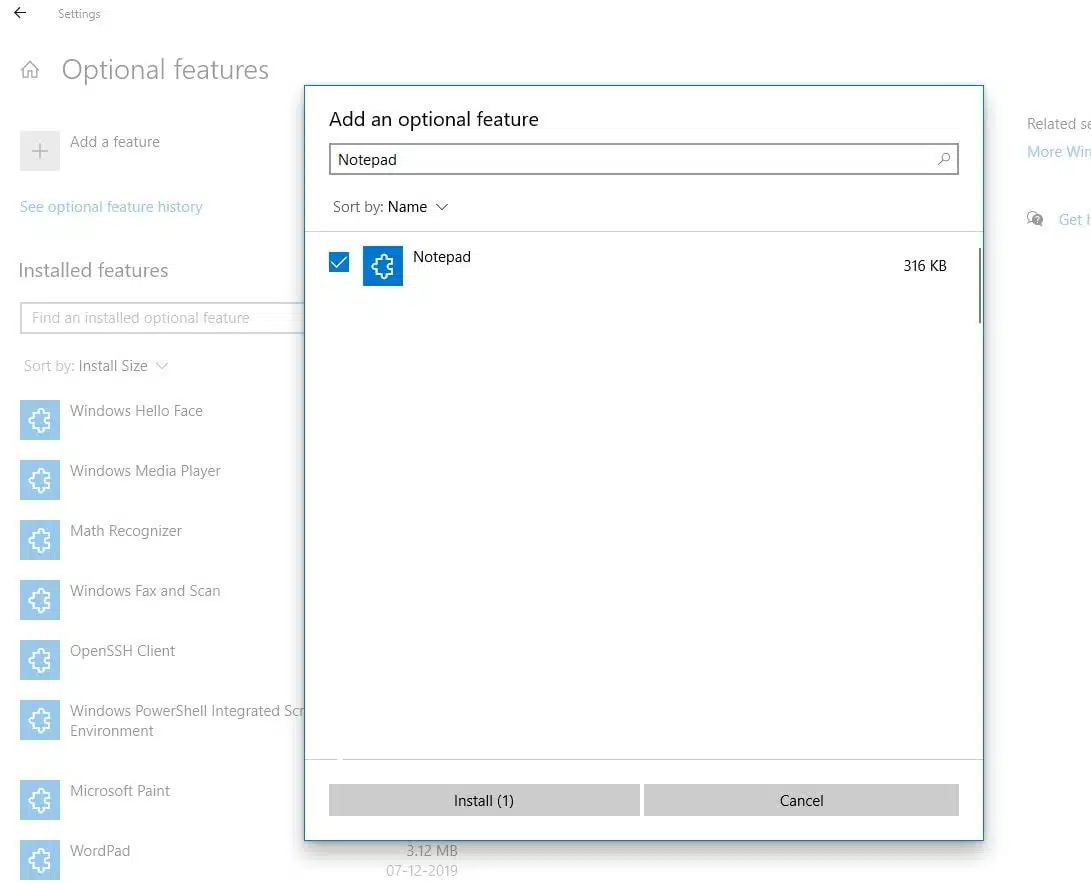 Check for corrupted system files
Still, need help, May the corrupted system file cause the issue? Let's run the system file checker utility that helps detect and replace corrupted system files with the correct ones.
Open the command prompt as administrator,
Click yes if UAC (User Account Control) asks for permission.
On the command prompt window type sfc /scannow and press the enter key on the keyboard
Let the scanning process complete 100%, once done restart your PC and check if this resolves apps not opening or missing problems on windows 10.
Uninstall Windows 10 KB5023696
Also, you can uninstall windows 10 KB5023696 and check if helps. You can uninstall any windows 10 update by following the steps below.
Open settings using the Windows key + I
Navigate Update & Security then Windows Update.
Here click on view update history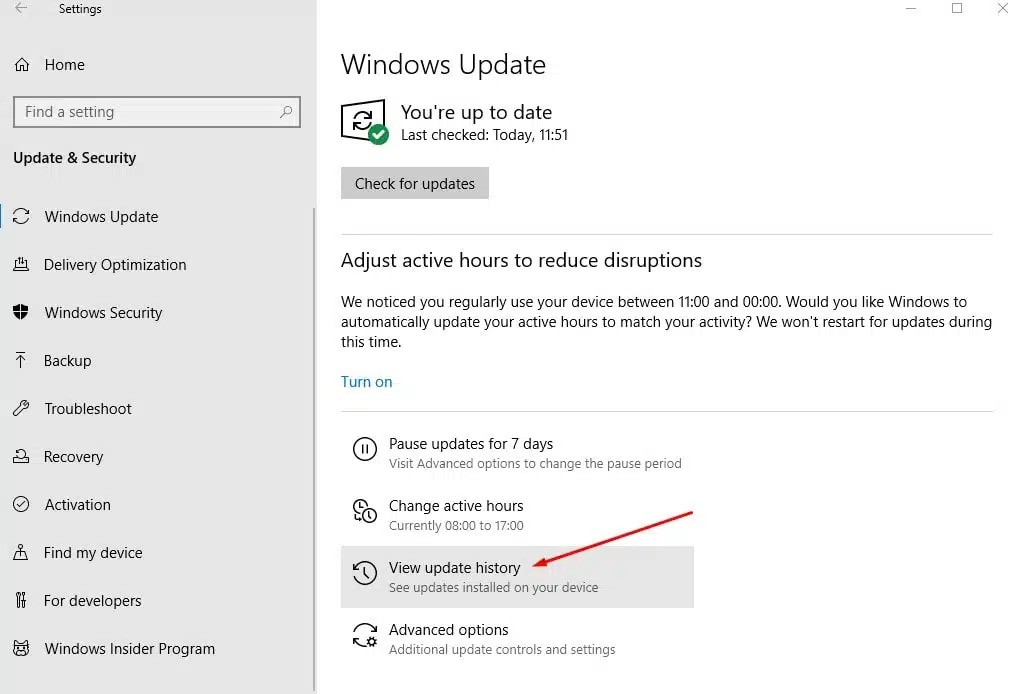 Next click on the 'Uninstall update' option, then in the Control Panel, select KB5023696 to highlight it and click on 'Uninstall'
Once done Restart your system when asked.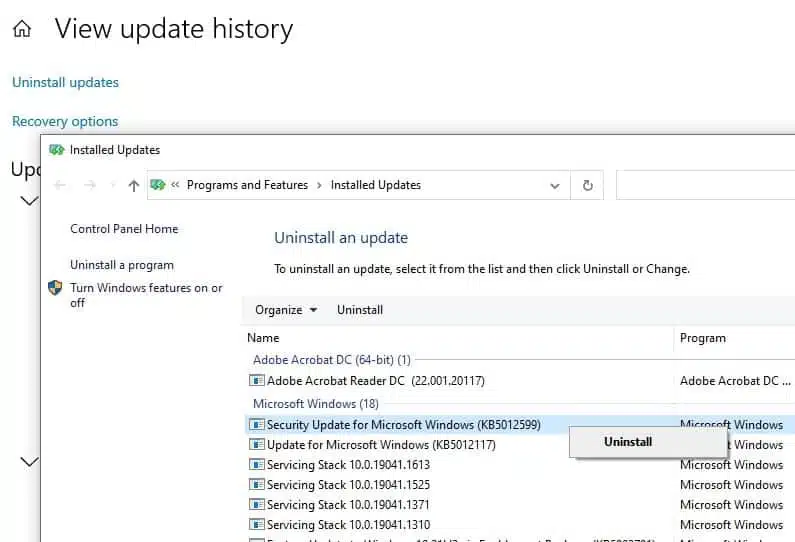 Also, you can remove windows update KB5023696 using Command Prompt as well.
Open the command prompt as administrator,
Type command wusa /uninstall /KB5023696 /quiet /promptrestart and press enter key,
Once done save everything and restart your device.
Also read: