Audio stop working after windows 10 1809 update? A number of users report "audio icon in the system tray muted after windows 10 1809 upgrade, and attempting to open it opened the troubleshooter that ends with "Audio Services not responding", and was unable to fix the issue via troubleshooter. " This problem "Audio Services not responding" usually means that your sound device is in an unresponsive, it isn't responding to your computer's commands or being stopped to Audio Device Drivers becoming outdated or getting corrupted. If you are also struggling with windows 10 Audio sound problems, Here some effective solutions to fix audio services not working on windows 10, 8.1 and 7.
Audio services not responding windows 10
Check your speaker and headphone connections for loose cables or the wrong jack.
New PCs these days are equipped with 3 or more jacks including,
microphone jack
line-in jack
line-out jack.
These jacks connect to a sound processor. So make sure your speakers are plugged into the line-out jack. If unsure which is the right jack, try plugging speakers into each of the jacks and see it produces any sound.
Check your power and volume levels, and try turning all the volume controls up.
Some speakers and apps have their own volume controls, and you might have to check them all.
Try connecting using a different USB port.
Remember that your speakers probably won't work when headphones are plugged in.
Check the Speakers and headphones cables are connected properly
Restart Windows Audio Service and Audio Components
Press Windows key + R type services.msc in the run dialog box and hit enter.
Now look for services called Windows audio and Windows audio Endpoint builder 
Make sure that services are running and set to automatic.
If yes then right click and select restart these services.
If not Right click on service (windows audio) select properties.
Change the startup type automatic and start the service next to service status.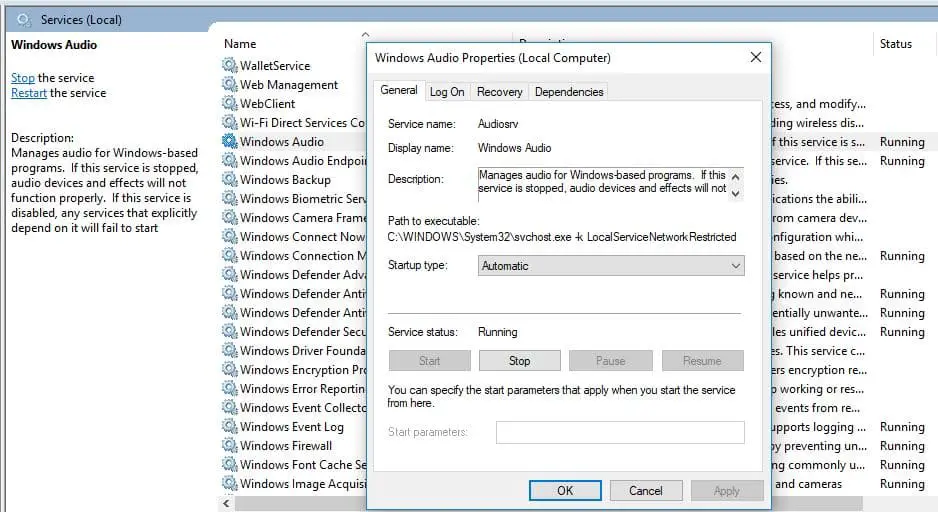 Here also make sure below Windows Audio components are running and set to start as "Automatic".
DCOM Server Process Launcher
RPC Endpoint Mapper
Remote Procedure Call (RPC)
Update Windows Audio Drivers
If the problem, started after the windows 10 1809 upgrade, there is chance the Audio driver causing the problem. Try to update the Audio driver following steps below, which most probably fix the problem for you.
Press Windows key + X key and click Device Manager.
Expand the Sound, Video and game controllers. 
Right-click on the Sound card and click on Update driver software.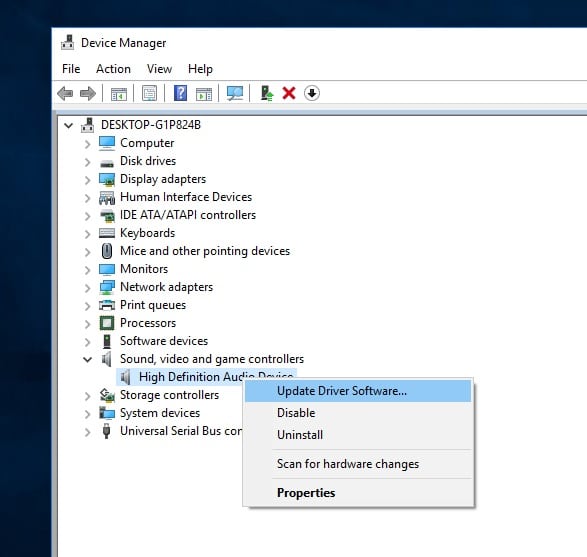 Select Search Automatically For updated driver software.
This will check available updated driver if found any new version this will install,
After that restart windows and check there is no more windows audio sound problems.
Reinstall Windows Audio Driver
If windows didn't find any driver update, then try to reinstall the Windows Audio driver following steps below.
Press Windows Key + R then type devmgmt.msc and hit enter to open Device Manager.
Expand Sound, video and game controllers
Right click on the sound device then select Uninstall.
Now confirm the uninstall by clicking OK.
Restart windows to completely remove the old driver software.
On next start again open Device Manager window,
Go to Action and click on Scan for hardware changes.
This will automatically detect and install the generic audio driver on your pc.
Now check Audio sound started working.
If didn't find any driver software, then visit the device manufacturers website, download and install the latest Audio driver for your system.
Install Audio driver in Compitable mode
If the above solutions didn't work then try to install the driver in compatibility mode and check if it helps. Compatibility mode runs the driver using settings from a previous version of Windows.
Download latest audio driver from the manufacturer's website
Right click on the setup file and select Properties.
Move Compatibility tab
Place a check mark next to Run this program in Compatibility mode and select previous the version of Windows from the drop down list.
Now run the setup file after install the driver Check the functionality.
Change the bit rate in Play Back Devices
Type sound on start menu search and select the first result.
Select Playback Devices from the menu.
Choose the current playback device (by-default, it's set to speakers) and double-click on it to open its properties.
Now Go to Advanced tab and change the bit rate to either, 24bit/44100 Hz or 24bit/192000Hz, depending on your speaker configuration.
After this, check if the sound issues are resolved on your Windows 10 computer.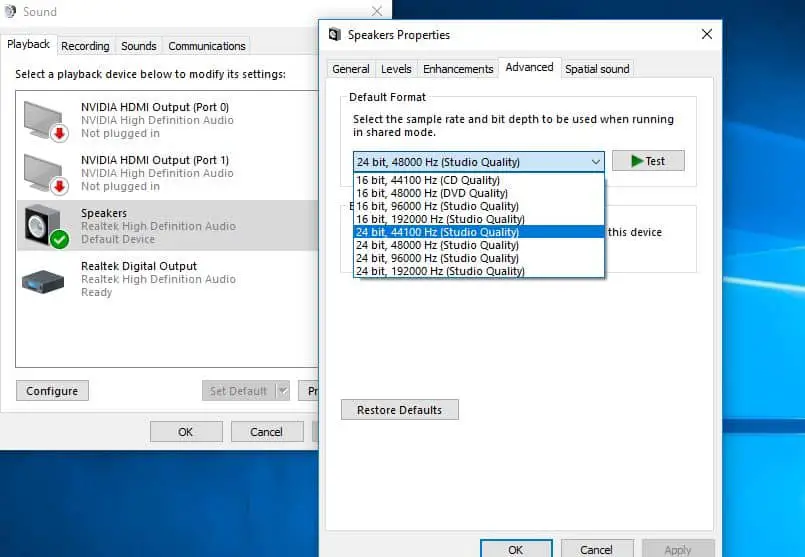 Turn off audio enhancement
Again search for sound, On the Playback tab, right-click (or tap and hold) the Default Device and select Properties.
On the Enhancements tab, select the Disable all enhancements checkbox and try to play your audio device.
If that doesn't work, select Cancel and, on the Playback tab, select another default device (if you have one).
Select the Disable all enhancements check box, and try to play audio again. Do this for each default device.
Registry Tweak to fix Audio Service not responding problem
If the above methods did not fix windows 10 Audio services not responding problem then you can try bellow registry tweak to fix this issue.
Press Windows + R, type Regedit and ok to open the windows registry editor.
Backup registry database, then navigate the following path
HKEY_LOCAL_MACHINE\SYSTEM\CurrentControlSet\Services\AudioEndPointBuilder\Parameters
Locate ServicDll and if the value is %SystemRoot%\System32\Audiosrv.dll, this is the cause of the problem.
 Replace the above value with this: %SystemRoot%\System32\AudioEndPointBuilder.dll.
Now After make changes close registry editor and simply Restart your PC to apply changes.
Did these solutions help to fix Windows 10 Audio sound problems? Let us know on comments below, Also read: