Taking care of your Windows 11 computer health is always important to get the best speed and performance. You can determine and optimize Windows 11 computer health by running different reports. Also, you can download and run the PC health check app and then use these reports to know how your hardware is performing. This tool also gives some tips or resolutions for specific issues that may need fixing. In addition, update Windows 11 with the latest version and ensuring all device drivers are updated not only keep your PC or laptop in the most optimum state but also improves the system performance. In this article, we will guide you on how to check the health of your Windows 11 computer and fix related problems.
Performing a PC health check is a necessary task if you want to keep your systems fully operational.
PC health check tips for Windows 11
You can use Performance Monitor to track various elements of your PC, such as networking, RAM, and disk usage. Also, you can run PC Health Check App to get an overview of the computer, including the amount of memory and disk space are being recognized, If the Windows 11 start time is slower than you expected, and more. Again Running a sleep study allows you to see what's running and using battery or power during sleep mode. In addition, you can generate a Network Report to see when and why your connection drops, specific apps or sites cause issues with hardware or your ISP and more that help troubleshoot internet problems.
Download the PC health check app
With the latest release of Microsoft Windows 11 the company has introduced PC Health Check app and you can use this to check how your computer is doing.
You can download the Pc health Check app from Microsoft's official site here and install it on your computer.
Now open the PC health check app, and you'll see each major system check in its own box in the right pane
Here you will see whether your OS is fully updated, how much storage your computer has available, your laptop's battery life, and common issues affecting startup time.
If there are critical issues,  you'll see a question mark inside a triangle as a warning icon in that box.
You can expand the same to see suggestions and tips to resolve or improve the issue.
Click on the Tips on PC Health option to learn more about ways you can improve your system performance.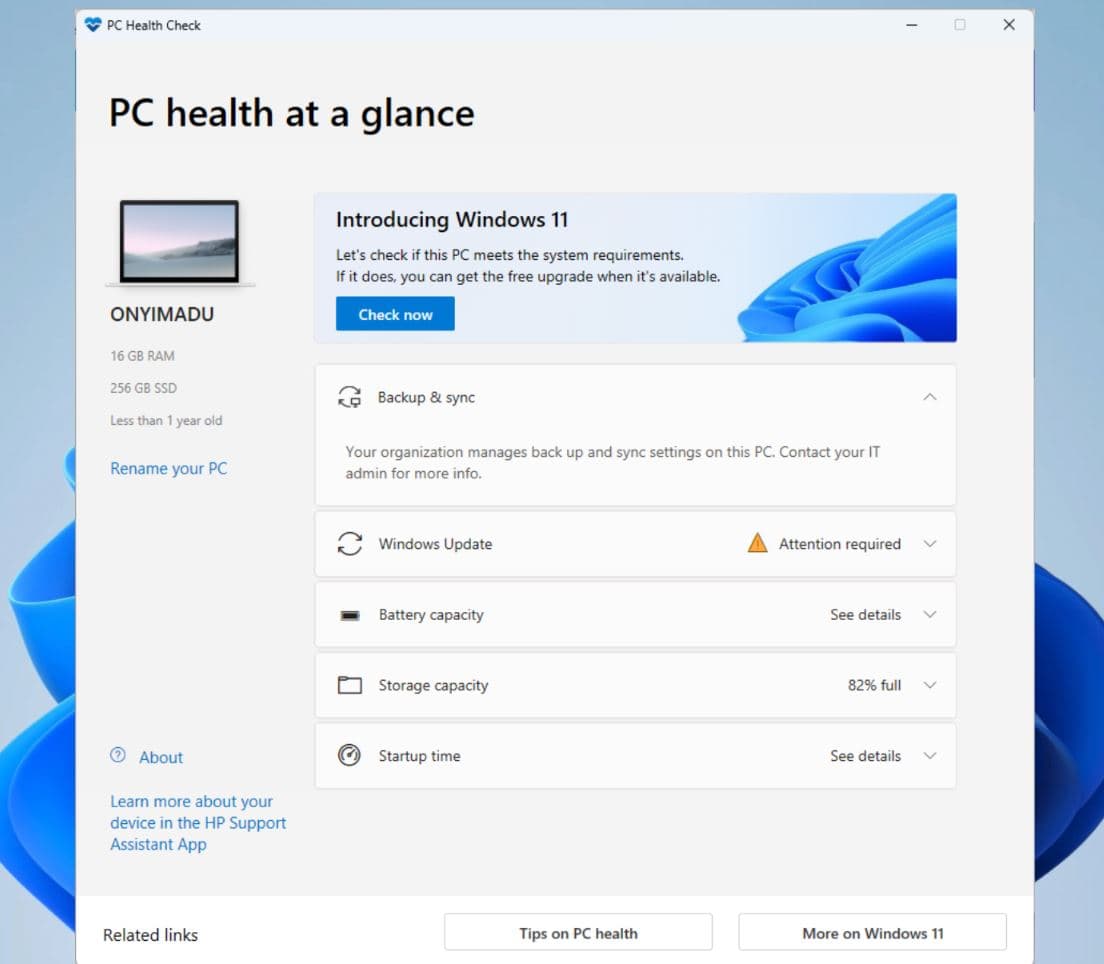 Check PC health on Windows security
Windows Security formally known as windows defender is a built-in feature of Windows 11 that can scan and detect any malware or viruses on your system. But also you can also use Windows security to learn more about your Device performance and health.
Press Windows key + S, type Windows security and select it on top,
Now Select Device Performance & Health.
The Health Report section will show you when the last scan took place and if any issues need your attention.
You don't have to run this scan manually, as the system does this independently from time to time.
If there are no issues, green checks will be visible. However, if there is an issue, there will be an amber check, and you click on the issue to read more about it and how to fix it.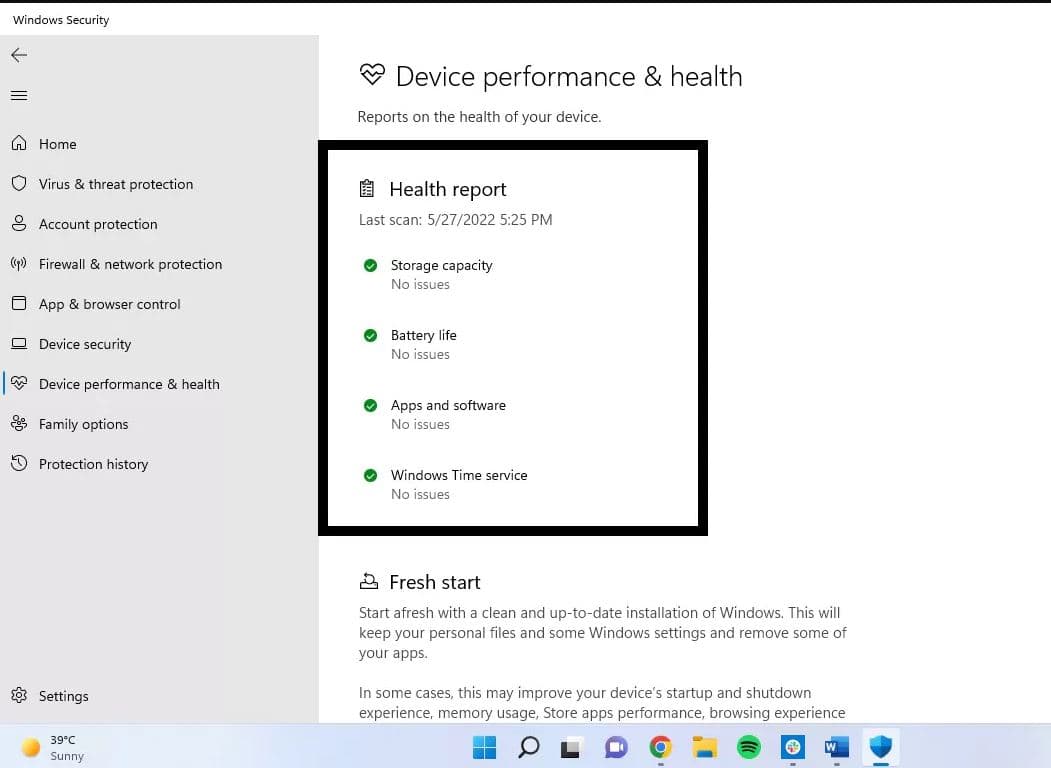 Check PC health with Performance Monitor
Using the performance monitor you can run System Diagnostics and System Performance help tracks elements like disk, disk memory, network usage etc
Press Windows key + S, type performance monitor and select run as administrator,
Here on leaf hand side expand Data Collector Sets then System
Right-click on System Diagnostics and select Start, do the same for System Performance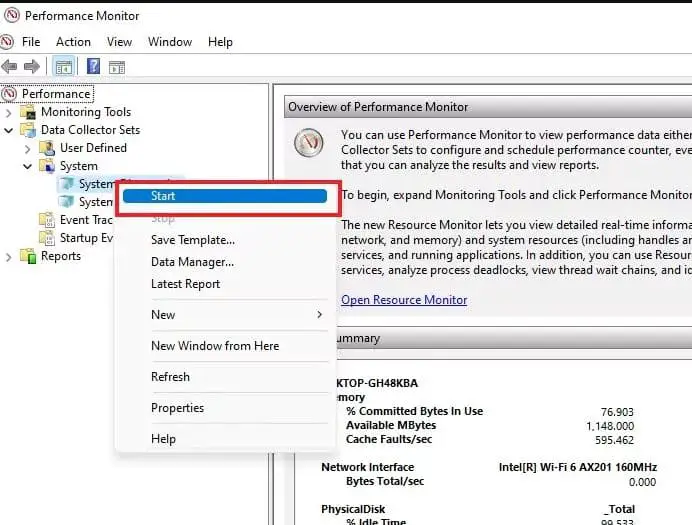 After a few minutes click on Reports then system here  You will see both System Diagnostics and System Performance reports
Click on each of them to view your report and if there are any issues. In case of any errors, you will be told what to do about them
Check PC health using Sleep Study
This is applicable for laptops only to help you measure your system health and check if there are apps or processes that are draining your system.
Press Windows key + S, type cmd and click on run as administrator,
Now run the command powercfg /SleepStudy /output %USERPROFILE%\Desktop\mysleepstudy.html to generate an HTML report.

A file will be created on the selected file path labeled mysleepstudy.html, just double-click on it to open the report.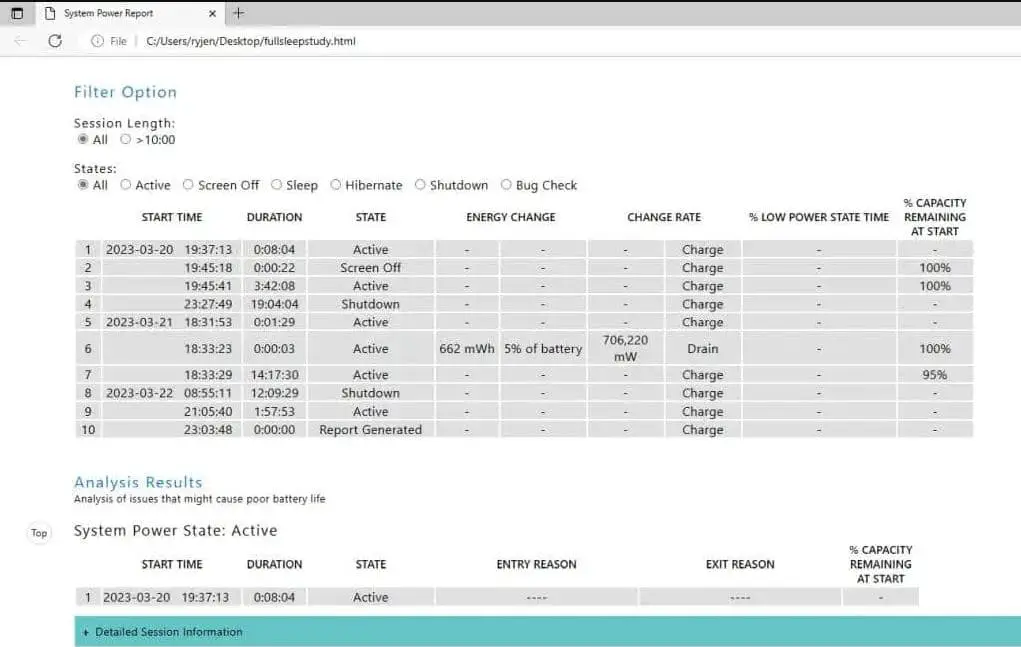 Note – This report was generated for the last 3 days if you are looking for more days, you can generate reports up to the last 28. To do so, run the command powercfg /SleepStudy /output %USERPROFILE%\Desktop\mysleepstudy.html /Duration 28
Run Network report to check pc health
Open command prompt as administrator
Run command netsh wlan show wlanreport to generate network report,
To locate and open the report, Press Windows key + R, type %ProgramData%\Microsoft\Windows\WlanReport\wlan-report-latest.html
When the file opens, you will see various dots in different colors. The red ones indicate issues. If you click on the dots, you will get more detail about errors.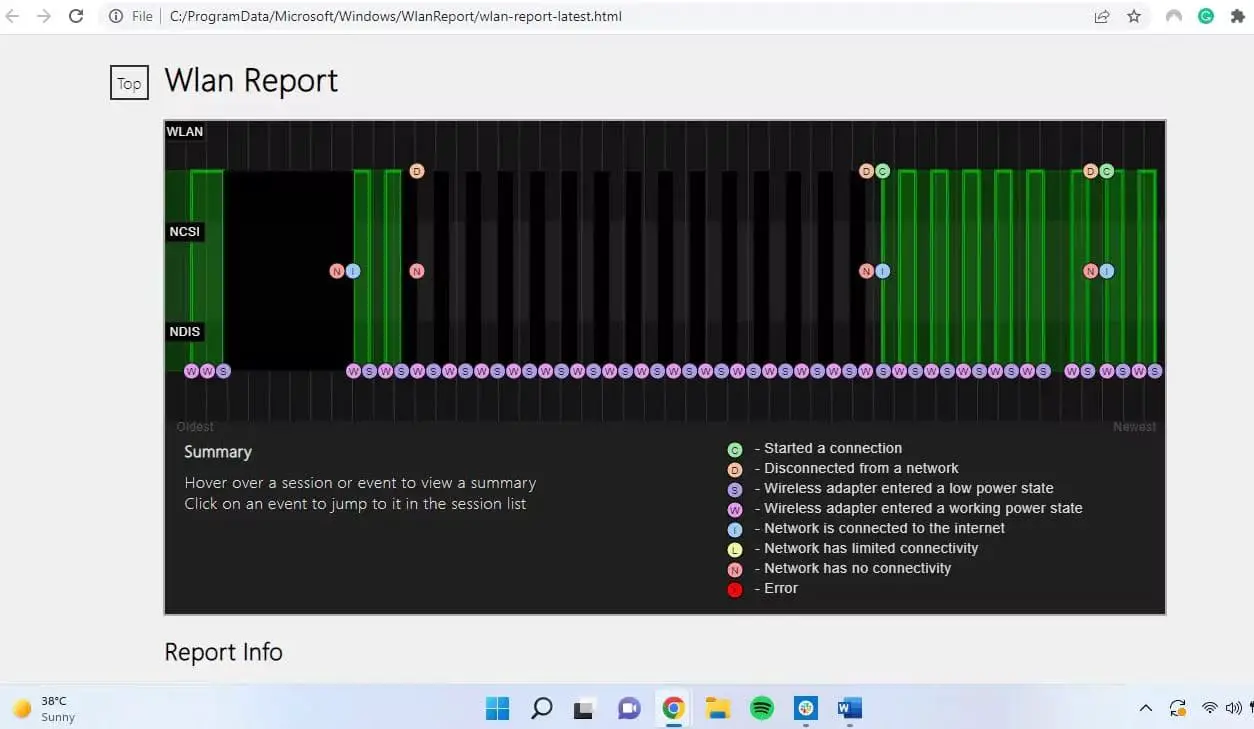 Also Microsoft Support and Recovery Assistant can help you diagnose and fix problems with your Windows 11 computer. It can detect and fix issues with software, hardware, and networking. You can download the tool from Microsoft's website here and run it on your computer to check for any issues.
Press the Windows key + R, type perfmon /rel and click ok to open Reliability Monitor on Windows 11. This tool can help you track the stability of your computer. It shows a history of system events, such as software installations, crashes, and other errors.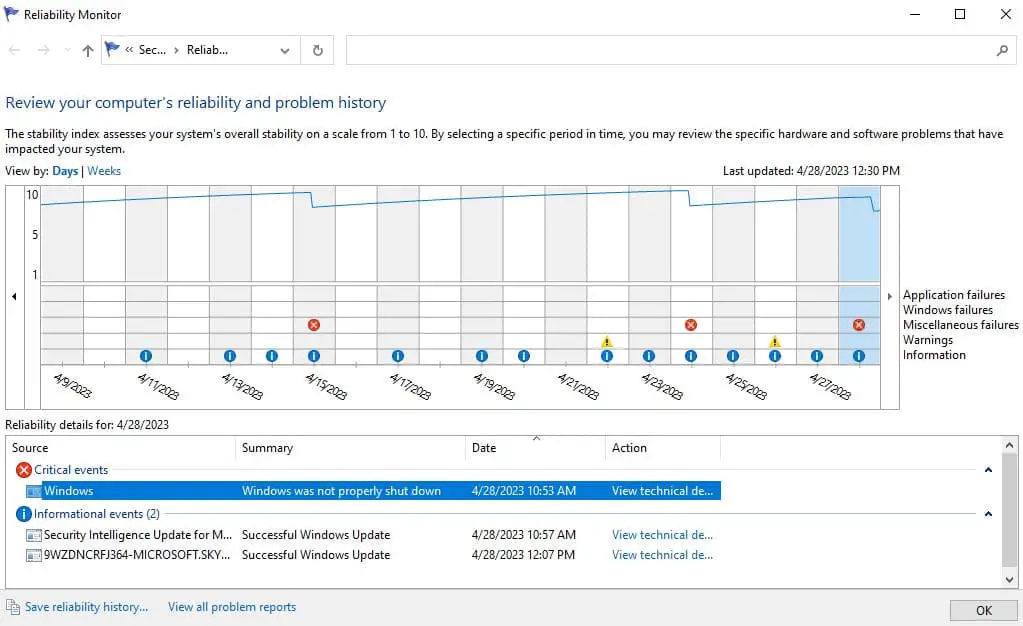 These are some common reports you can generate to check Windows 11 device health. If found any problem or error there the first step recommended is to update Windows 11 with the latest version. Next, ensure all device drivers are up to date.
To check and install the latest Windows 11 updates:
Press the Windows key + X and select settings
Go to Windows Update then hit the check for Updates button,
If new updates are pending there, allow them to download from the Microsoft server,
In addition, click on optional updates and download if any driver update or optional pending there.
Once done, reboot your computer to apply the updates.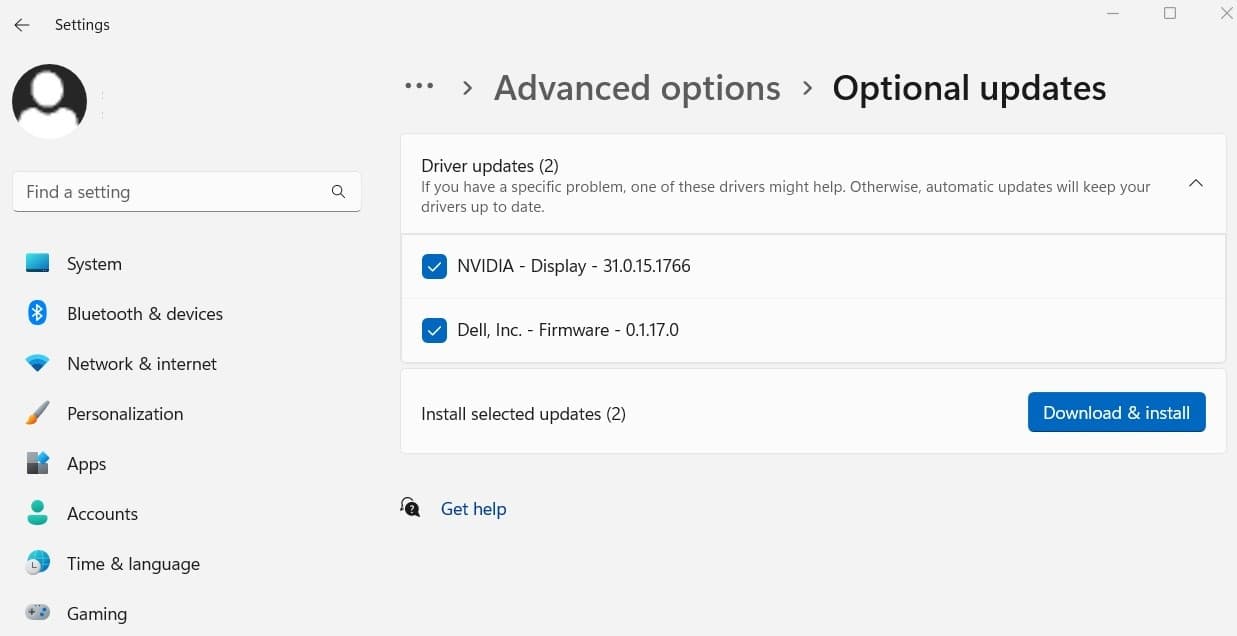 Or manually update the essential driver on Windows 11 following this article.
Also read: