Sometimes you may experience, Google Chrome Not Downloading Files or Download failed Network error in Google Chrome. Mostly it happens due to interference of third-party service, Again problematic extensions, corrupted browser cache may also cause
Chrome download failed network error. There may be other things that cause this type of problem, here in this post we have a few working solutions apply to fix the Download failed Network error in Google Chrome
Chrome Download failed Network error
Before apply any solutions, check and make sure that you have a stable internet connection. Often slow or unstable connections cause this type of error.
In certain cases, Download Failed: Network Error can also be caused due to the presence of Malware and Rogue Adware programs on your computer. We recommend perform a full system scan with the latest updated antivirus or antimalware programs.
Temporarily disable third-party antivirus (Security protection may block the download) and disable VPN (If configured on your computer).
Clear Chrome Browsing Data
You also can clear cache and cookies to see if it helps. Let's first try clearing the browsing data to refresh the browser cache on your computer.
Open Chrome browser then click on 3 dots menu icon,
Hover the mouse over more tools then click on the clear browsing data option in the drop-down menu.
On the next screen, select All Time as the Time Range and click on the Clear browsing data button.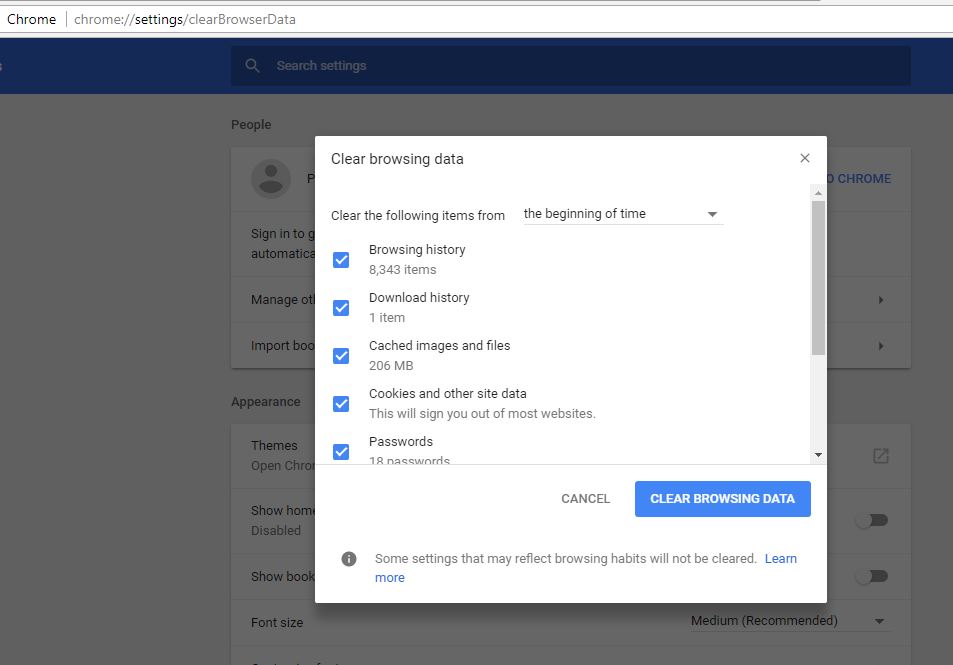 This will clear the browsing history, cache and cookies on the chrome browser,
Now again try to access the webpage and see if you are able to download the file.
Disable Chrome extensions
Try to Disable all chrome extensions that work as download managers since they may interfere with file downloading of Chrome. Again There are chances any third-party extensions block the download. Let's disable chrome extensions and try downloading again.
Open Chrome and go to "More (three dots in the top-right corner)" > "More tools" > "Extensions".
Also, you can type chrome://extensions/ on the address bar and press enter key.
Then you will see all the enabled extensions in your Chrome.
Toggle the button to disable downloading-related extensions.
Note: The extension shown in the image below is irrelevant to download managers. But you can apply the very same way to disable the extension you need to turn off.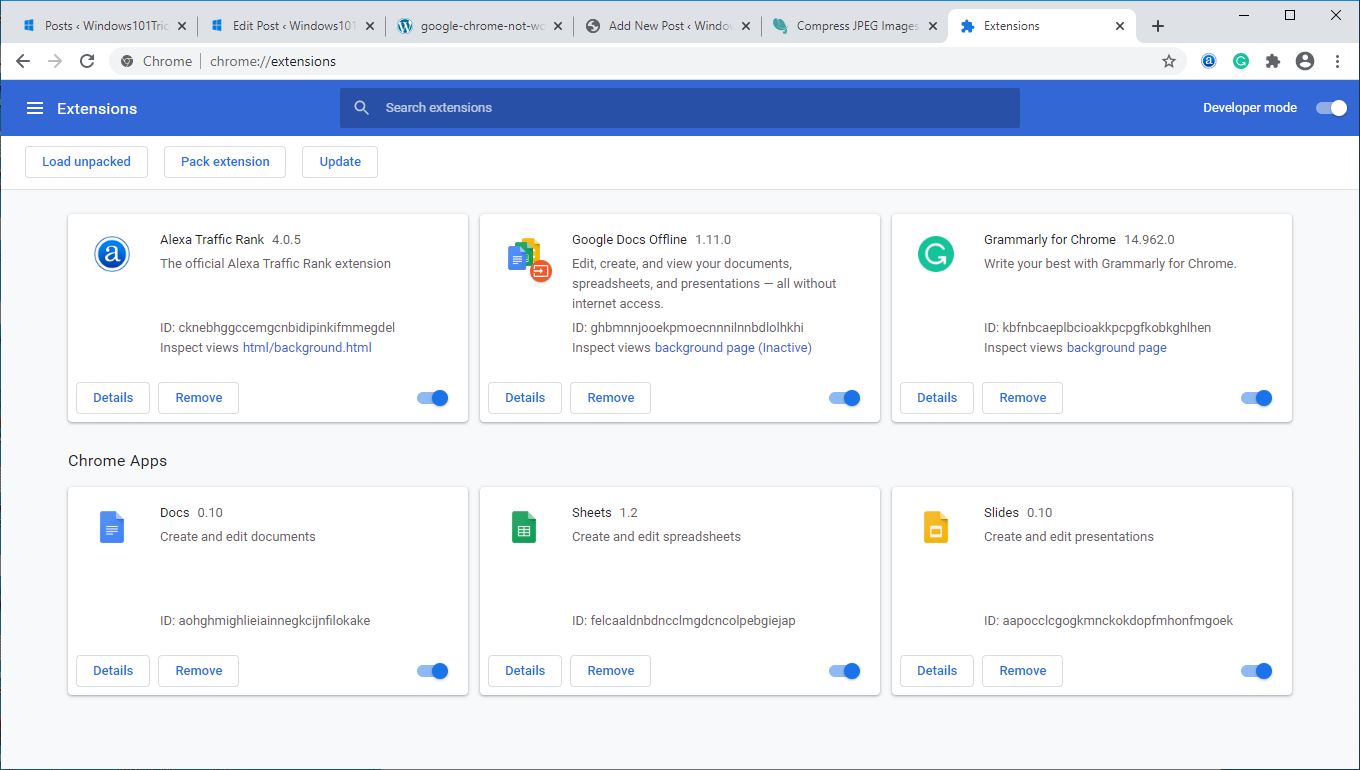 Change Your Default Downloads Location
Some of the users report, changing the default download location helps them fix download errors on chrome. You can change the default download location on chrome by following the steps below.
Open Chrome browser, click on three horizontal dots at the top right part of the browser then select settings from the dropdown menu.
Select advanced from the left-hand toolbar, and pick downloads in the menu that drops down.
At the very top, there is an entry for location and a button that says change. Click that button and you'll be prompted to pick a new location,
We recommend create a new folder or choosing a different folder for Chrome downloads.
Confirm the changes, restart your browser, and check to see if the error still appears.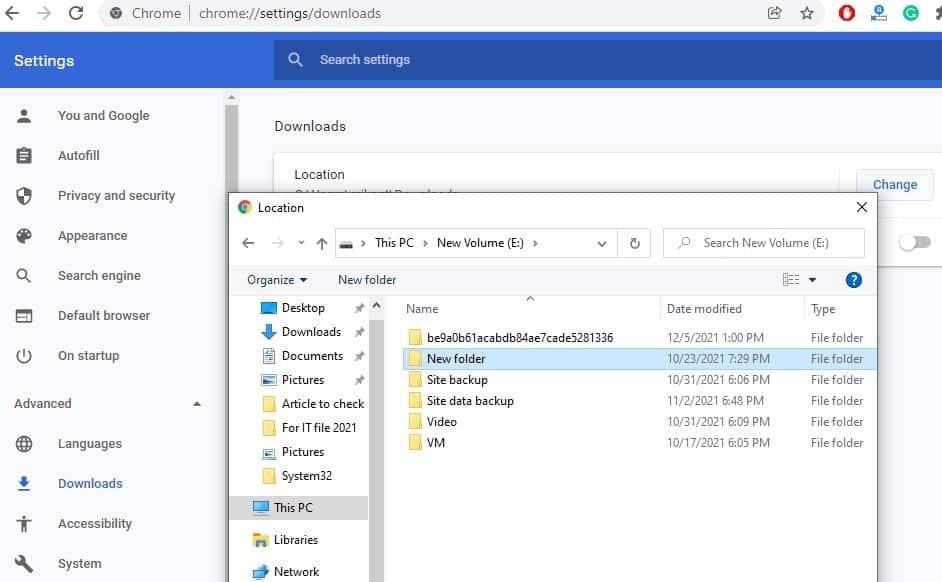 Remove Harmful Programs Using Chrome
Chrome browser includes a tool that helps detect and remove suspicious or unwanted programs on your computer. And running this tool may resolve the chrome won't download files issue caused by malware or adware.
Again open chrome settings from the 3 dots menu icon,
Select advanced from the left-hand toolbar, and pick reset and cleanup in the menu that drops down.
Next click on Clean up computer then find to make Chrome browser search for harmful programs on your computer.
If Chrome finds suspicious or unwanted programs, click on the Remove option.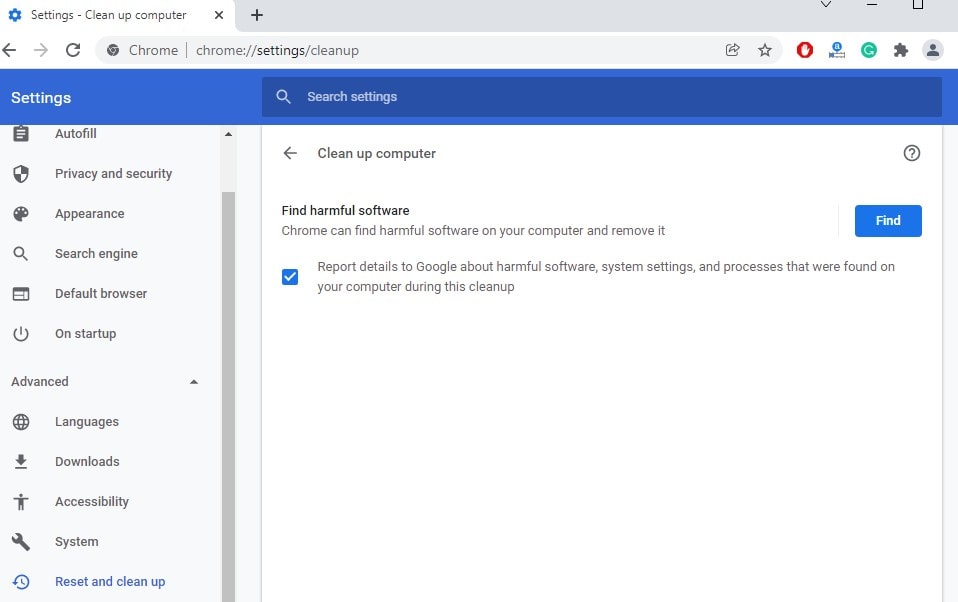 Reset chrome browser
Still need help, lets's reset the browser to its default settings
Open Chrome browser, type chrome://settings/resetProfileSettings?origin=userclick in the address bar and press enter key.
This will prompt for confirm, reset chrome to its default setup.
Click on the Reset button to confirm. This will clear all settings, and cookies, remove browser extensions and reset Chrome to its original default settings.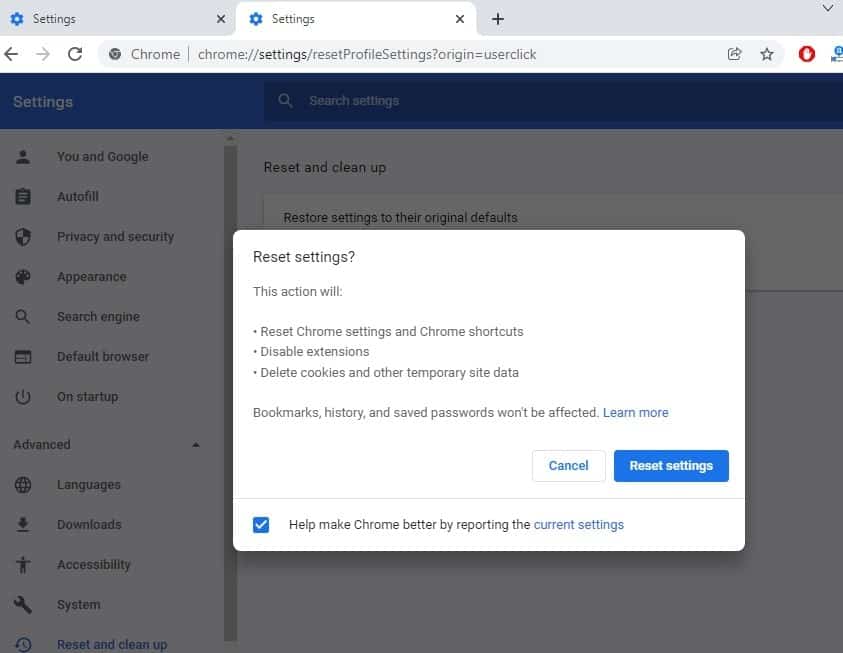 Uninstall and Reinstall Chrome
There are chances, User Profile in the chrome browser can become corrupted, causing Network Failed Error and other problems. Reinstalling the Chrome browser help fix such errors.
Right-click on the Windows 10 start menu select apps and features,
In the right pane, type Chrome in the search bar > click on Google Chrome > Uninstall button.
On the confirmation pop-up, click on the Uninstall option to confirm.
After Uninstalling Chrome, download and install the latest version of the Google Chrome browser on your computer.
Disable HTTPS scanning
In addition, If you are downloading files from trusted sources such as google drive, then disabling HTTPS scanning in the antivirus program should allow the download to process.
Open the Antivirus Software program > Go to Settings > Advanced Settings.
Here In Advanced settings, disable the HTTPS Scanning or Encrypted Connection Scanning option.
Now, try to download the file and see if you are still getting Failed Network error on your computer.
Modify Windows Attachment Manager Settings
The Windows Attachment Manager helps protect your computer from unsafe files that you download or receive via email. That means If it considers a file unsafe, it blocks you from downloading it. If you are sure you are downloading file from a trusted source, configure the Windows Attachment Manager settings to allow the download.
Press the Windows key + R, type inetcpl.cpl and press enter key,
Navigate to the Security tab then click the Custom Level button.
Scroll down and locate the Downloads option. From there, check the Enable button under File download.
Scroll further down and locate the Miscellaneous option. Next, check the Prompt (recommended) option under the Launching applications and unsafe files option. Click OK.
Click Apply and then click OK on the Internet Properties window. Finally, restart your PC to apply the changes.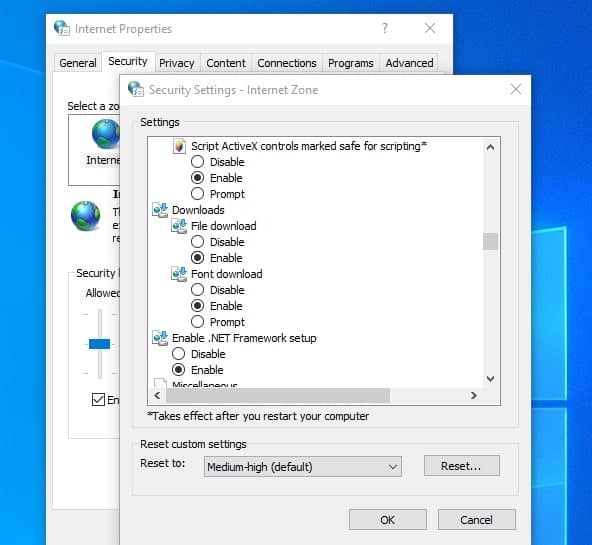 Update Your Network Drivers
If you are running older or outdated network drivers it could cause various network connection issues and file download fails on chrome. Several users mention updating network drivers help them fix such problems.
Press Windows key + X and select device manager,
This will display all installed device driver list, locate and expand network adapters option,
Right-click your PC's network driver and select Update driver
In the next window, select Search Automatically for Updated Driver Software and Follow the on-screen instructions to complete the process.
Once done reboot your computer and check if this helps fix the chrome download error.
Also read: