Google chrome cast world's most popular media streaming device from Google allows watching Internet Videos on Smart TV for free. Also, you can connect Chromecast on your personal computer or laptops to stream videos to your TV just like Android. But some users report Chromecast Not Working or not connecting properly while connecting through windows 10 Devices.
For some other users "chromecast working great on my laptop.  Then I got a Windows 10 update (version 22H2) and now my laptop no longer recognizes my chromecast device.  What should I do?"
Chromecast Not Working or not connecting
There are various reasons cause Chromecast Stopped working or not connecting to a WiFi network. Such As incorrect network configuration, Security software or firewall blocking, etc.  Here are some solutions you may apply to fix the issue.
The basic troubleshooting procedure for making chromecast work smoothly

Chromecast works well when you have verified your chromecast setup as per the following criteria meant for basic troubleshooting:

Make sure your Chromecast device correctly set up
Try Google Home app for casting your device
At least, 2.4 GHz band has to be present for your Chrome cast device to work properly
You should try casting through chrome with other devices also, which involves using some other laptop of smartphone besides the one you are using. If other devices are working properly during casting, this implies a problem is on your device only.
Make sure your computer is on the same network as your Chromecast device.
Confirm your Chrome browser is up to date. To check the version number, type about://chrome into the search bar. If the browser needs to be updated, click Update Google Chrome to update your Chrome browser to the latest version.
Disconnect from Virtual Private Networks (VPNs) or proxy servers. Chromecast devices can't communicate with a laptop over these networks. If you need help with this, please check with your service provider for instructions.
Ensure that firewall/antivirus software are up to date and isn't blocking connections to the Chromecast device. Firewall: If you are renting a wireless router, please contact your internet provider. If you purchased the router, check your network firewall settings.
Reboot your router and Chromecast device by unplugging them from the power source for about 2 minutes. Also, reboot your casting device (laptop/PC).
Turn on network discovery
Open

Start

menu > type

Network status

 and then click Network status.

Go to Network and Sharing Center then Change advanced sharing settings.
Here Make sure that Turn on network discovery and Turn on file and printer sharing options are selected.
Restart your Windows 10 computer and try again.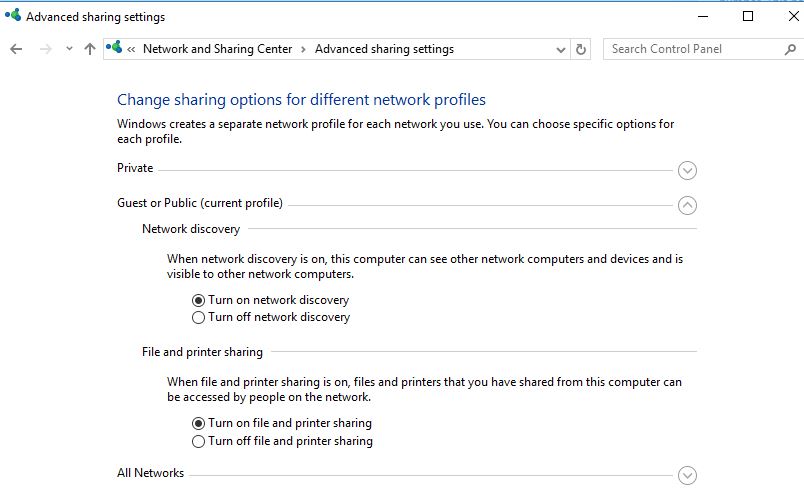 Start media sharing
Sometimes, the system automatically blocked their media sharing and all the wireless file sharing features, so most people face Chromecast not working issues.
Open the Windows Services console using services.msc
locate windows media player network sharing service right-click on it and start the service.
If the service is already running, right-click and select restart service.
Apply and ok to save the changes and check now chrome cast working properly.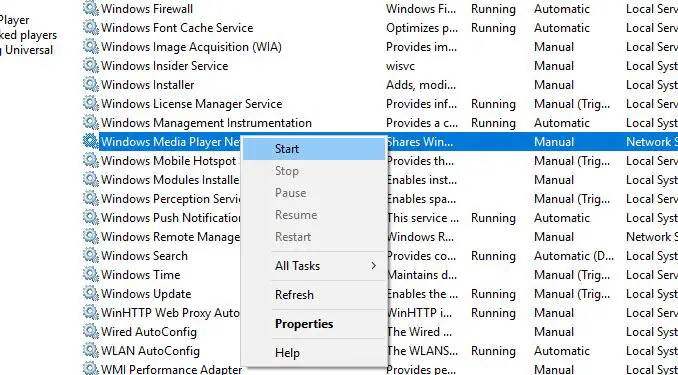 Factory Reset Chrome Cast Device
Sometimes this issue becomes a headache and the only solution left is Factory Reset. To reset the Chromecast device, all you need to do is, hold the button on your Chromecast (near the power) for a few seconds until the power light blinks. Your Chromecast device will automatically reboot and this will solve the Chromecast Not Working issue.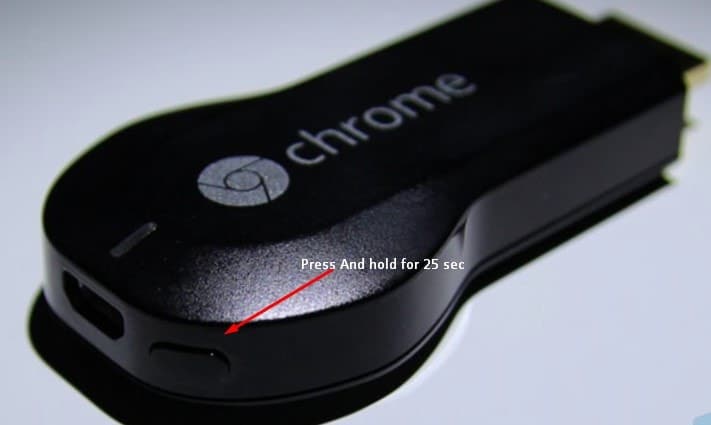 Check if the power supply to your device is proper, as in some cases, the power supply is cut when you have switched off your TV. This comes out to be a major reason that the chrome cast does not work properly.
Many times, your Chromecast dongle works improperly and in that case, simply unplugging and plugging the dongle again can set things right.
Many times poor Wi-Fi signal can also play the culprit, so before you go for casting, ensure your that internet connection is set right
Did these tips help to "fix Chromecast not working on Windows 10 "? Which option worked for you? Let us know.
Also Read