If you have an old classic DVD collection and looking to convert them to digital formats, this post is especially for you. here you can get a free copy of a professional DVD ripper like WinX DVD Ripper Platinum for Windows and Mac to rip your DVD to digital formats.
There are multiple reasons that you may need a DVD ripper, as DVDs are prone to scratches, can be broken easily or they might even get lost. And WinX DVD Ripper Platinum is a handy solution that lets you copy, rip, and backup DVDs. It's fast, easy to use, and it converts practically any DVD into formats playable by practically any device: iPhone, iPad, Apple TV, Android phones, Windows Phones, Kindle Fire, Chromecast, etc. In addition, the tool allows you to rip raw DVD files like Video TS folders and disc images.
WinX DVD Ripper Platinum
WinX DVD Ripper Platinum (developed by Digiarty Software Inc) is one of the best DVD ripping programs available on the market, Allow copying and transcoding DVD discs, disc images, or simple file copies from a DVD. Watch DVD movies on any device that can do video playback and burn video content on blank discs. Also Capable to removes the DRM that safeguards some Warner Bros, Paramount, and Disney movie discs. In addition, it can overcome the content protection method that utilizes 99 titles in a film disc to confuse the ripping software.
Features
This is an all-in-one solution for ripping, optimizing and converting your DVDs That include  Convert DVDs to digital formats, Decrypt CSS/DRM-protected content, Capture audio, and images from DVDs and more here take a look at WinX DVD Ripper Platinum Features.
Supports multi-core processing and hyperthreading, with settings that let you target super high quality, fast performance, or high reliability. It also supports the newest CUDA, owns optimized configuring for i5, i7 CPU, and Super Encode Engine based on MMX- SSE & 3DNow.
lets you convert a DVD to MP4 or other formats such as AVI, MPEG 2, WMV, MOV, H.264, etc in lossless quality using a DVD drive. Also, you needn't worry about bloated file sizes. Whether you are converting a video to MP4 or AVI, the file size is optimal with lossless quality thus saving storage space on your device.
The built-in DVD copy feature supports a 1:1 clone full DVD disc to ISO image and DVD folder. Also allows users to copy the main/full title content of the DVD to MPEG2 file with lossless video quality and 5.1 Channel AC3/DTS Dolby audio.
Bypass copy protection techniques ( DVD encryption technologies, including DVD CSS, region code, RCE, Sony ArccOS, UOPs, Disney X-project DRM) and rip nearly all kinds of DVD discs, ISOs, and video folders, such as movie DVD, TV series DVD, workout DVD, and music DVD.
But the best feature of the WinX DVD Ripper maybe its built-in support for level-3 hardware acceleration. That uses the untapped power of your integrated or discrete graphics card to significantly speed up the ripping process, especially if you have an older computer.
Level-3 Hardware Acceleration, an exclusive hardware processing technology powered by Intel QSV and NVIDIA NVENC/CUDA protocols. Using hardware acceleration, the weight is taken off the CPU and offloaded onto the graphics processors. This technology increases the ripping speed while maintaining maximum video quality and enables you to fine-tune the preferred output file size.

 
Other features include a high-quality "Yadif" de-interlacing engine for your interlaced DVDs, support for commercial DVDs from all regions, and the ability to create lossless backups of your DVDs to either a DVD folder structure, a handy ISO image, or the original MPEG-2 file.
Get WinX DVD Ripper Platinum Free!
WinX DVD Ripper Platinum is normally priced at $39.95 per license key/registration code. But Digiarty Software (WinXDVD) is having a 2018 Halloween Special giveaway Offer where you can download WinX DVD Ripper Platinum V8.8.1 full version for free. This is a limited-time giveaway Act fast to grab your full DVD ripper for free.
How To RIP DVD using WinX DVD Ripper Platinum
The interface for WinX DVD is deceptively simple. Upon launch, you can see all the pertinent settings in the main window. If you want to stick with the default settings, you'll be fine.
But you can also choose an output folder or enable Use High-Quality Engine, Deinterlacing, and Safe Mode from here. These options will improve the quality of your video if you're having trouble getting good results, but, they'll make the process take longer.
Step 1: Click "DVD Disc" to load your source DVD.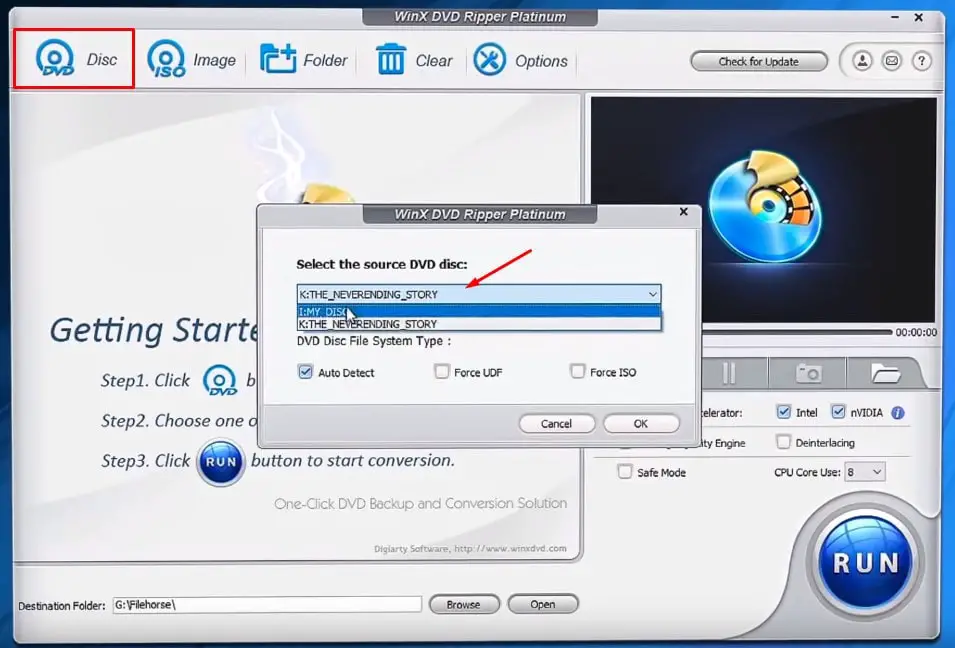 Step 2: Here is the Output Profile center -> General Profiles -> choose "MP4 Video (Recommended)", which is preset with best settings for DVD to MP4.
Note: There are various formats available you can choose your own.
Step 3. Press the button "RUN" and wait minutes. It should be in your Destination Folder.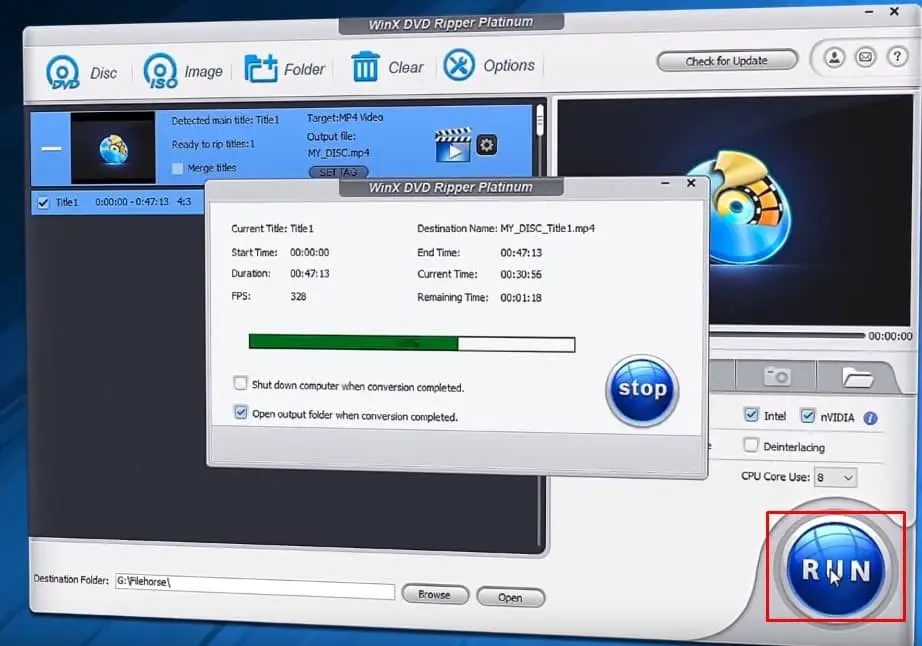 Edit Video
If you are looking to edit video before convert, WinX DVD Ripper has some rudimentary video editing capabilities. To access them, double-click a title. This will open a preview window and your editing tools. On the General tab, you can adjust the audio volume, in case the sound is too quiet.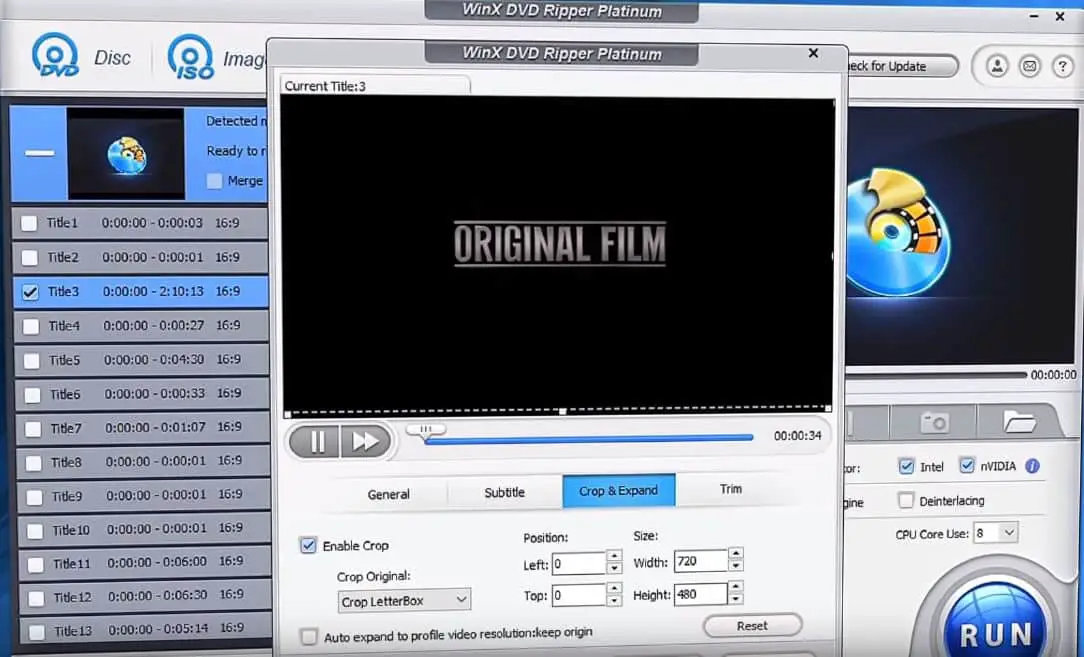 The Subtitle tab lets you choose which subtitle track to display. You can change the position, too. If you have your own subtitle (.srt) file, you can add it to the video. For whatever setting you choose, you won't see it in the preview window until you hit apply.
The Crop & Expand tab allows you to, well, crop and expand. You can choose from presets, drag and drop the box around, or do a free form crop. You can also automatically expand to profile video resolution.
The Trimtab lets you choose your start and time. This is good for grabbing clips or lopping off the end credits.
Rip DVD to Hard Drive
If you are looking for a copy DVD to the Hard drive, WinX DVD Ripper offers a perfect 1:1 DVD copy to the hard drive. It's very simple and easy.
Download and run WinX DVD Ripper Platinum, then import the DVD by clicking "DVD Disc". If you would like to load from the existing ISO image or DVD folder, then click the "ISO Image" or "Folder" button next to the "DVD Disc" button.
Step 2: Select the output format. If you just want to make a copy of the DVD without any quality loss, then select the "DVD Backup" button.
Step 3: Choose the Output Folder. Select where you want to store the converted video by clicking the "Browse" button in the output setting area.
Step 4: Start Ripping. Click the "RUN" button to start ripping the DVD. During the conversion, you can view the conversion progress and are able to cancel the converting process at any time.
Backing Up DVDs
You rip a DVD when you want to convert it to another format to play it back. This is usually a static video that just plays back and that's it. You back up a DVD when you want to more fully recreate the experience of having the disc but on your hard drive. When you play a DVD on a DVD player, you can choose different audio tracks, different languages for the subtitles, etc.
To backup, the DVD to the hard drive, Simply load the DVD, Under the output profile category select DVD backup.  WinX DVD Ripper Platinum offers four different options as below.
Main Title Content Copy: Save the feature film with one audio and video track as a single MPG video file.
Full Title Copy: Saves the feature film with all the audio and video tracks. For instance, in the VLC media player, you can choose the subtitle and audio tracks from the menu at the top.
Clone DVD to ISO Image: An ISO is to a DVD as a PDF is to a printed page. With an ISO, you can burn a new copy of your DVD. Or you can load up a ton of ISOs on a hard drive and play them like DVDs using a VLC player. You can also rip tracks from ISOs using WinX DVD.
Clone DVD to Folder: This saves the DVD contents to a folder on your hard drive. This includes the .bup, .ifo, .vob, files, etc.
Overall WinX DVD Ripper is a great all-in-one solution for ripping your DVDs. Its versatile, quick, easy to use, and most importantly produces high-quality lossless videos when you want to rip DVD to MP4, AVI, and a ton of other different formats. Get your free copy of WinX DVD Ripper Platinum today for both Windows and Mac to Enjoy the full features of the software.
Also, Read VideoProc – An Easier Video Processing Tool to Compress GoPro 4K Videos.