Using a Bootable USB device you can access advanced options and perform diagnostics on Windows PC that having trouble booting from the hard drive. Also, you can use a Bootable USB drive to clean install Windows 10 2004, instead of using the Windows installation CD. And creating a Windows 10 bootable USB drive is pretty easy, If you are Looking for Create Windows 10 bootable USB flash drive for Windows repairs, installations, and other tasks. Here simple easy steps to create a Windows 10 installation DVD or USB flash drive using media creation tool, and third-party utility UUByte ISO Editor.
To create Windows 10 Installation DVD/USB Flash drive you need
A stable internet connection.
A blank USB with at least 4 GB (32-bit or 64-bit) or 8 GB (both 32-bit and 64-bit) of space if you want to create media. We recommend using a blank USB because any content on it will be deleted.
 Windows 10 ISO image (you can download the latest Windows 10 1809 ISO image from here.)
Create Windows 10 bootable USB with UUByte
Using third party utility UUByte ISO Editor you can easily create Windows 10 bootable USB drive with few clicks. Using UUByte you can
Make bootable disk from USB or CD/DVD.
Able to edit Windows ISO file before burning.
Support legacy and UEFI booting.
Create ISO image from local folders or files.
Work well on Windows 10/8/7 and macOS.
Step 01: First of all Download UUByte ISO Editor for Windows. install the software on your PC, and launch the application. Click "Burn" button on the main interface to initiate the setup process.
Note: Using UUByte ISO Editor not only create Windows 10 Bootable USB but also You can easily extract and modify a Windows ISO bootable image file.
Using the extract option you can easily open and extract files and folders from an ISO file to your local Drive.
Also, there is an option to create ISO file from files, folders and backup your Data with ISO.
Using the Edit function, you can easily add a new file, export, rename and delete files from ISO Image
Copy disk option allows us to create a bootable ISO file from a CD, DVD disc with a sector-by-sector copying.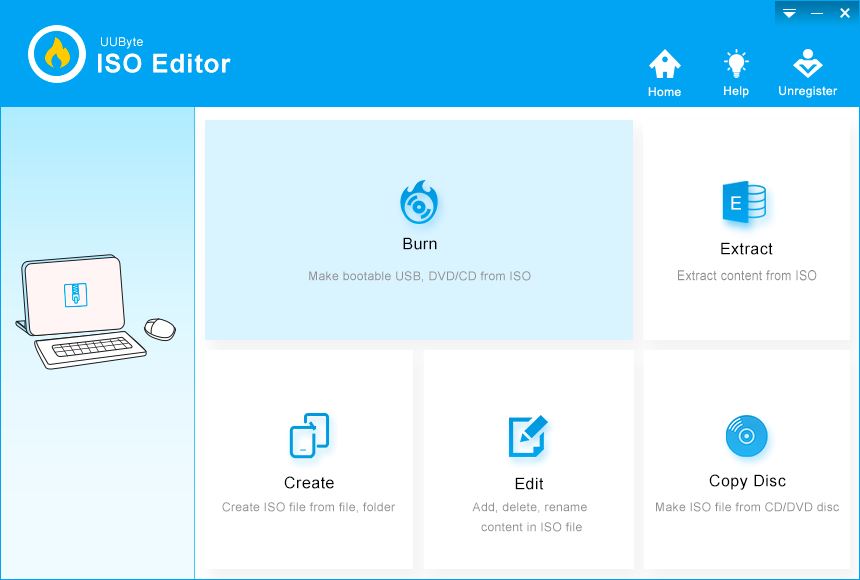 Step 02: Click Browse and select the Windows 10 ISO image path. Select the Radio button, "Create A Bootable USB" (If you are using DVD media then Select option Create A Bootable DVD/CD)
Under Partition, style select MBR and select NTFS for System file. Note: if you want to boot windows 10 in UEFI only mode then Select GPT partition scheme.
Step 03: Click on the button that says 'Burn'. In a few moments, your bootable USB drive will be ready and you can remove it and use it for your purpose.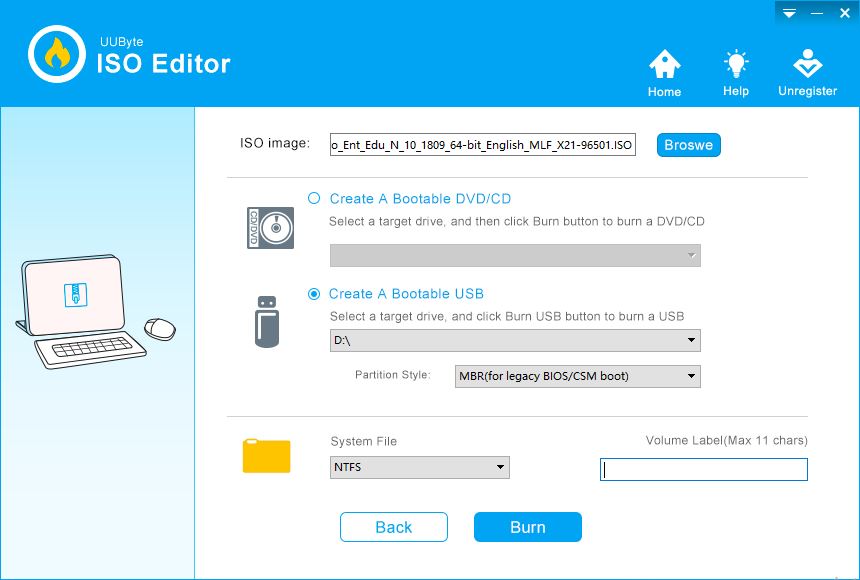 Create Windows 10 bootable USB with Media creation tool
Also, you can use the official media creation tool to create Windows 10 Bootable USB.
First of all, connect the USB drive.
Visit the official Microsoft website.
Download and Save the MediaCreationTool1809.exe file (version 10.0.17763.1) to your desktop.
Right-click on MediaCreationTool1809.exe  and select run as administrator.
Click/tap on Accept for the license terms.
Select the radio button Create installation media (USB flash drive, DVD, or ISO file) for another PC, and click/tap on Next.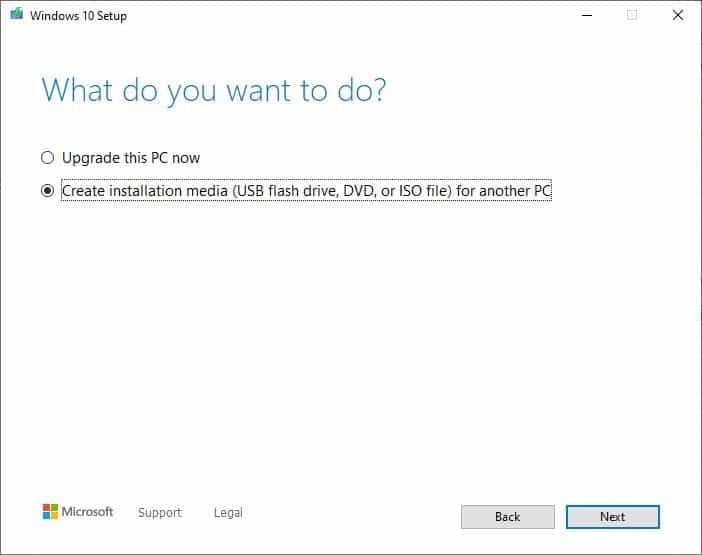 Uncheck the Use the recommended options for this PC box.
Select the Language, Edition, and 32-bit (x86), 64-bit (x64), or both (32-bit and 64-bit on the same USB) Architecture you want for the ISO file, and click/tap on Next.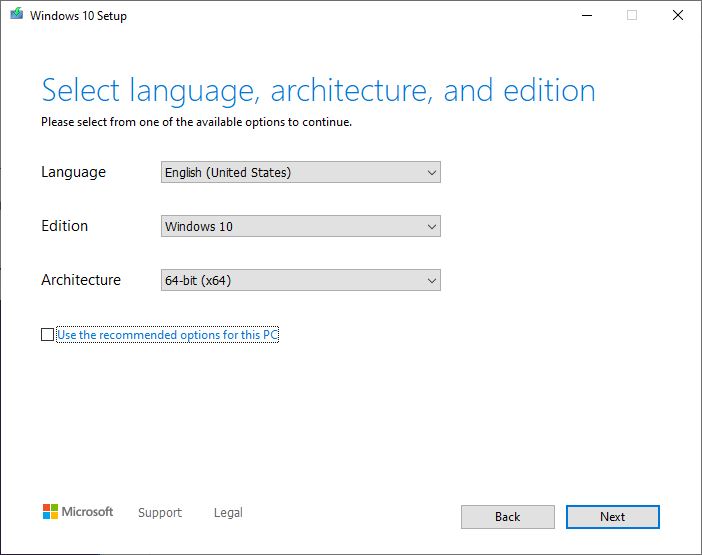 Select (dot) USB flash drive, and click/tap on Next.
This will start Downloading Windows 10 and Creating Windows 10 media.
When finished, your USB flash drive will be ready. Click/tap on Finish.
Windows USB / DVD Download Tool
This is the old and still reliable method to create a bootable media for Windows Installation. Users can easily make a bootable disk from an iso image file with this utility.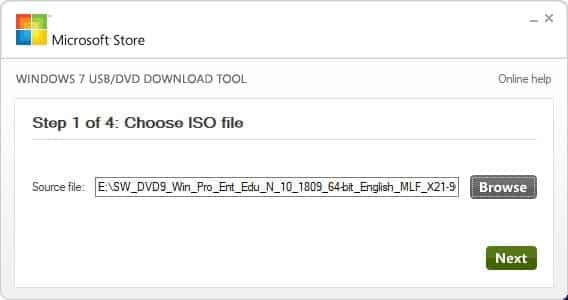 Click next and select the option USB drive, Then select the USB drive letter as shown image below.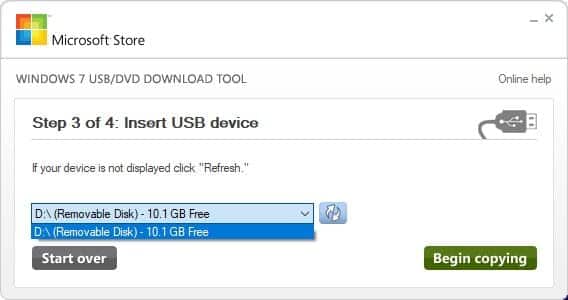 When you are ready click Begin copying to start the process.
wait until complete the process, after that you get a message "Bootable USB device created successfully"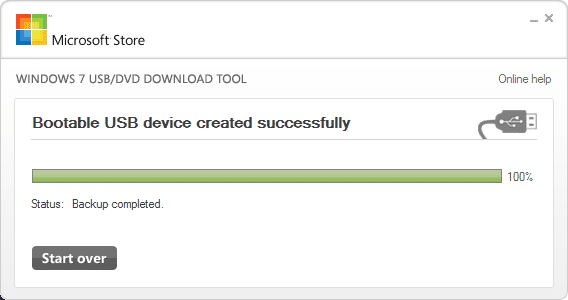 Did you find this helpful?
Related posts: