Have difficulty connecting to the internet or Wifi network on windows 10? Here we have quick tips to Diagnose Network and Internet connection problems such as Unable to connect to the internet, no wifi network found, Windows 10 no internet access or limited access, unidentified network, and more on Windows 10 PC
Diagnose network problems on windows 10
Start with basic, Restart your router, modem, and PC this will fix if temporary glitch causing the problem.
Temporarily disable security software (antivirus) and VPN, if configured.
Add a header to begin generating the table of contents
Press Windows + R, type ncpa.cpl and ok
Right-click on the active network adapter, select disable,
Restart windows and enable the network adapter again from the network connection window.
Check if this helps fix the problem,
Run Network and Internet Troubleshooter
This is the first step you must apply whenever you face network and internet connection problems. Run the build in network diagnostic tool that detects and fixes the problems preventing connection to the Wireless network.
Right-click the network icon in your System Tray and choose Troubleshoot Problems.
Once the troubleshooter runs, it could fix issues, find issues but fail to fix them, or find nothing.
If the troubleshooter finds a problem that it fixes, try to connect again.
If you get a specific error or problem name that Windows can't fix automatically, take note of it for later research.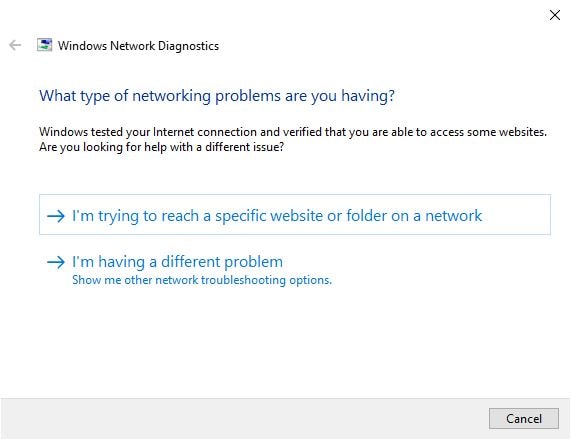 Configure your computer to use DHCP
Press Windows + R, type ncpa.cpl and ok
Right-click on the active network adapter, select properties,
select internet protocol version 4 and click on properties
Now select the radio button to obtain an IP address automatically and Obtain DNS server address automatically.
Click apply and ok to save changes and restart windows,
check if this helps to fix network and internet connection problems.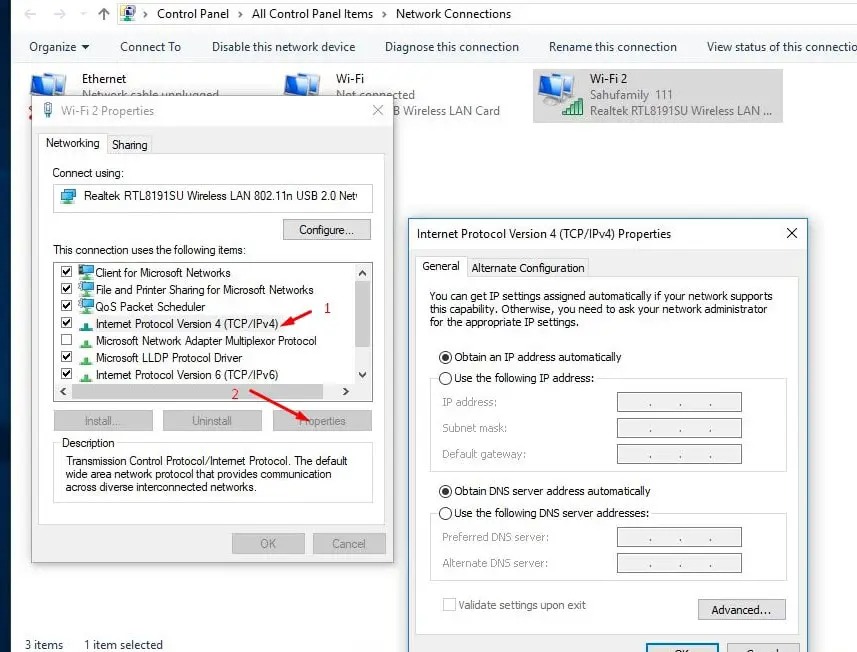 Reset the TCP/IP stack
Reset TCP & IP configuration to its default setup, probably fix most of the unknown network and internet problems. Search for Command prompt, Right click, and select run as administrator. Now perform the commands below one by one and press enter key after each.
Netsh winsock reset  
Netsh int ip reset   
ipconfig /release        
ipconfig /renew      
ipconfig /flushdns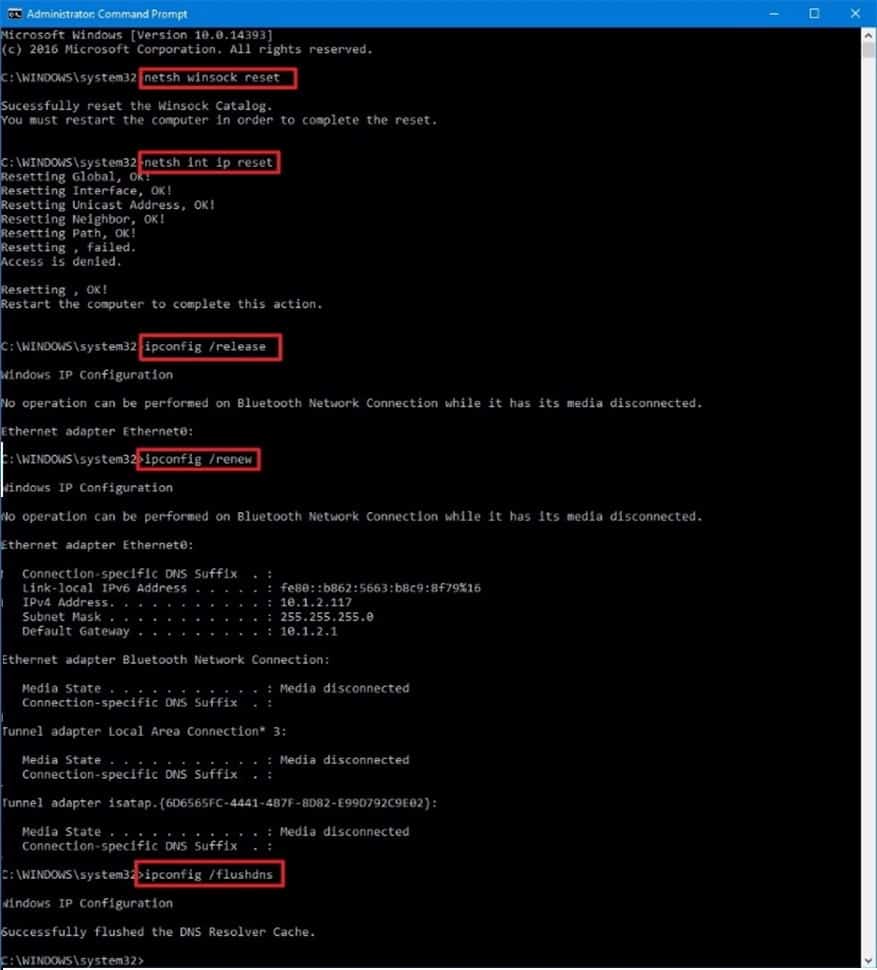 Then exit the command prompt and Restart your computer. Now connect to the internet or WiFi network, if there is no problem.
Switch to google DNS
This is another effective solution that probably fixes most internet connection problems include unable to connect to the internet,  DNS probe finished bad config and more.
Press Windows + R, type ncpa.cpl and click ok.
Right-click on the active network adapter, then select properties,
Double-click on internet protocol version 4 to get the properties window,
Here select the radio button Use the following DNS server address and configure
Preferred DSN server 8.8.8.8 and alternate DNS server 8.8.4.4
Checkmark on validate settings upon exit and click ok,
Close everything and open the web browser, there is no more problem connecting to the internet.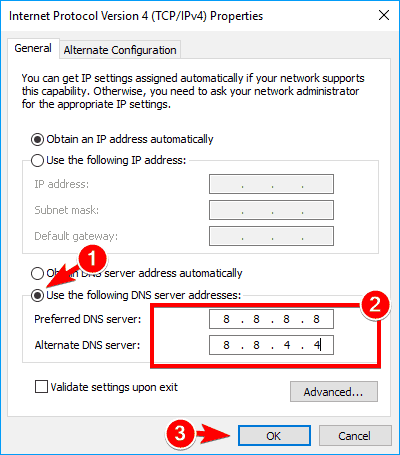 Update Network Adapter Driver
Device Drivers play an important role to work the device smoothly. If the installed driver for the network adapter is outdated, and not compatible with the current windows version you may face different problems connecting to the internet or WiFi network.
Open the device manager using Windows + X keyboard shortcut,
Right-click the wireless or Ethernet network adapter Choose Update driver software,
Click on select search Automatically for updated driver software
and let windows to install the latest driver software, if available,
Restart windows after completing the process and check if the problem is solved.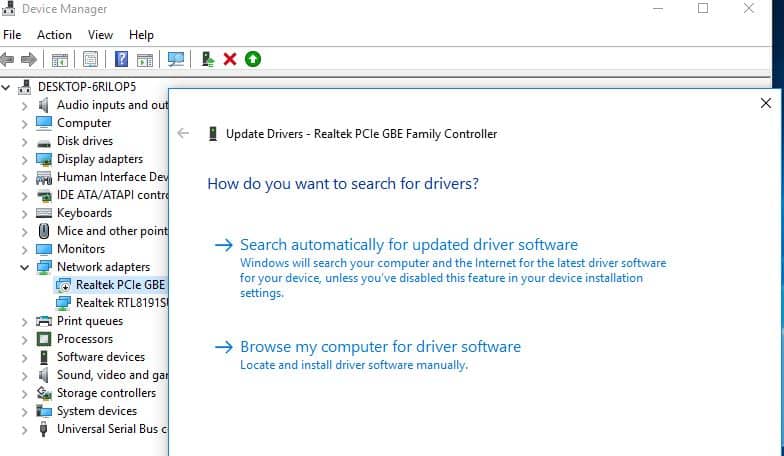 If while update windows show already latest updated driver installed, Then Reinstalling the Network Adapter is a good option to update the network adapter to the latest version.
Again open the device manager using devmgmt.msc,
expand network adapters
Right-click on  the wireless or Ethernet network adapter, and choose Uninstall device
Click yes if ask for confirmation, and restart windows.
On the next start windows automatically detect and install the driver software for your PC.
Otherwise, visit the device manufacturer's website to download and install the latest available driver for the network adapter.
Reset network adapters on Windows 10
If none above solutions fix the problem, still have difficulty connecting to Wifi or the Internet, a Reset Network adapter(available for Windows 10 users only) is probably a good solution you must try.
Keep in mind to perform reset network adapter option any network adapter will be reinstalled, and settings will reset to their default configurations. This means that if you're connecting to a Wi-Fi network, you'll need to re-enter the password to connect, and you may need to reconfigure other networking software as well
Press Windows + I to open the settings app,
click network & Internet, then Network status,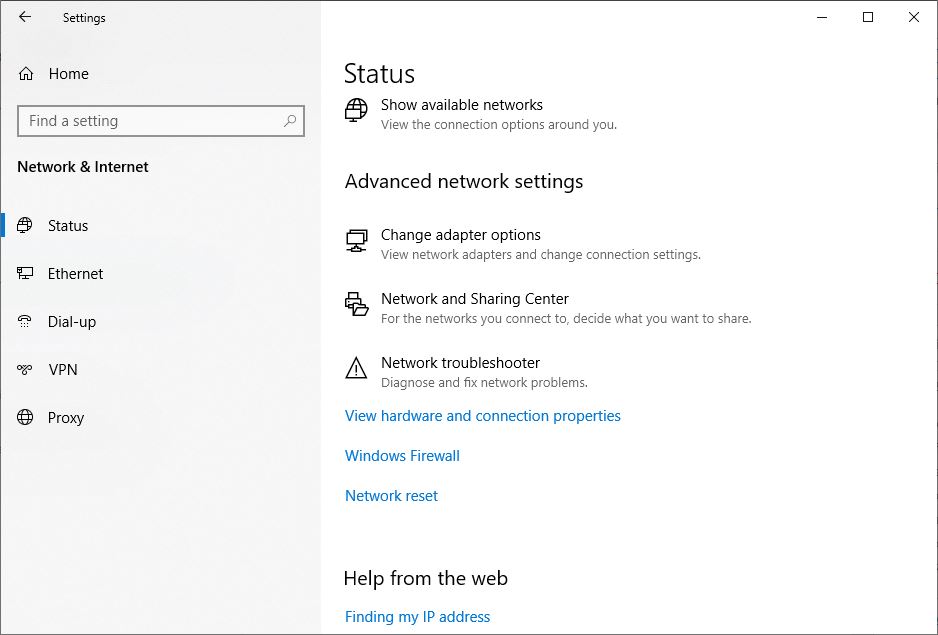 On the Network reset screen, select Reset now, And Wait for your PC to restart.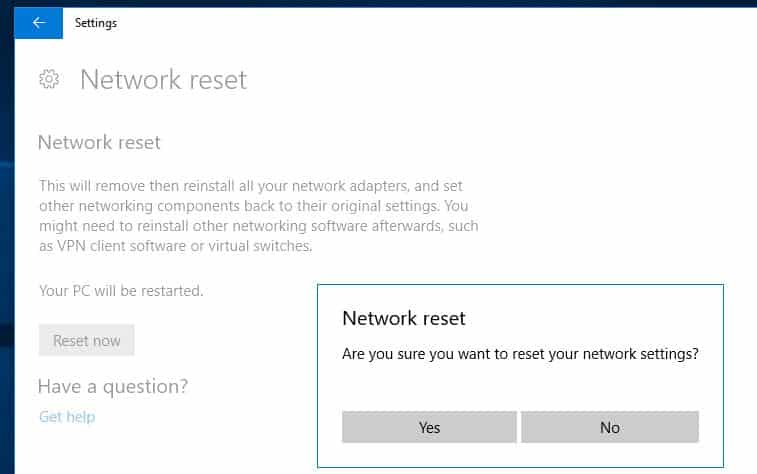 That's all, again connect to the WiFi network and open the web browser, and check if there is no more problem opening web pages on windows 10.
Did these solutions help to troubleshoot network and internet connection problems on Windows 10? Let us know on the comments below, also read: