With the latest Windows 10, Microsoft made Cumulative updates install automatically to make sure that every computer has the latest security patches, performance, and stability improvements. But some of the users do not want some updates to install immediately, Few users report Windows 10 download and install updates automatically, but I really don't want to update my operating system because the automatic update might take up the system and network resources. Well, controlling Windows updates is somewhat difficult in Windows 10 but you can regain control and stop automatic updates using Group Policy and Registry.
Disable Windows 10 update permanently
Here this article introduces the simple and easy methods to stop Windows 10 update completely., Note: You don't need to try them all; just work your way down the list until you find the one that works for you.
Remember keeping your machine as up-to-date as possible is an important part of keeping yourself safe online. And that's why We Do Not Recommend to turning off Windows Updates. Installing Windows Updates Are good for securing your Windows 10 and Get the latest New Feature, Security updates, Bug fixes regularly
Disable Windows Update Service
Windows Update is essentially just another Windows Service and can be turned off in a similar manner to other services. While disabling the automatic update service will temporarily halt any Windows 10 cumulative updates, But the service will re-enable itself after a certain amount of time. If you are looking for halt Windows update for a certain period of time disable the Windows update service by following the steps below.
Fire up the Run command using Windows logo + R,  type in "services.msc" and hit Enter
This will open the Windows services console,
Scroll down and select the Windows Update service from the Services list
Right-click on Windows Update, then select Properties.
Under the "General" tab and change the "Startup Type" to "Disabled"
Next, Click stop next to the service status,
That's all Click apply and ok, now onwards Windows 10 won't check and install Windows updates until the Windows update running.
When you want to re-enable automatic updates you just follow the same procedure except you select "Automatic" when choosing the "Startup Type".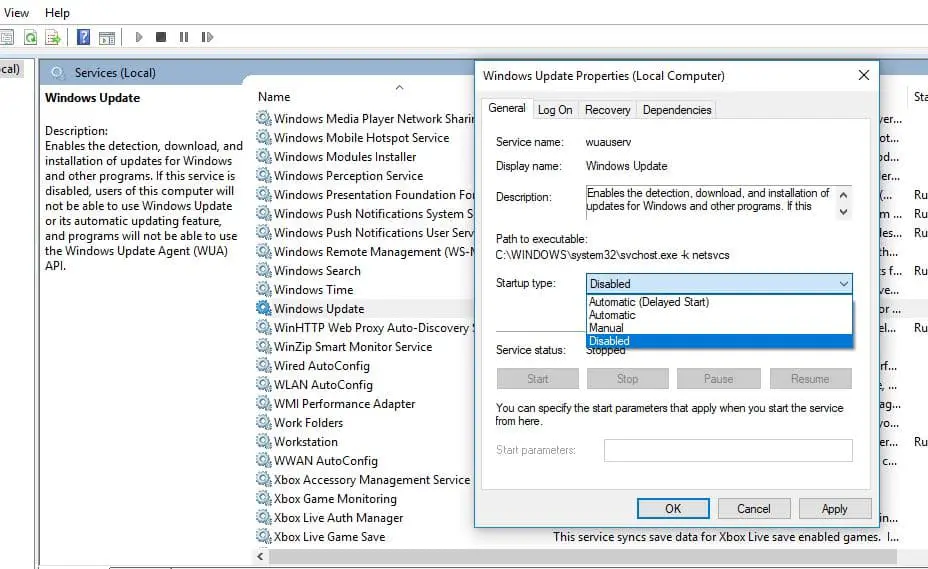 Postpone Windows updates
If you're looking to postpone updates for a certain period of time, then you don't need to disable the feature permanently. Windows 10 allows pause updates for 35 days until you're ready to install them. And using the Settings app, you can pause updates following the steps below.
Click on the start menu and select settings,
Go to Update & Security then Windows Update,
Here on the right-hand side click the Advanced options button.
Under the "Pause updates" sections, use the drop-down menu at the bottom of the page, and select the number of days that you want to defer quality updates.
After you complete the steps, your computer won't download and install Windows updates until the schedule reaches its limit.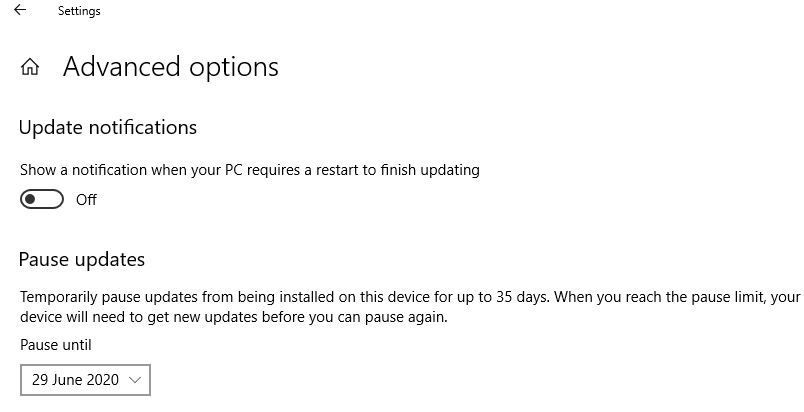 Disable Windows update using Group Policy
Also, Windows 10 Education, Pro, or Enterprise Edition use the Local Group Policy editor to disable automatic updates permanently or can change the Windows Update settings to decide when updates should be installed. Well, Users of the Windows 10 Home edition are out of luck regarding this way of disabling Windows 10 updates. But they can tweak the windows registry (steps listed next) to permanently disable Windows updates.
Use Windows + R, hotkey, type gpedit.msc and click ok
This will open local group policy editor,
Here Navigate to Computer Configuration\Administrative Templates\Windows Components\Windows Update
On the right side Double-click the Configure Automatic Updates policy
Select the radio button Disabled to completely turn off the policy, click apply and ok,
Now onwards  Windows 10 will stop downloading updates automatically.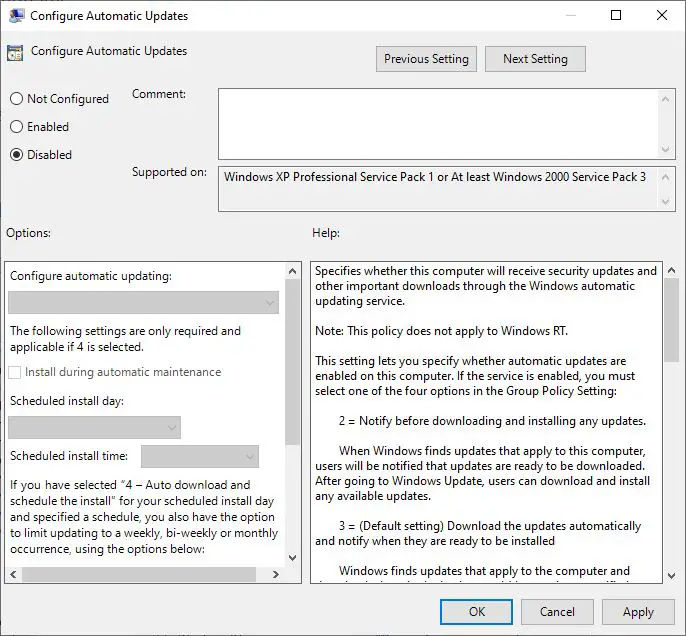 Here also you can select the Enable Radio button to enable the policy and configure automatic updating (refer to the image below) and select 2 – Notify for download and auto-install.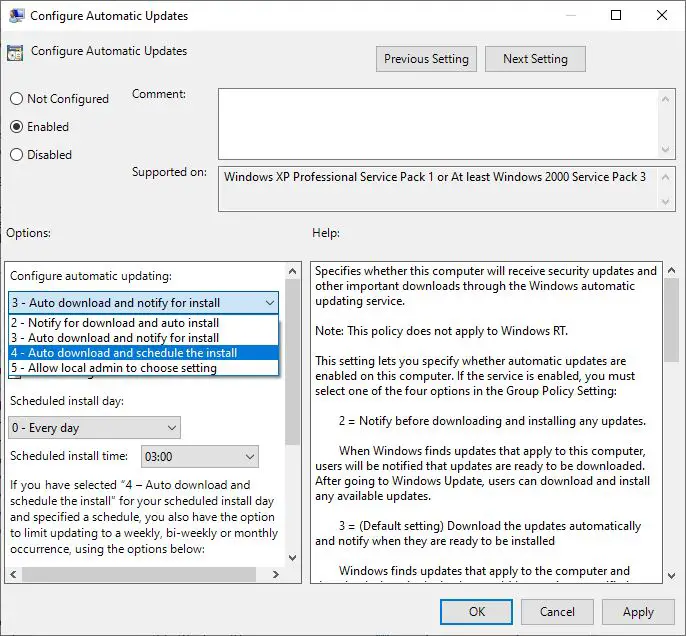 Disable automatic updates using Registry
If you have Windows 10 Home  Edition, you can tweak the Windows registry to permanently disable automatic update installation on Windows 10.
Press Windows + R, type Regedit and click ok,
This will open the Windows registry editor,
On the left-hand side navigate HKEY_LOCAL_MACHINE\SOFTWARE\Policies\Microsoft\Windows
Here Right-click the Windows (folder) key, and select the New -> Key option. And Name the new key WindowsUpdate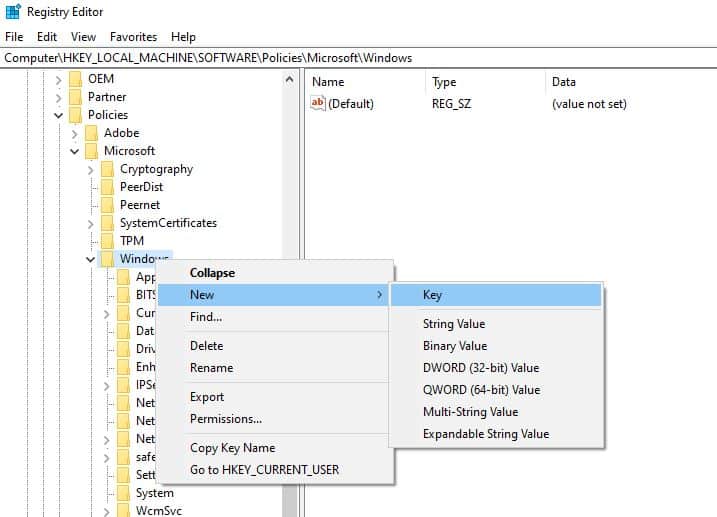 Again right-click on the newly created Windows update key, select New -> Key Name the new key AU
Now right-click on AU select New and click the DWORD (32-bit) Value option, Name the new key NoAutoUpdate
And finally, Double-click the newly created key NoAutoUpdate and change its value from 0 to 1.
Close everything and restart your PC
Also, you can set the value following numbers to configure Windows update when to download or install.
2 — Notify for download and auto-install.
3 — Auto download and notify for install.
4 — Auto download and schedule the install.
5 — Allow local admin to choose settings.
Now onwards, Windows Update should stop trying to download and install updates automatically on your device.
Also read: