With Windows 10 Microsoft Set To Download and Install Windows Automatically, to ensure the proper functioning of a system and maintain its security. But Due To Some Reason if you are Looking To turn off Windows 10 updates or disable automatic update installation on Windows 10, Here Step by Step Guide To Stop Windows 10 Updates from Downloading or installing updates automatically.
About Windows Update
Microsoft Regularly drops Windows Updates with New Features, Security improvements and Bug Fixes to patch the hole created by third-party Applications. And with Windows 10 Microsoft made it mandatory to download and install Windows Updates automatically to ensure your device stays up to date with the latest security patches and improvements.
Disable auto update Windows 10
While The Automatic Windows 10 Update installation is normal for most Windows users but for some find it extremely irritating as it restricts them from performing other activities very conveniently which they want to. If you are also one of those Windows users who want to disable auto update Windows 10 here are different ways for you.
If you're running Windows 10 Pro or higher, it's possible to retake control and prevent the OS from downloading and installing updates automatically using the Local Group Policy Editor or the Registry. For Windows 10 Home Basic Users a special Tweak Simply Stop the Windows update service and change the Startup Type to Disable.
Stop Windows Update using Group Policy
Note: The group policy Feature is only available on Windows Pro and higher editions. If you are Windows 10 Home Basic user skip this Step. 
Press Windows + R, type gpedit.msc and ok
This will open the Local Group Policy Editor
Now navigate the following folder:
Computer Configuration\Administrative Templates\Windows Components\Windows Update
Now on the right side, double-click on the Configure Automatic Updates policy from the Settings list.
Then on the left side, check the Enabled option to enable the policy.
Here under options select option 2 – "Notify for download and auto install" to stop the automatic installation of updates.
Click Apply and OK To make Save changes.
Note: Enabling and applying Notify for Download and notify for Install policy will now inform you if a new update is available on your PC and will ask you if you wish to download the update or not.
Also  If you select option 4, you can specify exactly when to install new updates. You can also choose to install updates during automatic maintenance, on a particular day and time, and you can even check the option to include other Microsoft product updates when updating the OS.
With this, the policy will prevent automatic installation of Windows updates and you'll receive a notification every time whenever a new update is available. If you ever wish to change it back to default, just select option 3 – "Auto download and notify for install".
Disable auto update Windows 10 home
Instead of using the Local Group Policy Editor, you can Also Tweak Windows Registry Editor to prevent Automatic Update installation on Windows 10 home editions.
Press Windows + R, type regedit and ok
This will open the Windows registry editor,
First backup the registry database, then navigate the following path,
HKEY_LOCAL_MACHINE\SOFTWARE\Policies\Microsoft\Windows\WindowsUpdate\AU
Then Right click on Windows select New -> key
Name it to Windowsupdate.
Again Right click on Windows update New -> key and name it AU.
Click on the Au key than on the right side panel, right-click anywhere,  select New > DWORD (32-bit) Value option and Rename this key as AUOptions and hit Enter.
Now, double-click on the AUOptions key and then change its Value data as per your choice. You can find out what these values mean:
2 – Notify for download and for install
3 – Auto Download and notify for install
4 – Auto Download and schedule the install
5 – Allow local admin to choose setting
For Ex If you want to stop Windows 10 from automatically updating your PC then set the Value data as 2.
That's all Now click OK and close Registry Editor. Then restart Windows To take Effect the Changes.
Stop Windows Update Service
Press Windows + R, type services.msc and ok
This will open the Windows services console,
Scroll down and look for the Windows update service,
Right-click on Windows update service select properties,
A  properties window pop-up window will open
Here, in the drop-down menu of "Startup type", select "Disabled".
Click on Stop to Disable the Service next to Service status.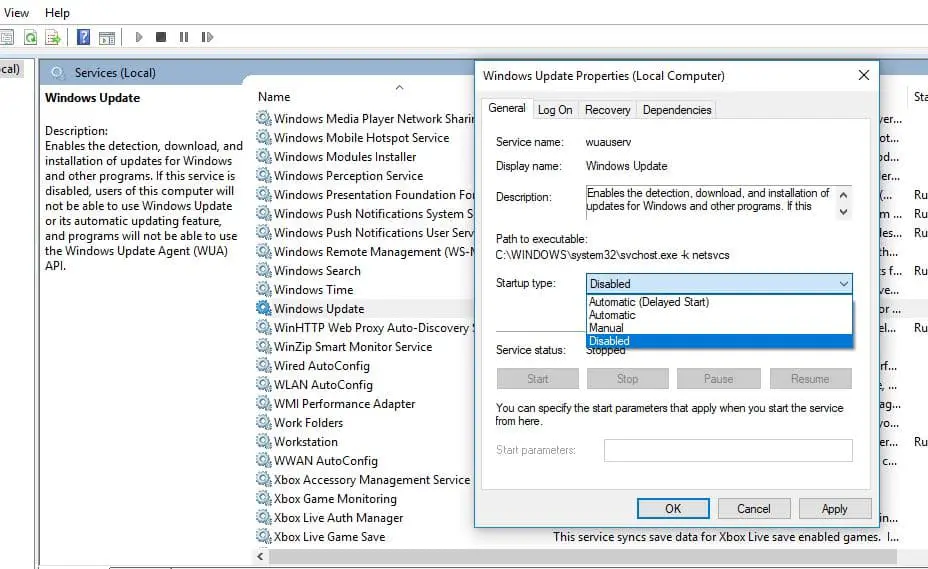 That's All Restart Windows now onwards the update service is not started and Windows never checks for the latest Windows updates.
Note: Any time you can start the update service and change Startup Type Automatic To Check and install Windows updates.
Metered Connection
Also if you are using a WiFi connection then you can Set the Metered connection to limit the bandwidth usage and restrict Windows to download updates.
To configure the metered connection
Press the Windows + I keyboard shortcut to open Settings
Click on Network & Internet then  WiFi
Here click on the name of the network you're connected to.
Then under "Metered connection", you'll find a toggle called "Set as metered connection". Turn this on and you're done.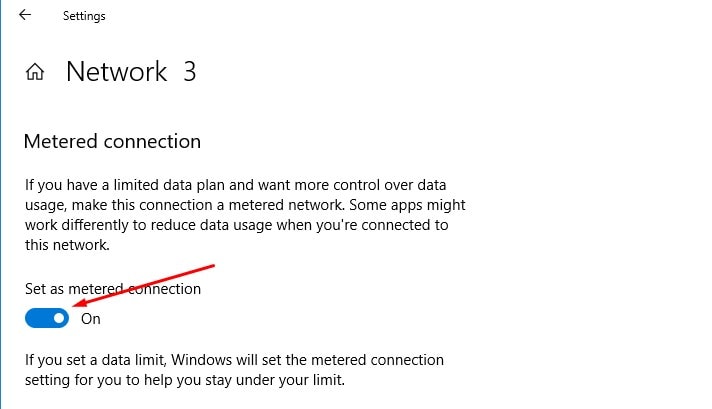 Did these tips help to disable automatic updates on Windows 10? Let us know on the comments below, Also read:
Windows 10 Failed to install? Here is how to get it right way