Discord is one of the most popular VoIP (voice over Internet protocol), instant messaging, and digital distribution platforms. It's one of must-have software for gamers and it was a convenient way for gamers and streamers to convene, chat, and play together. But sometimes you may notice Discord is slowing down your computer, it's Eating a lot of CPU resources for some reason. Many users reported Discord high CPU usage issues, while using Discord for a voice or video call, it uses up to 80% or more CPU resources. Usually, it's because Discord has several background processes that can consume CPU resources, Hardware issue, Discord Bots or Discord incorrect settings. If Discord CPU usage is high and slows down system performance, or making it nearly impossible to play games, here is how to fix the problem.
How to Fix Discord High CPU Usage problem?
Several factors cause Discord high CPU usage problem, its due to Hardware Acceleration, background processes, outdated version of app, improper device settings and corrupted installation files are common.
You need to adjust the Discord settings to fix the problem,
Update Discord app with latest version, another effective way to fix problem with the Discord app,
Discord app file corruption is another reason why CPU usage is very high, Reinstall the Discord app resolves the issue for most users.
In addition, you need to Disable Discord Hardware Acceleration and Disable Discord Overlay to fix the problem.
Let's first reboot your computer, that refresh the operating system and Discord app, restart running processes and clear temporary glitches that may be causing high CPU usage problem on windows 11.
Disable Hardware Acceleration
This is the very first solution recommended by many users, turning off hardware acceleration in Discord's settings, reduce the strain on your computer's CPU and potentially lower the high CPU usage caused by the application.
Disable Hardware acceleration helps most users reduce the CPU usage in windows 11.
Open the Discord App on your computer, click on User Settings icon next to your user details.
Select Advanced in the menu on the left side, and toggle off the Hardware Acceleration option.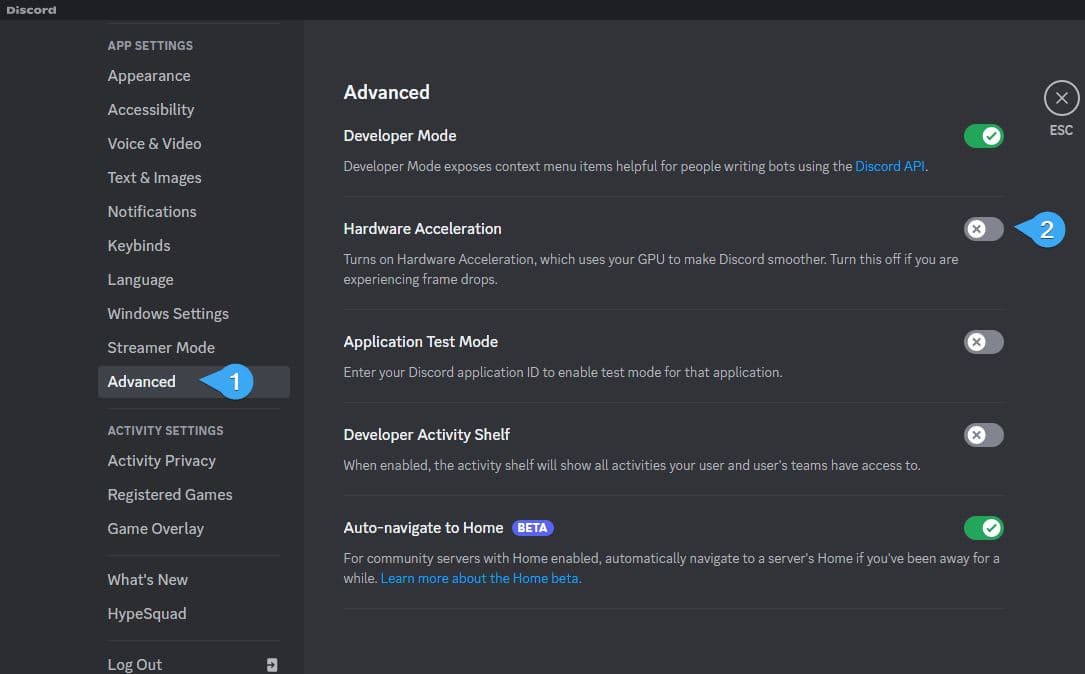 Click on the X button in the upper right corner, or press the Esc key to close your settings.
Now, check if Discord is still using too much CPU on windows 11 PC.
Update Discord to the Latest Version
The software developer team regularly updates the Discord app with the latest bug fixes and security improvements. If you are running an older version of discord app, update it with the latest version. Updating Discord to the latest version, not only fixes problems with the app but also includes performance improvements that could help reduce CPU usage on windows 11.
Open the Discord app, and make sure it's in focus.
Press the Ctrl + R keyboard shortcut to refresh the app. This is going to force Discord to restart itself and look for updates.
If a new update is available, Discord will start installing it right away.
Restart the app and check if the new update fixed the CPU usage of your app.
Restart Discord Completely
Sometimes it's a temporary glitch or process stuck running in the background and causing high CPU usage on windows 11. And in such cause restarting the application can help clear them out and fix the problem
First close the Discord app if its running
Next press Ctrl + Shift + Esc simultaneously to open Taskmanager,
Click on the Discord from your process list, and then click on the End task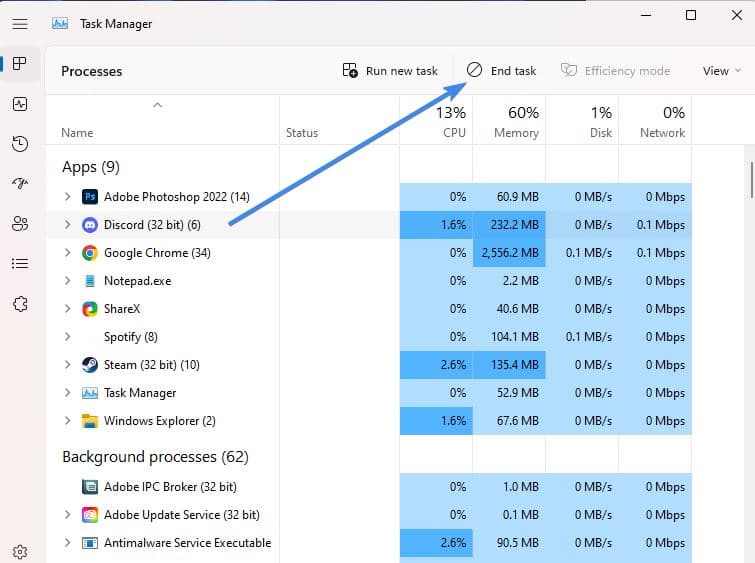 This will completely close the Discord app, terminating any background processes it has running on your device. Now, you should try and relaunch Discord, then see if it's still consuming high CPU.
Change Your Voice Settings
Sometimes, adjusting voice settings helps reduce the strain on your CPU by optimizing how Discord processes audio.
Launch your Discord application and select the User Settings icon located beside your user information.
Go to App Settings in the left-side menu, and then select Voice & Video.
Here, disable the following options: OpenH364 Video Codec, Echo Cancellation, and Noise Suppression.
Scroll down and disable the Automatic Gain Control option as well.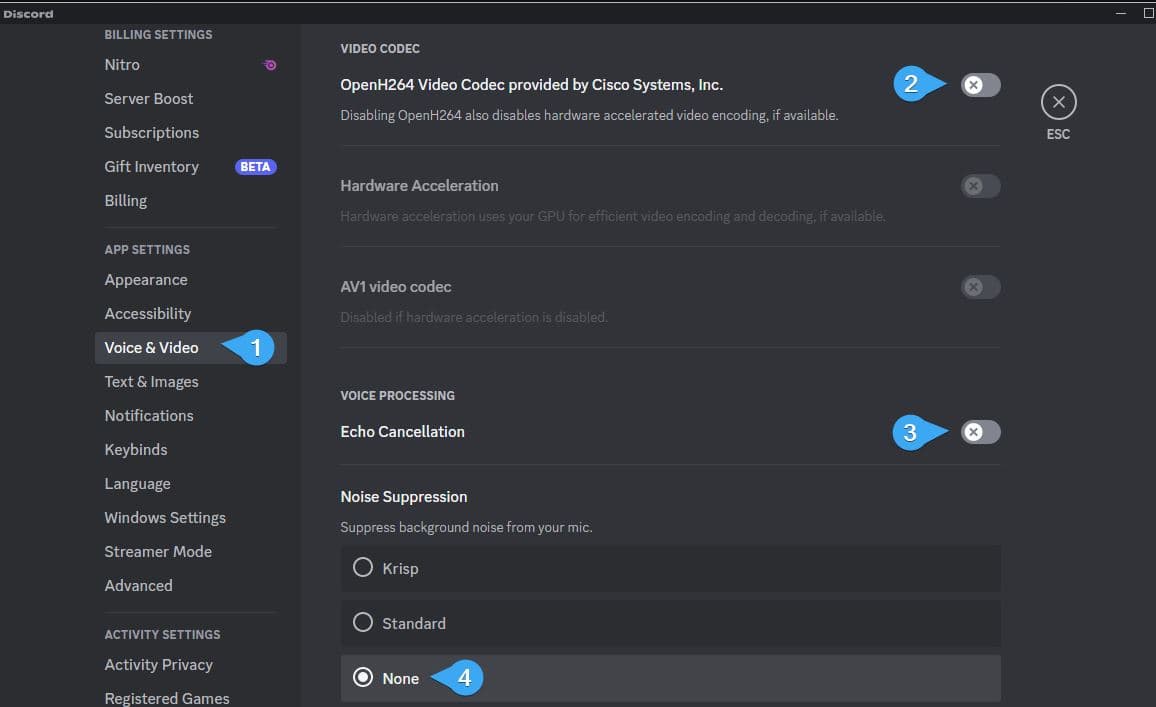 Disable Discord Overlay
Discord overlay adds an extra layer of processing that can consume extra system resources, and sometimes Disabling the Discord overlay can help reduce the CPU resources used by the application while gaming or using other programs.
Open the Discord app, click on the User Settings icon located next to your user details.
Scroll down to the left-side menu until you see Activity Settings.
Click on Game Overlay, and make sure that the "Enable in-game overlay." option is turned off.
Now close the settings window and check if Discord's CPU consumption comes down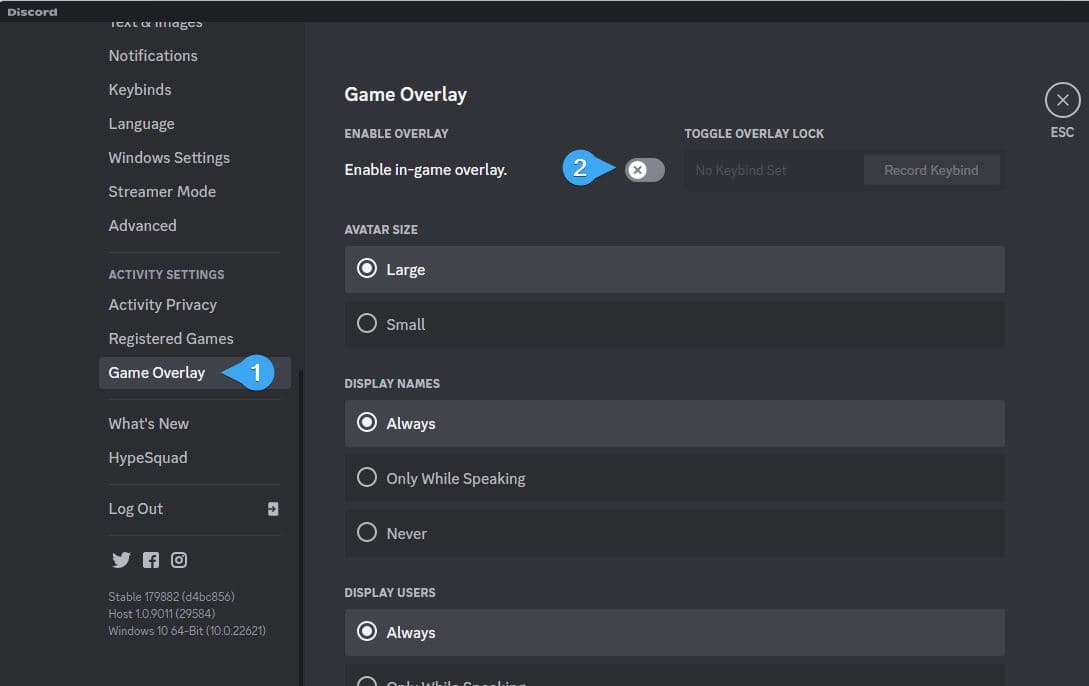 Reinstall Discord app
If the above solutions didn't fix the problem, it may be corrupted files or issues with the discord app that may be causing high CPU usage on windows 11. And reinstalling the Discord app with the latest version can help fix these issues.
Downloading a new version can resolve the problem, as there may be a problem with your current version.
Press windows key + X and select installed apps,
Scroll down to locate discord, click on the 3 dots next to app name and select the uninstall option,
Follow on screen instructions to completely remove discord app from windows 11
Now press Windows Key + R type "%appdata% "and click ok
Locate the Discord folder and delete it, and reboot your PC
If you can't find a discord folder, it can be possibly hidden. Select View from the top bar and check the Hidden Items option
Once done, visit the official Discord download page and get the latest version of the app.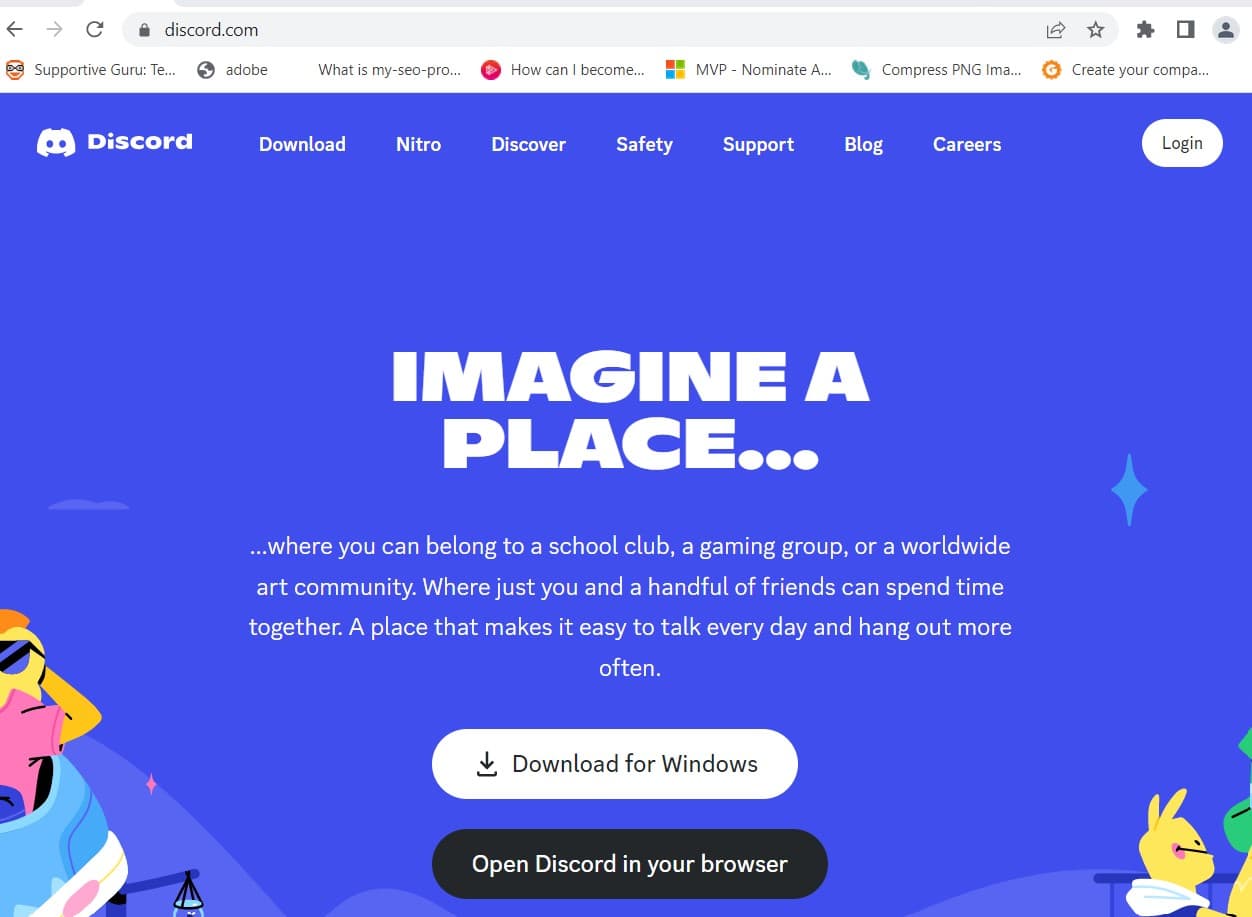 If the Discord app is still causing High CPU usage problem on windows 11, Use Discord from Your Browser could be a solution for you. Navigate to discord.com in any browser, login with credentials or use the QR code to sign in, and then click the Open Discord in your browser button. You should automatically get redirected to the discord.com/channels/@me page, which is the browser app version of Discord.
Also read: