Discord one of the most popular VoIP (Voice over internet protocol), instant messaging and digital distribution platforms specializes in text, image, video, and audio communication between users in a chat channel. It's Especially famous among gamers, and can be used in different systems, including Windows, macOS, Android, iOS, Linux, and web browsers. The development team behind the Discord application are great and Discord frequently updates with regular bug fixes. However, recently many reports have emerged Discord mic not working problem. Again If you are using Discord on your computer, sometimes you may encounter Discord mic not working problem.
Discord mic not working windows 10
Most of the time outdated firmware or corrupt Discord software files or compatibility issues cause such problems Discord Mic not Working.  Again a quick way to solve the problem is to grant access to your microphone for applications. If you are wondering about the same, here is exactly how you can fix it when your Discord microphone is not working on windows 10.
If this is the very first time you have noticed, discord not detecting input from mic then try close and reopen the application. that help fix the temporary glitch causing the discord mic stop working.
Also, Unplug your audio/ mic jack or USB and plug it back in then re-open Discord.
Try to run Discord with administrator privileges and then check if the issue gets resolved or is it still coming.
Logging out of Discord
If the Discord not detect problems persist, try logging out of the Discord account then login in back the following steps below.
Open Discord and check out the bottom-left corner, there will be a User Settings icon. Click on it.
Look for the logout button, click on it. It will ask for confirmation, confirm it and you will get logged out of the application.
Now, log back in and now check if your friends can hear you or not.
Allow discord to use microphone windows 10
If the microphone is disabled in Windows privacy settings, you may face the mic not working on the Discord issue on your computer. Let's check make sure that you have enabled microphone access on your Windows 10 computer.
Open Windows Settings and then select Privacy.

Next, choose Microphone under App permissions from the sidebar to your left-hand corner.

Over here, make sure to turn on the switch under Allow apps to access your microphone. If this option is grayed out then click change under Microphone access for this device and toggle on the microphone for this device option (refer to image below)
Now in the app list check if permission is granted for Discord to use the microphone or not allow it if it is not granted.
Now restart your system, open Discord and check the status of the issue.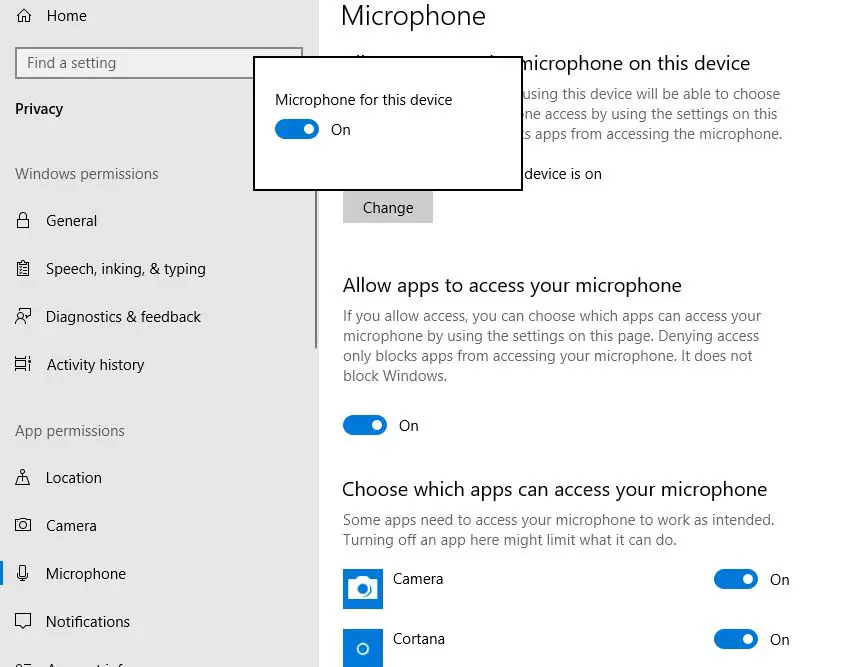 Check for external microphone issue
Check and make sure: Microphone is securely connected to the USB port or 3.5mm jack,
Make sure the microphone doesn't have hardware that is mute engaged on the device,
Again make sure you have the latest drivers and software download for your device.
Run Speech Troubleshooter
Run the Windows 10 Speech Troubleshooter that automatically detects and fix microphone problems include Discord mic not working issue on Windows 10,
Open windows settings using windows key + I
select update and security then troubleshoot,
Click on the additional troubleshooter link, (refer image below)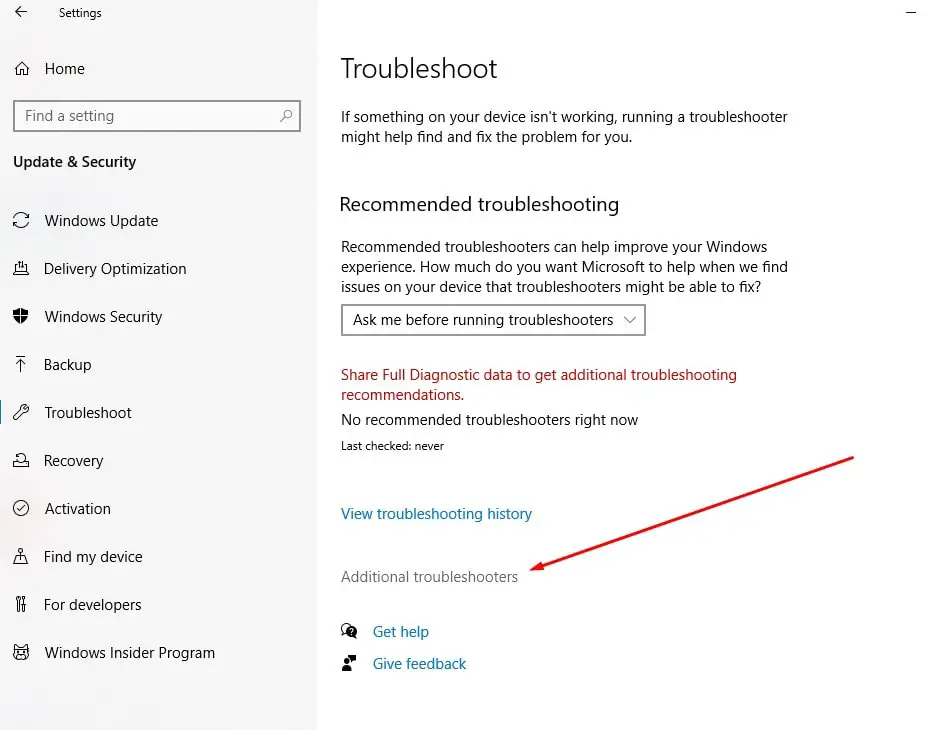 Now scroll down to locate speech select it and click run the troubleshooter,
Follow on screen instructions to allow windows to diagnose and fix the problem for you.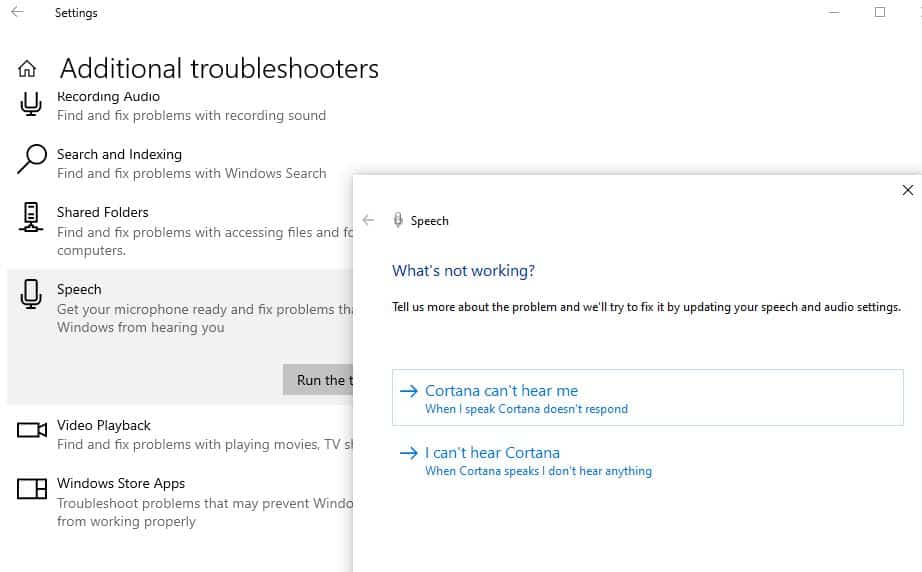 Change Discord Input Sensitivity
On Discord, there is a setting named Automatically determine input sensitivity to help the app detect any audio input devices like a microphone. If unconsciously this option is disabled Discord won't pick up the mic, Let's check and adjust this input sensitivity setting in Discord.
Open the discord app then click setting user interface,
Here choose Voice & Video from the list.
On the right side, scroll down to locate and enable Automatically determine input sensitivity.
Now, talk in your mic and see if the bar shown below shows solid green. If it is solid green then your voice is transmitting.
Now, disable the toggle and position the slider in the middle. and check whether your voice is transmitted from the mic or not.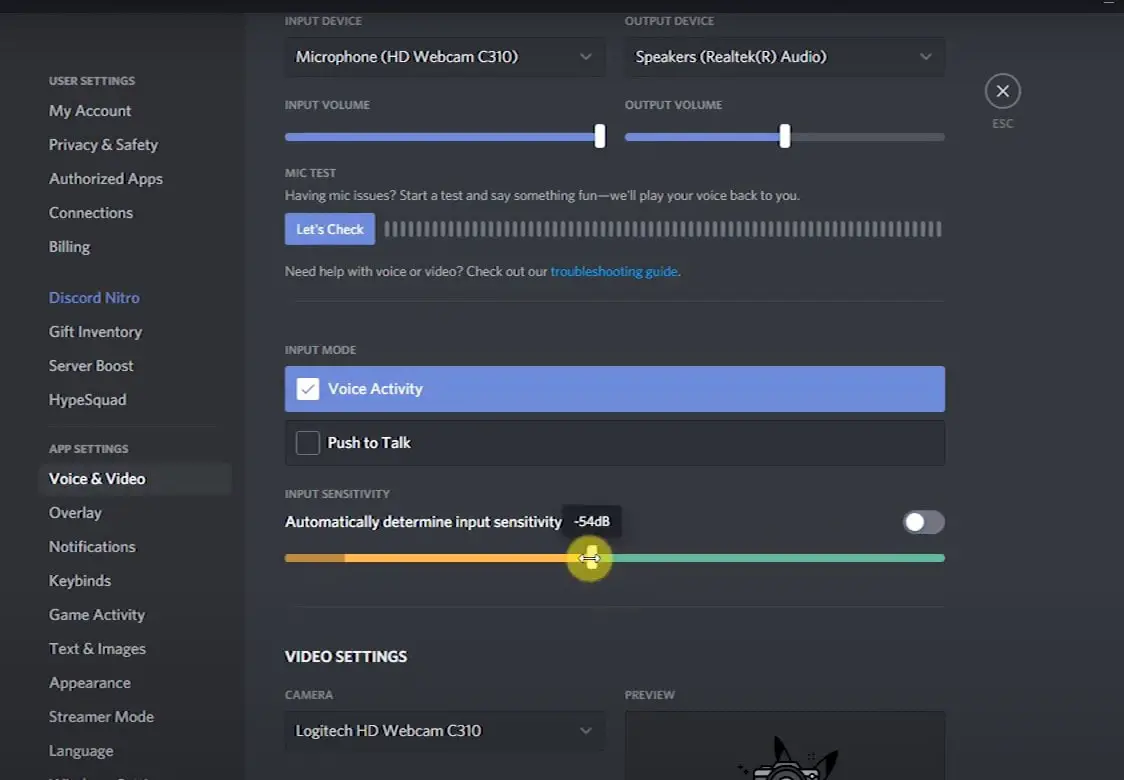 Select the Correct Input Device for Discord
If your microphone works well on other applications it's causing problems with the discord app only then there is a chance, you didn't select the correct microphone on your PC as your input device on discord. Let's verify and Select the Correct Input Device for discord,
Launch the Discord app on your computer then click on the Gear icon to open the User Settings.
Click on Voice & Video from the side menu.
Here check and make sure that Discord is using your current headphones as the Input Device.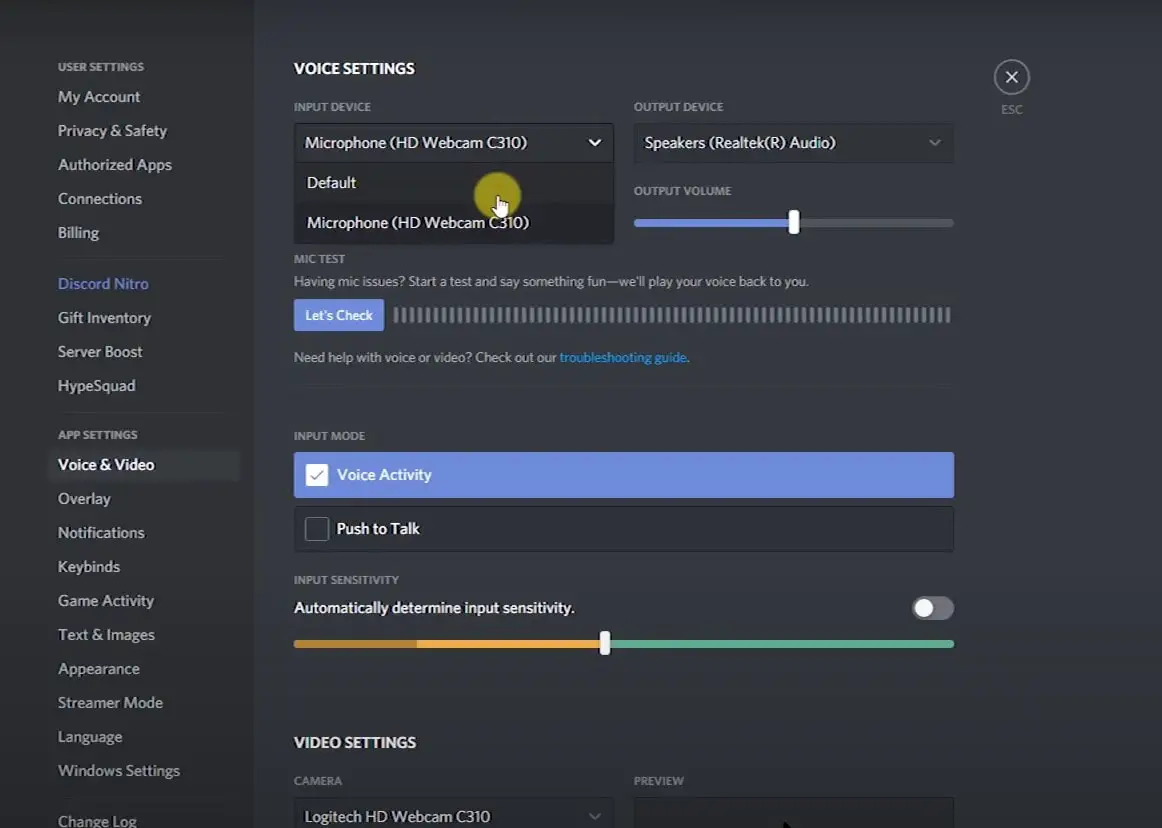 Note: make sure your earphones or headphones are connected to your laptop or desktop otherwise it won't show that
Also, change Input Volume and Output Volume to the maximum
In addition look there is an Input Mode in Discord, if the Voice Activity is not working, you can change it to Push to Talk.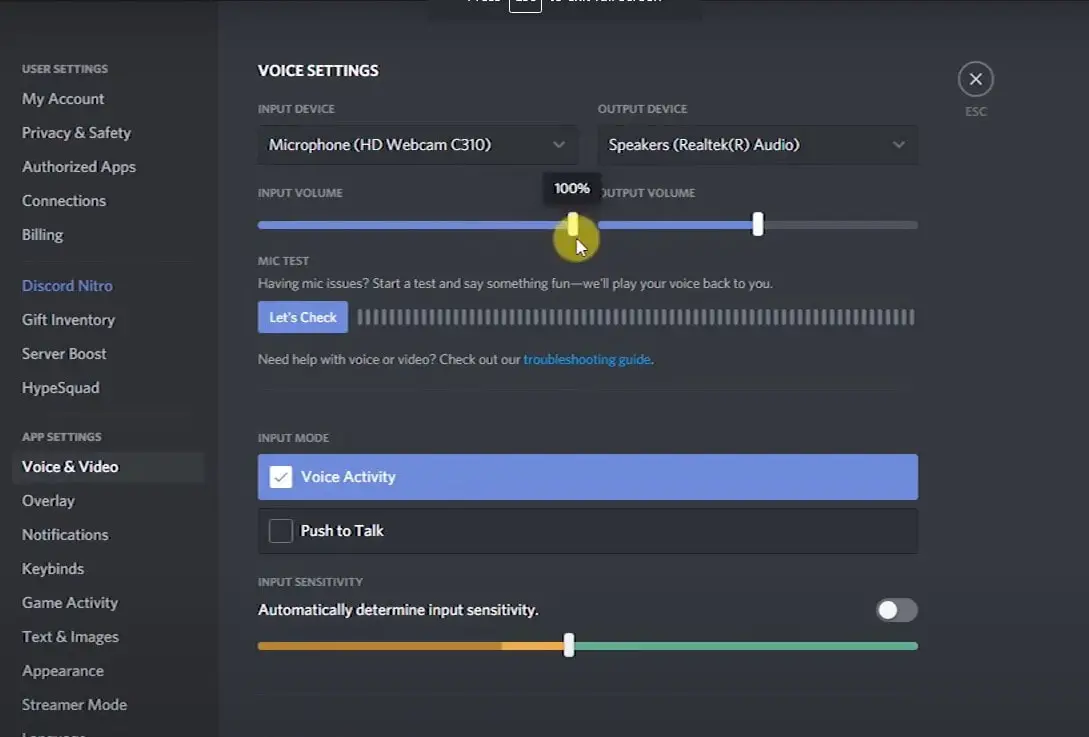 Disabled exclusive mode on windows 10
Certain apps are installed on your computer or sometimes set a take control of the audio device driver when run. This will sometimes cause issues with the discord app. Try to disable this setting to check if this is causing the problem.
Right-click on the sound and volume icon on the bottom right corner and select sound,
move to the record tab, select microphone right click and then properties,
Under the advanced tab uncheck the box under the exclusive mode,
Click apply and ok to close microphone properties, then reboot your PC to apply the changes you have made.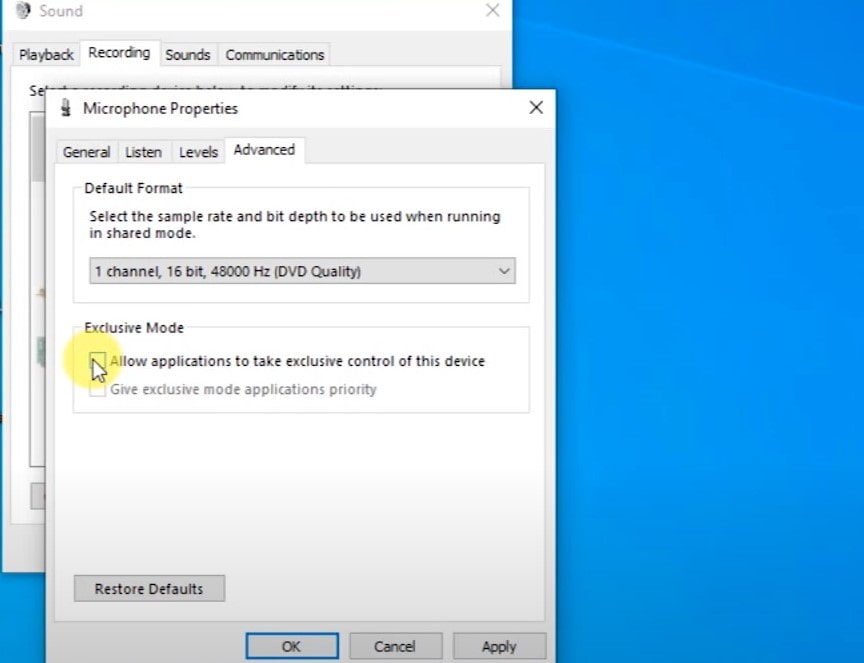 Reset the Voice Settings
Here is another effective solution recommended by many people who get the Discord mic not working issue on their PC.
Open the Discord app then Click the User Settings icon located at the bottom of the page.
Go to Voice & Video section, Scroll down to locate and click on Reset Voice Settings.
Click Okay when asking for confirmation, to make sure that you want to reset voice settings.
Discord will reset the voice settings, close the Discord app and open it again also try disconnect and reconnect your microphone and check whether the issue has got fixed or not

 Disable QoS on Discord
Some gamers recommended, disable QoS setting on Discord help them fix discord not detecting input from mic. So let's disable it and see what happens with the issue.
Open discord, Click on User Settings then Voice and Video.
Look for the "Enable Quality of Service High Packet Priority" toggle. Turn it off.
Now, check what is the status of the issue.
Check the video tutorial and perform steps to fix the Discord mic not working on windows 10.
Also read: