Internet not working or no internet access after windows 11 update? And running the internet troubleshooter results DNS server not responding or DNS Server Unavailable Error? This is a common error caused to due various reasons that include incorrect network configuration, thrid party antivirus, third-party app interfering with your network and more. Here in this post, let's first understand what is DNS and how to fix DNS Server Unavailable or not responding Error on windows 11.
What is DNS?
DNS is an acronym for Domain Name System and it is a decentralized naming system used by all computers, servers, and more trying to connect to the internet. It converts a computer's hostname into an IP address and vice versa on the Internet.
For example, if a computer needs to communicate with the webserver example.net, your computer needs the IP address of the webserver example.net. And here DNS play an important role to convert the hostname to the IP address of the webserver. Here a video explains How a DNS Server (Domain Name System) works.

How To Fix Windows 11 DNS Server Unavailable Error
Whenever you are unable to browse web pages or the Internet not working the first thing we recommend restart your router and computer. This will refresh the operating system and clear if a temporary glitch is present there that causing the issue.
Power off your router and computer, wait for a minute and then restart it again.
Next, temporarily disable or uninstall third-party antivirus, and disconnect VPN (if configured on your computer) and check if you are able to access the webpages and internet working.
Disable third-party antivirus and disconnect VPN.
Again try to access the webpage on a different browser for example if you are unable to access example.com on chrome browser we recommend open the same on Firefox or opera browser and check if it works.
Open the webpage on Firefox or Opera browser, also try open the same on Incognito mode.
In addition, perform clean boot that helps isolate if the cause if the condition is caused by third-party software products on your system.
Flush DNS using command
This one marked the most working and effective solution to fix Internet connection problems on windows 11. Let's Flush and Renew your DNS on Windows 11.
Open command prompt as administrator, and run the following command one by one. Note: Press enter key to execute each command.
ipconfig /flushdns
ipconfig /registerdns
ipconfig /release
ipconfig /renew
netsh winsock reset
Once done, type exit and press enter key to close the command prompt and restart your PC. The DNS errors should now be fixed on your system if they were caused due to misconfigured settings on your PC.
Modify DNS settings
Let's switch to Google DNS which is probably a solution, apply to fix the DNS server not responding or DNS Server Unavailable Error on Windows 11.
Press Windows key + R, type ncpa.cpl and click ok to open the network connection window.
Right-click on the active network connection, select properties,
Double click on Internet protocol version 4 (TCP/IPv4) to open its properties,
select Use the following DNS server addresses and set the following:

Preferred DNS server: 8.8.8.8
Alternate DNS server:8.8.4.4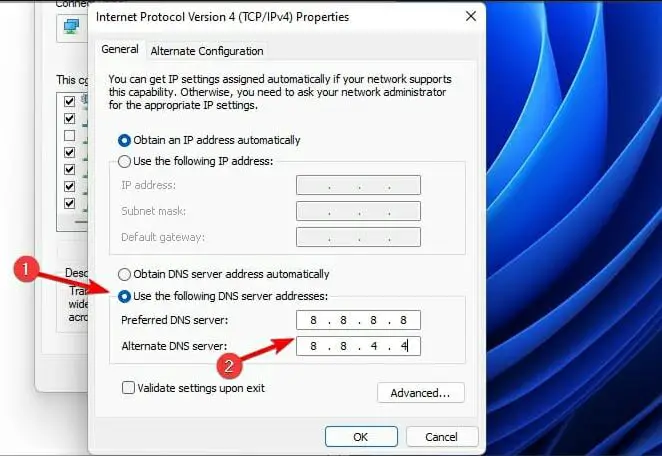 Click OK to save changes.
In addition, disable IPv6, to do this uncheck the Internet Protocol Version 6 (TCP/IPv6)
Again click ok and check the Internet status on your Windows 11 PC.
Restart the DNS services
Let's run the DNS client service that probably fix the problem for you.
Press Windows key + R, type services.msc and click ok to open windows services console,
Scroll down and locate DNS client service, right-click on it select restart,
In addition double click on DNS client service to open its properties,
Change its startup type automatic and start the service next to service status (If service not started)
Do the same with DHCP client service, and close windows service console,
Now check if the internet connection is restored.
Obtain DNS automatically
If above solutions didnt fix the problem then try and remove the stored DNS server addresses from the network properties. And let it obtain DNS address automatically from DHCP server.
Press Windows key + R, type ncpa.cpl and hit ok
Locate your active network adapter, right-click on it select properties,
select Internet Protocol version 4 (TCP/IPv4) then click on properties,
Here select radio button obtain DNS server address automatically,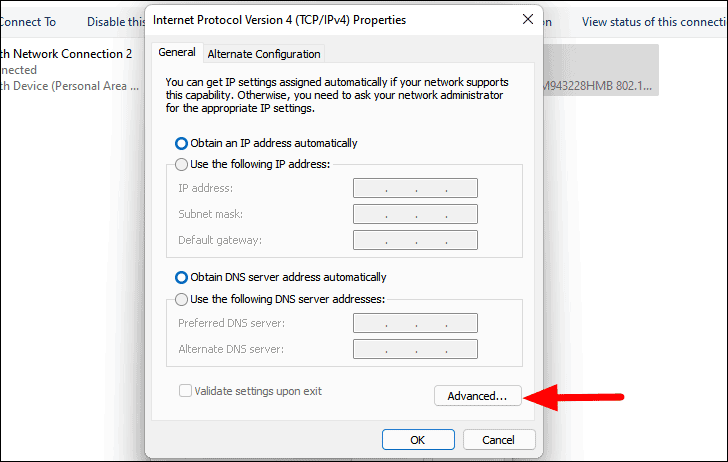 Then click on Advaned to open advanced TPC/IP settings,
Navigate to DNS tab, select an entry listed under 'DNS server addresses and click on remove.
Disable proxy
Here is another effective solution most of the time fix different internet problems on windows 11.
Press Windows key + R, type inetcpl.cpl and click ok to open the internet properties window,
Go to Connections tab then click on LAN settings,
Uncheck Use a proxy server for your LAN and click OK
Click apply and ok again, and check the internet status.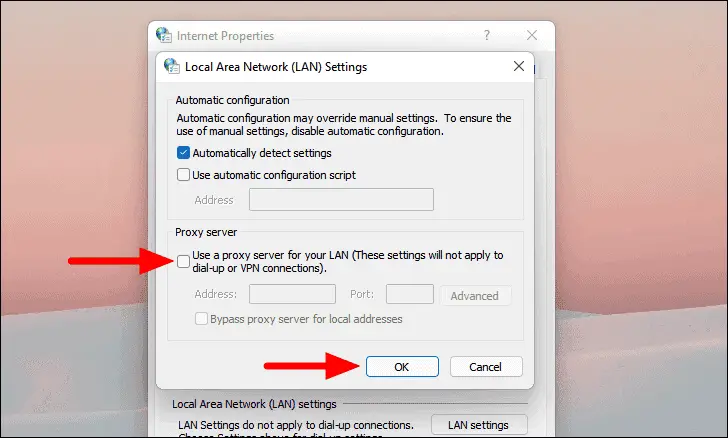 Run Internet connections troubleshooter
Windows 11 offers built-in Internet connection troubleshooter that automatically diagnoses problems with your system and fixes them. Let's run the troubleshooter and let windows detect and fix the problem.
Open settings using windows key + I, Go to the system then troubleshoot,
Click on other troubleshooters to view and run the various available troubleshooters,
locate the 'Internet Connections' troubleshooter, and click on the 'Run' option to start the diagnose process.
Follow the instructions and chose the necessary response when prompted to complete the troubleshooting process.
Once done reboot your system and check the internet status.
Update network drivers
Again outdated drivers can cause a lot of problems, more than you can imagine. It is always important to update your operating system drivers. Therefore, visit the website of the manufacturer of your network controller and make sure you have the latest version available.
Or check for and install the latest windows update that may have bug fix for this issue, Install the latest windows not only bring the bug fix but also install the latest network driver for you.
If all the above solutions fail to fix the problem, it's time to utilize the system restore feature that helps revert any changes that could have caused this issue.
Did the above solutions help fix DNS server unavailable or not responding error on windows 11? Let us know on the comments below.
Also read: