Microsoft has released Windows 10 with a number of new features and improvements. The company has mentioned, this year's first "feature upgrade" for Windows 10 is virtually identical to the already available "October 2020 Update". That means Windows 10 version 21H1 and version 20H2/2004 share the same servicing content. And all Genuine Windows 10 users get it for free via Windows update. Alongside using Windows Update, Microsoft also makes available the ISO file for every new release of Windows 10, including for the May 2021 Update. Here in this post we discuss how to download Windows 10 ISO images direct from the Microsoft Official site.
What is the size of Windows 10 ISO?
Like Windows 10 2004 and 20H2, Windows 10 21H1 is a minor feature update and the update will be delivered by way of an enablement package as we saw with October 2020 Update. For existing devices running Windows 10 version 2004 or 20H2, the Windows 10 21H1 installation process will be instant and the build number will bump by one digit (from Build 19042 to Build 19043).
Also While downloading the Windows 10 ISO we have noticed its  Windows 10 64-bit ISO is 5.8GB, and the 32-bit ISO is 3.9 GB. which means it should not be downloaded on metered/limited data connection.
Windows 10 system requirements
Here is the minimum system requirements for install the latest Windows 10
Processor: 1GHz or faster CPU or System on a Chip (SoC).
RAM: 1GB requirement for 32-bit or 2GB for 64-bit.
Hard drive: 32GB clean install or new PC (16 GB for 32-bit or 20 GB for 64-bit existing installation).
Graphics: DirectX 9 or later with WDDM 1.0 driver.
Display resolution: 800×600 minimum requirement.
Networking: Wi-Fi or Ethernet adapter.
How to Download Windows 10 ISO
Microsoft has a dedicated landing page for Windows 10 ISO files, which lets you download both the 32-bit and 64-bit Windows 10 ISO image files. The only issue is that when you use a Windows 10 device to download the ISO from the Microsoft support website, you're only given the choice to get the "Update Assistant" or "Media Creation Tool."
If you don't want to go through the extra steps, ("Update Assistant" or "Media Creation Tool). Here is How to download the ISO file of Windows 10 version 21H1 directly from the Microsoft servers without having to use the Media Creation Tool.
Using Google Chrome
All you need to do is open developer tools in the web browser.
First, visit the Microsoft support site https://www.microsoft.com/en-us/software-download/windows10ISO.
Just press the F12 key to access the Chrome developer tools.
Or you can access the developer tool from, three dots menu (…) -> More tools -> Developer Tools.
Once the developer tool appears on the screen, click on the mobile phone icon (refer image below)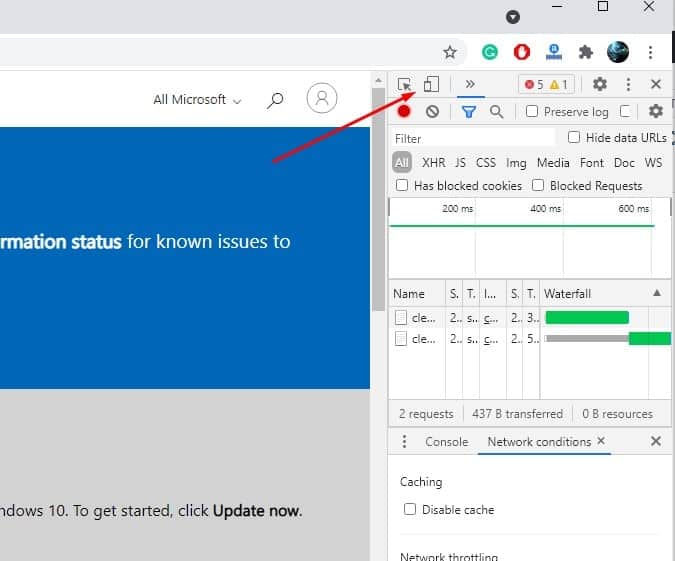 Then refresh the page to download the ISO images.
Here Select Windows 10.
Next, select your Product language as per your requirement.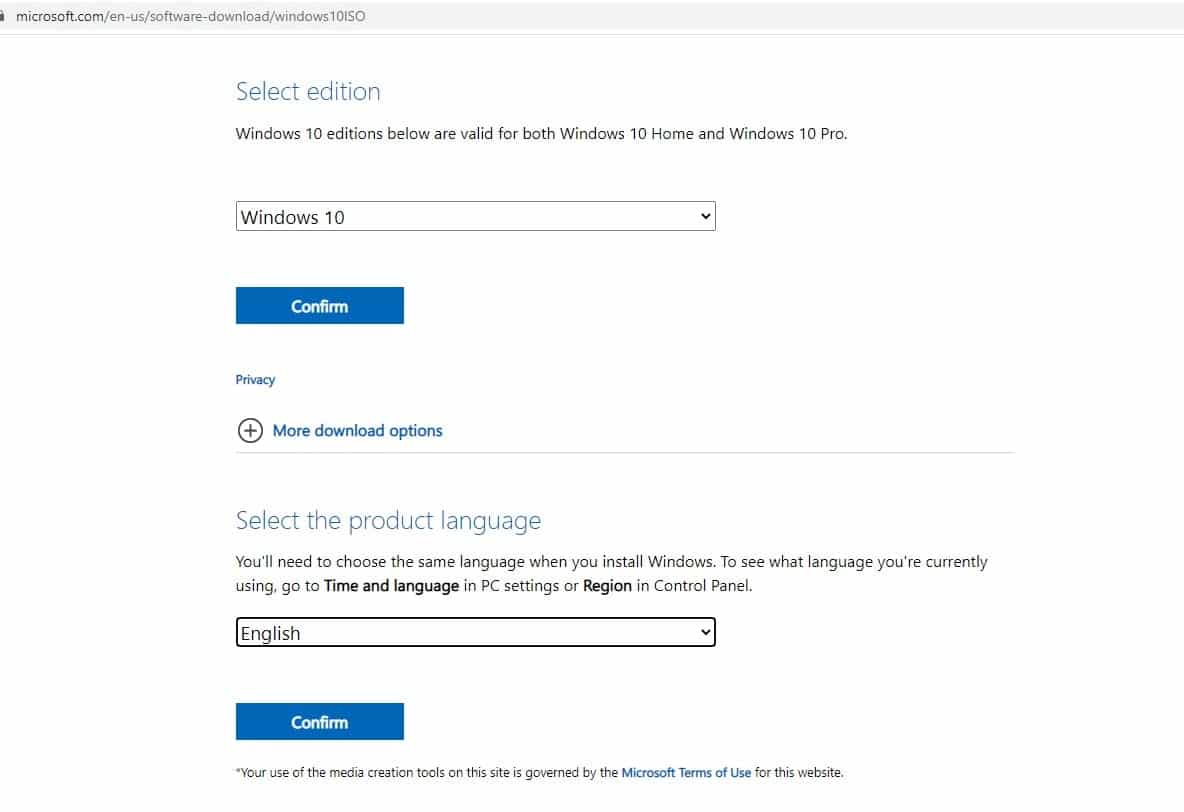 Now Select 64-bit or 32-bit ISO as per your requirement.
When you click on it this will start the downloading process as shown image below.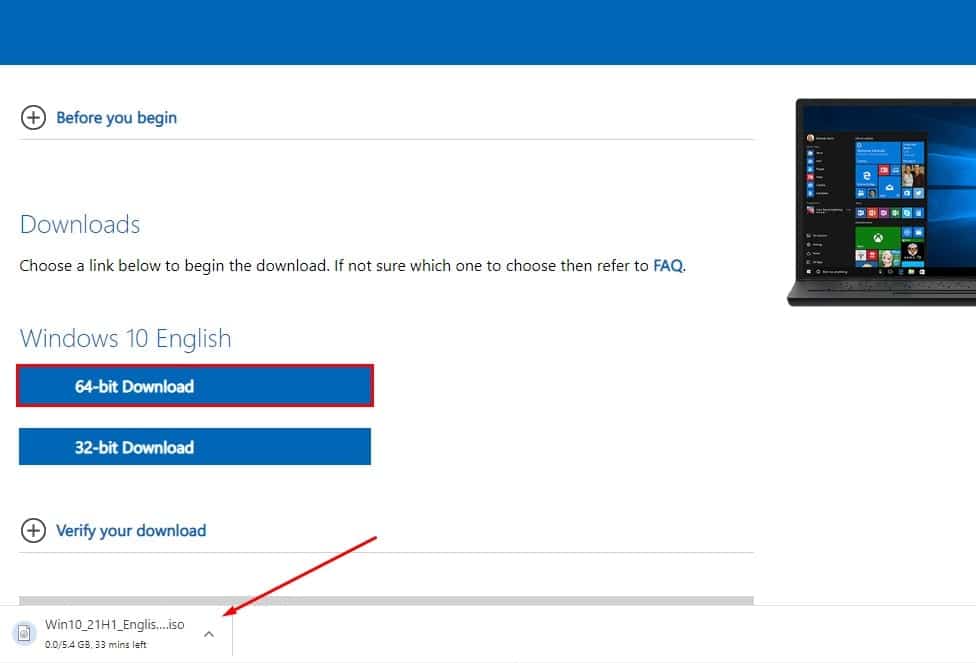 If you face any difficulty, refer to this video to download the Windows 10 ISO image file directly from the Microsoft server.
After that, create an installation media or Bootable USB device to use for Windows 10 Standalone installation.
Windows 10 ISO download link
Here are the direct download links to download Windows 10 ISO Image with one click.
Windows 10 ISO 64 bit 5.8GB
Windows 10 ISO 32 bit 3.9GB
Note: We will update these links whenever there is a new version of Windows 10 ISO 64-bit or 32-bit available to download from Microsoft.
What's new on Windows 10  Update?
Windows 10 version 21H1 feature update is a very small release and does not bring too many new features. It mainly focuses on performance and security enhancements that will improve the operating system's overall experience, Some of the noted changes are the following.
With the latest feature update 21H1, Windows 10 users now enable Windows Hello multicamera support. This will work when both external and internal Windows Hello cameras are present.
The company also making performance improvements to Windows Defender Application Guard. And there are additional performance improvements for Windows Management Instrumentation (WMI) Group Policy Service (GPSVC).
And finally, Microsoft's Edge Legacy browser is finally getting replaced with Chromium-based Edge completely.
Also, Read