DPC_WATCHDOG_VIOLATION (bug check value of 0x00000133) in Windows 10 is one of the most annoying Blue Screen of Death (BSOD) problems caused by a hardware failure, or even by software that is not genuine. If you are experiencing DPC Watchdog Violation BSOD Error on your system, Here 5 working solutions help to fix DPC Watchdog Violation BSOD on Windows 10, 8.1 and 7.
How To fix DPC_WATCHDOG_VIOLATION BSOD Error?
The BSOD error DPC stands for Deferred Procedure Call and violation happens when the bug checker, called a "watchdog," detects a DPC that is running too long. As the basic purpose of the Watchdog is to monitor or track your Windows programs and your system's performance.
There are several things that can cause a DPC Watchdog Violation BSOD, a compatibility issue with any particular device, SSD drive that has old firmware not supported by Windows 10, 8, outdated driver for one of your hardware components, such as
Computer crashes with "DPC Watchdog Violation" whenever I turn WiFi on and try to access the internet. It works fine with Ethternet, though.
Remove external Devices
Whenever you face any Windows 10 BSOD error we first recommend disconnecting all external devices connected to your PC. Such as printer, scanner, external HDD or any other USB device and start windows To check and make sure any external device not causing the problem.
Perform startup repair (If frequently getting BSOD)
If due to this Blue screen of death issue system frequently restarts unable to start normally to perform any troubleshooting steps. Then Perform a startup repair check and fix the problems that prevent windows start normally.
Boot the system from Windows 10 installation media, Skip the first screen and select repair your computer. Here from the Advanced options select Startup repair and let windows to check and fix the Startup problems, that cause frequent BSOD error at startup.  If Startup repair failed to fix the problem, Click on Startup settings to boot into safe mode.  Where windows start with minimum system requirements and allow to perform troubleshooting steps.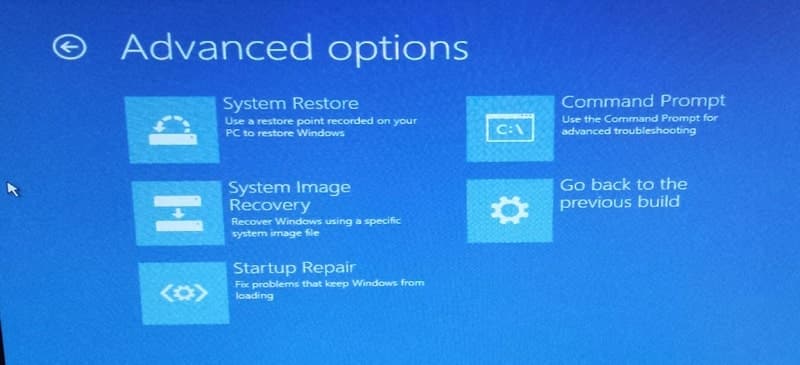 Check Disk Drive Errors using CHKDSK command
On Safe mode boot open the command prompt as administrator
Type chkdsk.exe /f /r  and press Enter to execute the command.
Here command chkdsk Checks the file system and file system metadata of a volume for logical and physical errors. /f Fixes errors on the disk and /r Locates bad sectors and recovers readable information.
Press Y when asking for the schedule to run the disk checking process on the next restart.
Save your work and restart windows, this will check the disk drive for errors and try to recover them.
After complete 100% scanning process, the System starts normally without any BSOD error.
Run System File Checker (SFC utility)
Corrupted system files are another victim of this BSOD  DPC WATCHDOG VIOLATION, We recommend run the built-in system file checker utility that scan and restores missing corrupted system files with healthy ones.
Open the command prompt as administrator.
Type sfc /scannow and hit the enter key to start the scanning process.
during the scanning process the SFC utility scan for corrupted missing system files, if found any the utility replace them with a healthy one from %WinDir%\System32\dllcache.
Restart windows After 100% complete the scanning process, And check this helps.
Note: Run the DISM command, If SFC scan results "sfc /scannow found corrupt files but was unable to fix them".
Turn off the fast Startup Feature
With Windows 10 Microsoft introduced the Fast startup feature to reduce the Windows startup time And by default this feature is turned on for every Windows PC. But sometimes this feature cause different startup problems include frequent BSOD. We recommend disabling Fast startup which helps most of the users to fix the DPC watchdog violation Blue screen error.
Open the Control panel, And look for "power options".
On the left side click on "Choose what the power button does"
Then click on "Change settings that are currently unavailable".
Scrolling down you will locate Turn on Fast Startup option. Uncheck this option to turn off the setup.
Save the changes. Click exit.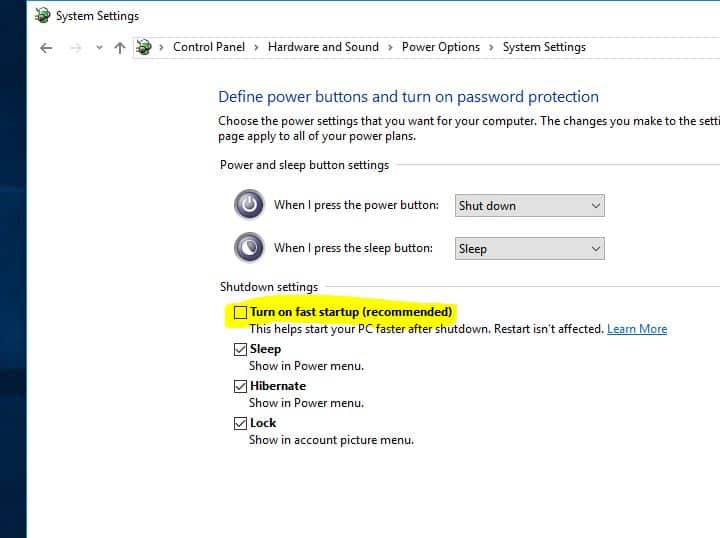 Update the IDE ATA/ATAPI Controller, drivers
Press Windows Key  + R, type devmgmt.msc and ok
This will open the device manager and display all installed device driver list
Expand the IDE ATA/ATAPI controller section and choose the one called SATA AHCI.
Right-click on it, and select Update Drivers.
Choose the manual update "Browse my computer for driver software".
When prompted with the location, select Let me pick from a list of device drivers in my computer.
Select Standard AHCI Serial ATA Controller and click next.
Restart your computer.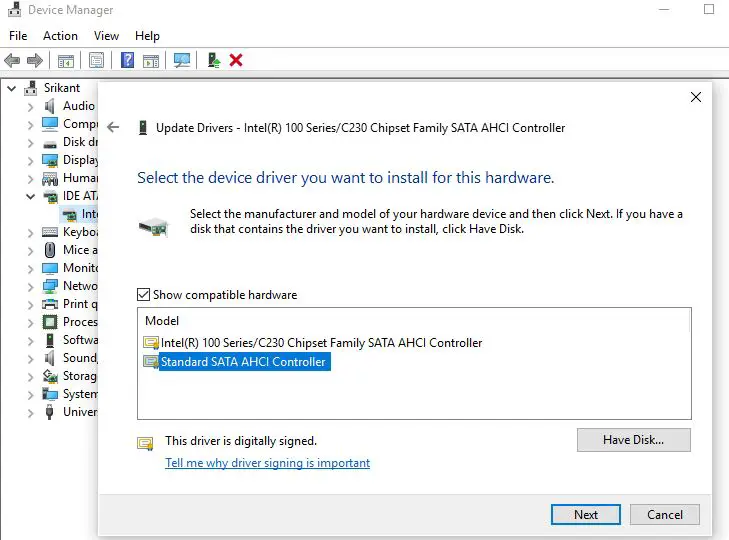 Update the SSD firmware if available
If you are using SSD on your System, outdated incompatible "SSD firmware" can also be the possible reason for the occurrence of DPC Watchdog Violation.
Open Device Manager and expand Disk Drives
Right-click on your SSD drive select properties and note down the  Model number from your SSD.
now visit SSD manufacturer's website download the latest SSD firmware if available and install on your PC
Restart Windows and check if this helps.
Also, Some users mention running the Memory diagnostic tool helps them to resolve the Windows 10 BSOD error.
Some others found helpful information from "Event Viewer"  to find out the culprit that is causing DPC Watchdog Violation.
How to avoid DPC watchdog violation BSOD?
I hope the above tips help to fix the "DPC watchdog violation" BSOD error. Now here are some tips help to avoid this blue screen error in the feature.
Always install the latest windows updates and security patches.
Keep all your software and other drivers up to date, and avoid installing nulled, pirated applications on your system.
Always Turn off your PC properly and never go for a forced shutdown of PC.
By keeping in mind certain tips one can always avoid the DPC watchdog violation error.
Clear temp, junk, and cache files regularly, or use third-party free system optimizers like Ccleaner to do the task with one click.
Install good Antivirus software with the latest updates.
Did this post help to fix the DPC_WATCHDOG_VIOLATION Blue screen error on Windows 10, 8.1 and 7? let us know in the comments below, Also read