This blue screen error usually occurs when a driver attempts to unload from memory while there are still pending I/O requests or operations that it has initiated but not yet completed.
Encountering Windows 10 BSOD "Driver Unloaded Without Cancelling Pending Operations" on your PC/ Laptop? This error indicates that a driver failed to cancel pending operations before unloading. Or you can say processes are running on your PC stopped working when a driver stops working. And this BSOD error especially occurs that systems running on virtual environments like VirtualBox, VMware, Microsoft Virtual PC etc. As the name indicate this is a driver related problem, mostly outdated, corrupted, incompatible device driver causes the issue. Also, conflict between the system process and any programs or drivers, Virus infection, Corrupted system files also may be responsible for this error
Your PC ran into a problem and needs to restart. We're just collecting some error info, and then we'll restart for you (60% complete)
If you would like to know more you can search online later for this error: DRIVER_UNLOADED_WITHOUT_CANCELLING_PENDING_OPERATIONS (ntoskrnl.exe)
How do I fix the DRIVER UNLOADED error?
Whenever you face any blue screen on your system the first thing you do, Remove all external devices to check and make sure any device driver conflict not causing the issue.
If due to this BSOD error System restart frequently at startup, and didn't allow to perform any task, Simply boot into safe mode where Windows start with minimum system requirements and allow to perform, apply troubleshooting steps to fix this DRIVER_UNLOADED_WITHOUT_CANCELLING_PENDING_OPERATIONS BSOD error.
Note: If after one restart windows start normally you can directly apply the below solutions to avoid this BSOD on your system.
Temporarily disable Security software (Antivirus) if installed, And uninstall recently installed third-party software to check these applications not causing the issue.
Microsoft regularly releases security updates with bug fixes to patch the security hole created by third-party apps. Install the latest windows updates from settings -> update & security -> Windows update -> check for updates. May the latest update have the bug fix for Driver Unloaded Without Cancelling Pending Operations error.
Update Reinstall Device driver
If applying the above solutions didn't fix the issue, then the problem must be related to the device driver. We recommend check and update or Reinstall the problematic device drivers, which may help to resolve the issue.
Open Start Menu, type Device Manager and press Enter.
This will display all installed device driver list.
look for any driver with a yellow exclamation mark.
If there is any right click and update the driver.
Or uninstall the driver from there, and restart your PC.
Now download the latest version from the internet.
Install it.
Note: If you didn't find any driver with a yellow exclamation mark, We recommend reinstall the Display driver and Network adapter, Audio driver with the latest version. After that restart windows and check there are no more windows 10 BSOD error.
Disable intelppm.sys
Also uses on Microsoft forum, Reddit mentions Intelppm.sys is causing the BSOD error and Disable Intelppm.sys help them to avoid this blue screen on their system.
To do this press Windows + R, type Regedit and ok to open the windows registry editor.
Here first backup the registry Database, then navigate to :
HKEY_LOCAL_MACHINE\SYSTEM > CurrentControlSet > Services > Processor.
Here You will see several DWORD files, Double click on Start Change its value to 4 and OK.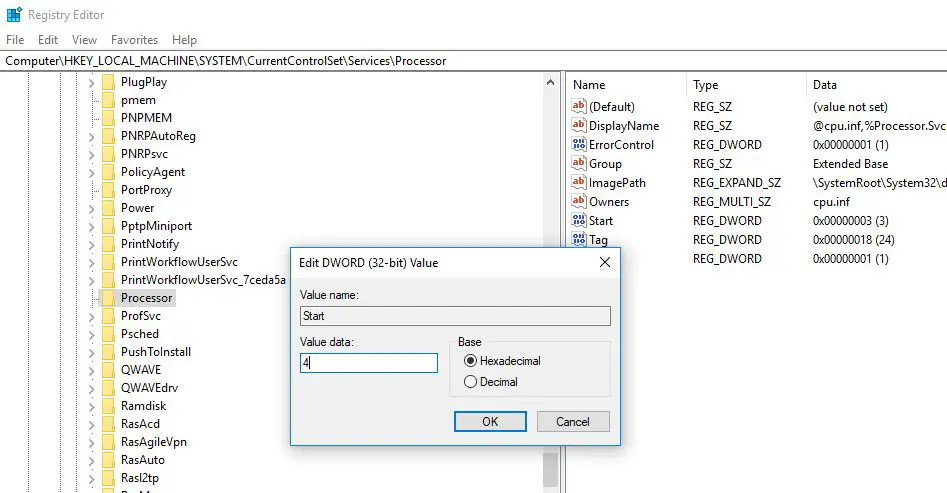 Now navigate to HKEY_LOCAL_MACHINE > SYSTEM > CurrentControlSet > Services > Intelppm.
Double-click on Start and set the value 4, Close the registry editor and restart your computer.
Run DISM and SFC utility
Also sometimes corrupted missing system files cause Different Windows 10 Blue Screen errors. We recommend running the DISM command (dism /online /cleanup-image /restorehealth) with SFC utility that repairs the system image, Scan windows for missing corrupted system files if found any the SFC utility automatically restores them from a compressed folder located %WinDir% \System32\dllcache.
Check disk drive for errors
Also, check the Disk drive for errors using chkdsk utility that repair disk drive errors and bad sectors. If none of the above solutions fix the problem, it's time to utilize the Windows system restore feature, which reverts back the changes to the previous working state. where the system working properly.
Did these solutions help to fix Driver Unloaded Without Cancelling Pending Operations BSOD on Windows 10? let us know which option worked for you.
Also Read