Using Fingerprint authentication on Windows 11 has several benefits include enhanced security, eliminating the need to remember complex passwords or enter them each time when you sign in, it's the most convenient way to log in to Windows 11 PC. But sometimes you may notice the fingerprint scanner not working on Windows 11. Or while try to set up your fingerprint reader, Windows 11 says, "Fingerprint Option Is Currently Unavailable" and you're prompted to try again later. Few users report The option to add a finger or remove the fingerprint are greyed out and not clickable. There can be various reasons why Windows Hello Fingerprint Recognition Not Working such as driver issues, outdated operating systems, dirty sensors, or faulty hardware. Here in this article, we have a few solutions help you get your fingerprint sensor working on your Windows 11 computer.
Fingerprint Sensor Not Working Windows 11
There can be several reasons why the Fingerprint sensor not working on your Laptop, problems with the hardware of the fingerprint sensor, software conflicts, or outdated missing biometric driver are common. Again older Windows versions, update bug or Corrupted system files also cause the fingerprint sensor not working properly.
Well, you can fix this problem by installing the latest Windows 11 updates. Again Reinstalling and updating your biometrics drivers can also help with this type of problem. In addition, you need to ensure the Credential Manager service is set to Automatic. Switch to a Local Account help a few users fix the problem.
Let's first restart your computer that wipe-up memory, restart all processes and clear glitches that may prevent the fingerprint sensors authenticate Windows 11. Also, clean the fingerprint sensor with a soft clean cloth.
One of the most straightforward ways to get your fingerprint reader to work again is remove your Windows Hello fingerprint and register it again
Update Your Windows 11
Microsoft regularly updates Windows 11 which brings new and improved functionality and addresses existing issues, such as bugs and crashes. Updating Windows 11 latest version can help resolve compatibility issues between the fingerprint sensor and the operating system.
Press Windows key + I to open the settings app
Go to windows update then hit the Check for Updates button,
If new Windows updates are available or pending there, allow them to download and install from the Microsoft server,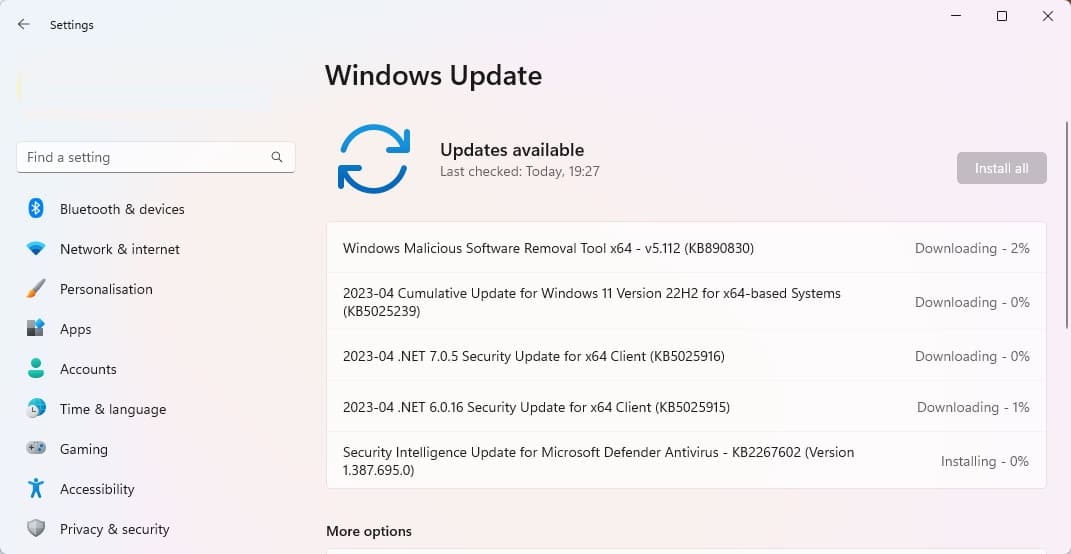 Once done you need to reboot your computer to apply the new updates.
Now check if the fingerprint sensor is working just fine.
Restart Biometrics Service
The fingerprint sensor depends on the Biometrics service and this service running state, which enables a reliable and secure way to authenticate users, enhance security, and improve operational efficiency. If due to any reason the biometrics service not started or it's stuck running it may be the reason why the fingerprint sensor not working on Laptop.
Windows Biometric Service is an essential program for Windows Hello because it captures and manages your fingerprint data.
Press Windows key + R, type services.msc and click ok
In the Services (Local) window locate Windows Biometric Service right click on it select restart,
Well if the service is not started, double-click on Windows Biometric Service to open properties,
Here change the Startup type to Automatic from the drop-down menu, then click Start.
Now click on Apply then OK to save changes.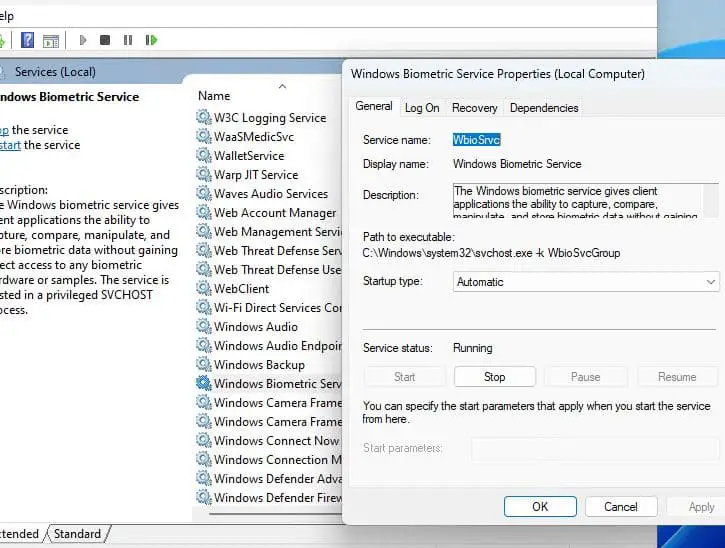 In addition, look the Credential Manager service is set to Automatic. Next under the Log On tab Select Log On As: Local System Account, and Tick the checkbox that says Allow service to interact with desktop.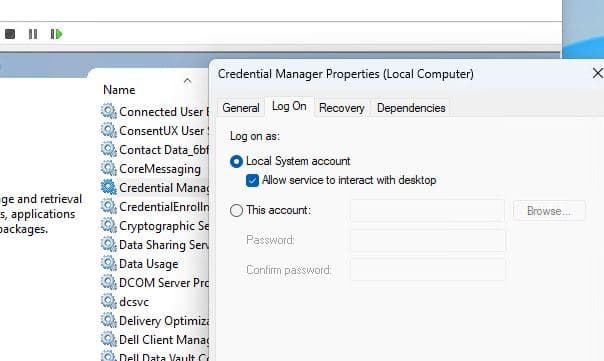 Setup another Fingerprint
Also, you can try adding another fingerprint on scanner data and check if that works.
Press Windows key + X and select settings
Go to the Accounts tab then click on Sign-in options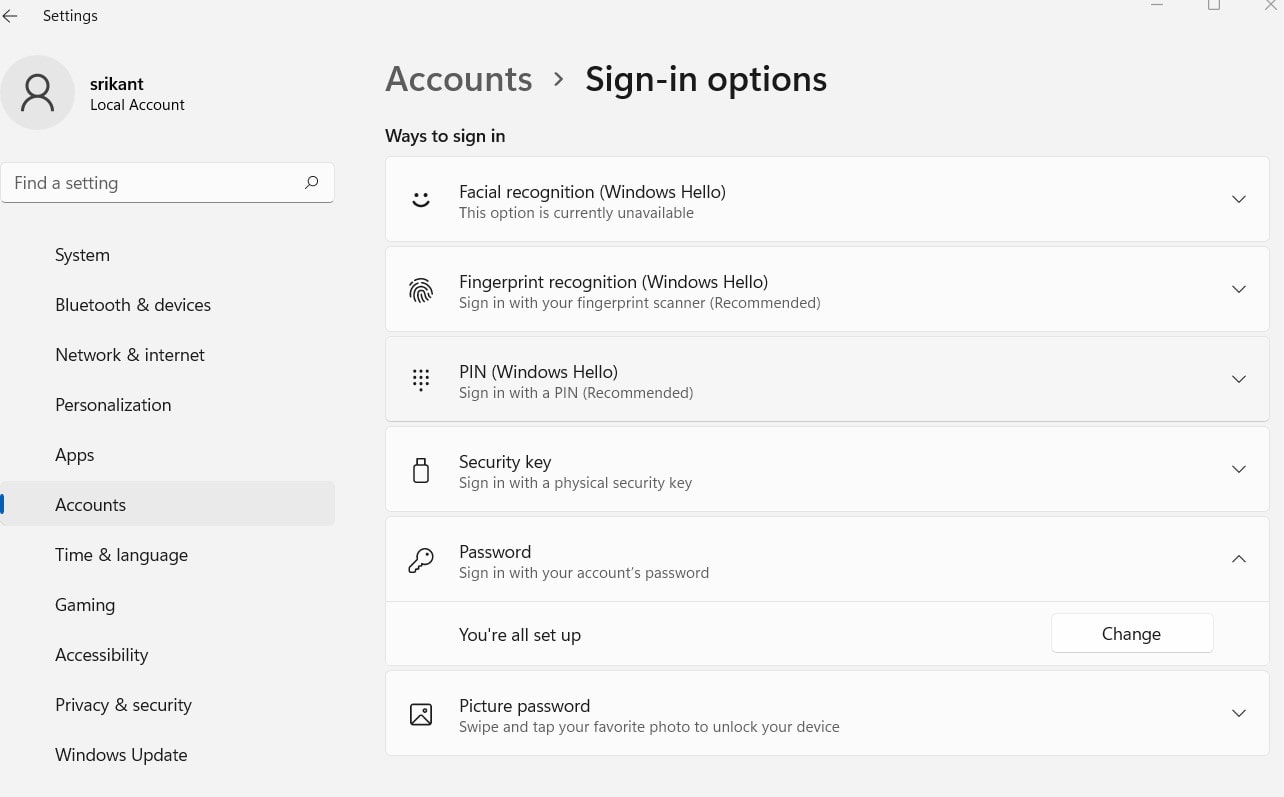 Select Fingerprint recognition (Windows Hello) then click on the Add a finger button beside the option Set up another finger.
Click on the Get Started button, put in your security pin Then touch your fingerprint scanner, and go right through the process as per the instruction on the screen.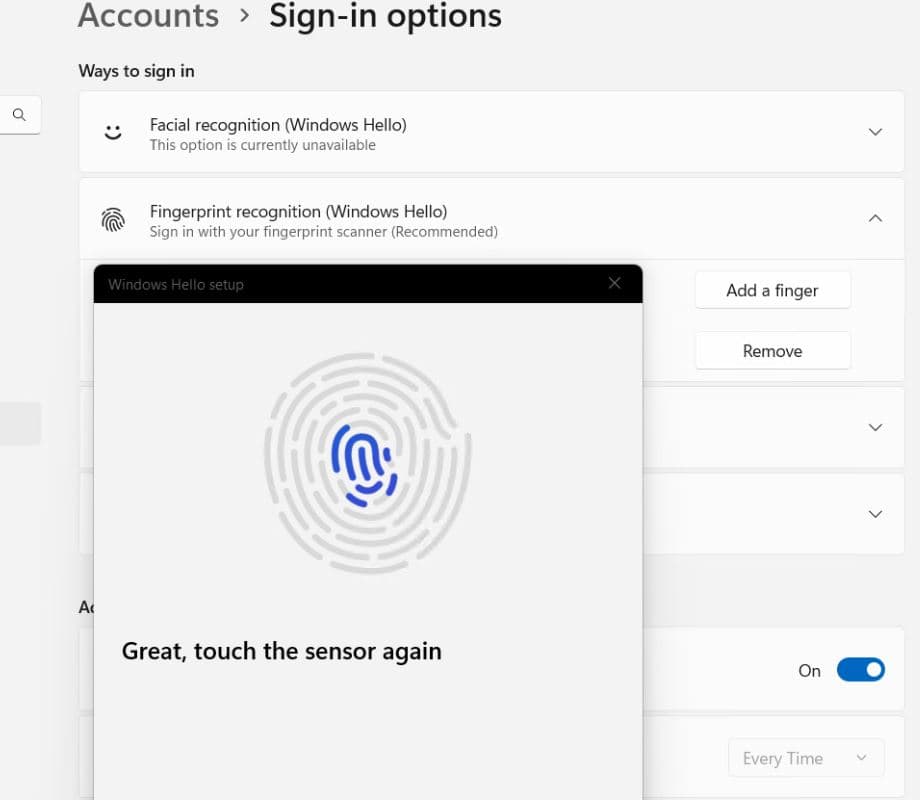 Note: If Windows 11 says, "This option is currently available," and you're prompted to try again later try to update or reinstall the Fingerprint Drivers first.
Once it is set up successfully, you can try to sign in to your computer with the new fingerprint to check whether it works properly.
Update Biometric driver
Again if the biometric driver is outdated or missing on Windows 11, it may also cause the fingerprint sensor to stop working. Open the device manager and check if the fingerprint sensor driver is installed properly, if yes try to update the driver there.
Biometric drivers on your PC help Windows communicate with your PC's fingerprint scanner.
Press Windows key + X and select the device manager
Locate and expand the Biometric devices.
Right-click on your fingerprint scanner device and select Update driver.
Select Search automatically for drivers to let Windows find and install the best drivers.
Reinstall Fingerprint Drivers
Uninstall and install the latest biometric driver download from manufacturer's site help most users fix the problem on their laptops. If you still can't use your fingerprint reader, try reinstalling the driver.
Press Windows key + R, type devmgmt.msc and click ok to open the device manager,
Expand the Biometric devices options, right-click on your Fingerprint Sensor and select the Uninstall device button.
Click uninstall again to confirm the action and remove the driver.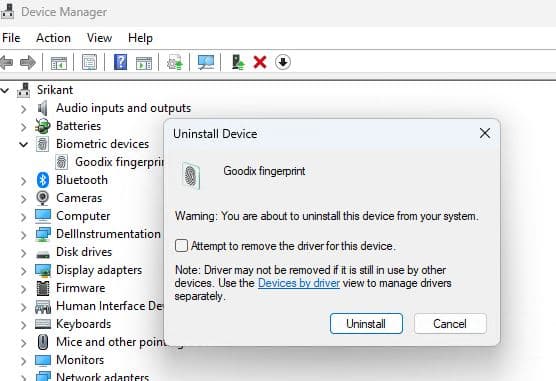 Finally, Restart your computer, and as your PC turns on, the driver will be installed automatically.
Or you can visit the laptop manufacturers site to download the latest driver for the fingerprint sensor.
In addition, try switching to a local account, and check if you notice any changes. For a few users, removing and re-adding their fingerprint help them fix the problem. Also, Check if the fingerprint sensor is enabled in your computer's BIOS/UEFI settings. If it's disabled, enable it and save the changes.
If none of the above steps work, it's possible that the fingerprint sensor is faulty and needs to be replaced.
Also read: