Have had problems playing sound and audio after the windows 10 update? Is Windows 10 audio not working after installing the latest windows updates? Audio Sound Problems mostly occur due to Incompatible Installed Audio drivers. Also Incorrectly configured Sound Settings, Windows audio Service stopped for some reason, etc also cause Audio Sound Problems on Windows 10.
If your PC, Laptop has an Audio sound playback issue, Sound not working after Windows 10 upgrade running the Windows audio troubleshooter and updating the audio drivers should address the problem. Here is how to fix Audio Sound Problems on Windows 10.
No sound after the windows 10 update
Check your speaker and headphone connections for loose cables or the wrong jack.
Check your power and volume levels, and try turning all the volume controls up.
Some speakers and apps have their own volume controls, and you might have to check them all.
Connect to a different USB port, Audio Jack
Remember that your speakers probably won't work when headphones are plugged in.
There may be settings related to the speakers that can solve audio problems and it is the first place to start when trying to figure out what is wrong.
Right-click the speaker icon at the right side of the taskbar and select Open Volume Mixer. This has sliders for things like the speakers and system sounds. Check that all the sliders are at the top for maximum volume.
Note: If headphones not working in Windows 10, Go to Settings > Privacy > Microphone and make sure "Allow apps to access your microphone" is active. This will fix the problem for you.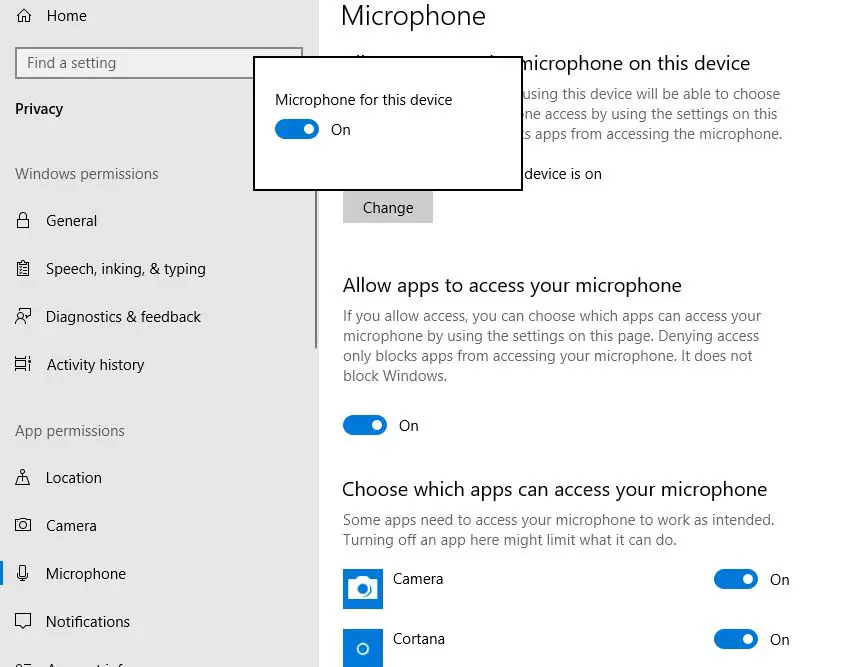 Run playing audio troubleshooter
To fix Windows 10 audio or sound problems, Run the built-in audio troubleshooter. It might be able to fix audio playback problems automatically.
To run the Audio Troubleshooter,
select the Start button, type audio troubleshooter in the search box,
select Find and fix audio playback problems from the list of results, and then select Next.
This fix will automatically diagnose and repair problems with sound and audio on your computer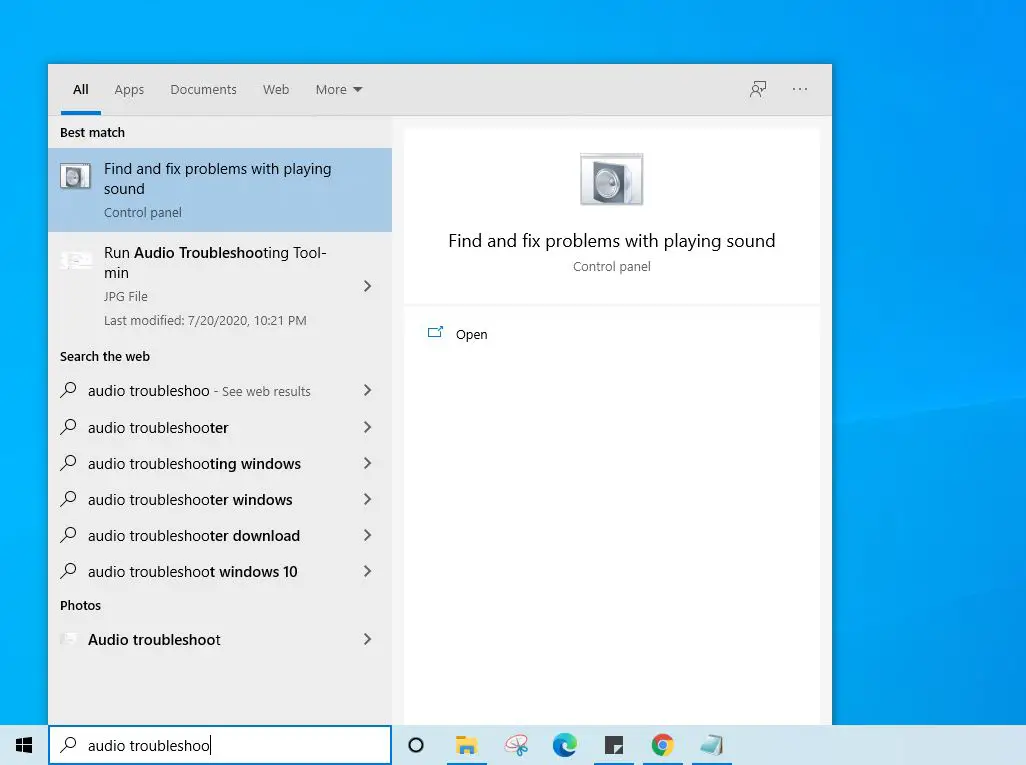 Check the Audio services running, and identify if your Audio device is disabled or muted.  Also, determine whether the Audio device is plugged in or correct if the audio device is not set as default.
Restart windows after completing the troubleshooting process, and check the Audio sound working properly.
Restart the Windows Audio service
If due to some reason, Windows audio service is disabled or not started, then you face Audio sound problems or audio services not responding, etc.
Open Windows services using service.msc form run window.
Look for Windows Audio service, if it's running state, Right-click, and select restart.
If it's not started, Right-click and select the properties
Change the startup type automatic, and start the service next to service status.
Click apply and ok to make save changes,
Also, check the dependencies service AudioEndpointBuilder is running,
If not then right-click on it and start and set it to Start Automatically at startup.
check whether Windows audio working properly or not.

Update audio drivers
Faulty drivers are one of the most common reasons for almost all hardware malfunctions. If the installed audio driver is corrupted or incompatible with the current Windows 10 version you may face audio sound problems. Make sure that your sound card is working properly and is running with updated drivers.
Follow the steps below to update the audio driver
Press Windows + R, type devmgmt.msc, and ok to open the device manager,
Expand Sound, video, and game controllers
Select and right-click the installed audio driver, and select the option update driver.
Click on "Browse my computer for driver software"
Then click on "Let me pick from a list of device drivers on my computer".
 After that, click on "High Definition Audio Device" and then click on "Next".
A warning will show up, just click on "Yes" here and the driver will be updated.
Restart windows to take effect the changes
Now check the Audio sound problem is resolved.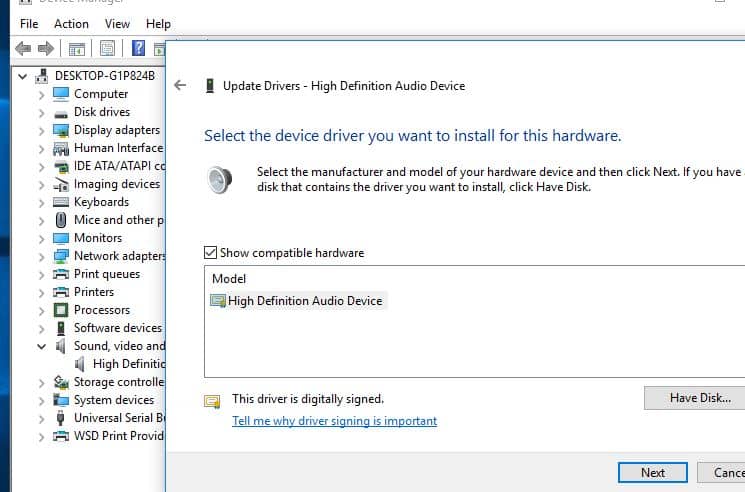 Reinstall Audio driver
Again open the device manager, expand Sound, video, and game controllers
Right-click on the installed audio driver and select uninstall.
Restart your device and Windows will attempt to reinstall the driver.
And if that didn't work, try to install the drivers in compatibility mode.
Note: Compatibility mode runs the program using settings from a previous version of Windows.
Follow these steps to install the drivers in compatibility mode and check if that helps.
Download the driver from the manufacturer's website.
Right-click on the driver setup file and click on 'properties'.
Click on the 'compatibility' tab and check the box 'Run this program in compatibility mode for' and select Windows 8 operating system from the drop-down menu.
Now double-click on the setup file and proceed with the installation.
Once this is done, restart the computer and check if the issue persists.
Try different Audio Formats
Windows lets you change the default sound format which affects sound quality. Sometimes a wrong format could lead to no sound issue. To Try Different Audio format
Press Win + R type mmsys.cpl and hit the enter key.
Here, select the speakers you are using and click on "Properties" below it.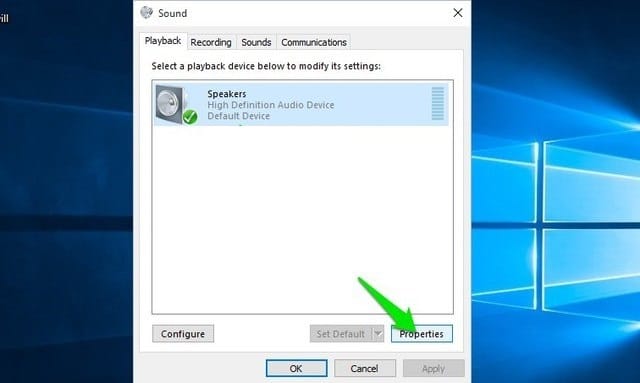 In the Speakers Properties, move to the "Advanced" tab and use the drop-down menu in the "Default Format" section to choose a format. Try selecting "24 bit, 44100 Hz" or "24 bit, 192000 Hz" and see if it fixes the issue. If they both don't work, then give "16 bit, 44100 Hz" a try.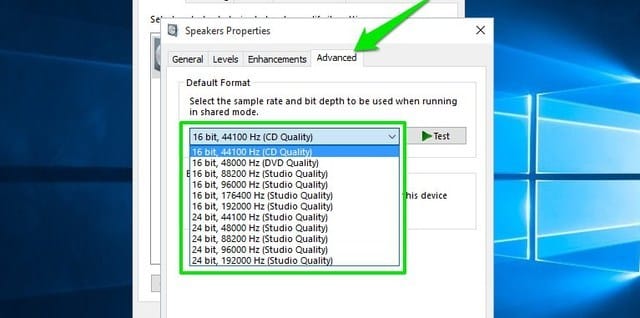 Disable Audio Enhancements
You should also disable Windows 10's built-in Audio Enhancements that may be interfering with the built-in enhancements of the speakers. Such interference could lead to both no sound and poor sound quality in Windows 10.
Move to the same "Speakers Properties" dialog like in the above method,
go to the "Enhancements" tab.
Here, check the option "Disable all enhancements".
Did these solutions help to fix Windows 10 Audio sound problems? Let us know on comments below, also read,