As We, All know Microsoft Roll out the Windows 10 version 21H1 for Everyone, And compatible devices get upgraded Automatically. But some users Report After completing the upgrade process Windows 10 won't Start with BCD Error Code 0xc000000f / 0xc0000225. The Error 0xc000000f directly specifies that Something going wrong with BCD (Boot configuration data).  Well Boot problems related to the BCD come in many different forms. Here some of the error you may face if BCD corrupted or get missing from your PC
Your PC/Device needs to be repaired. The Boot Configuration Data for your PC is missing or contains errors
There was a problem with a device connected to your PC. An unexpected I/O error has occurred.
Your PC needs to be repaired. The Boot Configuration Data file doesn't contain valid information for an operating system.
Windows failed to start. A recent hardware or software change might be the cause.
And all these errors are the result of the improper shutdown, Disk Drive Error, Driver conflict or Malicious software installation. Well, corrupted system files also result from OS to lost the boot partition that results from BCD error 0xc000000f / 0xc0000225. If you are also struggling with similar problem rebuild BCD following steps below probably work for you.
What is BCD?
Boot Configuration Data (BCD) was introduced to replace the Boot.ini file in Windows Vista Its an important part of the OS that stores vital boot information required to start Windows. And if BCD is missing, corrupt or altered, Windows may not start properly anymore but display the Recovery screen at the top.
Fix BCD Error Code 0xc000000f
Disconnect multiple display monitors.
Remove discrete video cards, use the onboard graphics if your motherboard supports it.
If you have more than one hard disk installed, disconnect all except the target disk where Windows 10 will be installed.
Disconnect all external devices, since connected devices can sometimes conflict with setup.
Now Restart windows and  check if it starts normally
As described due to this problem windows fails to start normally. That cause we need boot from Windows Installation media to access the advanced option. Where you can perform startup repair and some commands to rebuild BCD.
Well if you don't have here how to create Windows 10 Installation media.
Perform Startup Repair
When you are ready with Windows Installation media follow the steps below to perform Startup repair. This will automatically detect and fix the problems that prevent Windows to start normally.
Insert the media access BIOS setup
Change, First boot from DVD ( or Removable Device If you are using Bootable USB ).
Skip The first Screen and next on the installation screen Click Repair Computer.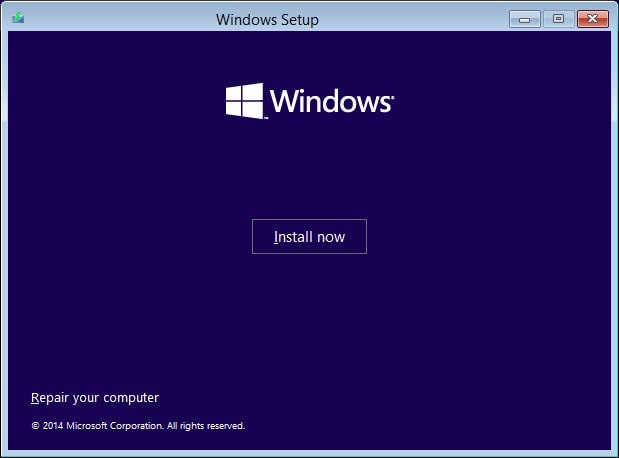 This will Restart windows then click Troubleshoot -> Advanced Options.
Here on The Advanced Options, you will get various Troubleshooting Tools to fix startup problems.
Click on Startup Repair and Fallow on-screen Instructions.
This will scan Fix If any programs cause to start windows normally.
After That Restart windows and check Started normally.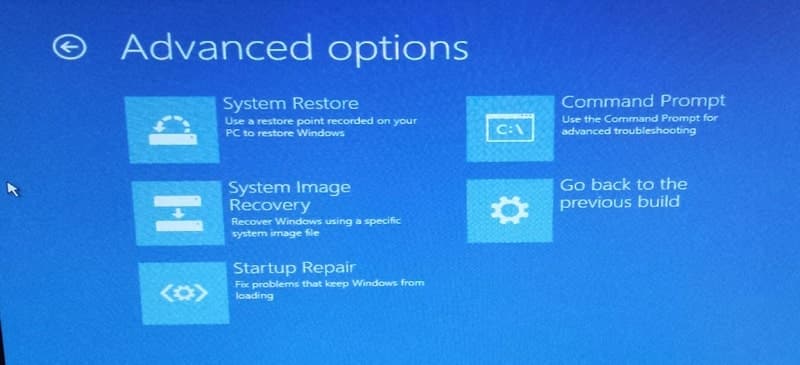 Set correct partition as active
Some Times this error screen appears because an incorrect partition is set as active, you can use the diskpart utility to set the correct partition.
For this access Advanced Options -> command prompt.
Now Type Disk Part and hit the enter key. T
hen type List Disk, Hit enter key.
Here Note down your windows installation volume.
Then Type select partition D (Note : D is windows installed volume, For you, it may be different). And the Windows installation partition must be Active you can do this by type command active. Restart windows and check Started normally? If not Rebuild the Corrupted BCD file.
Rebuild the BCD
On certain errors the "File:" row mentions "\boot\bcd" as a potential damaged or corrupt file that's causing the "Your PC needs to be repaired" screen to appear, along with the exact error code at the "Error code:" row.
In these cases, you can rebuild the BCD as your computer's BCD file might be damaged or corrupted. To Rebuild damaged BCD again Access Advanced options and click on Command prompt.
Now Perform Bellow commands To Rebuild The corrupted BCD.
Bootrec.exe \fixmbr
Bootrec.exe \fixboot
Bootrec \rebuildBcd
Bootrec /ScanOs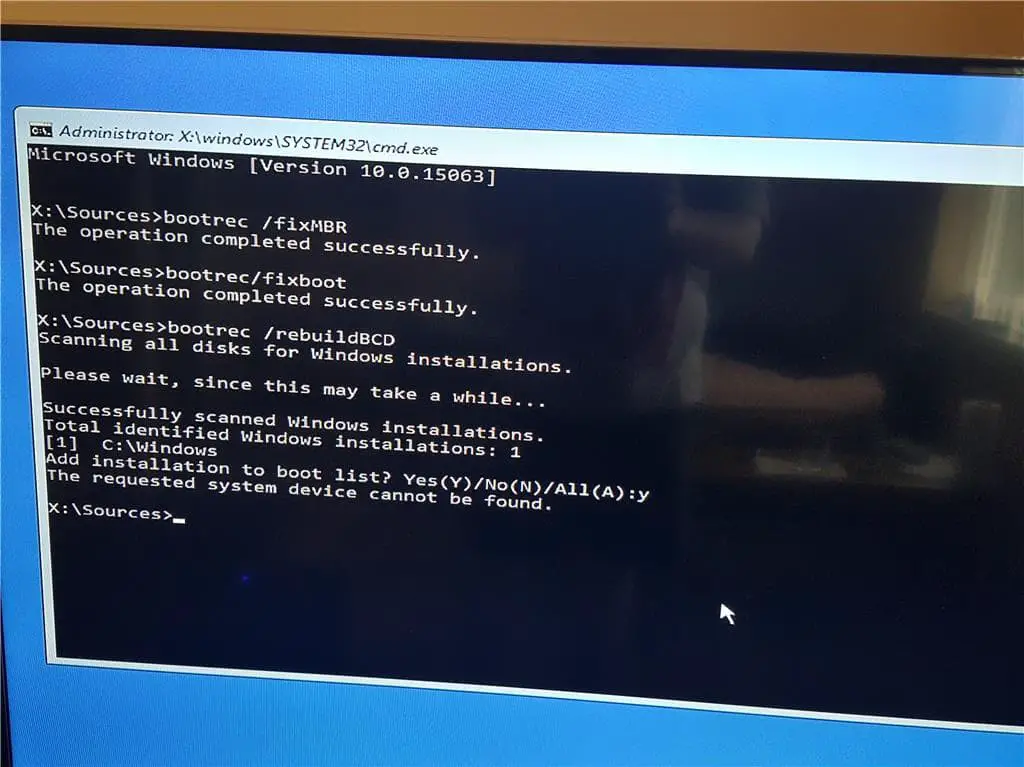 This will definitely fix the configuration data and thus, the BCD Error Code 0xc000000f in Windows 10 will. Also, Check for Disk Errors by the following below.
Check Disk Drive Errors
After Rebuild BCD On Same Command prompt Type chkdsk /f /r to Check And Fix Disk Drive Errors, Bad Sectors, Which may Cause the Boot Error. When you type this will start the scanning process for disk errors. Wait until 100% complete the scanning process. After completing the scanning process, you will get a screen as shown below. Type Exit to close Command prompt then Restart windows check this time windows start normally without any Startup Error.
Create a new EFI Partition
In certain circumstances, the EFI partition may be absent but don't worry because you can create a new one comfortably. But before that, ensure to possess a "Windows installation media" (bootable USB/DVD) and 200 MB of free disk space.
Boot from installation media, Skip the first screen on next screen Press Shift + F10 to open the command prompt.
Then type the following commands successively and press Enter after each one of them:
diskpart
list disk
select disk 0      (to select a disk to "create a new EFI partition")
list partition
select partition 1    (Imagine that the partition have more than 200 MBs of free space)
shrink desired=200 minimum=200
create partition efi
list partition
select partition 2    (assuming that the new partition is the partition 2)
Forma fs=fat32
list vol     (write down the volume of the new partition in a safe place)
select vol 3      (Supposing that volume no. of "EFI partition" you earlier noted down was 3)
assign
List vol    (and check which letter is assigned to the 200 MB EFI partition).
Note down the letter (ltr). You'll also need to recognize the ltr of the volume containing your Windows partition (just look for Boot written in the Info column).
Now type: bcdboot C:\Windows /l en-gb /s B: /f  ALL; assuming that C is the letter for Windows partition in addition to B for the EFI.
That's All Now Restart the machine and you'll find that the BCD error code 0xc000000f in Windows 10 has been resolved.
Conclusion
These are some most applicable solutions to fix BCD Error Code 0xc000000f in Windows 10. While apply these solutions face any difficulty, Have any query, Suggestion Feel Free to discuss on the comments below. Also, Read