Did you notice Internet connection drops after Windows 10 1809 upgrade? While Visit web pages chrome results dns_probe_finished_no_internet or dns_probe_finished_nxdomain? This error indicates problem with the default DNS server that your computer or device is using, DNS client service not running, or outdated network adapter driver causing the problem. If you are struggling from this problem, unable to connect to the internet? Here 5 effective solutions to fix DNS probe finished no internet on windows 10, 8.1 and 7.
What is DNS?
DNS is Domain name system service which Resolves IP address to Hostname and Hostname into IP Address. Normally Computer only understands numbers ( IP address ) when we type any hostname the web browser resolve the IP address of the corresponding website using Domain Name System (DNS).  But if Due to Some Issue DNS fails or unable to Translate host to IP or IP to host this will Results This page Cant be Reached Error DNS probe finished nxdomain.
Fix DNS probe finished no internet on windows 10
Before go ahead try to clear Google Chrome data (cookies, cached files, browsing history) that fix the error dns_probe_finished_nxdomain if temporary glitch causing the issue. Or you can run third party system optimizer like Ccleaner to clear browser history, cache, cookies with one click.
Connect your phone or Different device to the same network and check your internet connection working properly. Or once restart your router, modem, and computer.
Perform windows clean boot, open chrome browser and try to visit any web page, if it's working then there is third-party service confliction causing the problem.
Install a good latest updated antivirus software and perform a full system scan, that fixes the problem if any virus malware infection causing dns_probe_finished_no_internet.
Restart DNS Client Services
Press Windows + R, type services.msc and ok
Scroll down and look for service named DNS client
If its running state simply Right click and Select Restart to get a fresh start the service.
If the service was not started then double click on it to get properties window.
Here change the startup type Automatic and Start the service next to service status.
Click apply and ok to make save changes.
Now open chrome browser and check the Internet working properly.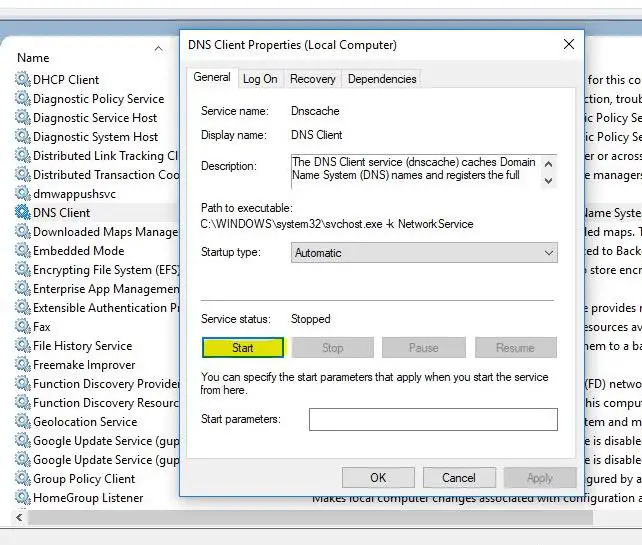 Run the Internet Troubleshooter
The Internet Troubleshooter is an automated tool which checks the network connection on the computer for any known issues and provides the details on how to fix them. Follow these steps to run the troubleshooter.
On start menu search Type "Troubleshooting settings" and select first result.
Look for internet connections select and run the troubleshooter
This will check and fix the problems prevent internet connection working properly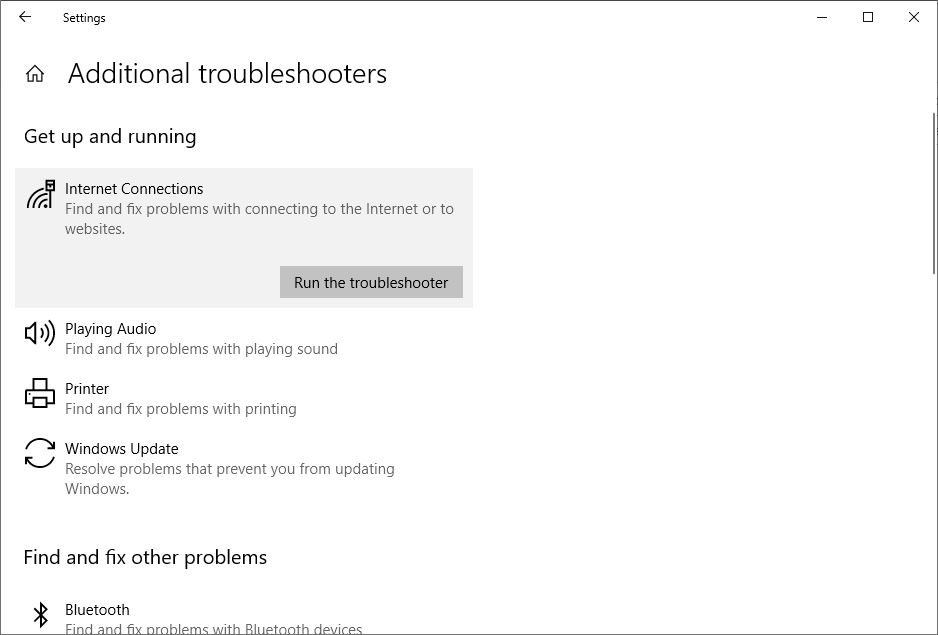 Flush DNS Cache
Flushing the DNS address restarts the connection with the DNS server and in most of cases, saves a lot of time. To Flush DNS Cache and reset network configuration
open Command prompt As administrator. you can do this by click on Start menu search type cmd, From search Results right click on command prompt select Run as administrator. Then Perform Command bellow one by one.
ipconfig /release
ipconfig /renew
ipconfig /flushdns
netsh int ip set dns
netsh winsock reset
After that type exit to close the command prompt and restart windows to take effect the changes. Now re-open chrome browser and visit any web pages without any problem.
Modifying the DNS Server address
Sometimes the DNS server your computer automatically obtains may not respond, which might cause the DNS_Probe_Finished_NxDomain issue. Change the DNS server address is a very effective solution for this error. To change the DNS server address on your system follow the steps below.
Press Windows + R, type ncpa.cpl and ok to open network connections window.
Right-click on your internet device, either WiFi or Ethernet and then select Properties.
Double click on Internet Protocol Version 4 (TCP/IPv4) to get its properties window
Select Use the following DNS server addresses, and then type in the following:
Preferred DNS Server: 8.8.8.8
Alternate DNS Server: 8.8.4.4
Or
Preferred DNS server: 208.67.222.222
Alternate DNS server: 208.67.220.220
Select 'Validate Settings Upon Exit' checkbox
Click ok to make save changes, now open chrome browser and visit web pages.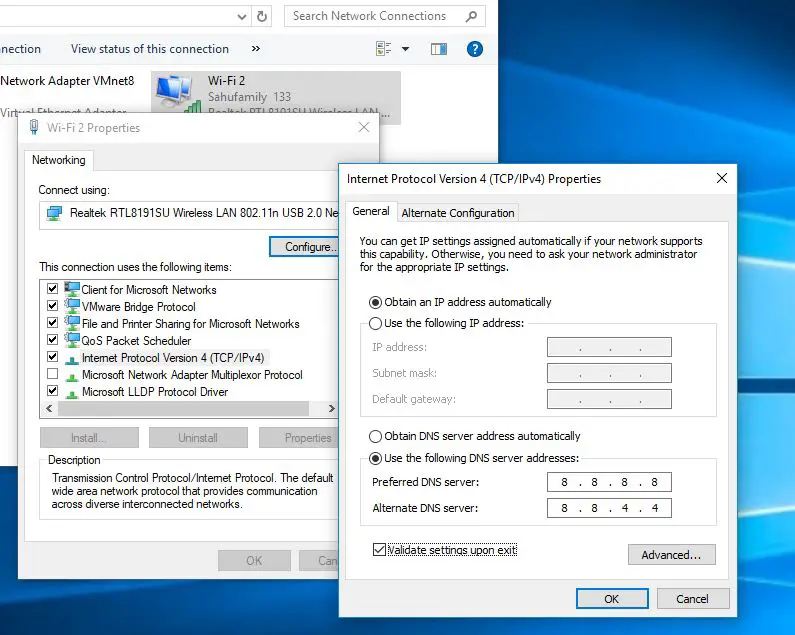 Uninstall and Reinstall the Network adapter/drivers
Follow these steps to uninstall and reinstall the driver:
Step 1: Uninstall the network drivers
Press "Windows Logo" + "X" keys on the keyboard.
Click on "Device Manager" from that list.
Search for the network adapter/drivers from the device list, right click on it and then select "Uninstall".
On the un-installation window, if you have an option: "Delete the driver software for this device" you may select that and then remove the corrupted drivers from the computer.
Follow the on-screen instructions to complete it and restart the computer if prompted.
After the restart, you may again open the Device Manager and then click on the "Scan for hardware changes" button at the top of the Device Manager window and check if Windows 10 detects the network devices and installs an appropriate driver for it automatically. If that happens, then check if it resolves the issue.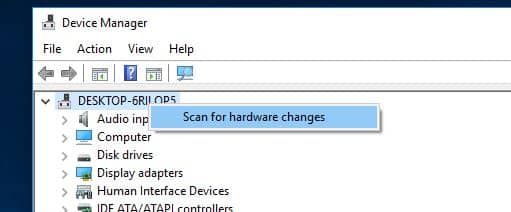 Step 2: Update Driver Software from the Manufacturer's website:
If the issue occurs due to corrupt Network Drivers, then you may refer to the manufacturers' website and install the latest Network adapter/drivers for the device.
Resetting Chrome to Default on flags
Google Chrome supports different internal settings and features for getting the most out of the user's browsing experience They are called flags Resetting Chrome to Default on flags is a pretty easy fix that worked for many people. To do this
open google chrome
Type chrome://flags/ in the address bar of Chrome and press Enter.
Now click on the"Reset all to default" button located on the right side and restart the browser.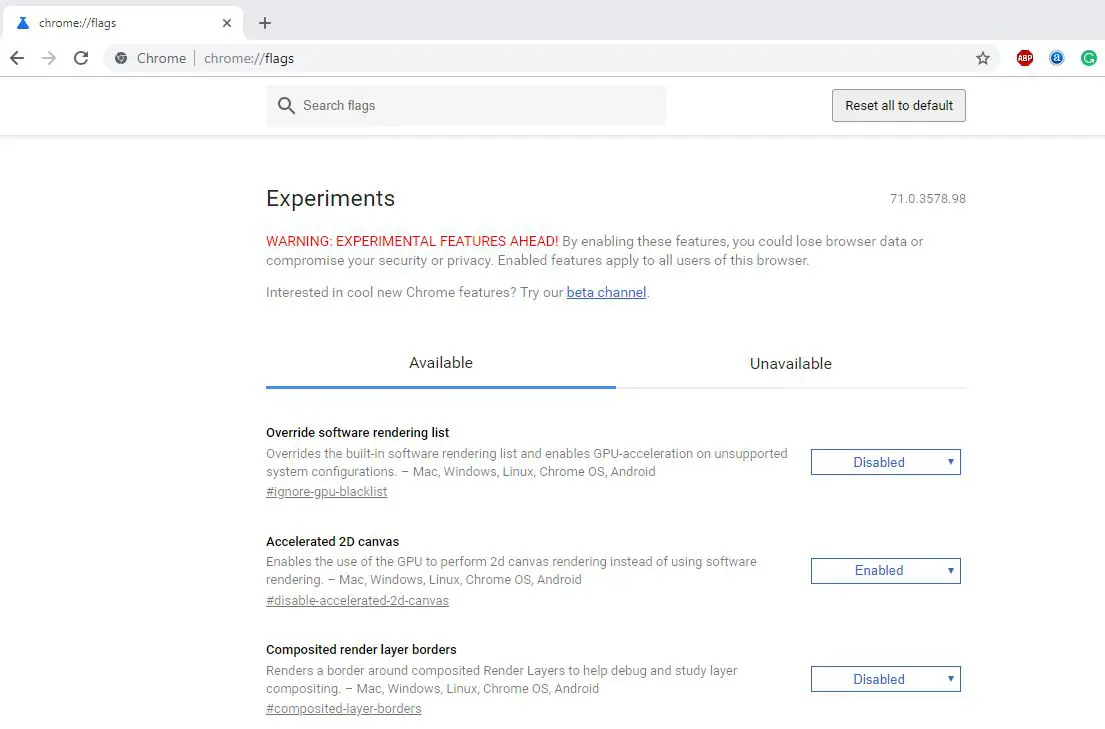 This option will work most of the time. hope for you also this will work. if still getting this error fallow the next solution.
Disable Antivirus / Firewall
Sometimes antivirus and firewalls cause connection issues. It may be due to the firewall that is blocking the way of Google Chrome to access the sites. Disable the antivirus or firewall if you are using any and then try to browse the websites that was giving the error. If the error is solved then try reinstalling that antivirus or firewall. If it brings back the error again then you should probably use a different antivirus or firewall program.
These are some best working solutions to fix Dns_probe_finished_nxdomain, DNS probe finished bad config or DNS probe finished no internet Google chrome internet connection error for Windows 10 computers. Face any difficulty while applying these solutions, or Have any query, a suggestion about this post feel free to comment below. Also, Read