Microsoft's latest operating system windows 10 is the best ever windows version compared to the previous one's windows 8.1 and 7 with improved speed, a Number of new features, security improvements and more. With Windows 10 Microsoft heavily Integrated one Drive on windows explorer to store things directly on the cloud. As you must have noticed, OneDrive Starts up automatically as soon as you log in to your computer using your Microsoft Account and OneDrive is so closely integrated with Windows 10 that it almost feels like an extended part of your PC. Also With day-to-day Updates, Microsoft brings new improvements on these features, Also Brings some Bugs which cause different problems. In this post, we discuss How to Fix High CPU Usage By OneDrive exe on Windows 10 computers.
Fix High CPU Usage By OneDrive exe
Some Windows users Report after installing recent updates, or upgrading to Windows 10 22H2 Update, Windows Freezes and not respond at startup. When opening task manager ( right-click on taskbar – Select Taskmanager ) to check where system resources usage they notice oneDrive.exe usage a huge amount of CPU / Memory it's almost 99% on the process Tab. This process usages the most amount of the system resources, resulting in slowing down the system.
Also, These OneDrive problems can occur even if you did not signup for OneDrive and you are not at all using Microsoft's Cloud Storage service. If you are also suffering from High CPU Usage By OneDrive.exe Here apply the bellow solutions to get rid of this Onedrive sync engine high CPU or onedrive.exe high CPU, memory usage problem.
Restart OneDrive
Just like restarting your computer, restarting any app, program or service has the potential to fix minor software glitches and clear stuck programs that might be causing the problem of high CPU Usage by OneDrive in Windows 10. We first recommend to restart the one drive process at the task manager to fix the high CPU usage problem. you can restart the process by following the below.
First Right-click on the Start Button and then click on Task Manager in the menu that appears. On the Task Manager screen, right-click on the Microsoft OneDrive Setup and select End Task in the contextual menu that appears.
Now, simply Restart your Windows computer. on the next Boot windows start the one drive service normally see the problem of High CPU Usage by OneDrive is fixed on your computer. if not follow the next step.
Disable OneDrive At Startup
If you are not using the OneDrive service on your PC, it is better for you to keep the app disabled in your system so it will not consume power from your system. you can do this from task manager -> startup -> select, one drive -> right-click on it and select disable. Now Restart your pc check Microsoft Onedrive Service process is not running and the problem will be fixed.
Reset OneDrive
Resetting any application will fix almost 50% of the problem, This will reset the app to refresh as like a new installation. In case OneDrive appears to be constantly consuming about 10 to 20% CPU on your computer, the problem can often be fixed by Resetting the OneDrive service.
To Reset OneDrive Service First Right-click on the Start button and then click on the Run option in the menu that appears. Or You can also press Windows Logo + R keys to bring up the Run Window on your computer.
Now In the Run Window type %localappdata%\Microsoft\OneDrive\onedrive.exe  /reset and click on OK
while executing the command you will see the OneDrive icon in the system tray disappearing and then reappearing after a while (Can take 60 seconds or more).
Note: In case if the OneDrive system tray icon does not re-appear after a few minutes, open the Run Command Window by pressing Win + R keys and Type %localappdata%\Microsoft\OneDrive\onedrive.exe and click on the Run button.
After that restart computer and check After Resetting OneDrive should fix the problem of High CPU Usage by OneDrive on your computer.
Disable Telemetry
Also, some users report after disabling the Telemetry service the onedrive high CPU usage bug was fixed. To disable telemetry, open the Settings app and go to the Privacy group of settings. Select the Feedback and & diagnostics tab. Scroll down and set Diagnostics and data usage to 'Basic'.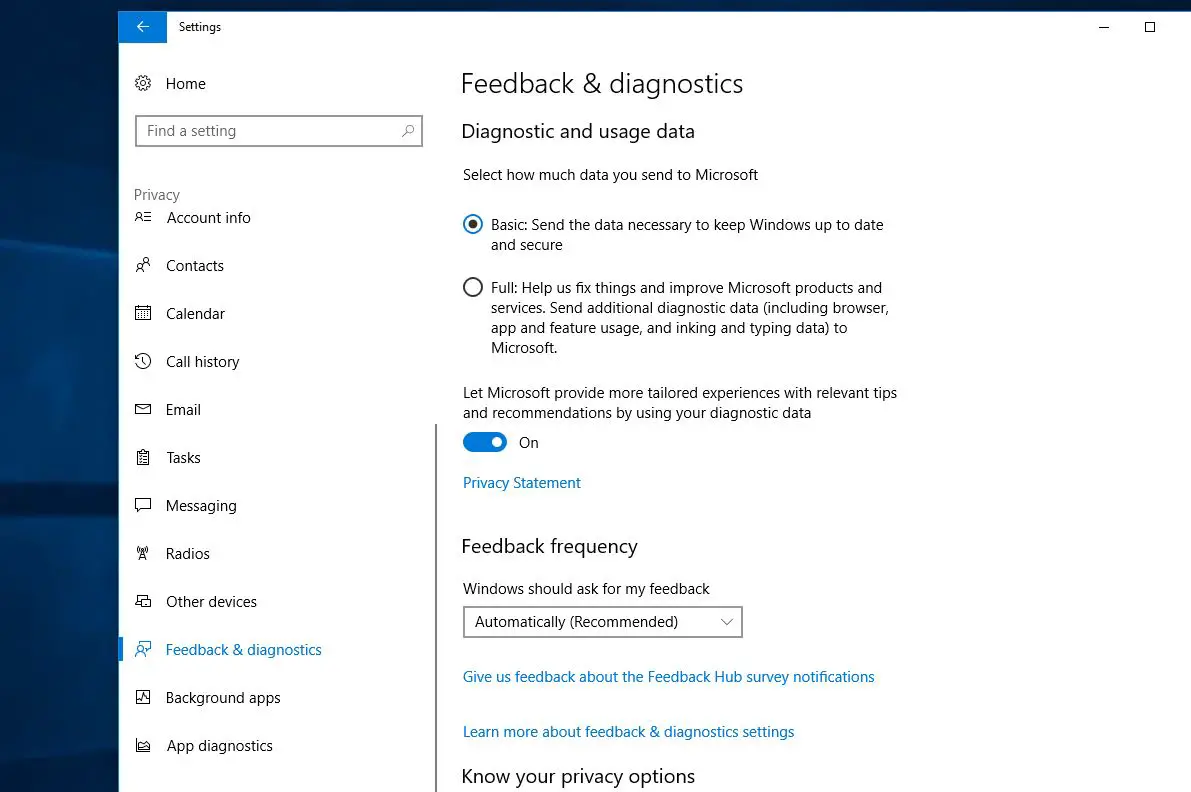 Disable telemetry using registry tweak
Next, open the Registry editor using win + R, Then type Regedit and hit the enter key. Now on the left pane navigate to the following key ;
HKEY_LOCAL_MACHINE\SOFTWARE\Policies\Microsoft\Windows\DataCollection
Note: Incorrectly Modifying Registry Values can cause serious problems on your computer. Hence, make sure that you do not modify anything on the Registry Editor screen that you do not understand. Also, we strongly recommend to create a system restore point, so that if anything goes wrong you can revert your windows to a previous working state using system restore.
Right-click on DataCollection -> New -> Create a new DWORD value and name it AllowTelemetry. Double click on new created DWORD and set its value to 0. Click on the ok and close registry editor window.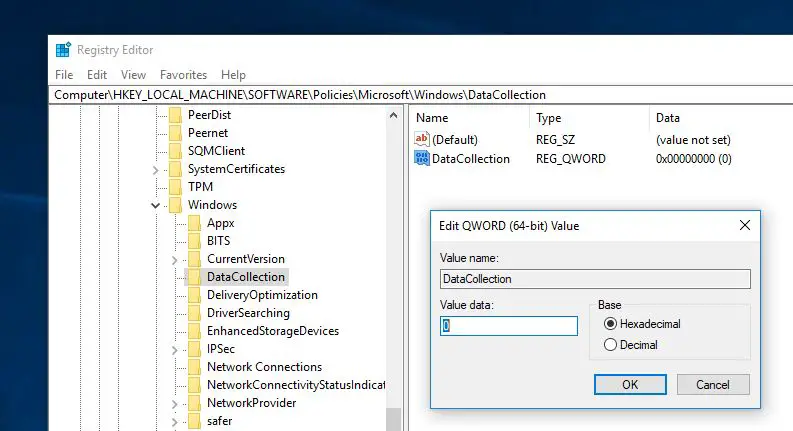 Disable Telemetry services at startup
Next, open Windows Services, by press Win + R, Then Type services.msc and hit the enter key. Here on windows services scroll down and look for the following services.
Connected User Experiences and Telemetry
dmwappushsvc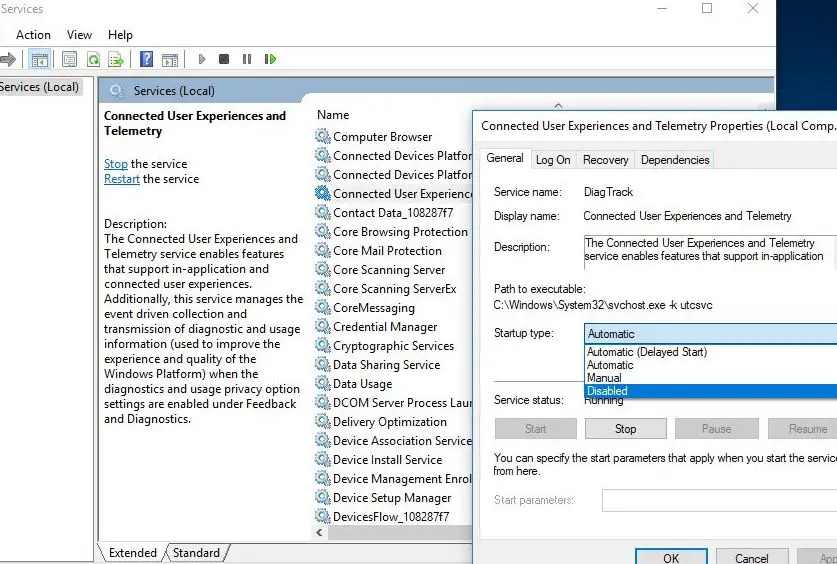 Double click a service ex: Connected User Experiences and Telemetry, Then from the 'Startup type' dropdown, select the 'Disabled' option. Apply the changes and you're done. Do the same with dmwappushsvc service. Double click on it and change the startup type to disable. This will disable all telemetry on Windows 10. Now simply Restart windows to take effect the changes that you made. This is the best solution I have found to fix high CPU usage by onedrive.exe.
Delete OneDrive Setup Files
If all the above methods fail to fix the issue the last option Delete one drive setup file. ( note: You can go for this option, in case you are unlikely to use Microsoft's Cloud Storage service (OneDrive) on your computer. In case you change your mind, you can always install OneDrive back on your computer at any time. )
As some users report this issue caused due to OneDrive constantly trying to complete File Operations that are failing due to non-English characters in Account Usernames or in File Profile Paths. and this will be fixed by deleting the one drive setup files.
To Delete Onedrive Setup files
Open File Explorer > click on the View Tab and then check the option for Hidden items
Now, navigate to C:\Users\Admin\AppData\Local\Microsoft\OneDrive\setup\logs  
In the Logs Folder, scroll down to the bottom and delete these two hidden files –
userTelemetryCache.otc  
userTelemetryCache.otc.session  
After deleting the files go to C:\Users\Admin\AppData\Local\Microsoft\OneDrive and then double-click on the OneDrive.exe file to start one drive now check the system running smoothly without any problem.
These are some best working solutions to Fix High CPU Usage By OneDrive exe on Windows 10 computers. I hope after applying these solutions your problem of High CPU Usage By OneDrive exe will be get solved, Still have any queries, suggestion feels free to comment below.
Also, read