As discussed before Normally Blue Screen of Death error occurs whenever your computer encounters something it doesn't understand how to process — so it turns itself along and lets you know what that problem was to save itself. And the BSOD Error Video Scheduler Internal Error indicates that the video scheduler has detected a fatal violation. The error is mostly caused because of the Graphics card which is either disabled or outdated and its drivers issue and has a stop code 0x00000119.
This Video Scheduler Internal Error can occur any time while working on your pc, playing the game, start from sleep mode or while startup windows Restart frequently with a Blue screen. Like Other BSOD Errors, this Video Scheduler Internal Error mostly encounter after update a recent display driver update, and new application installation, due to corrupt system files.
How To Fix Video Scheduler Internal Error
This Video Scheduler Internal Error Suddenly appears with BSOD error code and restarts the PC, Also While playing a game, Windows stuck at any stage frequently also PC performance may become worst. If you are also suffering from this problem, Here apply the below solutions to fix this Video Scheduler Internal Error on Windows 10 computer. But before apply solutions first understand the reason behind the Video Scheduler Internal Error. Mainly This Error occurs due to damaged or corrupted video driver, Corrupted Windows system files, Viruses or Malware infection or Third-party security software or services. Now, let's move to the part of the solutions.
Check for Hardware issue
Start with a basic solution first restart windows and check windows start normally. Next unplug all external devices( printer, scanner, audio jack etc ) include power cable, VGA cable and keyboard&mouse. Now press and hold the power button for 30sec, then only attach the power cable, VGA cable and start windows and check windows start normally. If yes then attach the keyboard & mouse and restart windows and check,( If not move to the next solution). Windows start normally then attach external devices one by one and restarts every time to find out any external device causing the issue. If found any problematic device then check the device with another system if causing the same problem then contact the manufacturer.
Start windows into safe mode
If due to this blue screen error windows restart frequently, don't allow to start windows normally. Then you need to Access windows Advanced Startup options. Where you can perform startup repair, Access safe mode so that you can perform troubleshooting steps to fix Video Scheduler Internal Error. Check How to Boot into safe mode with networking on Windows 10. Note: If you are able to start windows normally then no need to access safe mode you can directly apply the below solutions.
Update or Roll Back Video Driver
As discussed Before the main reason behind this Video Scheduler Internal Error is the corrupted, outdated or incompatible Graphics Driver then we need to focus on the Display driver, and update or roll back the Video Graphic Driver. Are you confused with Update or rollback?
First, clear the concept if the blue screen Started a recent update of your PC as well as the video driver, You can try to roll back the update. Because, If the latest driver update fails to install or if it is problematic, You may face any video driver-related problems.
If you have an incompatible or outdated video driver. In that case, You have to update it to the latest version. Let's know how to update or roll back video drivers.
Update Graphic Driver
First of all, Press the Windows key + R then type devmgmt.msc and hit the enter key to open Device Manager. Here You will see all installed driver list or your PC. Here Expand Display Adapters, then Right click on your video driver and select Update Driver.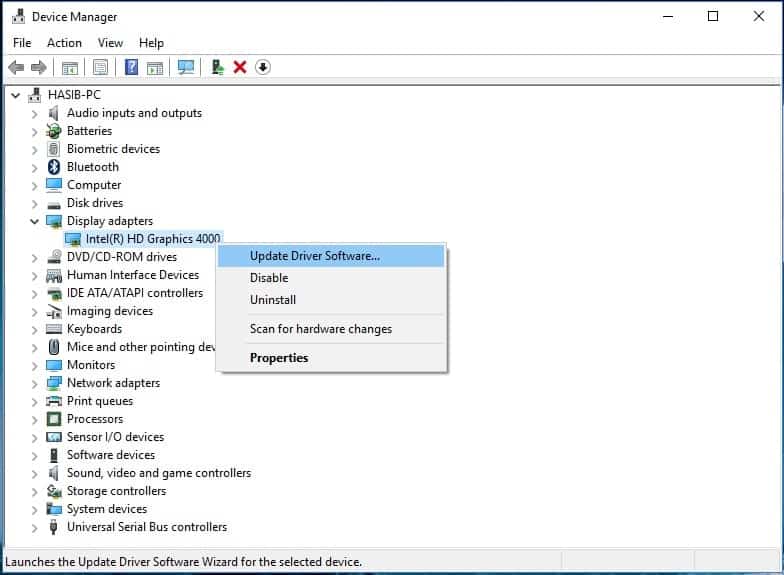 Now select Search automatically for updated driver software, It will automatically update your display driver. Otherwise, if you have downloaded the latest Graphics driver from the manufacturer's website then select the option Browse my computer for driver software and set the driver path and follow instructions to install it. After that restart windows and check the blue screen error is gone.
Rollback Driver
If you face Video Scheduler Internal Error After a windows update or install the latest updates for your graphic Driver then the Rollback driver is the recommended solution. To perform the Rollback option again open Device manager -> expand Display Adapters -> select and right-click on your installed display driver ( graphic driver ) and click properties.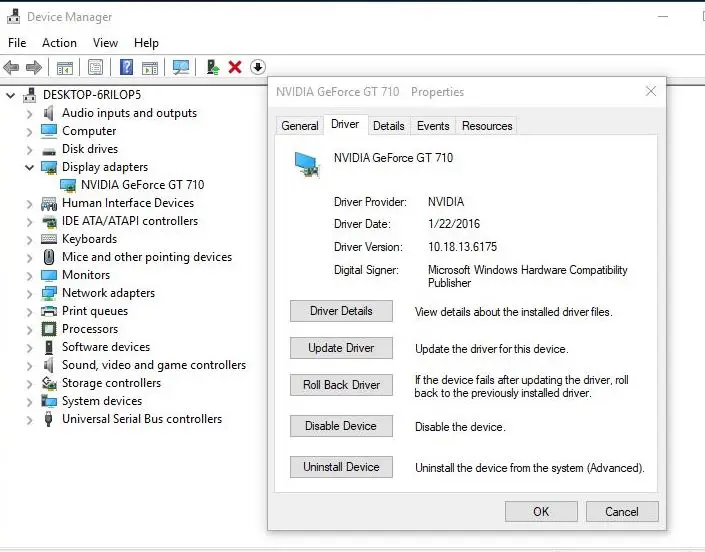 Now move to the Driver tab, Then click on Rollback. (Note: rollback Driver option only available if you recently update your graphic driver) And follow the on-screen instructions to roll back the display driver, and install the previous driver version which worked before without any problem. Now Restart windows and check the BSOD problem gone, If you still need help follow the next solution.
Turn Off Fast Startup
With Windows 10 Microsoft Added Fast startup option to reduce the system startup time and make windows faster startup. (Fast Startup is a combination of the normal shutdown and Hibernate function. You can read more about fast startup here. ) A number of windows users report Due to this Hybrid shutdown feature they face startup problems, Different BSOD Errors include Video Scheduler Internal Error On Windows 10. And Disable this feature will help to fix these startup problems.
To disable fast startup open control panel -> small icon view -. power options -> choose what the power buttons do -.>  change settings that are currently unavailable -> then uncheck Turn on fast startup  ( recommended ).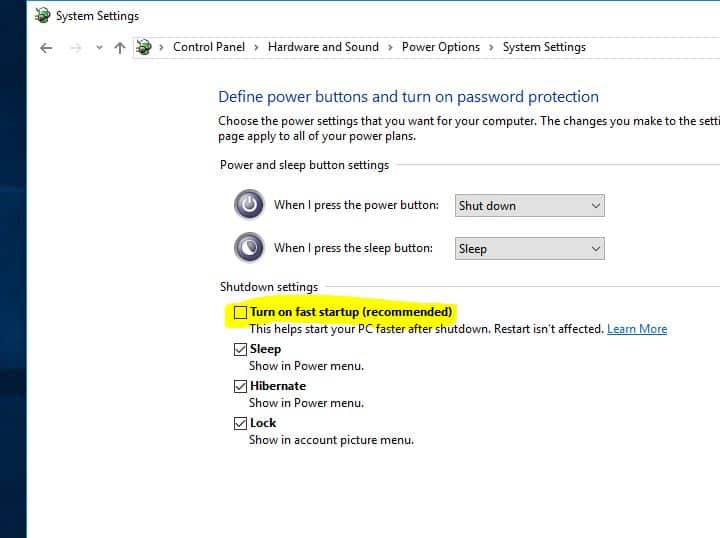 After that click on save changes then simply restart windows then check windows start normally without any BSOD Error.
Disable or Remove Security Software
Also, Some security software may create a BSOD problem. For example, AVG Internet Security may create DPC watchdog violation or video scheduler internal error. So, I would like to suggest you disable your antivirus and restart your PC. Then see what happens. If it solves BSOD, You should uninstall your antivirus software.
Clean Out the System Junk File
Some Times Accumulated junk files can result in Windows OS to respond slowly or even the VIDEO_SCHEDULER_INTERNAL_ERROR problem. And Cleaning up these temporary files with Disk Cleanup might possibly solve this BSOD error Also it can help to speed up the performance of your PC.
To run the disk cleanup Tool Click the Start button and on the search bar type cleanmgr then hit the enter key. This will open the disk cleanup here select the system installed drive ( Normally C: drive ) then click OK.
Then Disk Cleanup will begin to calculate the disk space you can reclaim. Select and check the categories you want to clean from the Disk Cleanup dialog box and then click OK. Generally, the "Temporary Files" category occupies the most disk space. Then after restart, the windows computer normally and check there is no more BSOD errors.
Make sure windows and Drivers are updated
Microsoft Drop updates regularly to fix different bugs, system issues, and driver incompatibility issues. This means Windows update solves many issues on your PC. With Windows 10 Updates are set to install automatically but if for any reason your system didn't have the latest updates we strongly recommend to install the latest updates on your window s10 computer from
Settings -> update & security – Check for updates.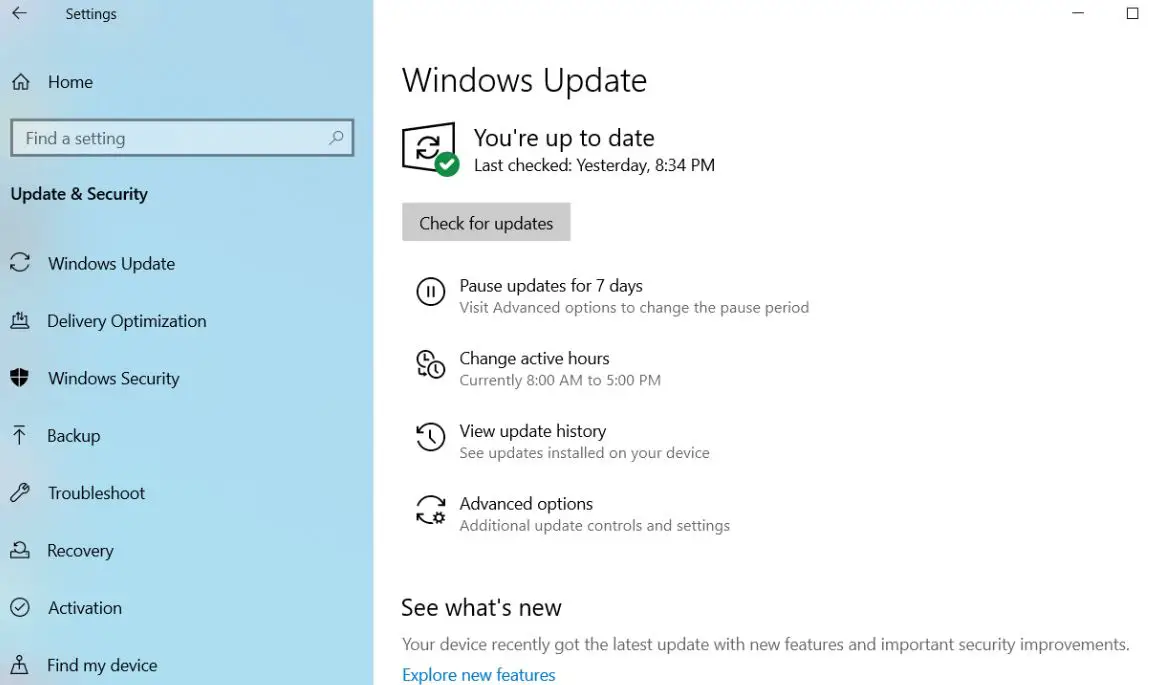 Again Drivers are the critical part of your computer. All your installed driver are must be updated to run Windows 10 smoothly. Outdated/incompatible drivers can cause different problems. Again we recommend to check and update your install device drivers, especially The display driver, Network adapter and Windows audio driver.
To update Drivers press win + R then type devmgmt.msc and hit the enter key. This will display all installed driver lists here find any yellow tingle under the installed driver. if found then remove this, visit the manufacturer's website download the latest available driver for that device and install it. you can also right-click on it and select update driver -> then select update drivers automatically to install the latest driver from the windows server.
Fix corrupted Registry
Also, Invalid, damaged or corrupted registries may create a different problem on your Windows PC. And Sometimes, It may become responsible for Video Scheduler Internal Error blue screen problem. So, Run registry scan and fix it. You can use third-party trusted programs to do it. One of the most popular programs in CCleaner. It has options to fix problematic registries.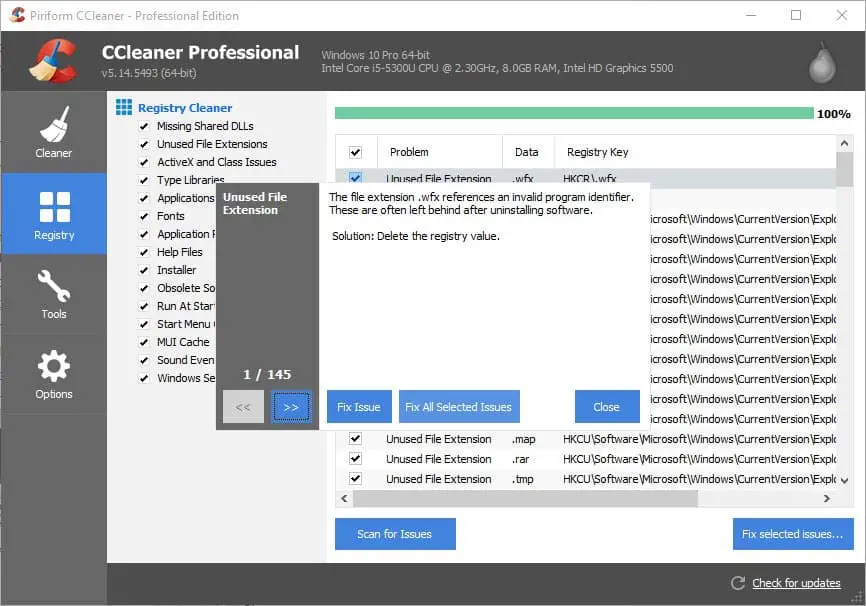 Repair Corrupted System Files
As we discussed before Corrupted system files can cause different windows problems include Different Blue screen errors and may this Video Scheduler Internal Error is one of them. For that, we recommend to Check your windows computer for corrupted system files using SFC Utility. ( system file checker ( SFC /scannow ) is a system utility help to find and restore corrupted system files on Windows computers. you can read more about SFC Utility here.
To run SFC Utility Open Command prompt as administrator and type command SFC /scannow then hit enter key to execute the command.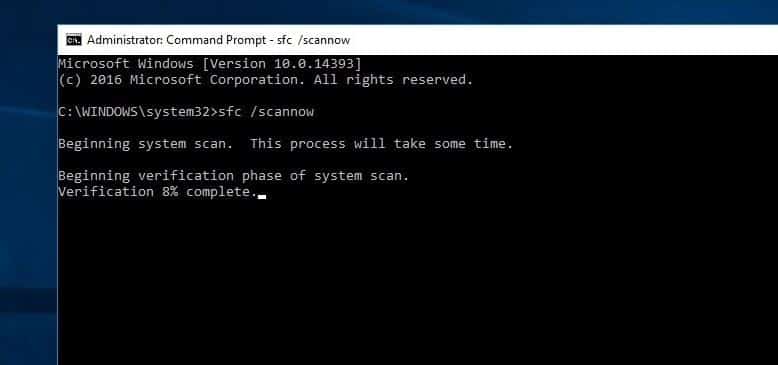 This will scan windows for corrupted missing system files if found anything it will restore itself. Wait until 100% complete the scanning process then after restart windows and check windows BSOD error is fixed.
If your system files are corrupted, You will have more chances to face so many issues including BSOD. It is possible to repair them. I have already written an article on it.
If all the above methods fail to fix Video Scheduler Internal Error then it's time to utilize the system restore feature. Which revert back your windows computer to a previous working state where windows work smoothly without any problem. Check How to perform a system restore on windows computer.
conclusion
These are some best working solutions to fix Different Windows 10 BSOD Errors include Video Scheduler Internal errors on windows computers. I hope after apply these solutions your problem Video Scheduler Internal Error will get solved and windows didn't show any BSOD Error. Still have any query suggestions about this post feel free to comment below. also read from our blog :