Windows 10 and 11 had a number of issues at the time when it was first released. Microsoft has tried long and hard trying to fix all the reasons After a while when Microsoft started pushing updates. Some errors were solved but there was plenty of them which weren't. One of those errors is associated with the windows 10 blue screen error 0xc000021a. Like other Blue Screen Of Death errors, you will see a blue screen saying a
Problem has been detected and your computer will restart. If you'd like to know error, you can search online later for this error: 0xC000021a
Sometimes while working or at windows startup windows suddenly crash with showing blue screen error. This error can crash all active programs and force your PC to restart to avoid permanent damage. The system displays 0xc000021A Error with a blue screen only when the files Winlogon.exe or Csrss.exe are gets damaged due to any internal or external problem. Both files are one of important system files, Winlogon.exe is responsible for managing the login and logout processes. Csrss.exe belongs to Microsoft Client or Server 'Runtime Server Subsystem'.
It states that Your PC ran into a problem and needs to restart. This error appears inside a blue screen of death. So,It may have some serious issues damaging the internal structure of Windows OS. This error also persists even after restarting the PC.
Reason for windows 10 blue screen error 0xc000021a
This error occurs when a user-mode subsystem, such as Winlogon or the Client Server Run-Time Subsystem (CSRSS), has been fatally compromised and security can no longer be guaranteed. In response, the operating system switches to kernel mode. Microsoft Windows cannot run without WinLogon or CSRSS. Therefore, this is one of the few cases where the failure of a user-mode service can shut down the system.
Aside from The 0xC000021A error can occur if Winlogon.exe or Csrss.exe stops working. This happens if:
There were corrupt Incompatible system files on the computer.
There was a failed upgrade.
Incomplete installation of a software program.
Incompatible device drivers.
The installed third-party software file is missing.
The system registry is damaged. (This may happen because of disk read/write errors, power outages or virus attacks. )
Fix Windows 10 blue screen Error 0xC000021A
If you are also suffering from this Blue Screen Error Here Follow Bellow steps. These Tips Also Help To Fix Any Blue Screen Error Code. So Fallow Them One By one.
Access Advanced Boot Options
If your system unable to boot due to this windows 10 blue screen error 0xc000021ar then First Windows Advanced Options. Here you have lots of Troubleshooting tools Like System Restore, Safe Mode Boot Option, Advanced Command prompt, System Image Recovery, Startup Repair Etc. And startup repair may help to fix this issue. To perform startup repair on windows 10 and 8.1 First Access Advanced Startup Option. To do this First  Insert the bootable disc to your media drive and reboot the system to BIOS setup ( To Access BIOS setup press Del, F2, F12 or Esc key on the keyboard during the booting process)
On BIOS setup move to the BOOT menu using the Right arrow key.
Here change the first boot CD-ROM Drive and the second boot to Hard Drive.
After the changes press the F10 key to make changes.
If asked to make save changes select yes this will restart the windows.
During Boot, you will see press any key to boot from CD or DVD, and press any key on the keyboard.
Here this will open your windows installation window.
here select language, time currency and keyboard input and click next on the next screen select  Repair your computer.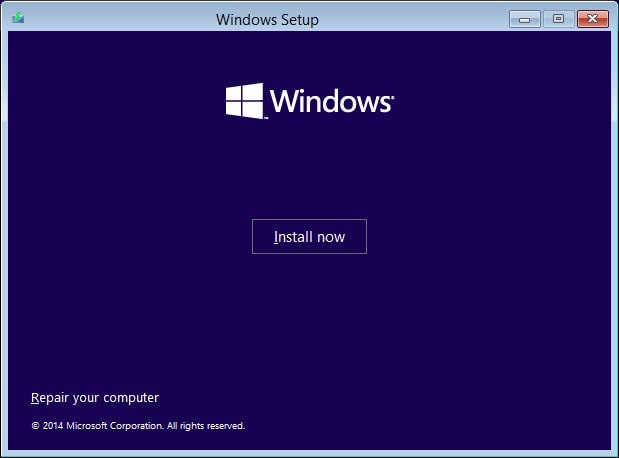 Now on the next screen, Select Troubleshoot Now On Troubleshoot screen, click Advanced options. On the Advanced options screen as shown below select the startup repair.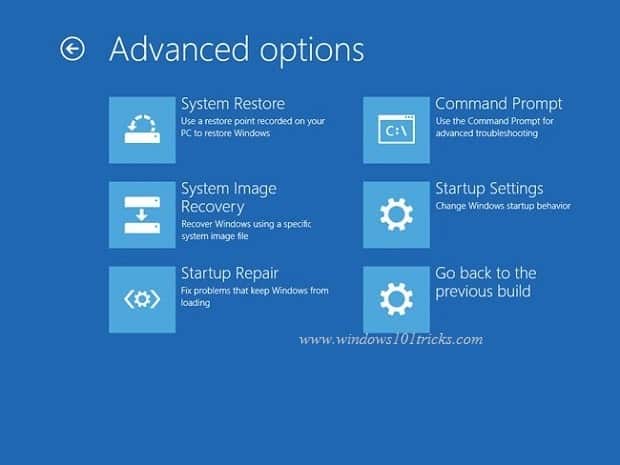 Start-Up Repair
When you select startup repair this will restart the window and during startup, this will start diagnosing your system. During this diagnostic phase, Startup Repair will scan your system and analyze the various settings, configuration options, and system files as it looks for corrupt files or botched configuration settings. More specifically, Startup Repair will look for the following problems:
Missing/corrupt/incompatible drivers
Missing/corrupt system files
Missing/corrupt boot configuration settings
Corrupt registry settings
Corrupt disk metadata (master boot record, partition table, or boot sector)
Problematic update installation
If Startup Repair detects any of these types of problems, it will automatically attempt to fix them. If Startup Repair can fix the problem, it will do so without any intervention. It will then restart the system and boot normally. check the problem is solved if still you face the same problem follow the next steps.
Run DISM command on safe mode
If the above method not worked then don't worry running the DISM command can help to fix this problem. to do this boot your system from Windows installation media and move to repair this pc and then Choose Troubleshoot- Select Advanced Options -Select Startup Settings-Click Restart. Now on the next screen press the F6 key to boot into Safe Mode with Command Prompt.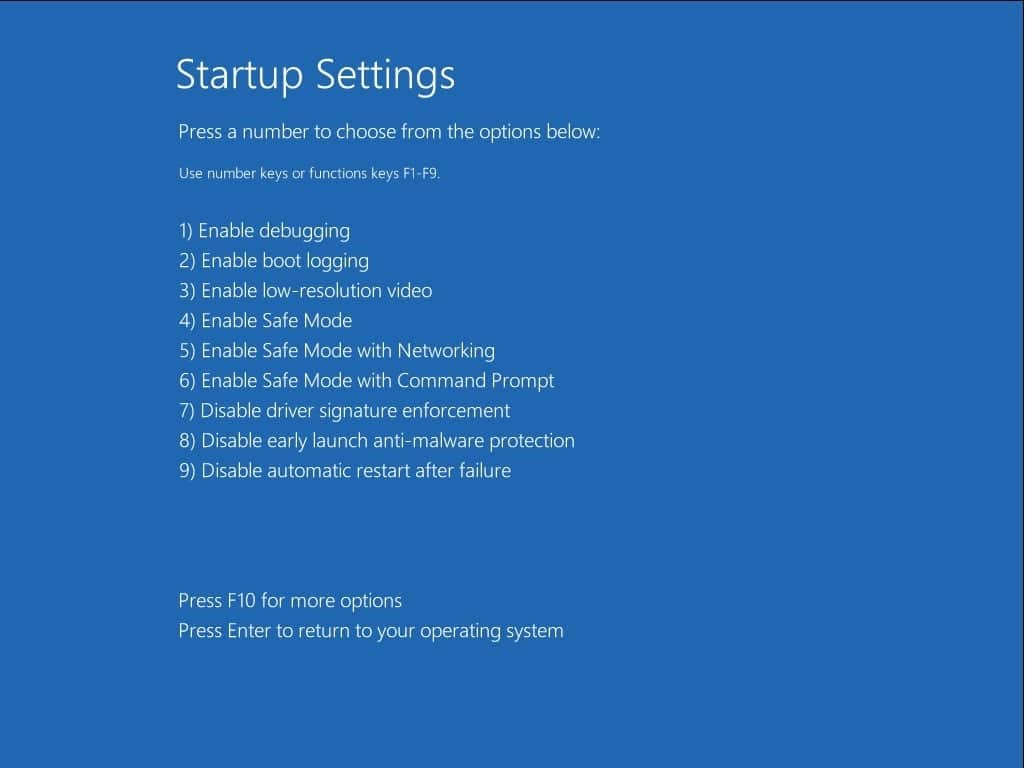 Once the Command Prompt appears, type this command and press Enter:
first, identify the system drive name to do this Type Diskpart when the disk part starts type list volume to determine the system volume as bellow image. D is my windows installed volume.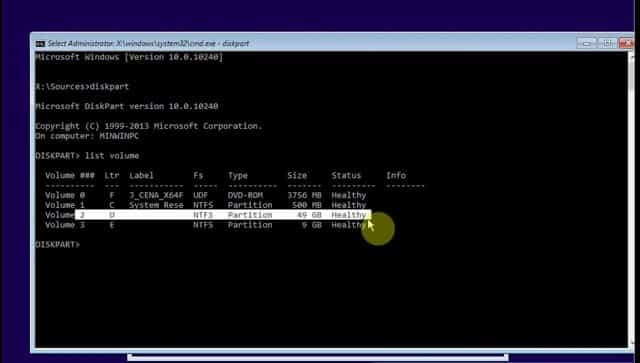 Now type exit command to exit from Diskpart and type bellow DISM command
dism /image:D: /cleanup-image /revertpendingactions
Replace D: with the letter of the drive where your Windows 8/8.1 is installed.
This will take some time to complete wait until 100 % complete.
After that additionally, perform the below commands one by one.
cd D:WindowsWinSxS
move pending.xml pending.old
This will work if a pending.xml has been created.
Now after that restart the system and when started next time windows 10 blue screen error 0xc000021a can be solved. This is the best working solution for most windows users if you still getting error follow the next step.
Repair Corrupted System File using SFC command
After running the DISM command if this problem not solved then don't worry Windows has an inbuilt System File Checker tool we can use to scan the system for any potentially corrupted files. This tool will detail and potentially fix any unexpected corruption, returning the system to a good working state.
To run the system file check tool first open the command prompt To do this, click Start, type Command Prompt or cmd in the Search box, right-click Command Prompt, and then click Run as administrator. If you are prompted for an administrator password or for a confirmation, type the password, or click Allow.
At the command prompt, type the following command, and then press ENTER:
sfc /scannow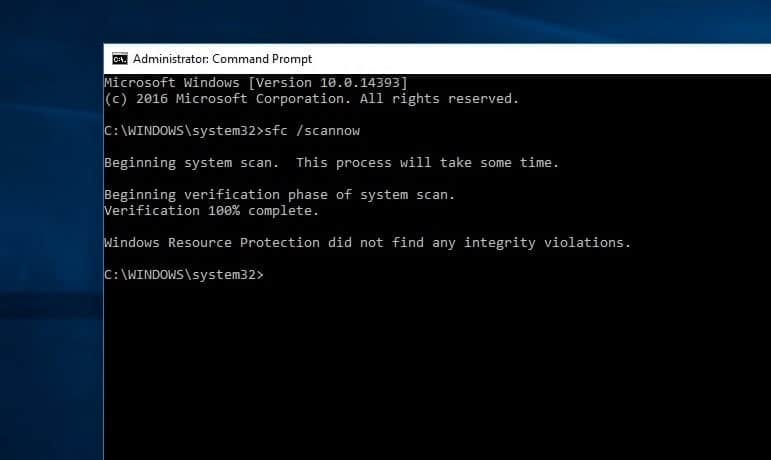 The sfc /scannow command will scan all protected system files, and replace corrupted files with a cached copy that is located in a compressed folder at %WinDir%System32dllcache.
This command can take a little time to complete. Do not close the Command Prompt window until the verification is 100% complete.
Disable driver signature enforcement
Restart the PC from Windows by holding the Shift and selecting Restart. When the options screen opens, select Troubleshoot. This way, you will be able to access advanced tools. Select Advanced Option on the next screen. The next window will deliver tens of options, but the only thing that you have to do here is to select Startup Settings. When the startup screen opens, press F7 (Disable driver signature enforcement).
After that, the PC will restart. Check windows 10 blue screen error 0xc000021a will be solved otherwise follow the next step.
Uninstall Any Recently Installed Application
If the error started to appear, immediately after you installed an application or install a new driver, then there is a chance that this new program could be causing the error. for this, you have to uninstall the program, then evaluating your system.
First, ensure you have administrative rights to make changes or uninstall any application.
Let's follow the steps to do this. First, open Control Panel\All Control Panel Items\Programs and Features.  now select the recently installed Application and click uninstall.
Restart windows and check. if you still your pc ran into a problem and needs to restart the Blue Screen problem in windows 10 follow the next step.
Use Memory Diagnostic to fix Memory ( RAM ) Errors
Sometimes Corrupted RAM can cause this blue screen problem. so To determine whether or not this is the case, you need to test your RAM. This can be done, by running the Memory Diagnostic Tool 
Open the start menu and type Windows Memory Diagnostic and choose the app of similar name. Now select Restart now and check for problems.
It will restart your PC and diagnose your memory problems. Let the program finish and if any error is found, it will be reported. If this is the case, then it's time to replace the erring memory module.
Fix Corrupted Registry Files
To fix corrupted registry files you have to use a registry cleaner. There are lots of paid and free versions of registry cleaner on the internet. You can download any of them. You just have to click on the registry clean button and this software will find and repair the corrupted registry for you automatically.
Restoring Windows back to an earlier point in time.
Restore Points proves to be very useful in situations like this. This method is only useful for you if you already have a Restore point Created in the past when your PC was Running Smooth as Butter. For those who already have a Restore point created,  Read How To Perform System Restore on Windows 10, 8.1 and 7
Also read: