Getting Different Windows 10 Startup problems such as Windows 10 startup repair couldn't repair your PC, boot configuration data is missing, and Windows 10 booting problems after the update. Windows 10 Failed to start, the system crashes, and Frequently Restart with Different Blue Screen Errors, Stuck At Black Screen etc. Especially After the recent Windows 10 updates users Windows unable to start, Frequently Restart, and Startup Repair Stuck At repairing Windows for hours.
Mostly All these Windows 10 Startup problems occur Due to an Incompatible Device Driver, Disk drive Failure or bad sector Errors, Any Third-party Application or Virus malware infection Causing the Issue. And especially while Windows upgrade process system files get Corrupted or missing.
Fix Windows 10 Startup problems
As Various reasons behind these Windows 10 Startup problems, we have to Apply Different Solutions to Fix And Repair most of Windows 10 Startup problems. If you are also struggling with Windows startup problems laptop computer won't Start, frequent blue Screen occurs, Stuck At Startup repair etc. Here most applicable Solutions to Get rid of this.
With Windows 10 and 8.1, Microsoft added Windows Advanced options where you can Get Various Troubleshooting Tools such as Startup Repair, Advanced command prompt, system restore, System image recovery, go to the previous build and Start settings where you can Access Safe mode (start windows with minimum system requirement) and allow to perform troubleshooting steps. As due to the Startup Problem windows won't start, we need to Access windows advanced options to Deal with issues like this.
Access windows Advanced options
To Access windows Advanced options you need Windows installation media If you don't have then create installation media by the following link. When you are ready with the installation media Insert it into the DVD/ CD drive, and Access the BIOS setup by press the Del key. Then move to the boot tab and change the first boot your installation media ( CD/DVD or Removable Device ). Press F10 to save the changes, this will Restart windows and press any key to boot from installation media.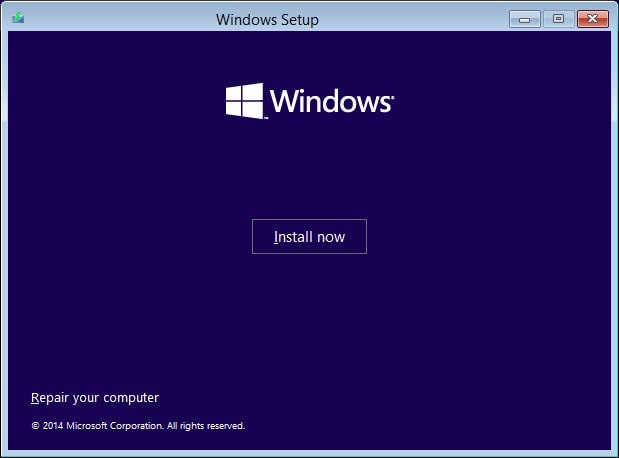 First Set the language preference, click next and click on the Repair Computer option. On the next screen, Select Troubleshoot then click on Advanced options. This will represent you with various Startup troubleshooting tools to fix different startup problems.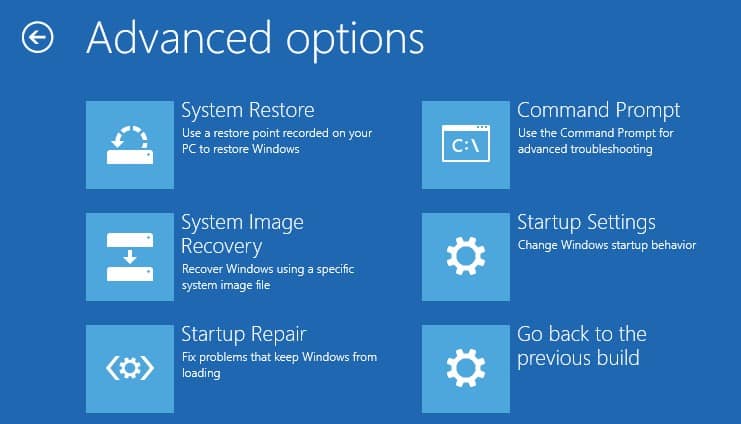 Use the Startup Repair option
When you access Advanced options First use the startup Repair option and let Windows fix the problem itself. When you click on startup repair this will restart the windows and start the diagnostic process. And analyze the various settings, configuration options, and system files Especially look for :
Missing/corrupt/incompatible drivers
Missing/corrupt system files
Missing/corrupt boot configuration settings
Corrupt registry settings
Corrupt disk metadata (master boot record, partition table, or boot sector)
Problematic update installation
The Startup Repair Process will take Some Time, be patient and wait until complete the repair process. After that windows will Restart and start normally. If the repair process results startup repair that couldn't repair your PC or automatic repair that couldn't repair your PC then follow the next step.

Boot into Safe Mode
If startup repair Fails then we need to boot Windows into safe mode, which starts Windows with minimum system requirements and allows you to perform various troubleshooting steps. To Access safe mode click on Advanced options -> Troubleshoot -> Advanced options -> Startup Settings -> Click on Restart -> Then press F4 To access safe mode and F5 To access safe mode with networking as shown below image.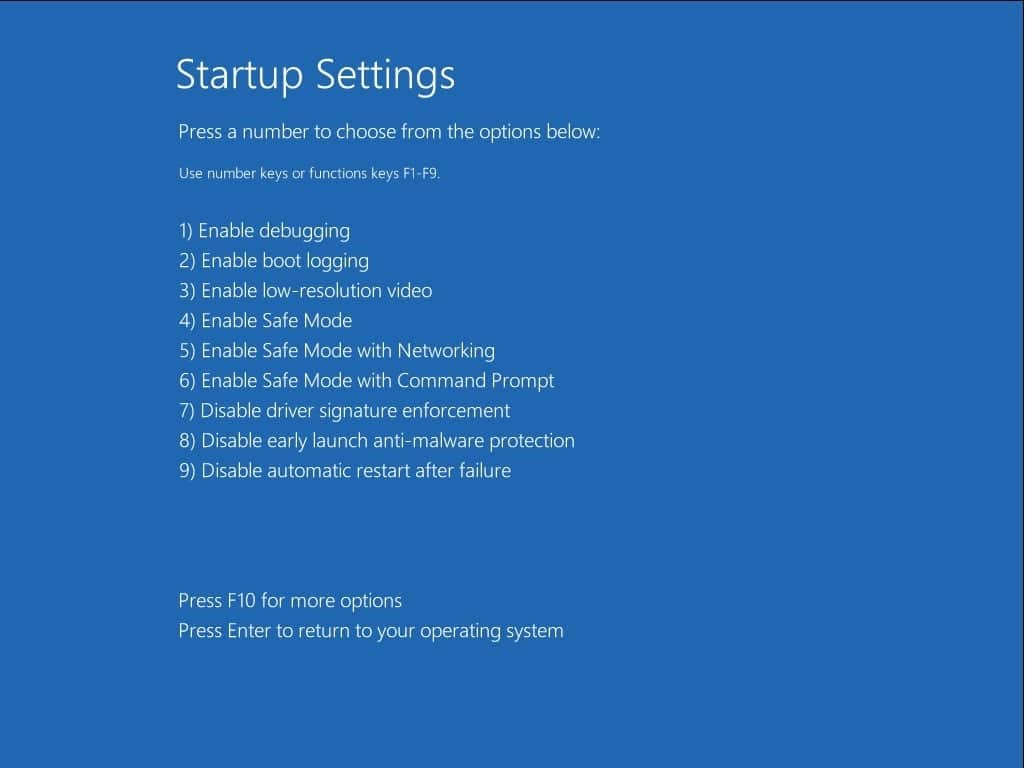 Now When Windows boot into safe mode, let's perform Troubleshooting steps such as run the system files checker tool, Run the DISM tool to repair the system image, check and fix disk error using CHKDKS, Updating or Reinstall drivers, Disabling Fast Startup, Remove recently installed applications, Perform Full system scan to fix virus malware infection etc.
Fix Bootrec Errors
If due To this Startup Problem, Didn't allow the Boot into safe mode then first we need to repair the Boot record error by performing the following command which allows to boot into safe mode.
To perform the below commands again from Advanced options, click on the command prompt and type the command below one by one and hit enter to execute the same.
Bootrec.exe \fixmbr
Bootrec.exe \fixboot
Bootrec \ScanOS
Bootrec /rebuildBcd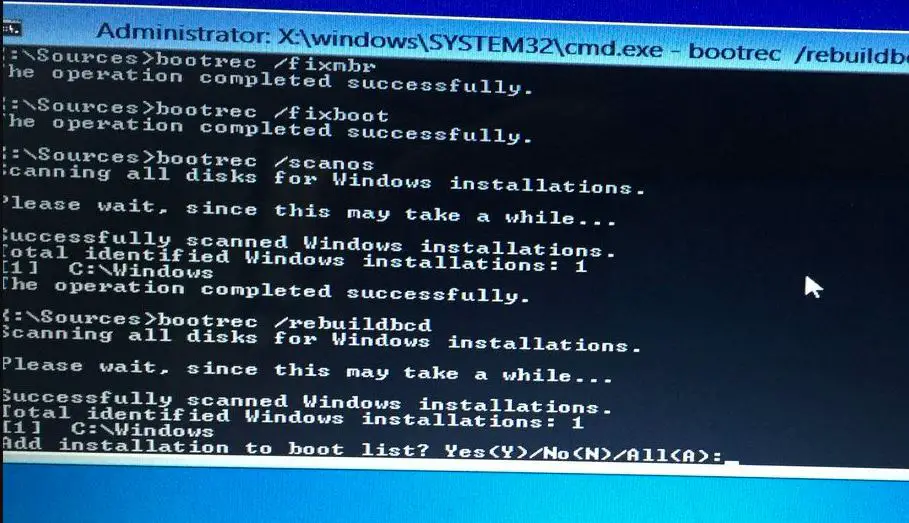 After That Restart Windows and check Start normally if not then try to boot into safe mode from Advanced options. Hope This time window allow you to log in to safe mode. Next, perform Bellow troubleshooting steps to fix startup problems and start Windows normally.
Run System File Checker Utility
As discussed corrupted, missing system files mostly cause different Startup problems such as blue screen error, stuck at black screen, windows failed to start, startup repair fails etc. Running System file checker Utility scan and repair the missing system files from a special folder located on %WinDir%\System32\dllcache. 
To run the system file checker open the command prompt as administrator, then type the command sfc /scannow and hit the enter key. This will start scanning for missing damaged system files, if found any the utility will restore them itself. Wait until 100% complete the Scanning process After that Restart Windows.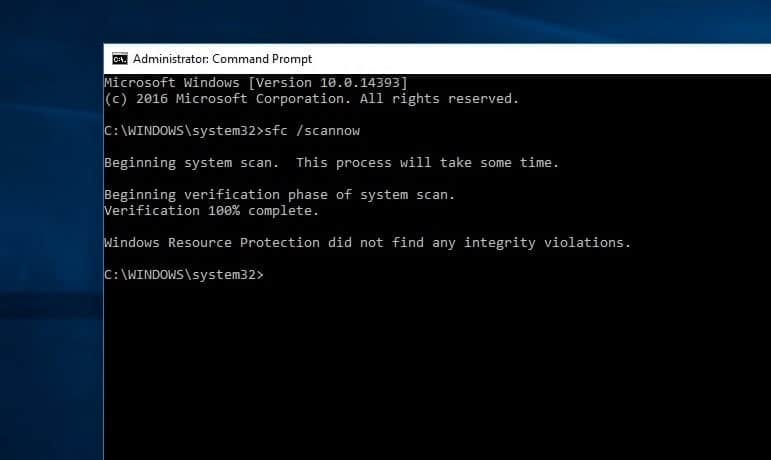 Run DISM Tool
If the SFC utility Results system file checker found corrupt files but was unable to fix them or Windows resource protection found corrupt files but was unable to fix some of them. Then we need to run The DISM Tool Which Scan And repairs the System image and allows the SFC utility to do its job.
To Run DISM Tool Again on the same command prompt type DISM /Online /Cleanup-Image /RestoreHealth and hit the enter key. The process is slow and sometimes, you may think that it is stuck, usually at 30-40%. However, do not cancel it. It should move after a few minutes. After 100% complete the scanning process again Run the sfc / scannow command.
Update Device Driver
Also, incompatible Device drivers mostly cause Different Startup up problems. Such As Corrupted / outdated Display Drivers mostly cause Different Blue screen errors and Windows stuck at Black screen issues. Update the currently installed drivers especially Display Driver, Audio sound and Network Adapter driver to the latest version help to fix a number of startup problems.
To Update the Device Driver you need to boot into safe mode with networking. (so that you can access the internet connection and download the latest driver from the internet.)
Now open Device Manager by press win + R, type devmgmt.msc and hit the enter key.
This will display all installed drivers list check any installed driver with a yellow exclamation mark right-click on it and select uninstall.
Also Right-click and select update driver for Display Graphic Driver, Audio, and network adapter driver.
After that Restart windows and start normally check startup problems are fixed.
Remove Recent install application
Also if you notice After installing any third-party application, windows failed to start Then may that Application cause this issue at startup?
Press Win + R, type appwiz.cpl and hit enter.
Next, select the recently installed application and click uninstall.
Also, perform a full system scan with the latest updated antivirus / anti-malware to check and fix if any virus or malware infection causing the issue. Download and Run Third-party system optimizers like Ccleaner to clean junk, temp file, memory dump, Windows error log etc. And fix Missing and broken registry errors.
Disable Fast Startup
Most Windows users report Disable the Fast Startup feature fixes Different Startup problems such as Blue Screen errors, Black screen at startup etc for.
To Disable Fast Startup Feature 
Press Windows key + R, type powercfg.cpl and click ok
Choose What the power buttons do then click on Change Settings that Are Currently Unavailable.
Then Here under Shutdown Settings Uncheck the option Turn on Fast Startup (Recommended) Click Save Changes.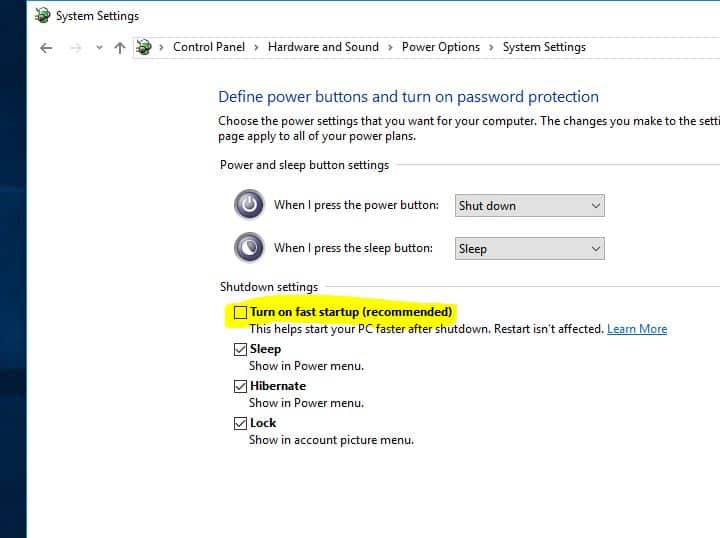 Repair Disk Drive Errors
Also, check and fix Different Disk Errors using CHKDSK command utility. As discussed these startup problems also cause due to disk errors, Such as faulty Disk drives, Bad Sectors, etc. But by adding some extra parameters we can force CHKDSK to check and repair disk errors.
To Run CHKDSK again open the command prompt as administrator. Then type the command chkdsk C: /f /r  or you can add extra /X to dismount the volume if required.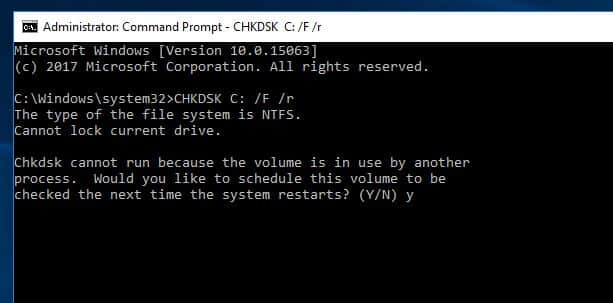 Then command explained :
Here the command chkdsk prefers to check the Disk Drive for errors. C: represents the drive that checks for errors, it is its system drive C. Then /f Fixes errors on the disk and /r Locates bad sectors and recovers readable information.
As shown above image will display the message the disk is using press Y to chkdsk to process on the next restart simply Press Y, close the command prompt, and restart windows. On the next boot CHKDSK will start scanning and repairing the process for the drive. Wait until 100% complete the process, After that windows will Restart and Start normally.
These are some most applicable solutions to fix Windows 10 Startup problems such As startup repair couldn't repair your PC, boot configuration data missing, windows 10 booting problems after the update, system Crashes and Frequent Restart with Different Blue Screen Errors, Stuck At Black Screen etc. I hope After applying the above solutions your startup problem will get resolved and start Windows normally. Face any difficulty while apply these solutions, or have any queries or suggestions about this post feel free to discuss on the comments below.
Also read: