You may some times notice Windows 10 Laptop lost Internet access or Disconnected from local area network with error popup Windows has detected an IP address conflict.  Basically, this error message means that more than one computer on your network is using the same IP address, Which Conflicts the network connection and that results IP address conflict:
Windows has detected an IP address conflict

Another computer on this network has the same IP address as this computer. Contact your network administrator for help resolving this issue. More details are available in the Windows System event log.

 
If you are also a victim of similar problems, here solutions to apply, Before start lets first understand the computer IP address And IP address conflict on Windows 10.
What is a computer IP address?
An Internet Protocol address (IP address) is a Unique Identity of the computer gets when it connects to a network. There are two types of IP address, it can be either static or dynamic. A static IP address is manually assigned and it never changes. On the other hand, the dynamic IP address is automatically assigned every time your computer connects to the Internet or router and is only temporary.
What does it mean when you have an IP address conflict?
Basically, IP address conflict occurs on Local area networks, where two or more devices connected to the same network and that being assigned the same IP address.
For example, you have 3 devices (PC1, PC2, and PC3) connected to your network. When PC 1 sends some message to PC 2 that uses IP address to communicate to PC 2. Well, if on your network both PC 2 and PC 3 have same IP address that creates the conflict as PC 1 didn't understand where to send the data.
How do I find an IP address conflict?
To find out if the other devices on the network are using the same IP address as the computer with the conflict.
Open Control panel,
Click on Administrative Tools then Event Viewer,
Look through the error listing for a "DHCP" error entry.
If it is listed as an error event, then you have an IP address conflict.
What causes an IP address conflict?
As previously explained An IP Address Conflict occurs when two computers that are on the same LAN network end up trying to use the same IP Address. It can be caused by incorrect network configuration, DHCP servers on your network malfunction and end up assigning the same dynamic address to multiple systems. And configure DHCP to obtain IP address and DNS address probably a good solution to get rid of the Windows IP conflict error message.
What is a DHCP network?
Dynamic Host Configuration Protocol (DHCP) is a network protocol that enables a server to automatically assign an IP address to a computer from a defined range of numbers configured for a given network.
Fix IP Address Conflict Windows 10
There are various solutions you can go about fixing this problem. But the simplest way is go ahead and restart your PC. Yes, that usually will fix the problem automatically
Change TCP/IP settings
Enable DHCP following steps below That automatically assign IP and DNS addresses from DHCP server and avoid assign the same address to two different computers.
Press Windows + R, type ncpa.cpl and ok
This will open Network connections window,
Right click on Active network connection select properties,
Double-click on Internet Protocol Version 4(TCP/IPv4).
And select radio button Obtain an IP address automatically and Obtain DNS server address automatically.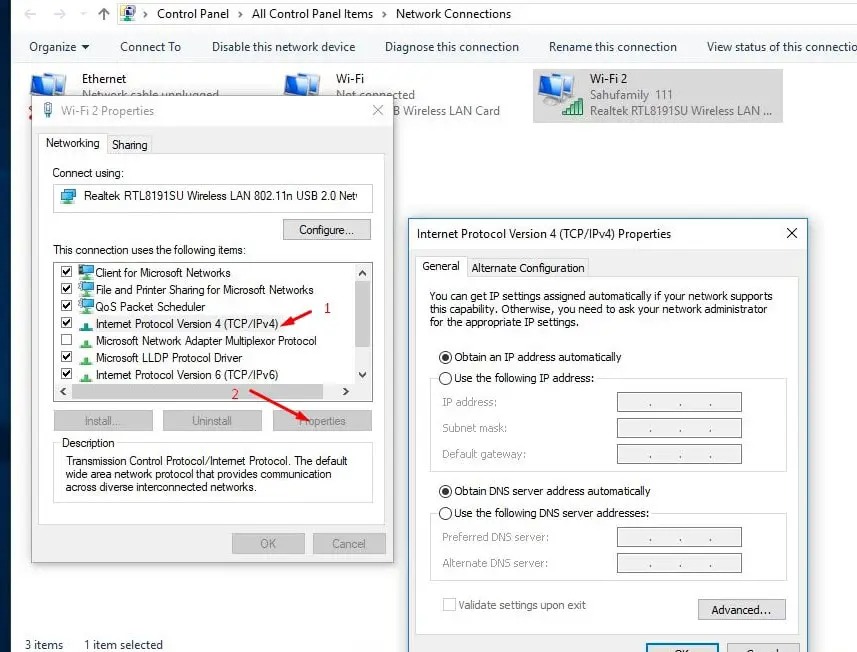 Manually Assign Static IP address

If you are already using option Obtain an IP address and DNS address to automatically and getting IP conflict Error that cause Assign IP address manually help to fix this issue. To do this again open network configuration window, then open network adapter properties. Double click on Internet protocol version 4 ( TCP/IPv4 ), Select radio button Use the fallowing Addresses

IP address: This is the static IP of your computer that you want to assign. For example: 192.168.1.111
Subnet mask: The subnet mask often is 255.255.255.0
Default gateway: This is the IP address of your router. It often is 192.168.1.1

Note: If the IP address of your modem/router is different, such as 192.168.0.1, then your static IP address needs to follow its form, for example, 192.168.0.111. Otherwise, your Windows computer won't be able to connect to the network.

Prefered DNS server: 8.8.8.8
Alternative DNS server: 8.8.4.4

That's all click apply and ok to make save changes. Then check I am sure there is no more windows IP conflict Error.
Reset network configuration
Reset network configuration to its default settings, release and Renew IP address probably help to fix almost every Network and Internet connection problems include IP address conflict on Windows 10, 8.1 and 7.
Reset network settings windows 10
Open the command prompt as administrator. Perform command below one by one and press enter key after each.
netsh int ip reset reset c:\resetlog.txt
netsh winsock reset
 ipconfig /release
 ipconfig /flushdns
 ipconfig /renew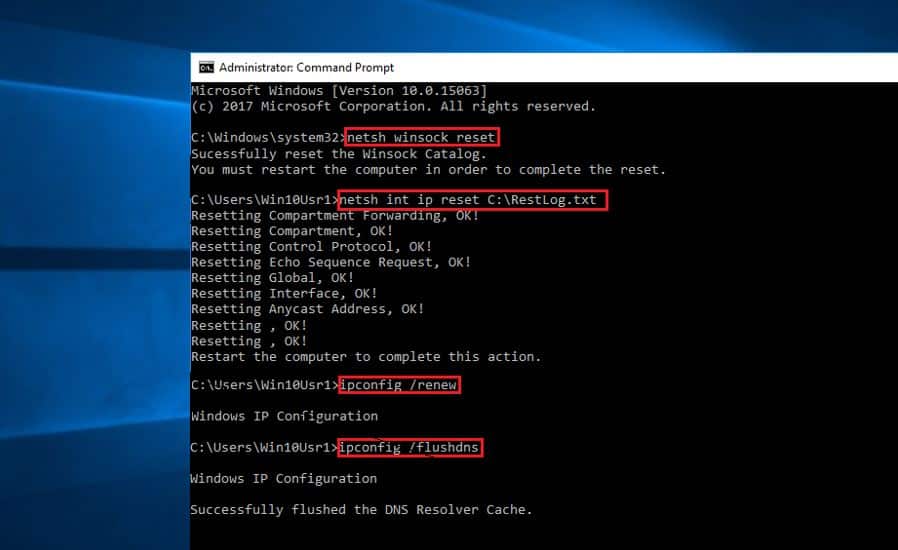 Now close the command prompt and restart windows. Now check there is no more IP address conflict error.
Update Network Adapter
Again some times incompatible network Adapter driver fails to get a new IP address from DHCP server. And that probably cause different network problems include IP address conflict. Update the Network Adapter Driver to make sure that network adapter driver not causing the issue. T
Open Device manager using devmgmt.msc
Then expend Network adapter
Select the installed driver right click on it select update driver and follow on-screen instruction to install and update latest driver.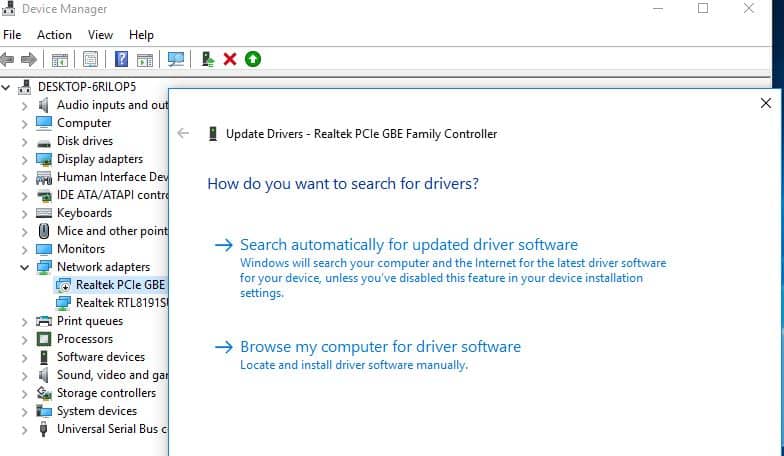 Still, need help? perform a system restore, that revert system to the previous working state and help to fix the problem for you. Also read: