File Transfer Protocol aka FTP enables you to exchange data over defined networks called IP protocol. FTP transfers data between two PCs. The FTP server has the responsibility to manage incoming network connection requests from another computer. FTP software establishes a connection between the computer and the client. In nutshell, FTP client software manages to upload and to download files on the network. Virtually, every computer system supports FTP transfer.
What is FTP (File Transfer Protocol)?

FTP is a network protocol that is designed specifically for file transfer, Means FTP enables users to download, upload, view, rename, delete files, and more. And To be able to use this protocol, you need both a FTP server on the server side and a FTP client on the client side (PC). Well FTP uses Transmission Control Protocol (TCP) ports 20 & 21 by default.

What is FTPS?

FTPS (File Transfer Protocol with SSL Security) is an extension to the commonly used File Transfer Protocol that adds support for the Transport Layer Security and, formerly, the Secure Sockets Layer cryptographic protocols. Well FTPS protocol enables performing or delivering standard FTP communication on top of an SSL-based security connection.

What is SFTP?

Secure File Transfer Protocol (SFTP) is a secure version of File Transfer Protocol (FTP), which facilitates data access and data transfer over a Secure Shell (SSH) data stream. It is part of the SSH Protocol. This term is also known as SSH File Transfer Protocol.
Best free FTP client for windows 10
Now, as you know what FTP server is, so if you want to share a file with your friends and family, then keeps its backup on a web server and transfer using FTP. There is a variety of amazing FTP client software available for Windows 10, but the best free FTP clients for Windows 10 are below:
Before you dive into the best FTP client software, you must know how to add FTP servers directly to File Explorer on Windows 10.
SmartFTP – FTP Client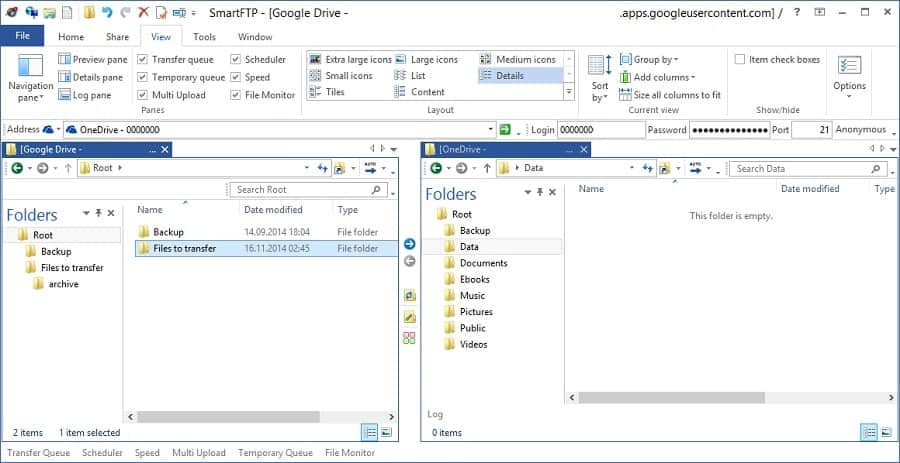 This is one of the best FTP clients for Windows because it is equipped with high-quality features and some great multiple functionality tools. It is a multifunctional FTP client as it can serve the purpose of FTPS, SFTP, Google Drive, Amazon S3, SSH, OneDrive, SSH, WebDAV, Backblaze B2, and Terminal Client.
It is a very fast and consistent FTP client to transfer and share files locally among two computer units. Moreover, this software is competent enough to secure your website development for the quick task of uploading and downloading files. It can secure your private files on the server. Additionally, it works perfectly with Windows 10 and can be used for syncing remote and local files for backup.
Get SmartFTP from the official site here.
WinSCP – Free SFTP and FTP client for Windows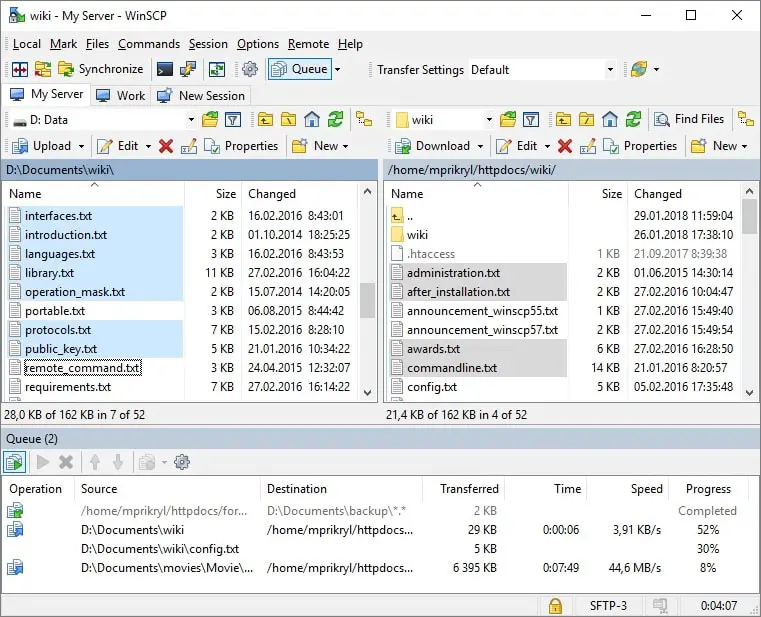 If you are looking for an award-winning FTP client software for your computer, then you can try open-source and free – WinSCP. It is a file transfer protocol with everything that you could ever want. This free award-winning software offers so much that you don't need to pay extra money to get FTP software anymore. Apart from the secured FTP client, it can be open source – FTPS, SCP, and SFTP server.
WinSCP integrates directly into Windows, allowing for seamless drag-and-drop, extra options in the right-click "Send To" menu, and desktop shortcuts to oft-used servers. It also has a built-in text editor that enables immediate editing of remote files (useful for tweaking HTML, CSS, JS, etc.).
With this software, you can easily manage your files and folders. It is very quick, dependable and feather-light software that won't occupy much space on your computer. With remote editing and some other advanced features like a graphical user interface, integration with Windows 10, command-line user interface, inbuilt text editor, batch file scripting, commander interfaces and much more, it is the best free FTP client software.
For power users, WinSCP has a command-line interface (full list of commands) and scripting support (batch files and .NET assemblies).
FileZilla – The free FTP solution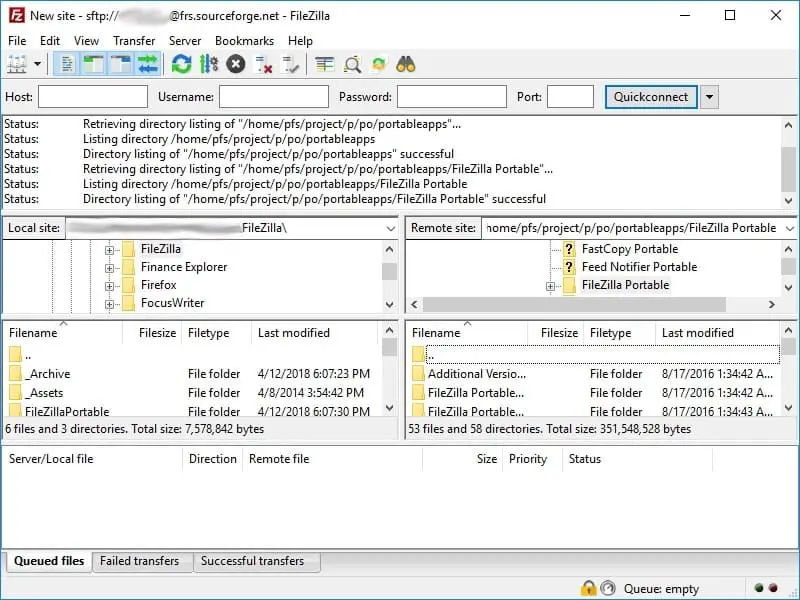 FileZilla is a powerful cross-platform FTP, FTPS, and SFTP client with lots of useful features and an intuitive graphical UI. The application allows you to easily manage all your FTP file transfers from a single place. It lets you keep a detailed track of all your downloads or file transfers while optimizing them simultaneously. Furthermore, FileZilla packs a complete network configuration wizard allowing you to set up network connections in just a few minutes.
The ultra-advanced features of the software include a tabbed user interface, IPv6 support, the ability to transfer bulky files, a bookmarks facility, an easy drag, and drop menu, a filename filter option, remote file editing, a network configuration wizard and so much more.
With this file transfer tool, you can easily set limits on transfer speeds for various files along with IP servers. You can easily locate a file by making use of the synchronized directory browsing feature offered by an FTP program. What's more, the tool lets you add bookmarks for later use and adds all the activities to a separate logging file that can be later used to debug the program, in case any issue is generated.
Get FileZilla free FTP client from the official site here.
The "pro" version of FileZilla adds support for WebDav and a variety of cloud storage providers (Amazon S3, Dropbox, etc.) as well.
WS_FTP Professional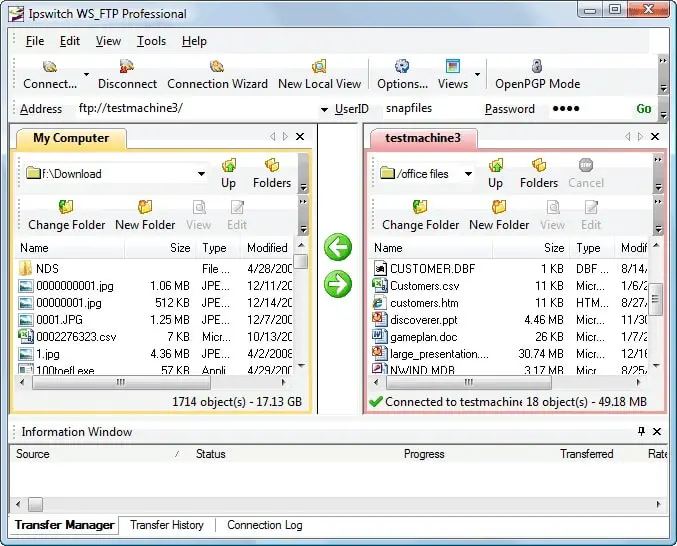 WinSock File Transfer Protocol, or WS_FTP, is a secure file transfer software package produced by Ipswitch, Inc. It is a very popular FTP software due to its amazing features and security settings. It is a highly secured and simplified tool to transfer your confidential data as the software had the best quality encryption levels and edgy security features. Plus, it is easy to use and reduces the level of your administrative activities. Moreover, you can compress your large files into .zip automatically with WS_FTP Professional.
It has OpenPGP file encryption and authenticated cryptography along with strong file search options that truly make it a highly powerful FTP client. The software has some helpful features as well as easy transfer with drag and drops awesome speed and programmed transfer. You can back up your data with this program also.
Note: WS_FTP Professional is a premium FTP client. There is no option to use this tool for free unless during the 30-day trial period.
FireFTP – The Free FTP Client for Waterfox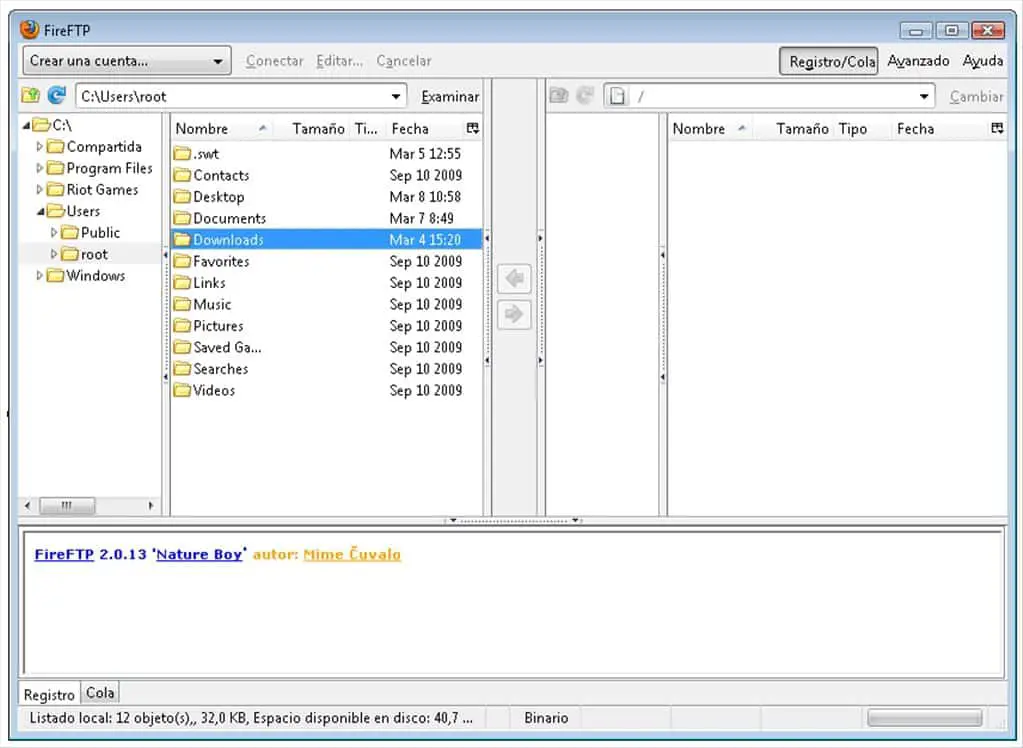 This is an FTP plug-in used by Firefox Mozilla users, however, it is free and cross-platform software. It is quite unpopular software, but the tools and features offered by FireFTP are very rare to find in any other app. This application works on all the leading operating systems like Windows, Linux, and macOS and has a record of delivering high-quality performance after a quick installation.
This software has numerous noteworthy features which can't get ignored like – file compression, simple drag and down menu, proxy support, IPv6 power, time-based synchronization, file hashing and many more. Moreover, this software supports a variety of different protocols along with a user-friendly interface. On the bright side, this FTP client software is available in more than 20 different languages and can be easily used by anyone.
Cyberduck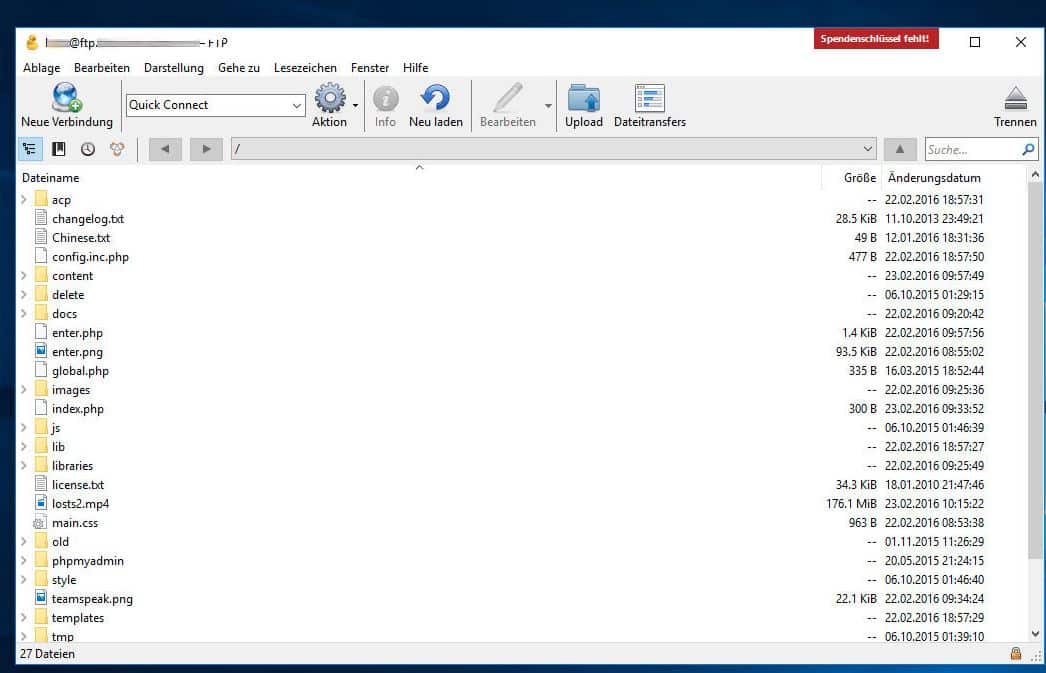 Cyberduck is an open-source FTP client, but instead of Linux, this tool is developed specifically for Windows and Mac. You can download the binary file of Cyberduck for Windows 10 on its official site. Alternatively, you can also install Cyberduck from Windows Store. Cyberduck itself can be used for free but the paid version is also available. Same as SmartFTP above, Cyberduck also supports plenty of file transfer protocols. File transfer protocols like SFTP, S2 and WebDAV are supported by this tool.
In addition, Cyberduck can also be used as a client app for Google Drive, Dropbox and OneDrive like SmartFTP. Cyberduck is a bit different to the three tools above. It doesn't offer drag and drop functionality. This FTP client comes in a single panel interface. Cyberduck itself is released under the GNU GPLv3 license. You can follow the development cycle of this tool to download its source code on its GitHub page.
Download Cyberduck FTP for Windows 10 from the official site here.
Total Commander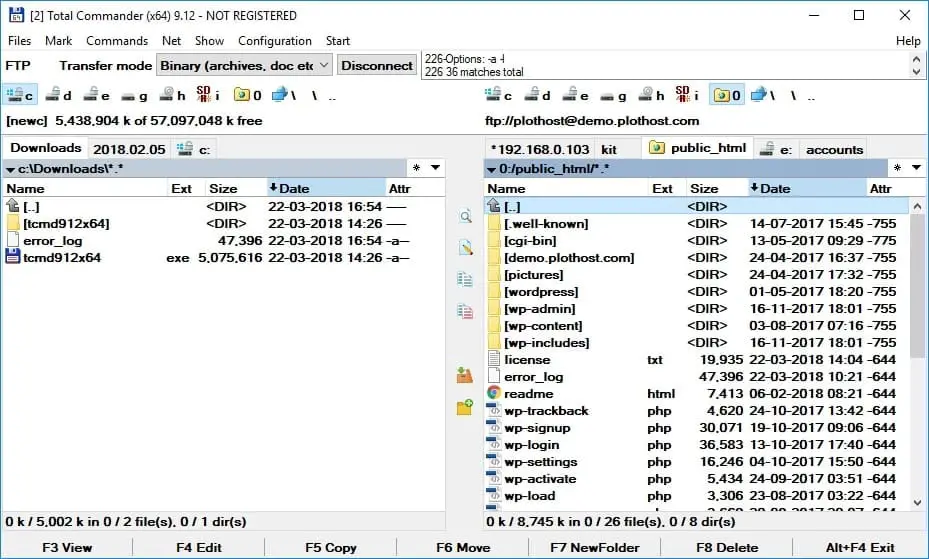 This is an FTP software with a truckload of features along with the support of two file Windows, various languages, Unicode and augmented search functions. It will also enable users to compare files while managing directories. Users can easily view panel with the help of a bitmap display, parallel port links, etc., It even has a built-in FTP server with HTTP and FXP proxy support. With this tool, you can quickly compare editors, isolate trees, and manage passwords with just one click.
It doesn't matter whether you are a professional or individual user, you need to install the best free FTP clients for Windows 10 for quick data transfer. This will keep your system safe and secure and transfer files with the utmost efficiency. With a quality FTP client, you will be able to save and send with extreme caution and safety.
Also read: