Data backup is very important and this is among the best practice to protect against hardware failure to upgrade problems or virus malware infection to file corruption and more. And its always recommended to back up your important files and folders regularly, which can be recovered in the event of a primary data failure. And backup important files and folders from your computer to another source like an external HDD or cloud storage is very helpful. The latest Windows 11 offers two different types of backups image backup and file backup. Here image backup, takes backup of your entire hard drive data and file backup saves individual files and folders. Here is how to back up files or folders on Windows 11 to an external source and recover them in case of data loss or drive failure.
The purpose of the backup is to create a copy of data that can be recovered in the event of a primary data failure.
How to create a backup on Windows 11
You can backup and restore files and folders in Windows 11 using the Backup and Restore(Windows 7) feature, its built-in tool that allows you to create a backup of selected files and folders as well as allow restore them if needed.
Also, you can use cloud storage like OneDrive, google drive, and Dropbox to backup files on Windows 11. Or you can Manually Create a Copy of Windows 11 Files to an external drive as a backup.
Create a system image backup of Windows 11
Image backup on Windows 11, created for every file folder and all software including your Windows settings and sent to another storage device. This will take a snapshot of everything on your selected hard drive, pack it into one file and then save it to external storage.
You cannot transfer image backups to another computer since your Windows key is tied to the original computer.
First, connect your external Hard drive or backup drive to your computer,
Now Press Windows key + S, type control panel, and select it,
Navigate system and security then click on Backup and Restore (windows 7)
Here you will get options to create a system image or backup or restore your files option.

Let's see how to create a system image backup
Click on Create a system image option on the left,
Select the On a hard disk option, and use the drop-down menu to select the external source where to save the backup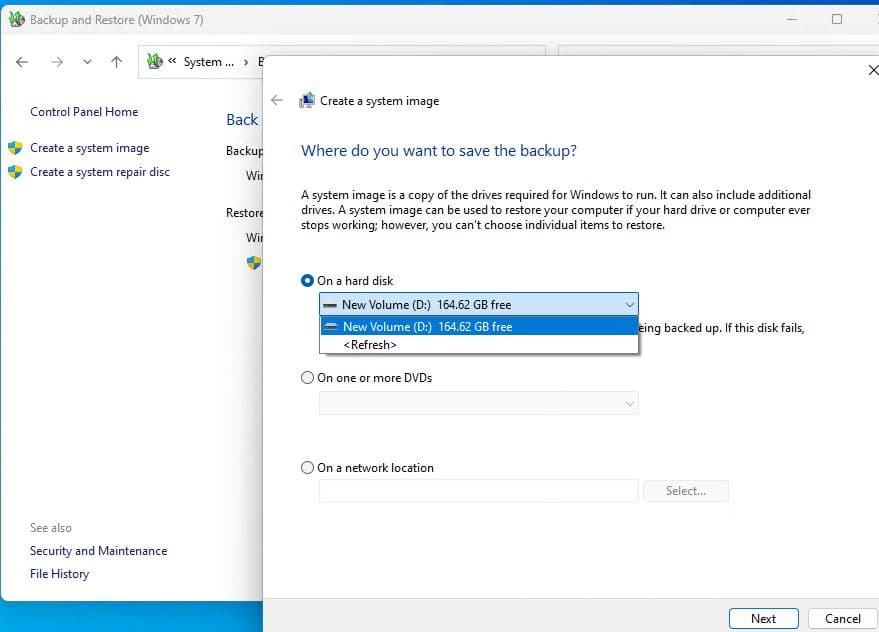 Click the Next button then select the Start backup button.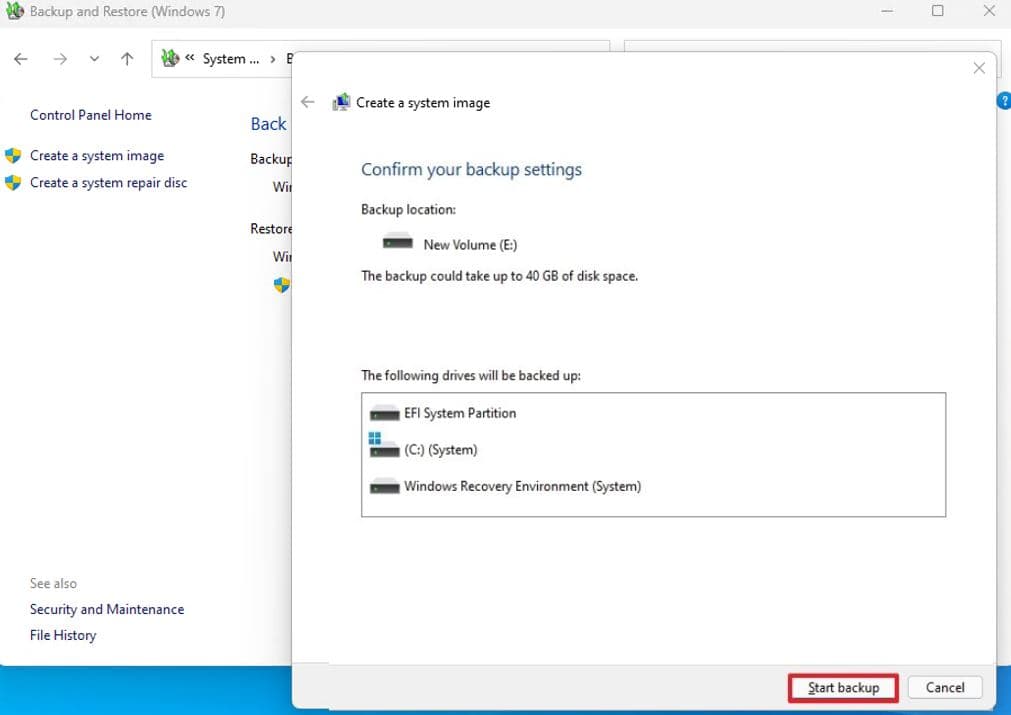 Once you complete the steps, a backup of the entire system will be created with everything on the primary hard drive and other drives you may have selected.
Backup Files with Windows 11 Backup and Restore
If you are looking for backup individual files or folders then follow the steps below.
Again open the control panel then click on the system and security options,
Click on  Backup and Restore (Windows 7), then select the Setup backup option under the Backup section.

If prompted, enter your admin password, if prompted then Select your Backup Drive and click Next.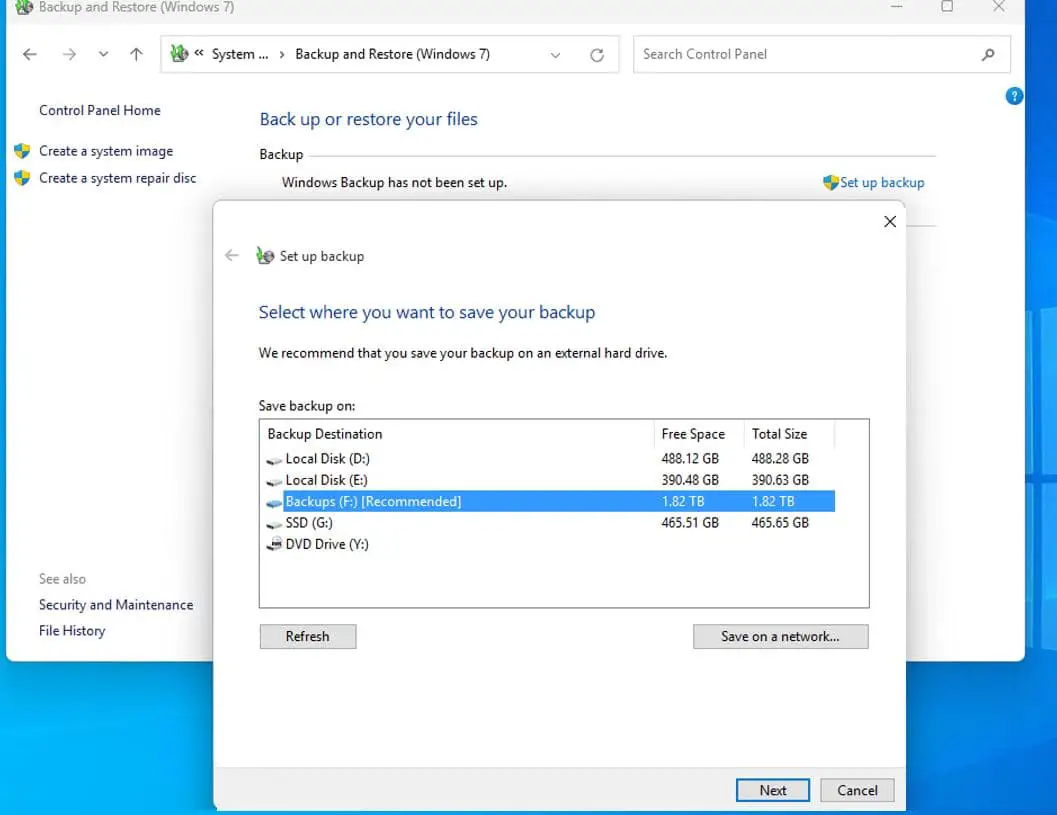 Next, you can select Let Windows Choose option or let me choose option and click Next.
The first option backup files about users, such as files saved in libraries, on the desktop, and in default Windows folders.
And the second option allows you to select files or folders manually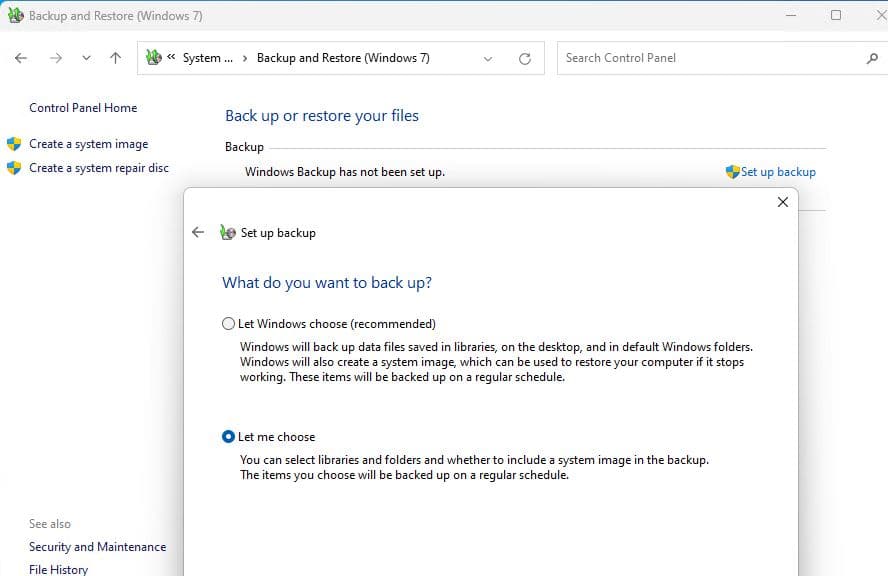 Here By default, it will automatically backup files at every Sunday 7:00 PM, but you can change this setting to suit your needs by clicking Change Schedule.
Click Save settings to run the backup.
It works by automatically backing up every folder location you've selected regularly.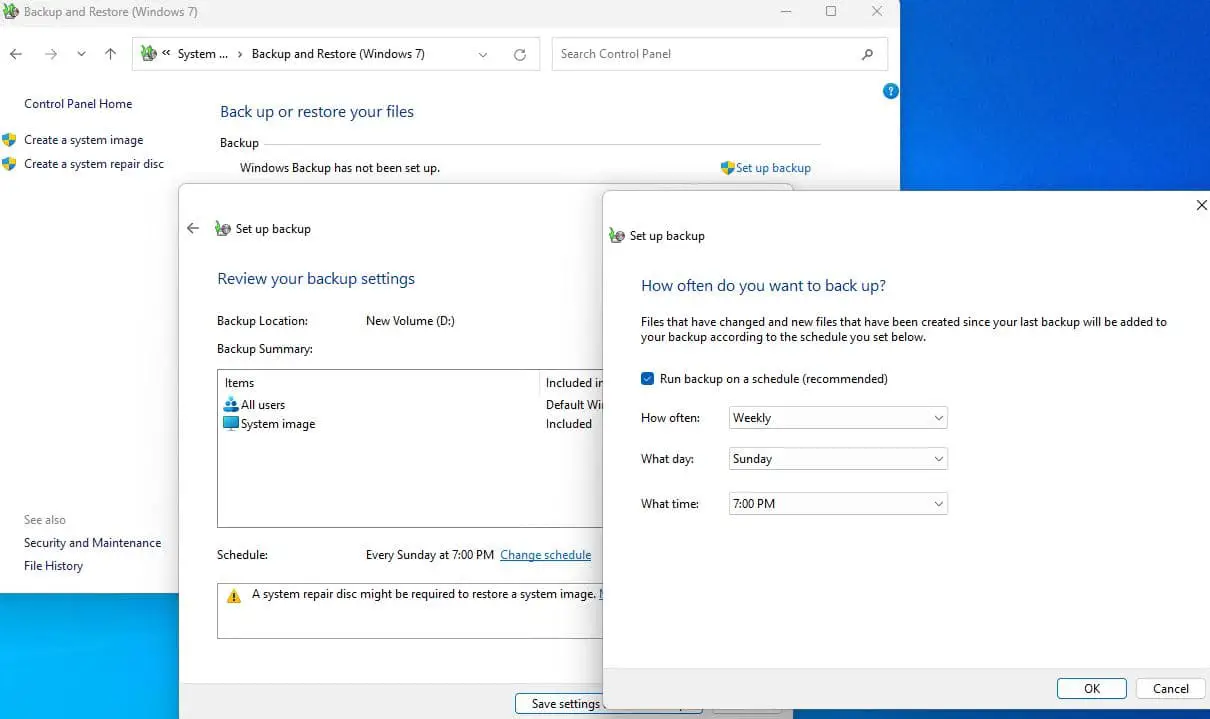 Manually transfer files to an external drive
This is probably the most common and easy way to backup Windows 11 files and folders to external storage. But If you plan to move a large amount of data, then this isn't the best method, as transferring larger files will take quite some time.
Connect an external hard drive to your computer, Press the Windows key + E and locate This PC option,
Open the file or folder you are looking for backup, right-click on it select copy or you keyboard shortcut Ctrl + C,
Now open the external hard drive's File Explorer and use Ctrl+V to paste the files or folders.
Backup files or folders to cloud storage
Also, you can use OneDrive, google drive, and Dropbox to backup files. Let's take an example of how to back up your files and folders using Microsoft's OneDrive cloud service.
Locate and select the files or folders you want to back up to OneDrive.
Once highlighted, right-click, select OneDrive, then select Move to OneDrive.
Google Drive is one of the most popular cloud storage services offered by Google and It offers up to 15GB of free space.
Also, you can use Dropbox for cloud storage but it only offers 2 GB of free storage, but the advantage it offers is you can share your files or even entire folders with other people.
How to recover from Windows 11 backups
Restoring both image and file backups is pretty straightforward, Depending on how much data you have backed up, it may take some time,
Restore a system image backup
Press the Windows key + X and select settings,
Click on Restore then choose Restart now
Once your computer restarts, click the Troubleshoot icon,
Then select Advanced options and click on System Image Recovery.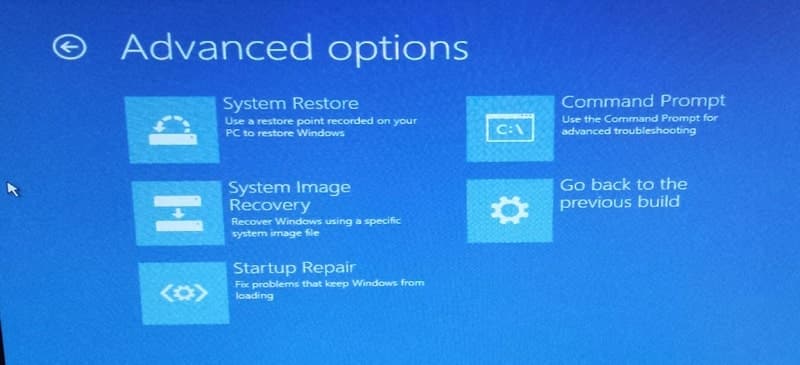 Lastly, click Select a system image, click Next, and follow the on-screen instructions.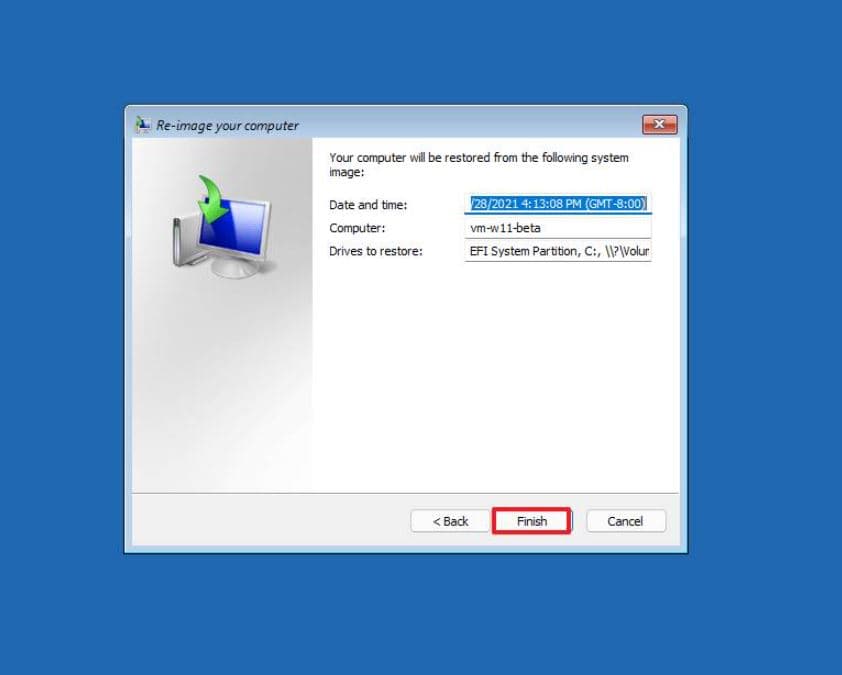 Recovering file backups
You can either copy the files from your backup storage media and paste them to the location where you wish to restore them Or use the file history feature to restore individual files or folders.
Open the control panel then locate system and security -> file history, then click Restore personal files.

Scroll through the version history of your files and folders until you see the date of the backup you wish to restore.
Left-click the green refresh button to restore the files to the original location.
What is the 3-2-1 backup rule for Windows 11?
The 3-2-1 backup rule stipulates that you should always have three copies of your data — a production copy and two backups — stored on two different media, with one copy stored in an offsite location, such as the cloud.
Local backup vs cloud backup
Cloud backup has more advantages compared to local backup.
You can easily follow the 3-2-1 backup rule.
Your backup on the cloud is safe in the event of fire or flood that can destroy your PC and local backups.
Unlike local backups, a cloud backup is protected from cyberattacks that target your PC.
Do I need a Windows 11 backup system on my computer?
The short answer is yes! Regardless of your OS, you want to create a full-image backup of your computer, including the data, applications, and OS.
Also read: