It happens many times that you forgot your Windows Login password. Thankfully the process of Reset Windows 10 passwords is much the same as it has been in Windows 8 and above. There are a number of useful ways to recover Windows 10 passwords. In this Tutorial, we will discuss how to reset forgotten passwords in Windows 10 without losing data.
Well, there are two possibilities of using a password on Windows 10. First, the account is linked to Microsoft Account and Second, the account is a local account. If you are using a Microsoft account to log in then you can reset it online at Microsoft's site. Well, if you have a local admin account, then you can reset your Windows 10 password using the command prompt (without any third-party software).
How to reset forgotten passwords in Windows 10
Here in this post, we have steps to reset the forgotten password of Microsoft account using the Microsoft site. And how to recover the local user account password using the password reset disk and using the command prompt.
How to Reset Microsoft account password in Windows 10
If your Windows 10 has configured with Microsoft account login. You can reset a new password for your Microsoft account on Microsoft link https://account.live.com/password/reset then you can access Windows 10.  And for this first, you need any other computer so that you can log in to your Microsoft Account and recover your password.
First, of all open web browser on a different computer,
Visit this URL https://account.live.com/password/reset
Enter your e-mail, phone number, or Skype name associated with your Microsoft account. and click next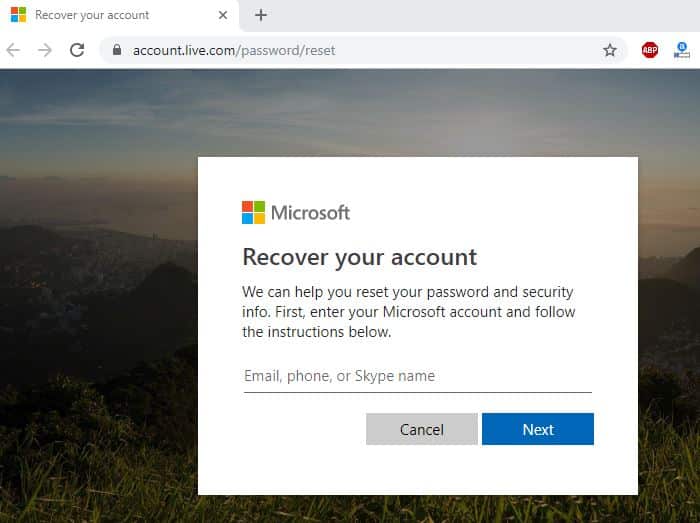 Now Choose how you want to receive the security code.
Using an alternative email address or phone number associated with your Microsoft account.
Select one of them and click Send code.
An email message containing a security code will be sent to your alternative email address immediately.
If you choose to receive a security code via phone, you should receive a text message.
Now Enter the security code you just received and then click Next.
Now on the Reset, your password window Type your new password and Reenter the same password.
After complete the password change use the new password to login to Windows 10 / 8.1.
How to reset local admin password in Windows 10
Bellow, these steps are applicable to Local user accounts.
Using Password Reset Disk
Using a password reset disk is one of the easiest methods to reset your forgotten Windows password. The only downside of this procedure is that you need to have the password reset disk created beforehand. If you already have created a password reset disk for your PC then follow steps to reset your Windows 10 password with a password reset disk. Otherwise, jump to next step that shows the steps reset Windows 10 password command prompt.

Note: The password reset disk created on one Windows system will not work on another system.
First access to your Windows 10 login screen.
Simply type your wrong password after put the wrong password 2 or 3 times Reset your password will pop up.
Then insert your USB flash drive password reset disk to your computer then click the link.
The wizard will guide you to reset your password.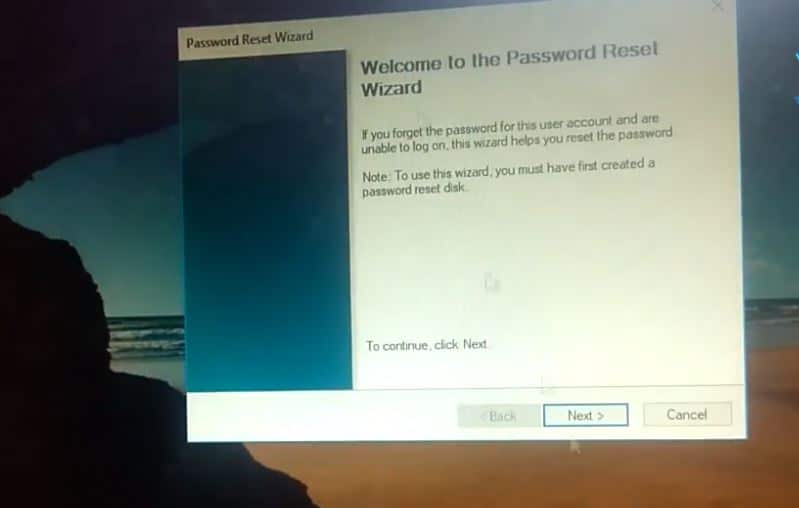 Select the password reset disk from the list and click Next.
You may see a warning about incorrect password reset disk if you attach the wrong disk.
Type in the new password two times and also the password hint.
Then click on the Next button to continue.
Finally, click on the Finish button to close the wizard.
Your password has been changed, now you can use your new password to login to your Windows user account.
This method only works with a local admin account. If you have no reset disk tool, then try the second solution below.
Recover Windows 10 password Using the command prompt
This is a method that can reset Windows 10 forgotten passwords. For this, you require only the installation media.
First, insert the installation DVD or bootable USB Restart the windows.
Press DEL or F2 key to access the BIOS setup.
Now on Bios Setup change the boot order first boot from CD, DVD or USB.
Now press F10 to save changes.
When Windows starts it will ask to press any key to boot from DVD press any key to boot from installation media. Now the installation screen is in front of you. Press Shift + F10 key on the Keyboard to Open Command Prompt.
Now on the command prompt first check On which drive Windows is installed.
To do this type the command diskpart and press enter then type list volume and press enter key
This will display a list of volumes.
Check which volume has windows installed. For example, my drive letter is D:
Note Down the Volume Number and drive ltr type exit to leave the disk part.
Now use command d: to move to the installed directory
Now we are going to Replace the file utilman.exe with cmd.exe Before you do this, you should make a copy of utilman.exe and cmd.exe so that you can restore it later.
Now to access the Windows folder using the command cd windows.
Here next access the system 32 folder using the command cd system 32.

Then use the command below to back up the Utilman.exe and cmd.exe files.
copy utilman.exe utilman1.exe 
copy cmd.exe to cmd1.exe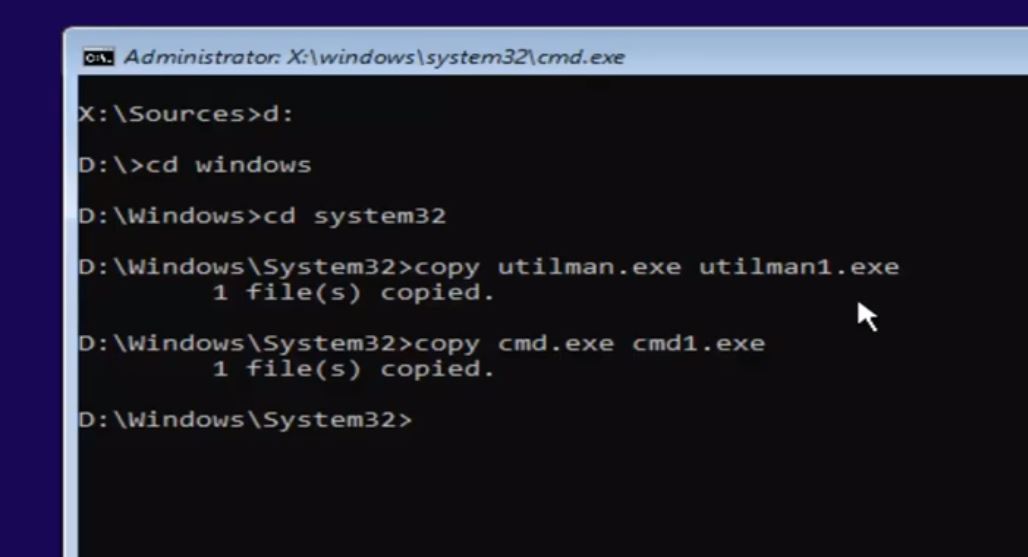 Now use the command del utilman.exe to delete utilman.exe
Then Use the command Rename cmd1.exe  utilman.exe to Rename cmd1.exe as utilman.exe (refer to below image)
That's it now close the command prompt and cancel the installation window.
it will prompt to restart, now restart the windows to Normally.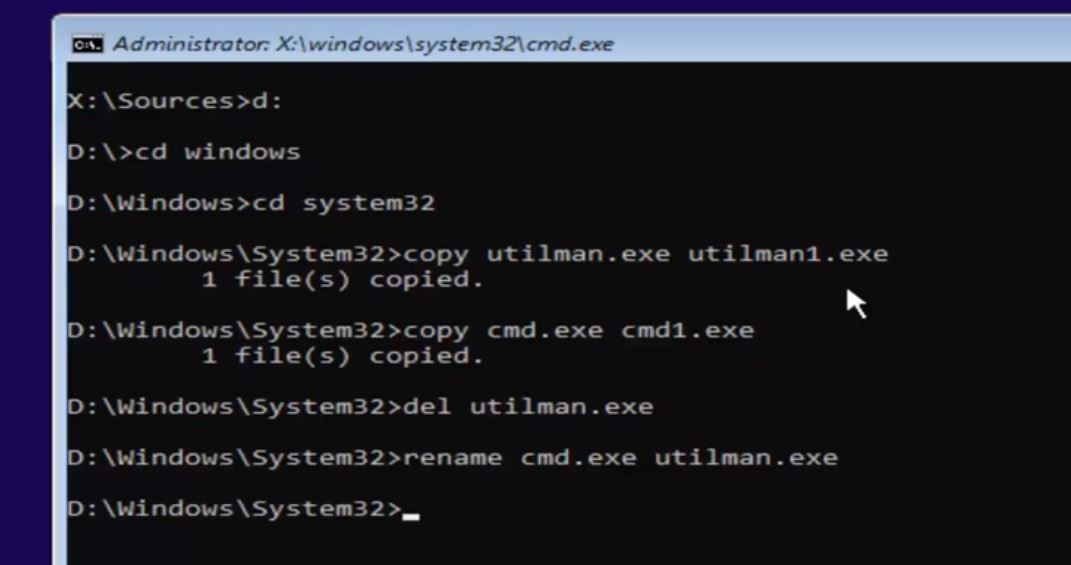 Here Click the Utility Manager icon thumb.
As soon as click on the utility icon command prompt will open.
Here on the command prompt type control userpasswords2  and press enter this will open the user accounts window as shown below image.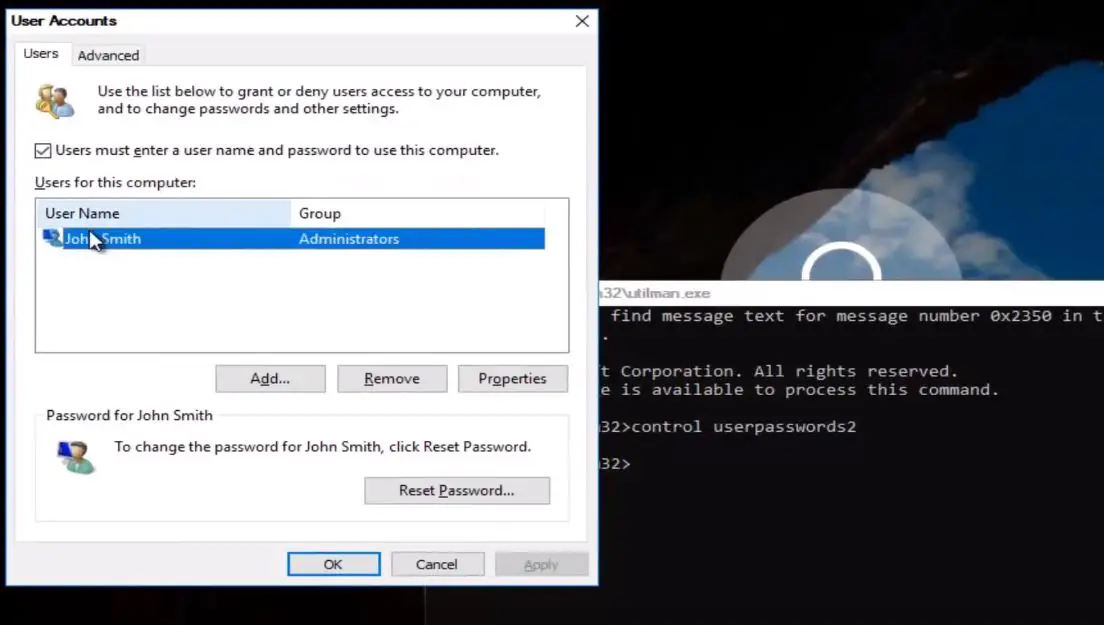 Here now select the user account which you want to reset the password.
Click the user account and select the Reset password option.
It will prompt for the new password As shown in bellow image.
Put the new password click ok to make changes to save.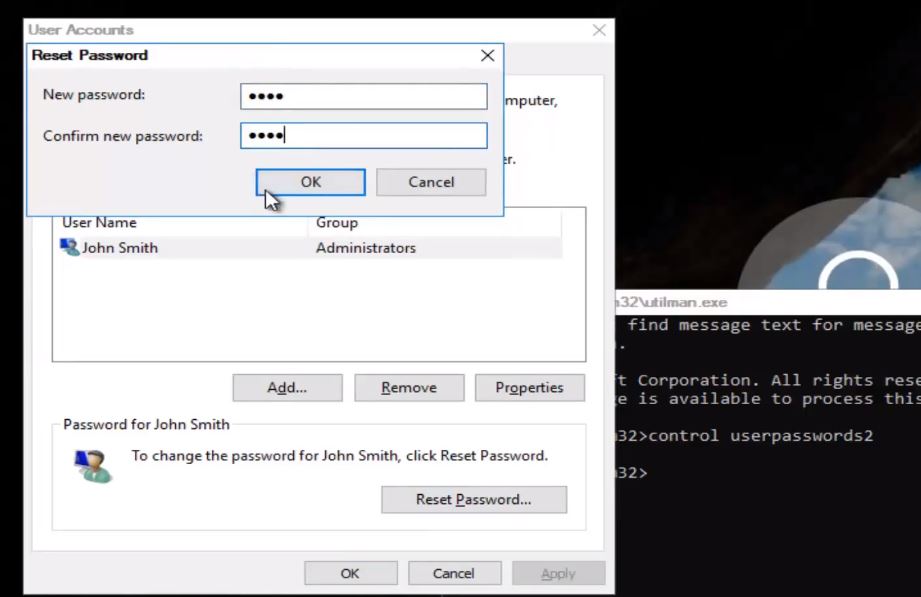 That's all your password changed simply close the command prompt and use the newly created password to login to windows. You will successfully login to your system.
Here refer to this video step by step guide on how to reset Windows 10 password using cmd:
These are some best working tips to recover Windows 10 passwords, reset Windows 10 passwords for local and Microsoft user accounts. Have any Queries or new ways to recover Windows passwords easily feel free to comment below.
Also read: