Sometimes you may come to situation hyperlinks not working in outlook 2016.  While trying to open links (hyperlinks) from inside an Outlook Email you may encounter the following error like Your organization's policies are preventing us from completing this action for you. For more info, please contact your help desk. The older version of outlook 2007 or 2010 user may get the error different like This operation has been canceled due to restrictions in effect on this computer. Please contact your system administrator.
The main reason for hyperlinks not working in Outlook is the default Internet browser not registered (properly) in your operating system. Typically, this issue comes up after uninstalling Google Chrome or changing the default browser from Internet Explorer to either Chrome or Firefox.  Again another possible error is this, the General failure system cannot find the URL specified. If you are also struggling with the same issue, here how to resolve this issue.
Outlook won't open links Windows 10
Note: The global settings of Microsoft disable hyperlinks by default for email items that are classified as Junk. One can find settings under HOME >> JUNK >> Junk E-Mail Options. Such settings are for protecting users from phishing attacks.

Add a header to begin generating the table of contents
Microsoft well aware of this issue and the company offers an official tool that could be downloaded from here, which automatically detects and troubleshoot issues with Microsoft Office. Run the outlook troubleshooter, Restart the system once done. Check if this helps.
Reset Internet Explorer settings
Open Internet Explorer.
Select Tools then Internet Options.
A new pop up will open, here Select Advanced then Reset.
In the Reset Internet Explorer Settings window, select Delete personal settings and click Reset.
Select Close when it is completed.
Close and restart Internet Explorer.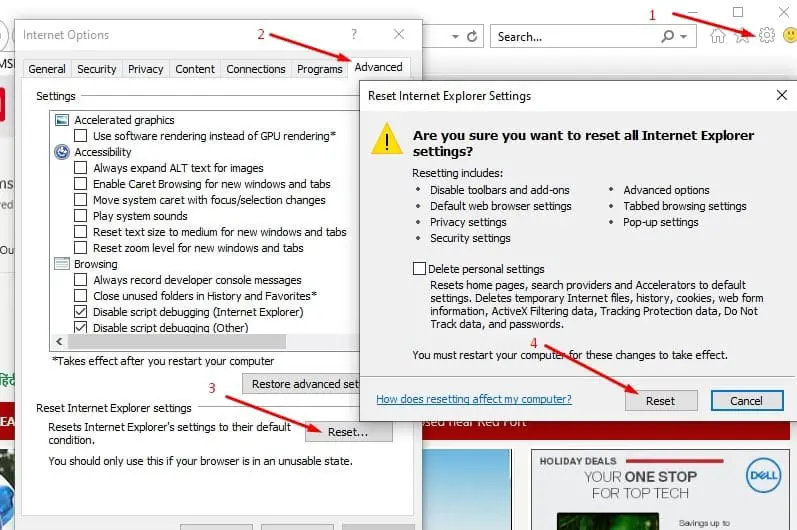 Reset Your Default Programs
In Internet Explorer, Select Tools > Internet Options.
Select Programs > Set programs.
Select Set your default programs.
In the Programs list, select Microsoft Outlook > Set this program as default.
Scroll back up to the top of the default programs list and highlight Internet Explorer and select Set this program as default.
Select OK, and close the Default Programs dialog box.
Fix the .html Registry Key
Press Windows + R, type regedit, and then select OK.
This will open the Windows registry editor,
Backup registry database then locate following registry subkey: Computer\HKEY_CURRENT_USER\Software\Classes\.html
Make sure that the value of the String (Default) is "htmlfile". If it's not "htmlfile", right-click (Default), select Modify, input htmlfile in the Value data box, and then select OK.
Exit Registry Editor.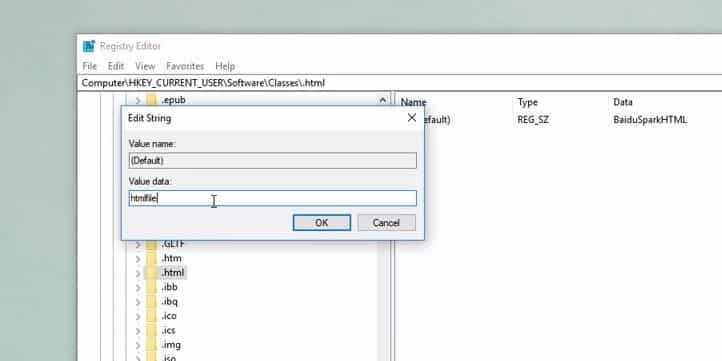 Here is another Fix that probably helps to fix the issue.
Open an administrator command prompt and Enter the following commands:
REG ADD HKEY_CURRENT_USER\Software\Classes\.htm /ve /d htmlfile /f
REG ADD HKEY_CURRENT_USER\Software\Classes\.html /ve /d htmlfile /f
REG ADD HKEY_CURRENT_USER\Software\Classes\.shtml /ve /d htmlfile /f
REG ADD HKEY_CURRENT_USER\Software\Classes\.xht /ve /d htmlfile /f
REG ADD HKEY_CURRENT_USER\Software\Classes\.xhtml /ve /d htmlfile /f
Close the command prompt and Restart your computer
Repair Microsoft Office
Here is another effective way where we repair the whole Microsoft Office package that fixes the problem if any temporary glitch or a bad Office Installation causes the issue.
Open the Control Panel window.
Go to Programs and features. It would display the list of the installed programs.
Right-click on the Microsoft office package and then select Change.
Select Repair,  Continue and then go through the repair process.
Restart the system once done.
Also, we recommend run system file checker that probably helps if corrupted missing system files cause the issue.  If all the above solutions didn't fix the issue it's time to utilize the system restore feature that reverts system settings to the previous working state which may fix the outlook hyperlink problem.
Did these solutions help fix the outlook 2016 hyperlink not working windows 10? Let us know on the comments below.
Also read: