If Windows can't find the local printer, connect the USB cable directly to the PC instead of using a hub.
Adding or installing a printer to your Windows 10 laptop or desktop is easy task that gives you the ability to start printing immediately after a quick setup. Windows 10 supports add a printer via USB, your wireless network, or Bluetooth. Also, Windows 10 is capable of recognizing and automatically adding printers on your home network that use the Universal Plug and Play (UPnP) protocol. However, if due to some reason your Printer does not show up or is an older printer that is not UPnP capable, then you can attempt to add the Printer manually. Here in this post guide, how to add a printer to Windows 10, depending on what kind of connection you want to use.
How To Install Printer Windows 10
Network printer: Start > Settings > Devices > Printers & Scanners > Add Printer or Scanner. Select printer.
Local printer: Open System Settings > Printers & Scanners > Add printers or scanners. Select printer.
Local printer Vs. Shared Printer Vs. Network printer
A local printer is one that is directly connected to a specific computer via a USB cable. This Printer is only accessible from that particular workstation and, therefore, can only service one computer at a time.
A shared Printer is directly connected to PC using LPT or printer port and then PC shares it on the subnet. A shared Printer is suitable for a small Office Network where you have 8-10 computers. You can Share the locally installed Printer and Access it from Other computers for printing purposes.
The network printer has a network interface card, and it is directly connected to LAN via an Ethernet cable. It has its own IP address and is accessible throughout the subnet.
How to Add a Local Printer to Windows 10?
If you get a new printer or looking for install local printer on Windows 10. First, note down the printer model number and download the suitable printer driver from the manufactures website. The printer driver is software that allows the computer to interact with the printer and convert data from the computer into a printable format.
Now First, connect the Printer to your computer using a USB cable, and Turn on the Printer using its power button.
Next, On your computer, click on the Start button and choose Settings
Click on Devices then Printers & Scanners, and click on Add a Printer or Scanner option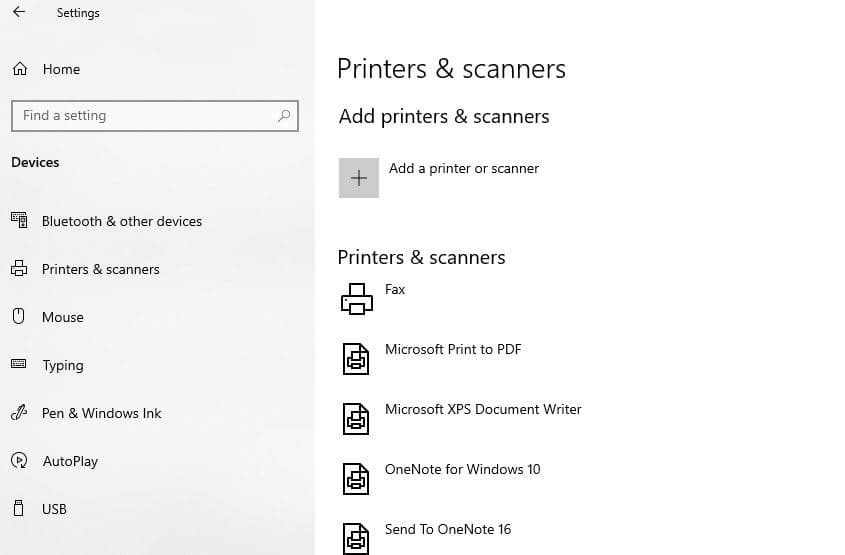 Windows 10 will start scanning for connected printers and should automatically detect your Printer.
Once the connected Printer will appear in the scan results, click on the name of the Printer and follow the instructions (On screen) to finish the installation, And you're done.
Windows Fails To Detect Your Printer
If Windows 10 Can't Find a Local Printer or Windows 10 is unable to recognize a printer connected by a USB cord:
Restart both the computer and printer then Attempt to install the printer.
Disconnect the USB cable from both the printer and computer and reconnect it properly.
Try to Plug the USB cord into a different USB port on the computer.
Click on The Printer that I want isn't listed link.
Add the local printer manually
If still Windows 10 doesn't find your connected printer,
Click on "The printer that I want isn't listed" link
On the next screen, select "Add a local printer or network printer with manual settings" and click Next.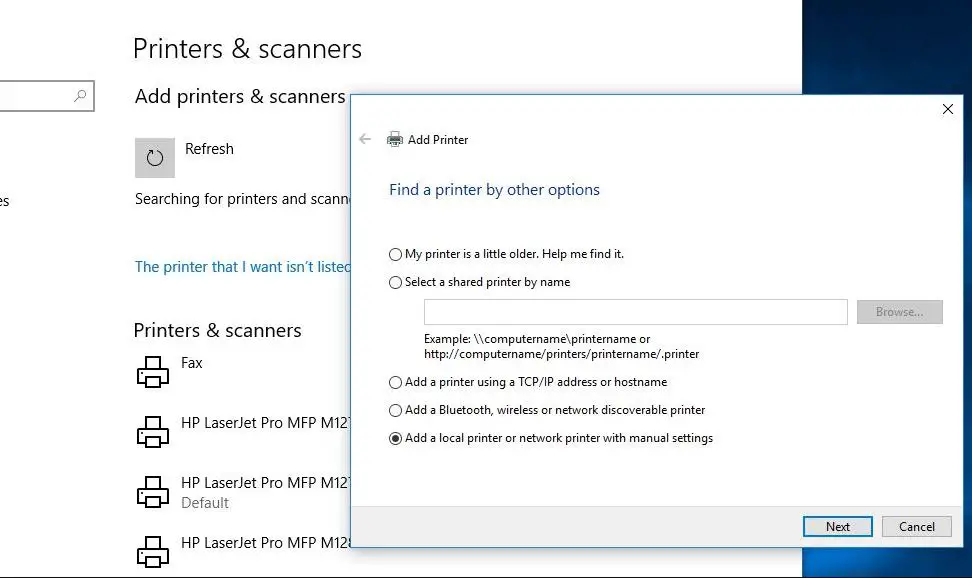 On Next Screen Select Use an existing port and click next.
Now select the printer manufacturer and printer model number,
If your Printer not listed select Have Disk and select the driver path which you download before.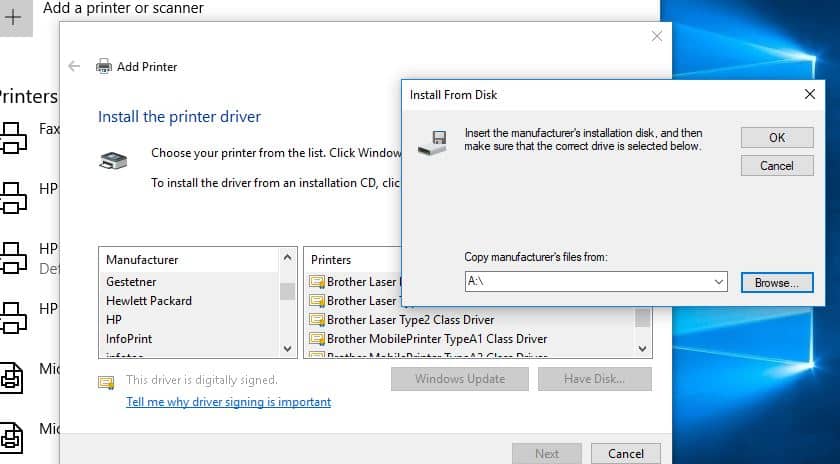 Click next and follow the onscreen instructions to complete the installation of the Printer.
In the next few windows, you will be asked to provide a name for the Printer (enter a descriptive name). You will also be able to choose whether you want to share this Printer with others on the network.
Finally, the printer setup Wizard will let you print a text page (optional) and you can click on Finish to complete the printer installation.
You can Share the locally installed Printer and Access it from Other computers for printing purposes.
First Right Click on the locally installed Printer and select properties.
Move to Sharing Tab and tick on the Share this printer option as shown below image.
Click on Apply and ok to make save changes.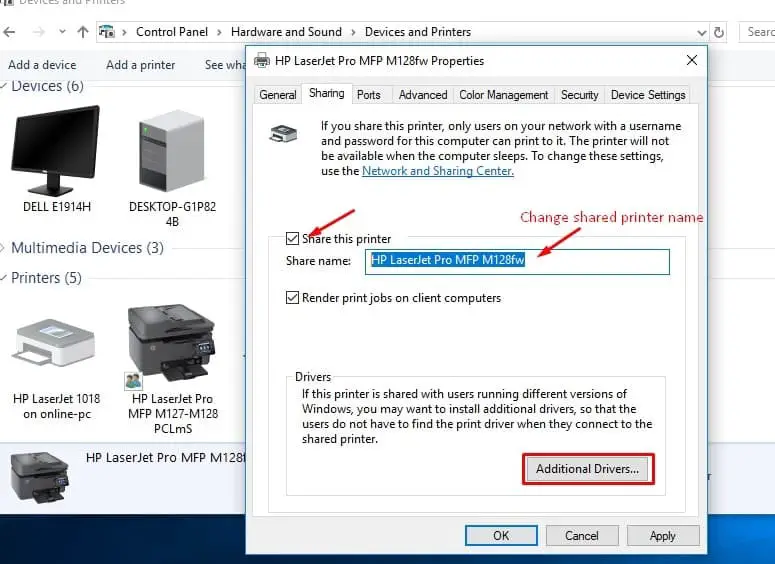 Then To Access the Shared Printer Simply note Down the computer name or IP address of the computer where the shared Printer is installed.
You can check the computer name by right click on This PC and select properties. Here on System Properties look for the computer name and note down it.
Also, you can check the IP address from the Command prompt type ipconfig

and hit the enter key.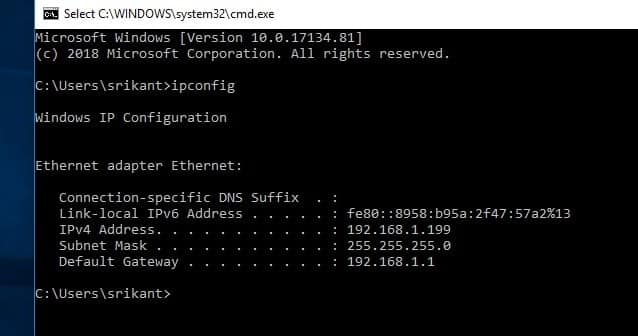 Now To Access the Shared Printer, Ensure the computer is on the same network
On a different computer Press Windows key + R, Then type \\computer name or \\IPAddress Of the computer where the local shared Printer is installed and hit the enter key.
If ask for Username and password type the username and password of the computer where the Printer is installed.
Then right-click on the Printer and select Connect to install and connect the shared Printer on the local network.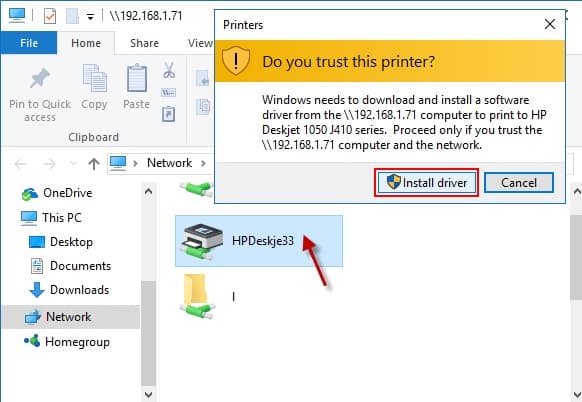 Install Network Printer
Local Printer has only one USB port so you can only install only one PC using a USB port but Network Printer is different, It has a special network port with one USB port. You can either connect through a USB port or you can connect your network cable to an Ethernet port.
To Install and configure a Network printer
First, connect the network cable to the printer ethernet port,
Then open the Printer settings -> IP address and Set the IP address of your local network.
For example: If your Default gateway / Router Address is 192.168.1.1, then Type 192.168.1.10 (you can replace 10 with your chosen number between 2 To  254) and ok to make save changes.
A network printer connects through your local network, such as Bluetooth or Wi-Fi
Now to install the Network printer on Windows 10 First download the printer driver from the manufacturer's website and run the setup.exe.
Also, you can insert the printer driver media which comes with the printer box to DVD drive and run the setup.exe.
While select the install option, Add a network printer.
Also, you can open the Control panel -> Device and Printer ->  Add a printer option on top of the window -> On add a device wizard select the Printer that I want isn't listed  -> Select radio button add a Bluetooth, wireless or network discoverable Printer and follow the on-screen instruction to install the Printer.
Add a Wireless Printer
To add a wireless printer on Windows 10, Use the Printer's LCD panel to enter the wireless setup.
For Example, if you are using an Epson printer this is under Setup > Wireless LAN Settings.
Next, select your Wi-Fi network. You'll need to know your home network's SSID, which you can find by hovering your mouse over the Wi-Fi icon in the taskbar. Enter your network password. 
In some cases, you might need to temporarily connect your Printer to your computer via USB to install the software. But otherwise, that's it. You should find your Printer automatically added in the Printers & Scanners section under Settings > Devices.
If you run into trouble, make sure your Printer is relatively close to your computer and not too far from your wireless router. If your Printer has an Ethernet jack, you could also connect it directly to your router and manage it with a browser interface.
Also, Read