The WIFI or internet keeps disconnecting issue usually occurs due to misconfiguration in the network settings. Here is how to fix the problem
Windows 10 PC or Laptop keeps disconnecting from the internet or fails to load web pages. A few users report, Doing a System Restart work normally for flew minutes again Windows 10 Disconnect Internet Connection. This issue might cause by various problems an outdated network adapter driver to problems with the router, IP address conflict or Weak wifi signal, and more. If your WiFi keeps disconnecting and re-connecting or Internet Disconnect Frequently here we have a few workarounds apply to fix the problem on windows 10.
Internet Disconnect Frequently Windows 10
If the laptop or computer's Internet Keeps Disconnecting Windows 10
Turn off your modem/router including your computer, and check the Internet cable connected between. Start your computer and Turn on your modem or router again.
Bring your computer closer to the WiFi router or hotspot to see if the internet keeps disconnecting problem still exists
Flush DNS cache using the command ipconfig /flushdns to fix the internet keeps disconnecting problem on Windows 10
Run the internet troubleshooter that automatically detect and fix the problem for you.
Repair Possible Corrupted System Files using the system file checker utility,
An outdated device driver may be the reason behind this problem Update Network Adapter Driver and check the issue is resolved.
Run The Network Troubleshooter
Windows 10 Have a built-in Network Adapter troubleshooter, Running this tool scan and fix basic Network and internet connection problems. So before performing any troubleshooting steps, we recommend To run the Network troubleshooter and let windows to fix the problem for you.
The Network Troubleshooter may be able to identify and automatically fix issues with your WiFi.
Press the Windows key on the keyboard and select Settings,
Go to Network & Internet then click the network troubleshooter
This will open the Windows Network diagnostics tool, scan for issues related network adapter and its configuration and try to resolve them.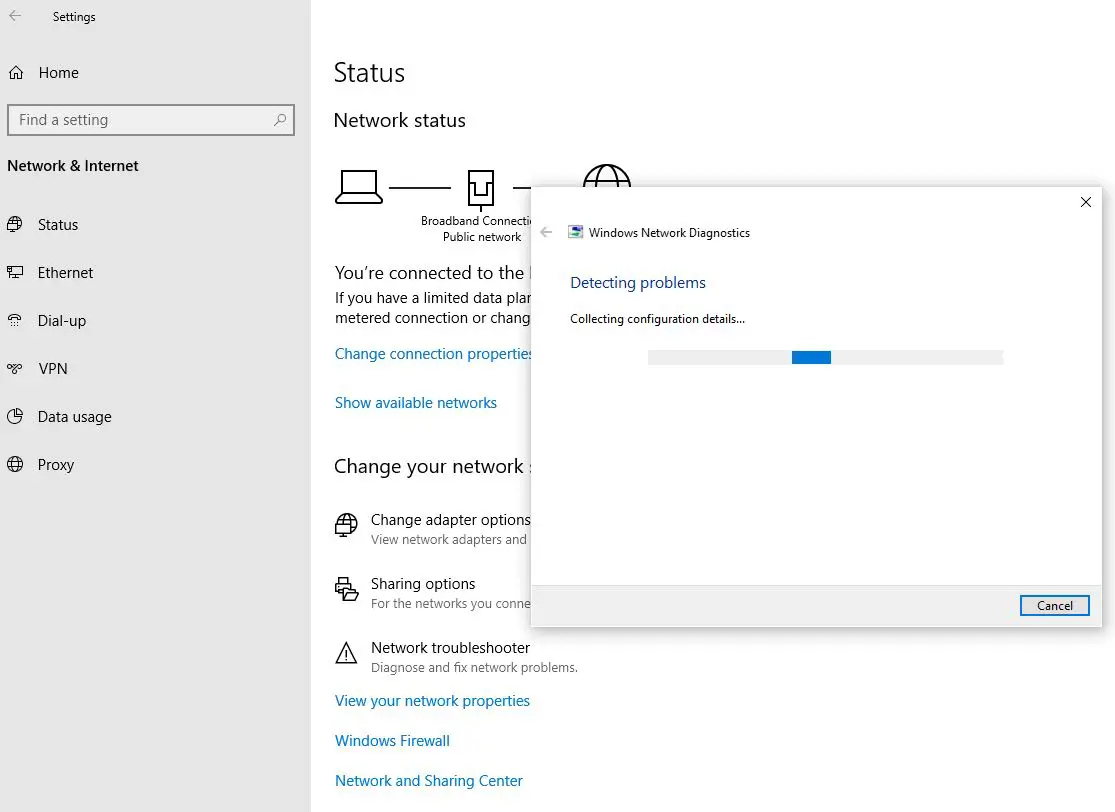 Follow on-screen instructions and let the troubleshooter to Check and fix the problems automatically for you. After That Restart Windows to take a fresh restart and check Network & Internet connection working properly.
Start WLAN AutoConfig service
WLAN AutoConfig Service on your laptop automatically selects and connects to the WIFI network for your device. If due to some reason, WLAN AutoConfig Service stops running you may experience this issue.
Press Windows key + R, type services.msc and click ok,
Scroll down to locate WLAN AutoConfig service, right-click on it then click Properties
Change the Startup type to Automatic
Click Apply and then click the Start button if the service is stopped
Once done, click OK and check if the issue is fixed.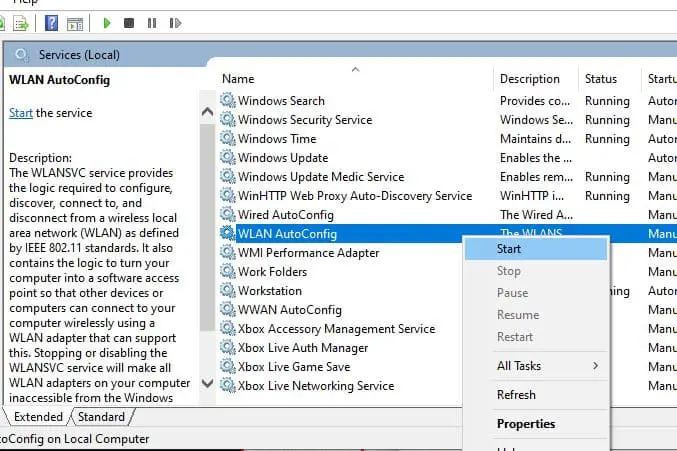 Update Network Adapter Drivers
It's important you have an up-to-date driver so that your hardware performs properly. If you have an older outdated network or wifi driver on your computer that may cause Wifi or the internet keep disconnecting on Windows 10. Let's update the WiFi adapter that probably stops Internet Disconnect Frequently on Windows 10.
Outdated drivers can cause a whole bunch of issues on your system
Press Windows key + X and select device manager,
Locate and expand the Network adapters option, right-click on the current adapter select update driver,
Next, click on "Search automatically for drivers".
Windows will now search the internet for an updated driver and install it for you.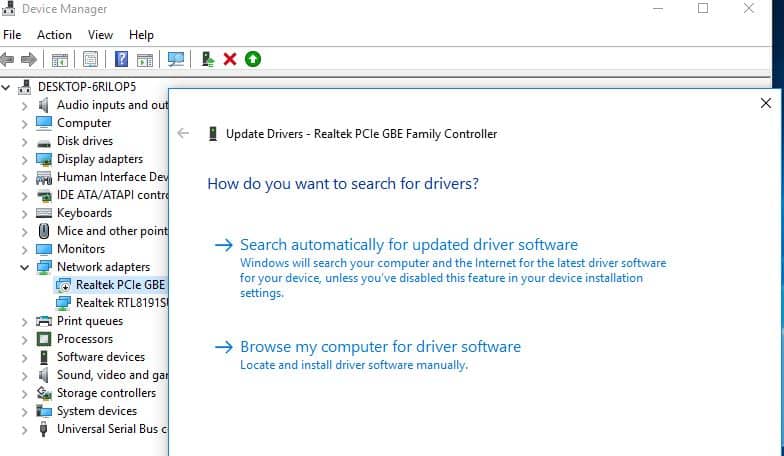 Roll Back Driver
If you notice the problem started after the recent driver update there is an option to undo the change that probably fixes the internet disconnect issue on Windows 10.
Again open the device manager using devmgmt.msc
Locate and expand Network adapters and double-click on the installed Ethernet / WiFi Adapter Driver.
Move To the driver tab you will get the option Rollback driver, click on it.
Select any reason when ask for why you roll back the driver and follow on-screen instructions.
After That Restart windows and check the Network / Internet connection working properly without dropping or Disconnecting.
Note: Roll Back Driver option only applies if the problem started after a recent driver update.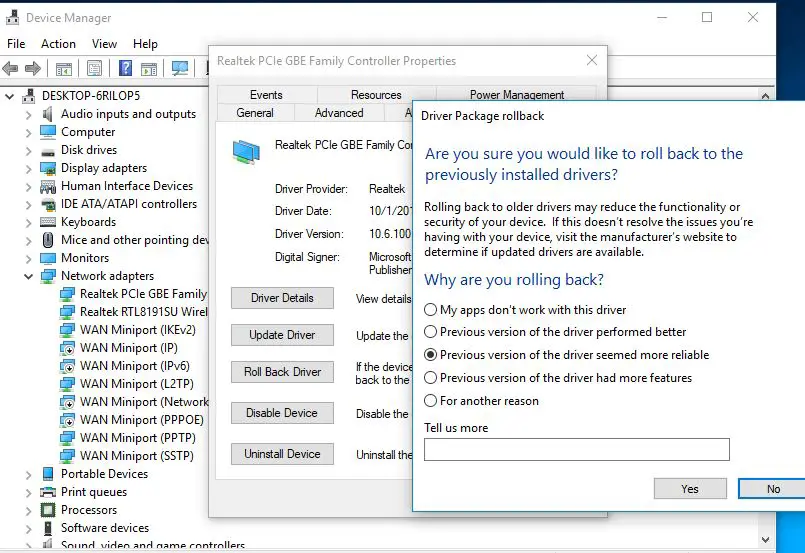 Reset TCP/IP and Winsock in Windows 10
If after updating the network Driver still has the same issue (WiFi says connected to the internet but no internet connection on a laptop or desktop computer). Then you can reset the Windows Socket API. Along with that, you have to reset both IPv4 and IPv6 protocols on your computer as well.
First, open the Command prompt as administrator, Then perform the command below one by and one and hit the enter key to execute the command.
netsh winsock reset catalog
netsh int ipv4 reset reset.log
netsh int ipv6 reset reset.log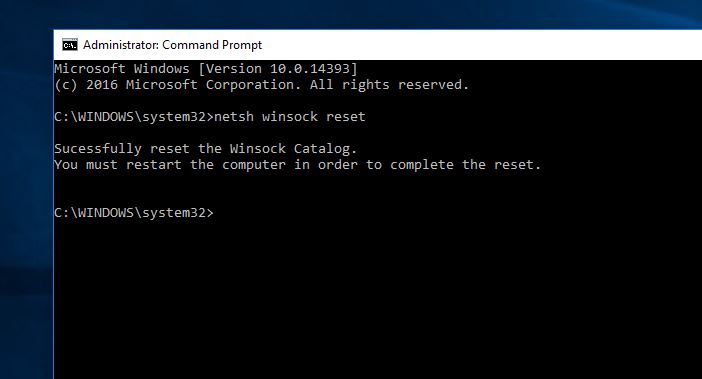 After all commands are executed successfully, now restart Windows to take changes effectively. On the next login, check to connect to your Wi-Fi network. This time, you will be able to surf the internet properly without facing Windows 10 losing internet connection issues.
Reset Network Configuration
If the problem still exists, You can reset your connection settings by using some commands. It is very useful to troubleshoot any internet connectivity problems.
Again open the command prompt as administrator and perform the commands below one by one, hit the enter key to execute the command.
netsh winsock reset
netsh int ip reset
ipconfig /release
ipconfig /renew
ipconfig /flushdns
Now, Check, If it helps to fix the windows keep disconnecting from Wi-Fi.
Check Power Management Issues
It is quite possible that your computer is automatically turning OFF its WiFi Adapter in order to conserve power. Since this power-saving feature appears to be interfering with your WiFi Network, you are quite justified in Turning OFF this feature.
First Press Windows Key + R, then type devmgmt.msc and hit Enter.
Expand Network adapters then right-click on your installed network adapter and select Properties.
Then navigate to the Power Management Tab and  uncheck "Allow the computer to turn off this device to save power."
Click ok, Apply, and close Device Manager.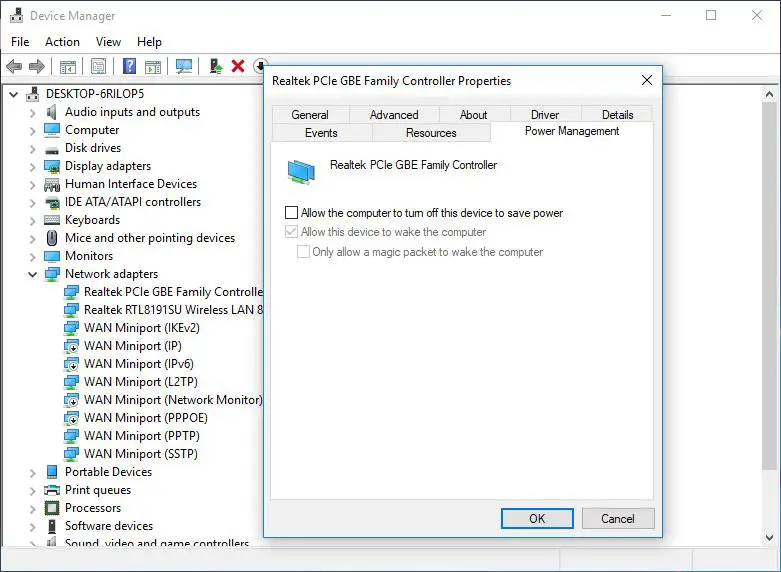 Press Windows key + R, type powercfg.cpl and click ok

Next to the selected power plan click on the Change plan setting 

Change the Advanced plan setting Expand

 Wireless Adapter Settings

, then again expand 

Power Saving Mode.

Next, you will see two modes, 'On battery' and 'Plugged in.' Change both of them to 

Maximum Performance.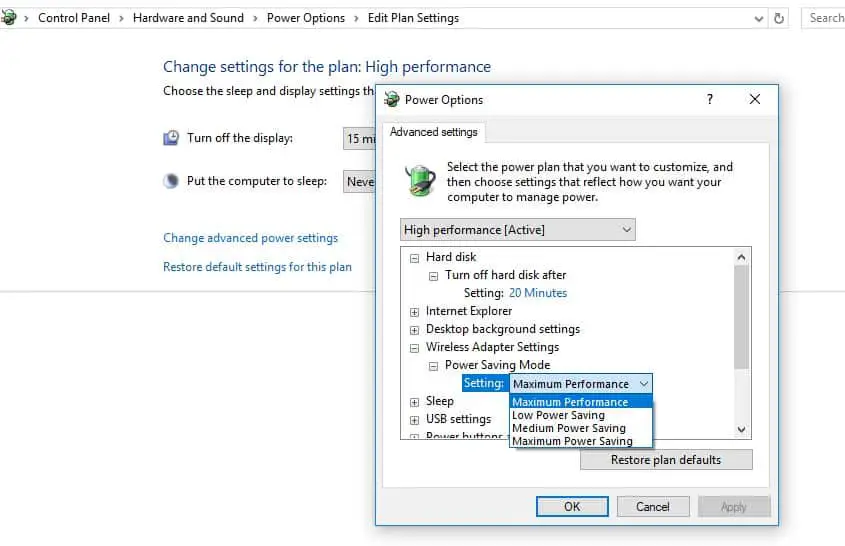 Click Apply followed by OK. Reboot your Windows to save changes. This would help to resolve the Internet / WiFi disconnecting issue.
Repair Possible Corrupted System Files
Sometimes corrupted system files in your Windows system make the internet connection unstable and result WiFi disconnecting problem on Windows 10. And that corrupted system files may be caused by malware or viruses or due to interrupted system shutdown or for other reasons.
Let's open the command prompt as administrator and run the command sfc /scannow in the Command Prompt,
Hit Enter to let the Windows System File Checker utility find and repair corrupted system files for you.
If the internet connection is still unstable, you may contact your internet provider for help.
Also Read