Microsoft regularly updates Windows 11 with new features and security patches. But few of users reported audio problems on Windows 11 Laptop or Laptop Sound Not Working after the Windows 11 update. The issue No sound on Windows 11 could be triggered by both hardware and software failures. Wrong configuration of audio settings to outdated audio drivers are common. Again issues with the physical and wireless connection also cause Laptop Speakers Not Working. Here are some possible fixes help Troubleshoot the sound not working problem on Windows 11 Laptops.
Windows 11 Sound Not Working
Whenever you experience Audio problem with Windows 11, the first thing you need to Restart your Laptop. This will help fix or clear minor glitches that may prevent Windows 11 sound from working.
Check the Audio Settings
You may accidentally mute the volume on your Laptop, check and increase the volume level to medium or maximum to see if there's any sound.
Fn + F8: Mute or restore volume.
Fn + F10: Decrease volume.
Fn + F11: Increase volume.
In addition, if you are using an external speaker or headphones disconnect and reconnect it, also check and make sure it is properly connected to your Laptop. If you have Bluetooth headphones or speakers,  you must confirm that Bluetooth is enabled on your device.
Change Audio format
Sometimes, an incorrect audio format will cause this problem,
Press the Windows key + R, and type mmsys.cpl and click ok
Under the Playback tab, select your sound device and lick on properties,
Move to the Advanced tab, select a different audio rate as the Default Format
Click on the Test button to check whether your Laptop sound works again.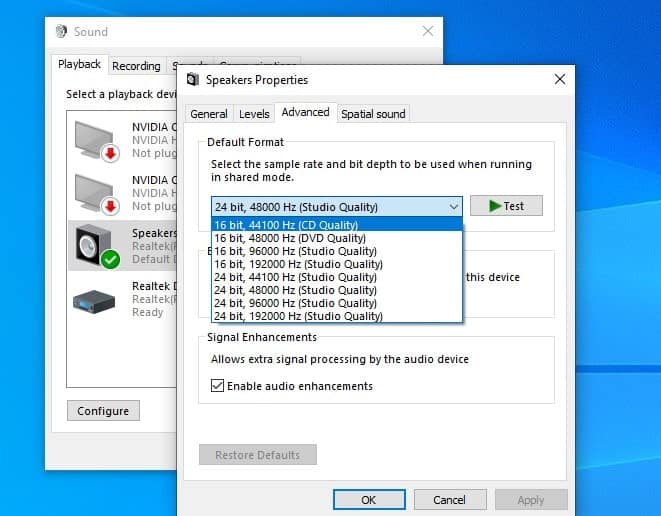 Enable Audio device
Press Windows key + X and select device manager,
Locate and expand the sound, video, and game controllers
Here If the Sound Device has a "Down arrow" displayed with it, that means the Sound Device is disabled.
Right-click on your Sound Device and select "Enable"
Also, right-click the sound icon and select Sound settings to ensure the specific output device you're using isn't muted.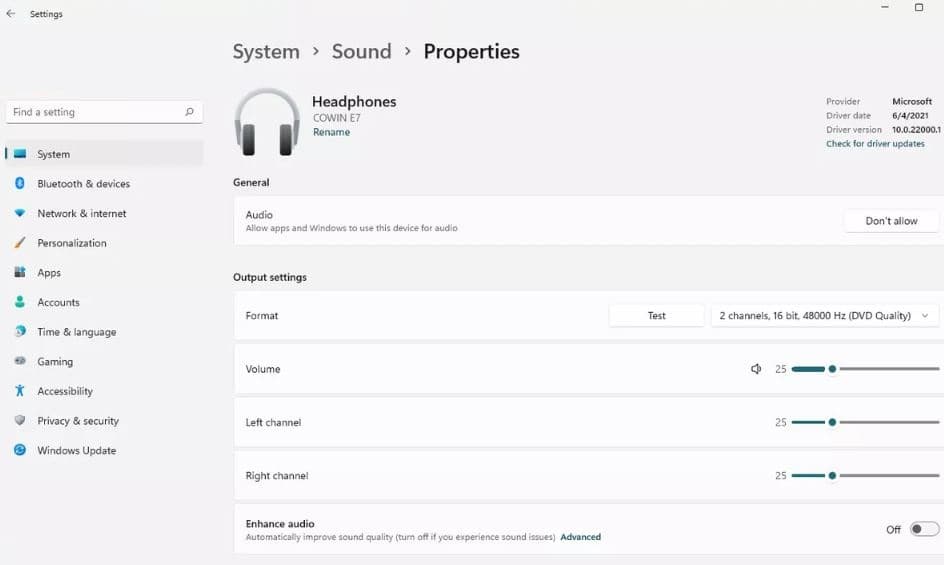 Set Audio Device as Default
Press Windows key + S type mmsys.cpl and select the first result
Under the Playback tab, make sure there is a Green check next to your Audio device, (It means this device is the default playback device)
If your audio device is not the default device, click Set Default. Then click OK to save.
Now test the sound on your Laptop to see whether there is any sound.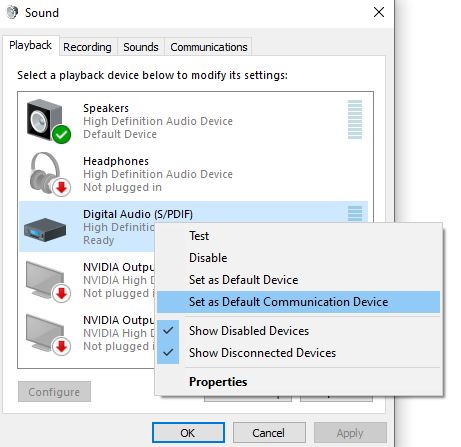 Restart the Windows Audio service
If due to any reason Windows audio service not running or is stuck running you may experience sound problems on your Laptop. Let's check and restart the Windows Audio service following the steps below.
Restarting the audio services can fix Audio sound problems on windows 11
Press Windows key + R, type services.msc and click ok
In services, scroll down to locate Windows audio service, right-click on it select restart,
Well if the service not started, double-click on Windows Audio Service to open its properties,
change the startup type automatic and start the service next to service status.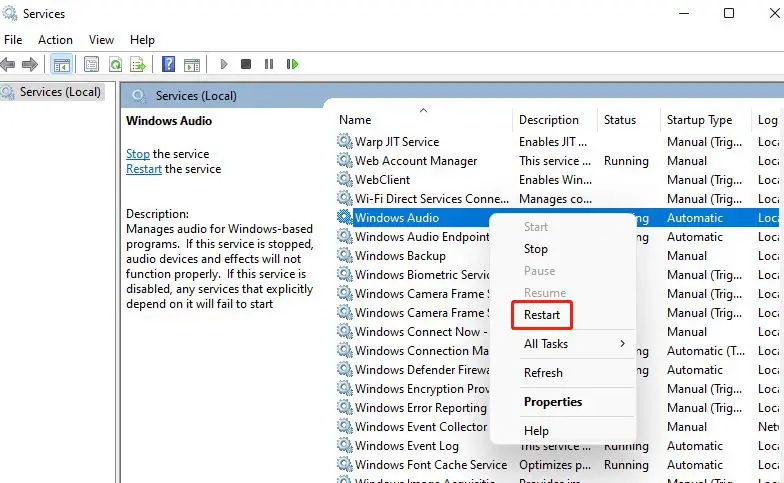 Do the same to restart the Windows Audio Endpoint Builder and Remote Procedure Call.
Now check if the Windows 11 sound not working problem is resolved.
Running The Audio Troubleshooter
Run the built-in Audio troubleshooter that automatically detect and fix common sound problems on Windows 11 laptop.
Troubleshooters are applications that can automatically diagnose and fix common problems
Press the Windows key + X and select settings,
Navigate system the select troubleshoot and click on other troubleshooters.
This will display list of troubleshooters, locate Playing Audio and click Run next to it,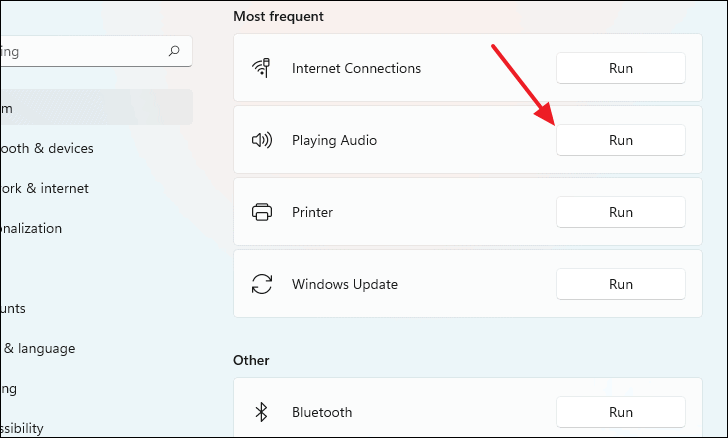 The audio troubleshooter start diagnoses and fix if detects any problem with the audio device or driver
Once done reboot your laptop and play an audio or video file to test the volume on Windows 11.
Check Audio output settings
If you are using external audio devices like Speakers or Headphones check and ensure that you select the audio device as the output for Audio.
Press the Windows key + I to open the settings app,
Navigate the system and then the sounds option, here you will see two sections, output, and input.
You can select the output device for your PC and adjust your device's volume in the output section.
You can also add a new output device for the audio output of your PC.
Update your sound driver
An older or outdated sound driver can cause Laptop sound not working after the Windows 11 update. Let's update the audio driver to the latest version which probably help fix the problem.
current audio drivers might be incompatible or outdated, thats why Laptop sound not working.
Press Windows key + X and select device manager,
This will display a list of all devices and peripherals connected to your computer,
Locate and expand sound, video, and game controller option
Select the audio device, and then right-click on it. Then click on update driver to update the driver of the audio card.
Select the first option to search drivers automatically or you can select the second option and locate the audio driver manually.
Once done, restart your PC, and you may no longer face the issue.
Reinstall your audio driver
uninstall the existing sound driver in your laptop and reinstall a new driver for your sound device.
Press Windows key + X and select Device Manager,
Locate and expand Sound, video and game controllers
Right-click your sound device and click Uninstall device.
When the confirmation pop-up opens check the box next to Delete the driver software for this device and click uninstall.
Restart your computer and Windows will automatically download and install the sound driver for your device.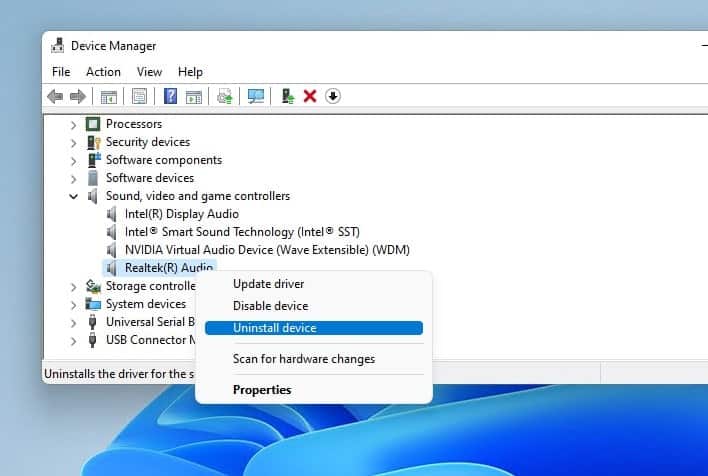 If not again open the device manager, click on Action then scan for hardware change. Or you can visit the device manufacturer's site to download the latest audio driver and install it.
Also, you can prefer third-party driver updater software to make the process automatic.
If the above solutions didn't fix the problem, you can prefer the system restore option to revert back to Windows 11 previous working state.
If you are using a speaker or Bluetooth headphones, you may try using them with your mobile or another device.
However, if all of your audio devices are working fine on other devices, you should get your PC checked. You can head to the service center to get it fixed.
Also read: