With Windows 11 KB5031354 (Moment 4 update) Microsoft is set to bring Windows Copilot, an artificial intelligence (AI) powered virtual assistant helps users easily take action and get things done. At Microsoft Surface event 2023, the company announced the Copilot experience in Windows 11 22H2, launching on September 26th. The new "everyday AI companion," now called Microsoft Copilot in Windows 11, will be "seamlessly available across all the apps and experiences you use most," including the Windows 11 desktop, Microsoft 365, Outlook, the Edge browser, and Bing.
Copilot "a handshake between you and technology — available when you need it and out of the way when you don't."
What is Microsoft Copilot?
Microsoft Copilot is a powerful new feature designed to make your computer experience even more intuitive and efficient. In Windows, Copilot introduces a hands-free approach to control various aspects of your desktop. It can respond to both voice and text commands. As demonstrated in the video, Copilot excels at tasks like organizing windows, switching to dark mode, starting specific Spotify playlists, effortlessly generating detailed paragraphs about minimalist architecture, and even erasing backgrounds from photos. It's a powerful tool that enhances your desktop experience.
In a post announcing Copilot on Microsoft's website, Mehdi wrote:
Copilot will uniquely incorporate the context and intelligence of the web, your work data and what you are doing in the moment on your PC to provide better assistance – with your privacy and security at the forefront. It will be a simple and seamless experience, available in Windows 11, Microsoft 365, and in our web browser with Edge and Bing. It will work as an app or reveal itself when you need it with a right click. We will continue to add capabilities and connections to Copilot across to our most-used applications over time in service of our vision to have one experience that works across your whole life.
Copilot will start rolling out on Windows 11 starting September 26 through a free Windows 11 update.
Copilot will begin rolling out to Bing and Edge this fall.
Microsoft 35 Copilot will begin to roll out for enterprise customers on November 1 and for other users this fall.
How to open Windows Copilot?
Windows Copilot will be integrated directly into Windows 11 and it can be accessed from the taskbar or using a keyboard shortcut (windows + C) at any point in time. You can Check If Windows Copilot is Enabled on Windows 11 From settings -> personalization -> Taskbar.
It appears as a sidebar in Windows 11, allowing you to control settings on a PC, launch apps, or simply answer queries.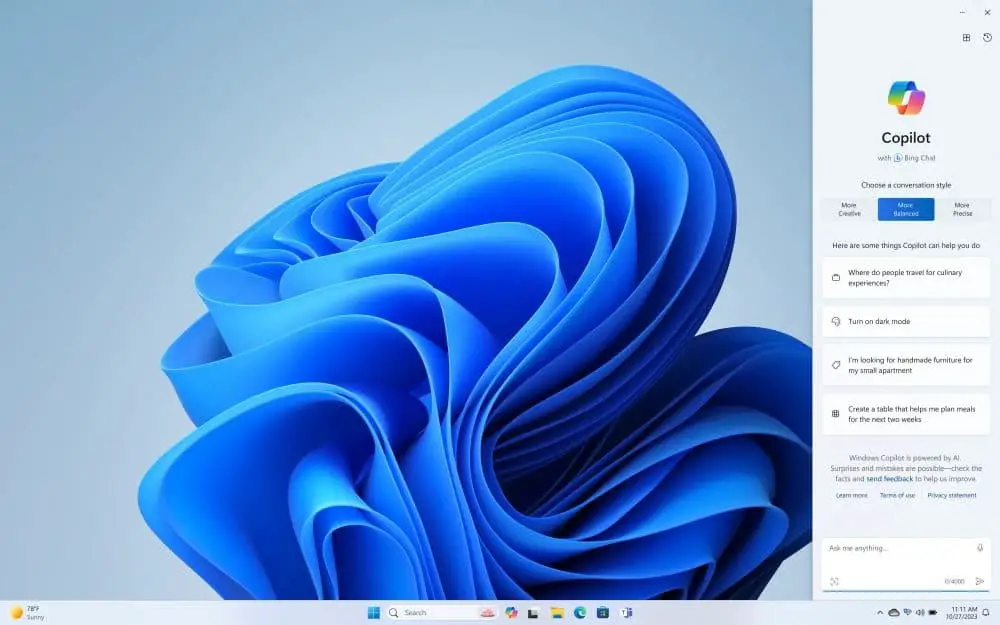 Windows Copilot is designed to make everyday tasks easier. For instance, it can help organize information in long emails when you copy and paste. It also recognizes and offers to analyze snipped images. Additionally, Copilot assists with various tasks like finding flight information, composing texts based on context, and more. It can be accessed as a stand-alone app on the Windows desktop, in Microsoft 365, and in Microsoft Edge. This feature will be available with the upcoming Windows 11 update, set to release on September 26.
Also read: