The new Microsoft Edge browser on windows 10 is based on Chromium. With speed, performance, best in class compatibility for websites and extensions, and built-in privacy and security features, it's the only browser you'll ever need. And the company regularly updates the browser with new features, bug fixes and security improvements. And we can say it's the perfect alternative for market leader Google Chrome. But sometimes edge browser fails to open and might even crash regularly for some users. few users report, Microsoft edge not working after windows 10 update or the browser is very slow and not load web pages.
If you are also experiencing similar problem, Microsoft edge won't open after update or the edge browser is very slow, Here in this post we try to find out the reason behind this problem and solutions to fix Microsoft Edge not working on windows 10.
Microsoft Edge not working windows 10
So what causes Microsoft edge to slow down or not respond? It might browser cache, or harmful extension, again the problem might be caused by damaged system files, problems with the current user profile, or botched Windows updates. And To fix things, perform a clean boot, Clear browser cache, reset or repair the edge browser, run the SFC scan, or try the other methods here.
First reboot your computer, which refreshes the operating system and clears temporary glitches that might present there and prevent Edge open on your PC.
If Microsoft Edge won't open from the taskbar then open the task manager, under the process tab Right-click on processes related to Edge and choose End Task from the menu. Do the same with all edge processes there, now try to open the browser.
If there is a number of tabs open there that might slow down the edge browser. Close the tabes that are not in use, And most important make sure you have a stable internet connection.
Update windows and edge browser
Microsoft regularly releases windows updates and edge updates with various bug fixes and security enhancements. And update the browser not only fix previous problems but also speed up the browser as well.
To install the latest windows 10 updates:
Press Windows key + X and select settings,
Go to update and security then windows update, and Hit the check for updates button
If new updates are available or pending there Allow to download and install them on your device.
Once done you need to reboot your system to apply them.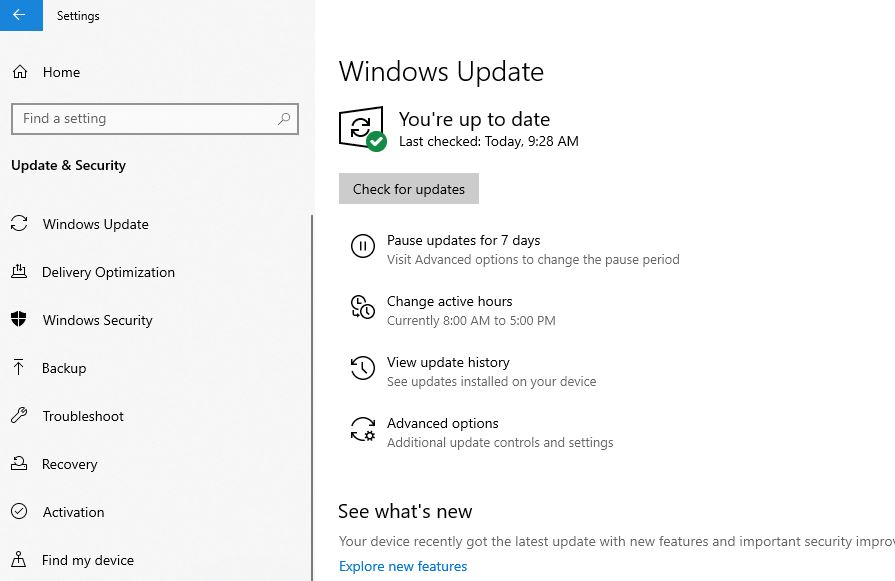 To update the edge browser:
First open the edge browser on your computer,
Click on three doted menu located top right then select settings, then about Microsoft edge.
Or you can type edge://settings/help on address bar and press enter key to access the same screen and update the edge browser.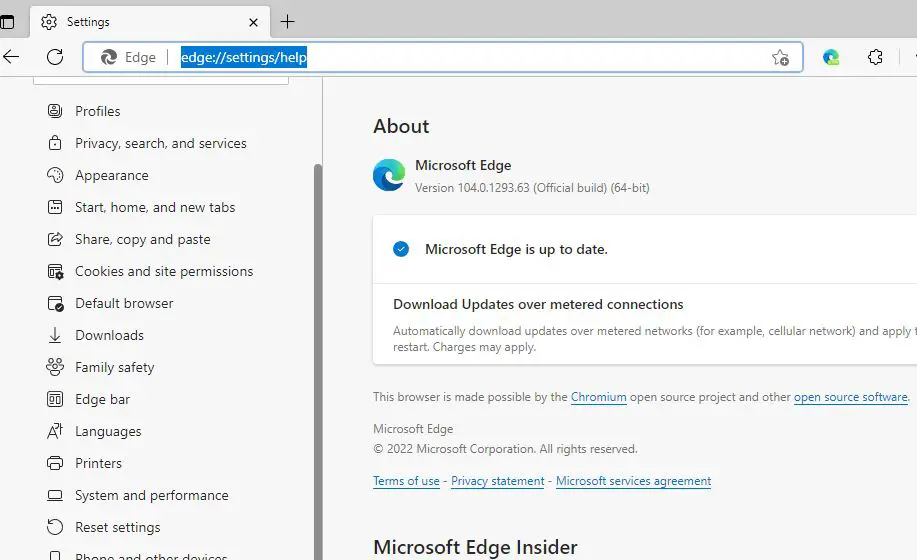 Clear all browsing data
Edge browser automatically saves temporary Internet files to help pages load faster. Clearing this cache will sometimes fix page display problems on Microsoft edge.
When Microsoft Edge does not respond in Windows 10, you can clear the browsing history, cache, and cookies for your browser that fix the issue.
Open the Edge browser, Click Hub (…) present on the top right corner, select settings then Click Privacy, search and service
Under the Clear browsing data section click on Choose what to clear,
Clear browsing data popup opens, select the time range all time then checkmark on browsing history, cookies and other site data, cached images and files option
And finally, click on the Clear now button to remove them.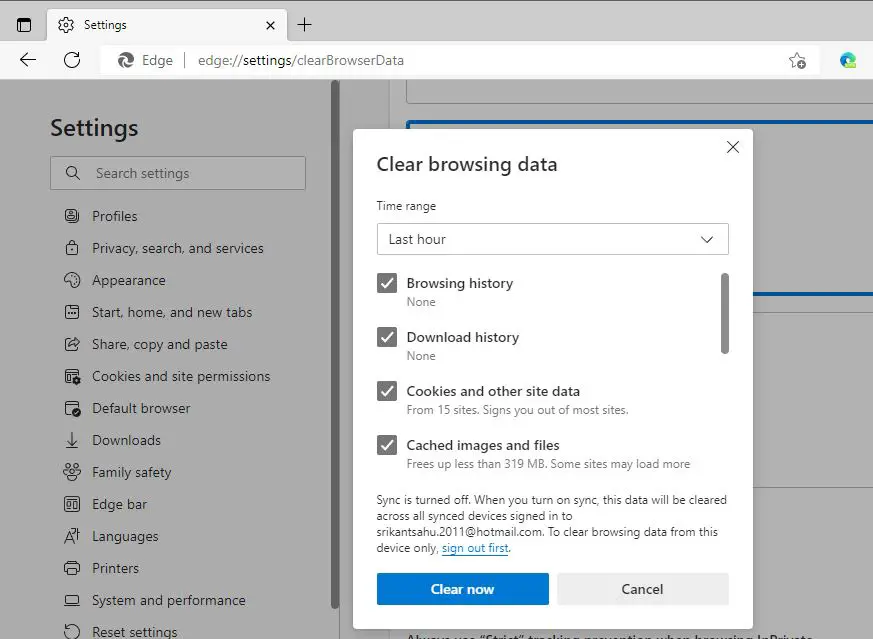 Repair the Edge browser
Still, running into issues with your Microsoft Edge browser not working properly on windows 10? Then don't worry let's repair the edge browser which will hopefully fix the issue you are having.
Repairing Microsoft Edge will reinstall the browser potentially and fix the issue you are having.
First, close the Edge browser, right-click on the start menu, and select Apps and features,
This will display a list of installed apps on your device, scroll down and locate Microsoft edge,
Or you can search the same on the search bar present there, Select Microsoft edge then click on modify,
Click yes if prompt for permission, the repair Microsoft edge screen opens,
Click on the repair button and follow on-screen instructions to repair the edge browser on windows 10.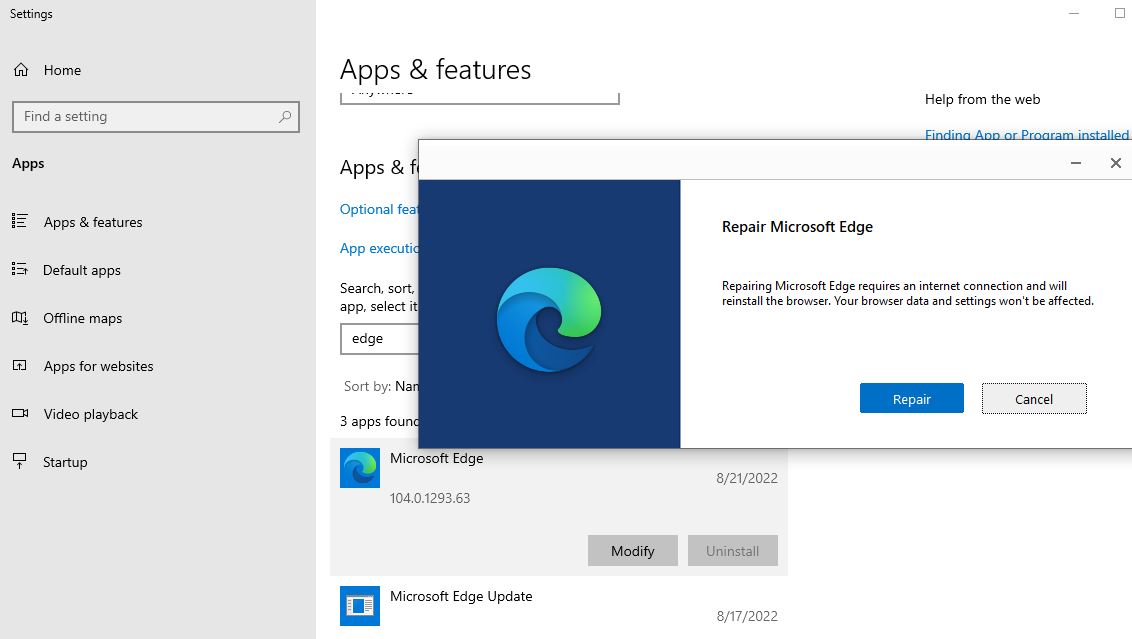 Once done reboot your system and open the edge browser check this time it's working normally.
Reset Microsoft Edge default settings
Again sometimes, buggy features, improper settings, and/or corrupted cookies can cause random problems with the browser. The edge browser is inbuilt into windows 10 so we can't uninstall it but you can completely reset it to its default settings. Note, Your passwords, history, and favorites will not be cleared. If you are still experiencing problems with the Microsoft Edge browser then reset it by following the steps below.
First, open the edge browser, click on the 'ellipsis' icon present in the top right corner to reveal the overflow menu and click on the 'Settings' option from the list,
Now, locate and click on the 'Reset settings' tab present in the left sidebar of the window then click on Restore settings to their default value.
And finally, click on the 'Reset' button to completely reset the Microsoft edge browser its default settings.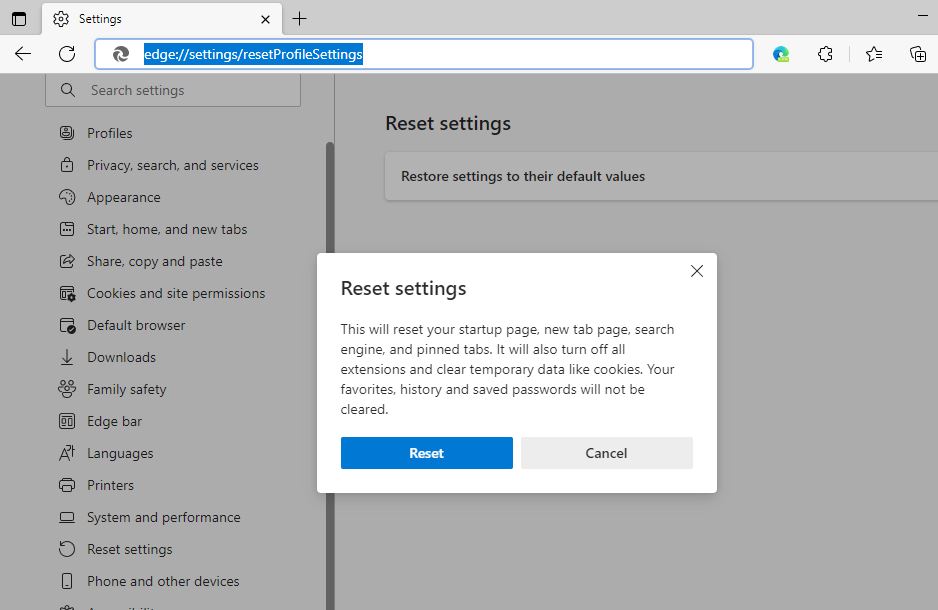 Clean boot windows 10
Sometimes third app or service conflict may also slow down or prevent the edge browser open. Let's Clean Boot windows 10 and open the edge browser, to check if it's running smoothly or not.
To perform a clean boot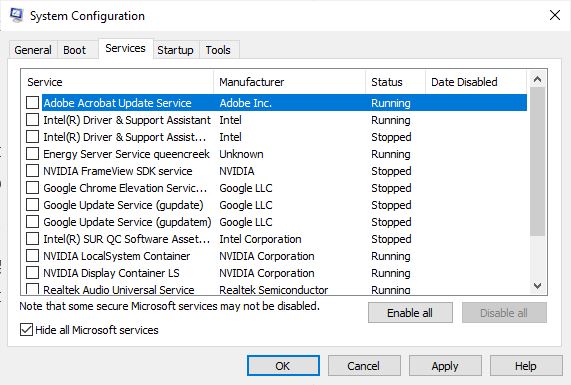 Press Windows + R, type MSConfig and ok
Move to the Services tab, check the box for Hiding all Microsoft services.
Click the Disable all
Go to the Startup tab and click Open Task Manager.
Select each item on the list and click Disable.
Close your Task Manager and restart your computer.
Try to run the DISM command with the System File Checker (SFC) scan to check for any file corruption. The DISM command repair the system image and SFC scan will scan for corrupt system files on the computer and replace them with the correct one.
Press Windows key + S type cmd, Right click on command prompt and select run as administrator,
First, run DISM restore health command DISM

 

/Online /Cleanup-Image

 /

RestoreHealth

.

The scanning process may take time between 5 minutes to 20,
Next, run the system file checker command sfc /scannow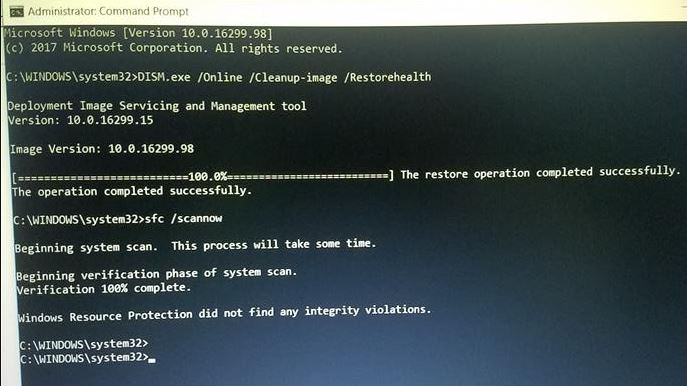 This will scan windows 10 for corrupted system files if found any the utility replace them with the correct ones.
Let the scanning process complete 100%, After that close the command prompt and restart windows,
Now open and check Microsoft edge browser working properly or not.
Check with a different user account
Sometimes corrupted user profiles also prevent the Microsoft Edge browser open on windows 10. Let's create a user account and check if the Microsoft Edge browser working normally.
It's simple and quick easy to add or create a new user account using the command prompt.
First open command prompt as administrator,
Type command net user USERNAME PASSWORD/add and press enter key, you will get message command completed successfully,
Note – Replace USERNAME and PASSWORD with your preferred name and password.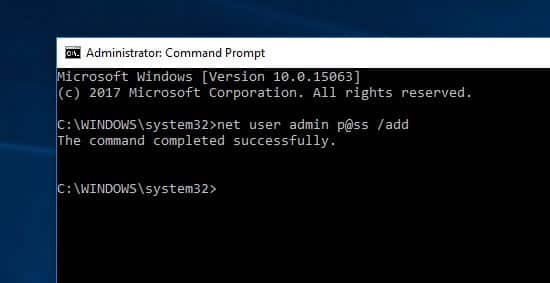 Now sign out from the current user account, and log in with the newly created user account and open the edge browser.
Check if there is no more problem with the Microsoft Edge browser.
In addition, sometimes Antivirus tools can often interfere with your PC and cause various problems. Several users reported that Microsoft Edge won't open due to their antivirus software. To fix the issue, we advise you to disable your antivirus and check if that solves the problem.
Did these solutions help to fix Microsoft edge browser problems on windows 10, Now the edge browser working properly? Let us know in the comments below,
Also read: