A mobile hotspot technology allows to share your internet connection with other devices using the Wi-Fi feature. And windows 10 also has an option to create a mobile hotspot from settings -> network & internet -> Mobile hotspot. Recently several windows users complain, cannot turn on the WiFi mobile hotspot. It displays the error message We can't set up mobile hotspot, Turn on Wi-Fi on your Windows 10 PC. There are several reasons which can lead to such errors, Incorrect configuration or outdated wireless network adapter driver are common. Here 5 Useful Solutions apply to fix Windows 10 Mobile Hotspot Not Working.
Mobile hotspot not working
Let's first Restart your computer or laptop and again try turn on the WiFi mobile hotspot. This action will fix the problem if a temporary glitch prevents enable mobile hotspot on windows 10.
Temporarily disable or uninstall third-party antivirus software from your computer. In addition, remove VPN (if configured on your device)
Also, make sure the latest windows updates installed on your computer that not only bring security and bug fixes also update drivers as well.
Check Wi-Fi adapter support hotspot
Before apply any solutions let's first check and make sure your wifi adapter compatible to enable or run mobile hotspot on your computer.
Open the command prompt as administrator,
Type command NETSH WLAN show drivers and press enter key
Look at the line Hosted network supported, if it says No, there is a problem because it means your Wi-Fi adapter doesn't support the mobile hotspot feature.
But if it says yes then apply the solutions listed below to fix the problem.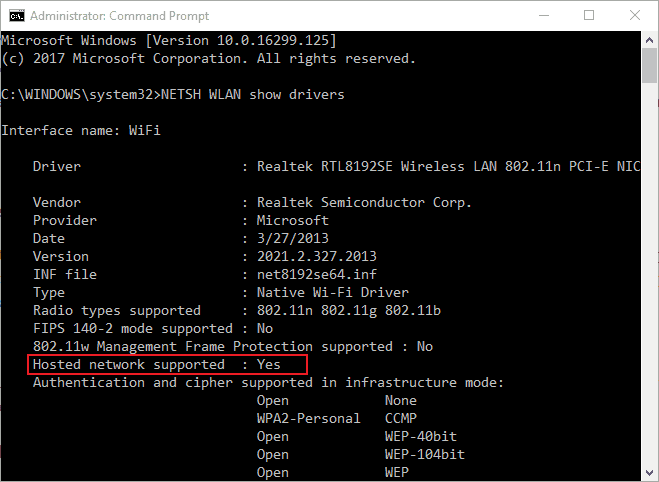 Troubleshoot Network Adapter
Run the build in Network Adapter Troubleshooter that automatically detect and fix problems with wireless and other network adapters.
Press Windows key + X select settings,
Go to network & internet then click on network troubleshooter,
This will start to diagnose and fix possible errors that may prevent network adapter function properly.
Once the diagnosis process completes, restart your computer and try to enable the mobile hotspot again.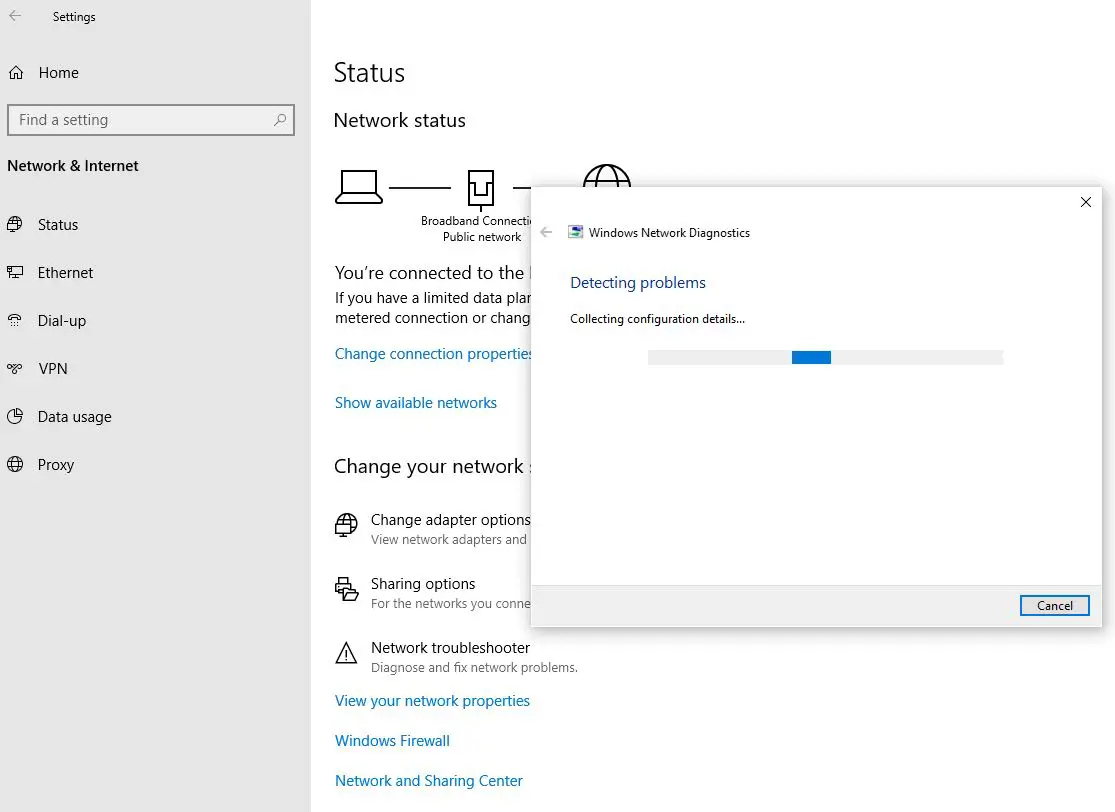 Update WiFi drivers manually
Outdated or corrupted WiFi adapter drivers are the most common reason behind this problem. If running network troubleshooter didn't fix the problem then manually update WiFi driver following steps below.
Press Windows key + X and select device manager,
This will display all installed device driver list,
Locate and expand Network adapters. Right-click your wireless network adapter, then click Update driver.
Click Search automatically for updated driver software and follow on-screen instructions to download and latest wifi driver from the Microsoft server. (If available any)
Once done restart your computer to apply the changes and check the status of your Hotspot problem.
Uninstall all virtual adapters
Several windows users suggested, after removing virtual adapters they are able to fix the problem and create Mobile hotspot without any problem on Windows 10.
Press Windows key + x select device manager,
locate and Expand Network adapters
Right-click then uninstall all virtual adapters
Restart your computer and check the status of your problem.
Change Adapter Settings
Open settings using windows key + I,
Go to Network and Internet, select Mobile Hotspot on the left pane,
Click on Related Settings then Change Adapter Options.
Here Identify your mobile hotspot adapter, right-click and go to Properties.
Move to Sharing tab and uncheck "Allow other network users to connect through this computer's Internet connection."
Restart your computer and check the status of your problem.
Reinstall Wifi adapter
Still the problem not resolved, you cannot turn on the WiFi mobile hotspot it results error We can't set up mobile hotspot Turn on Wi-Fi on your Windows 10 PC? most of the time reinstalling the network / Wireless adapter fix different network and internet problems on your PC.
Press Windows key + R, type devmgmt.msc and click ok,
This will open windows device manager and display all installed device driver list,
Scroll down to locate and expand network adapter,
Right-click on wireless adapter driver select uninstall the device,
Click uninstall again when ask for confirmation and restart your computer.
One next start windows automatically install the default WiFi driver on your computer. If not then again open device manager, click action then scan for hardware changes.
Or download the latest wifi driver from the manufacturer site on a different computer, save it to a USB flash drive, then manually install it on your own computer.
Create a new connection
If you are having issues connecting your device to your mobile hotspot,
Make sure you enter the correct password
Try and delete the current connection, then create a new one to get rid of the authentication error.
Tweak windows registry
Sometimes Issues with the registry can be the culprit in many situations. Here a registry tweak probably help fix the problem and allow create Mobile hotspot on Windows 10.
Press Windows key + R, type regedit and click ok to open registry editor,
Nevigate to HKEY_LOCAL_MACHINE\SYSTEM\CurrentControlSet\Services\WlanSvc\Parameters\HostedNetworkSettings\
Right-click on HostedNetworkSettings in the right pane and select Delete.
Restart your computer and check if this helps fix the Mobile hotspot not working in Windows 10.
Also read: