Firefox hangs at random times or the browser is completely unresponsive and then crashes on your computer? Lets fix it
Mozilla Firefox is one of the popular web browsers known for many of its great features and you probably using on your windows 11 PC. similar to chrome or Microsoft edge it also offers many security features including tracker blocking or secured private mode browsing and more. And the browser regularly get updated to patch security holes and fix different problems. But sometimes you may notice firefox not responding after an update or a few users report, firefox is already running but is not responding.
There are multiple reasons behind this strange behavior of Firefox not responding or the browser crashing. You might be using an outdated version of the Firefox browser on your computer. Due to some reason browser files are corrupted, lack of memory due to many opened tabs, outdated extensions, and sketchy internet connection are some common reasons why firefox is not responding after update.
How to fix Firefox issues on Windows 11
If the Firefox browser crashes frequently or firefox is already running but is not responding let's first Restart your Computer.
A reboot is a great way to fix any minor glitches with any application running on your computer this also refreshes the operating system as well.
Press the Windows key on your keyboard, when the start menu opens click on the power icon then select Restart,
wait until the computer reboots, It takes a few seconds Now, open Mozilla Firefox and check if it is working well.
One more thing you need to check you are connected to a stable internet connection. Because sometimes slow internet stuck the browser performance.
If there are too many tabs open on the firefox browser, that might stuck the browser not responding because of lack of memory.
Restart the Firefox browser
If the Firefox browser won't open or firefox is already running but is not responding then:
Press Ctrl + Shift + Esc to launch the Task Manager.
Under the Processes tab, select Firefox and click on the End task button at the bottom.
Relaunch Firefox to see if it works fine now
Start firefox in safe mode
If Firefox is already running but is not responding or the browser crashes frequently, open firefox in troubleshooting mode to diagnose issues. When you start Firefox in Safe Mode Mode this will disable all addons and extensions, switch to the default theme, turn off hardware acceleration and help you rectify the issue.
If your Firefox crashes frequently, then starting Firefox in safe mode is a good way to troubleshoot Firefox issues
Press the Windows key + R to open Run, type firefox -safe-mode and click ok Or you can press and hold the Shift key while starting the browser to open firefox in troubleshooting mode. And now check if the browser opens and works normally.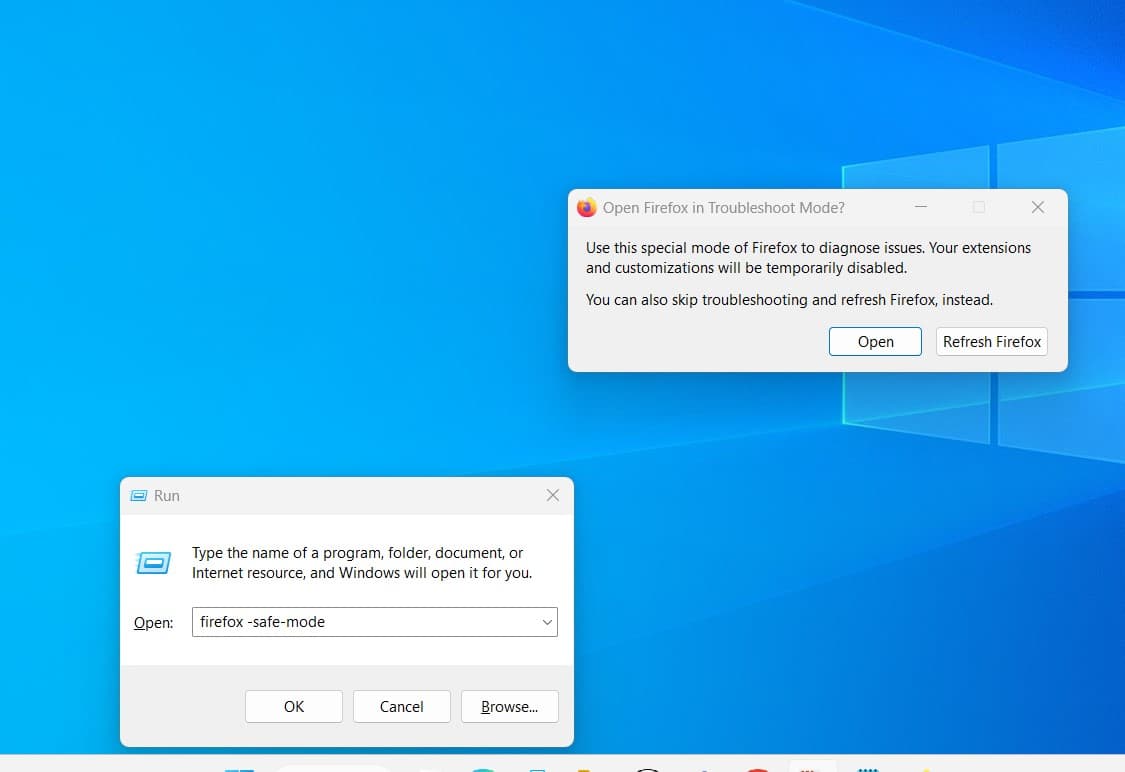 If it is working fine on safe mode, then probably Firefox not responding issue is due to one of the Add-ons. To find the one responsible, try disabling all.
Open the browser, click on Menu then select Add-ones and themes, Or you can type about:addons and press enter key, and toggle off extensions from here.
Update Firefox to its Latest Version
Another possible reason why firefox not responding because an incompatible or outdated Firefox version installed on your computer. Let's check for and Update Firefox to its Latest Version that not only brings the latest bug fixes but also speeds up the firefox browser performance as well.
You may be running an older version of Mozilla, which causes compatibility issues
To update Mozilla Firefox:
First, launch the Mozilla Firefox browser on your computer,
Click on the menu button and go to Help then Choose About Firefox
A new popup window opens and automatically scans and checks for the latest updates.
If there is a new update available, it will be downloaded and installed automatically
Click Restart to update Firefox to apply the new version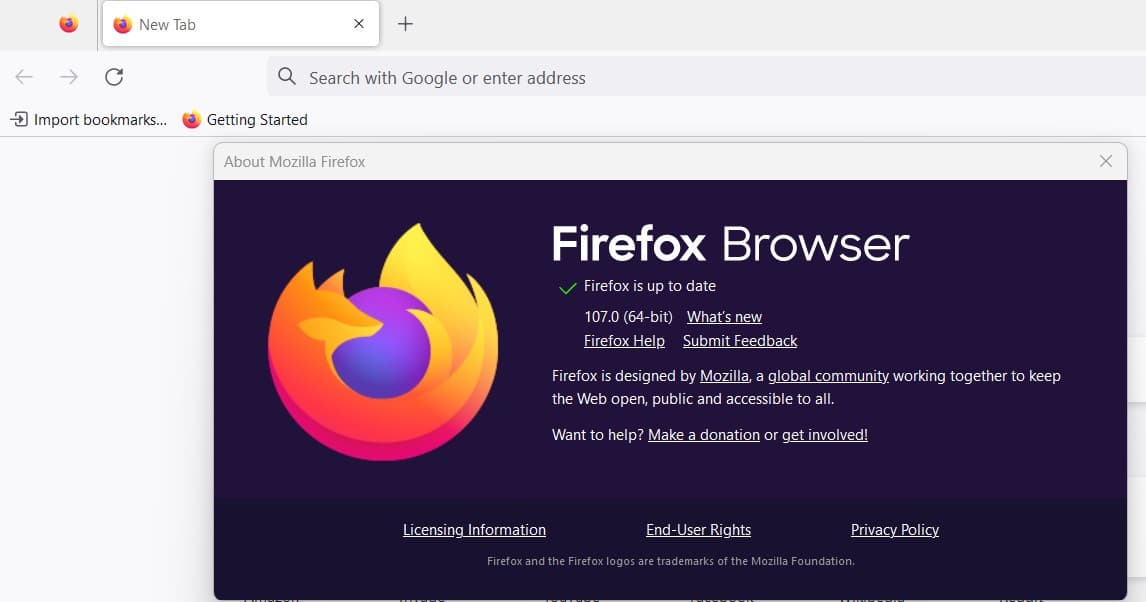 Note: Only download the latest Mozilla Firefox update from its official website to avoid phishing and malware infections.
Clear the Cache of Mozilla Firefox
Similar to other web browsers, Firefox also saves some information from websites in its cache and cookies to make things quicker. But if you have not cleared the browser cache for a long time that may be causing the browser to go unresponsive when you open multiple tabs on it. Let's try to clear the cache of the web browser and check if this helps fix the Firefox not responding issue on windows 11.
Launch Mozilla Firefox and click on the menu button, then select settings,
Then on the left-hand panel, click on Privacy & Security.
Or you can type about:preferences#privacy and press enter key to open the same window,
Navigate to under cookies and site data and click on Clear data when the confirmation popup opens click on Clear.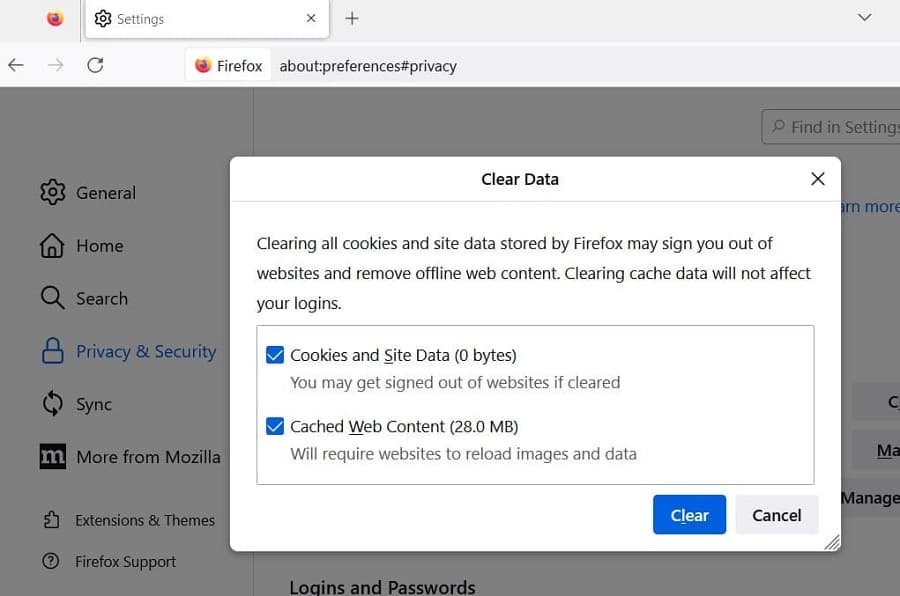 Disable Hardware Acceleration
The Hardware Acceleration option on the Firefox browser is enabled by default to speed up the processing of the browser. But sometimes this feature may interfere with the way the browser should work and lead it to go unresponsive or crash. Let's Disable Hardware Acceleration and check if this helps fix the issue.
To disable the hardware acceleration on Mozilla Firefox.
First, open the Firefox browser on your computer, click on the menu then select settings,
Select the General tab on left-hand side, scroll down to performance and uncheck the option Use recommended performance settings.
As you uncheck the above option, a new option, Use hardware acceleration when available, will show up. Uncheck this option as well.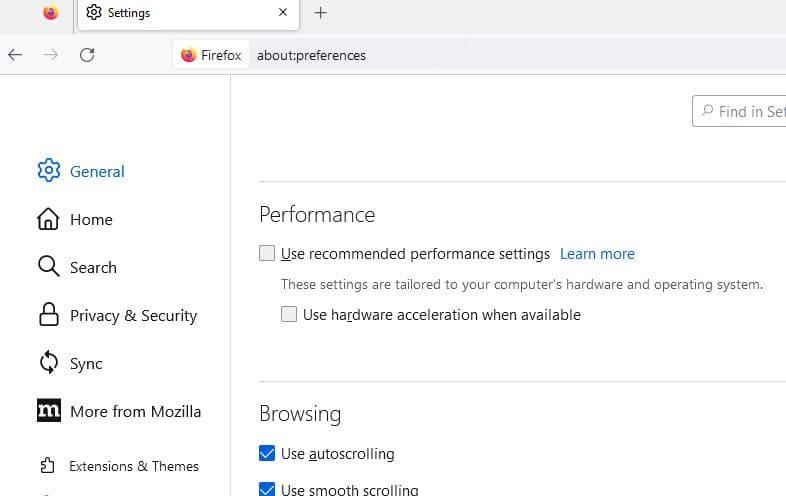 Now close and reopen the Firefox browser and check this time it's working normally without any problems or crashes.
Refresh Mozilla Firefox
If none above solutions work for you, then try the refresh firefox option to its default settings that not only fix performance issues but also fix different problems with the browser.
Note – this option removes browser extensions and customizations but keep your bookmarks and passwords.
Open the Firefox browser on your computer,
Select the menu option followed by help then click on More troubleshooting information
Here a new tab opens with the option to refresh the firefox, click on it
When the confirmation popup opens click on Refresh firefox.
That's all this will reset the firefox browser its default setup and make it fresh new for you.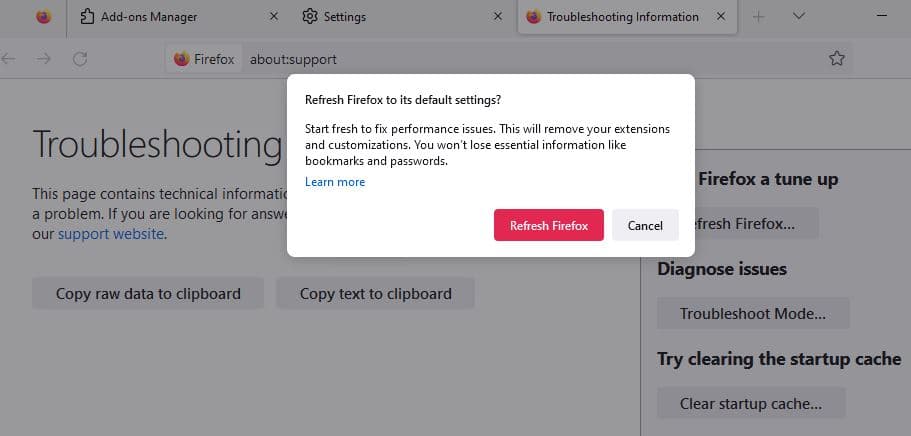 Launch Mozilla after the reset process is over, and check if it's working as expected.
Create a fresh places database
Note – your web browsing history and your bookmarks will be deleted.
Open the Firefox browser, click on the menu then select the help option, and Choose More troubleshooting information
From Application Basics click on Open Folder (once the new folder opens Close Firefox)
Go to the Firefox folder just opened and, under the profile folder, find and rename the file places.sqlite to places.sqlite.old and places.sqlite-journal to places.sqlite-journal.old.
Start Firefox and see if the problem has been solved.
Repair System Files
Sometimes corrupted system files on your computer cause apps or programs won't open or very slow to respond. If still, the firefox browser is slow or not responding on your computer, run the system file checker utility to scan and repair system files on your computer.
Press Windows key + S and type cmd, right-click on the command prompt select run as administrator,
First Run DISM restore health command dism.exe /Online /cleanup-image /restorehealth
Next type sfc /scannow and press Enter key to run the System File Checker scan
The above commands scan and repair system file corruption on your system.
Once done reboot your computer and check if the firefox browser is slow or not responding problem is solved.
Also read: