Microsoft Outlook is the most used Email client program, you may also use MS Outlook for composing, Send, receive and Manage one or more email accounts. However, at times you may experience Outlook not responding or Outlook freezes when you open a file or send mail.  A number of users report Outlook not working stuck at "Processing," freezes, or hangs while opening a file or sending an email message. There are several potential reasons why Outlook may become unresponsive, Large Mailbox Size, corrupted Outlook profile, Corrupted Data Files (such as PST and OST files) or third-party software or antivirus program conflicts are common. This article explains how to resolve problems with Microsoft Outlook not working, hanging, freezing or crashing issue.
Microsoft Outlook has stopped working

A problem caused the program to stop working correctly. Windows will close the program and notify you if a solution is available.
How to fix Outlook not responding  
There are a number of possible reasons for Outlook to behave this way Such as you don't have installed the latest Windows/Office Updates on your PC, and Outlook is in use by another process. Also, the program starts freezing, not responding if it's loading external content such as images in an email message, previously installed add-in is interfering with Outlook. Your mailboxes are too large,  Due to some reason Outlook data files have become corrupted or damaged, and Your user profile has become corrupted and more.
Too many add-ins and extensions can conflict with Outlook, causing it to become unresponsive.
Accumulating a large number of emails, attachments, and folders can overload Outlook. This can lead to sluggish performance and unresponsiveness.
Slow or unstable internet connections, server outages, or misconfigured settings can cause Outlook to freeze.
Using an outdated version of Outlook or an outdated operating system can lead to compatibility issues, resulting in unresponsiveness.
If the profile associated with your Outlook account is corrupted, it can cause Outlook to become unresponsive.
If the data files associated with your Outlook account are corrupted, it can lead to performance issues.
Start Outlook in Safe Mode
Whenever you notice Outlook not responding, Freezes while open, and sends/receives emails. The First step you have to do is "start outlook in safe mode".
Outlook safe mode starts without extensions or custom toolbar settings and will disable Reading Pane because those areas of the program mentioned above that are disabled in this "mode" tend to be common sources of problems. Once Outlook starts, you can then investigate those parts of the program to see what's preventing it from opening normally. (Via lifewire)
To Start Outlook in safe mode: For Windows 10 users: Click "Start" > "Search" > Type: Outlook.exe /safe and hit Enter; For Windows 8 users: Open "Apps" menu > Select "Run" > Type: Outlook /safe and then click OK; For Windows 7 users: Choose "Start" > Type: Outlook /safe in the Search programs and files box and then hit Enter.
Close Outlook and then open it normally. After this, you shall be able to use Outlook 2016 in Windows 10 again.
Note:  If you get the error "Cannot open the Outlook window" while trying to start Outlook, the error usually indicates that your Folder Pane or Navigation Pane settings hold a corruption. In that case press Windows + R, type outlook.exe /resetnavpane, and ok check outlook started normally.
Remove the add-ins
Add-ins and extensions in Outlook provide additional features and functionalities. However, having too many of them can lead to conflicts and slow down Outlook's responsiveness. Outlook working properly in safe mode but when you exit safe mode it start not responding or freezing, Disable the Outlook add-ins which may be causing Outlook not responding.
To Disable Outlook Add-ins
Use the Windows logo key + R shortcut to open Run.
Type Outlook.exe /safe into the Run bar and press Enter.
Here on Outlook click File menu and select options. If you are using Outlook 2007 then open Tools-> Trust Center…-> section Add-Ins
Click Add-Ins and choose COM Add-ins. Click on Go.
Clear all the checkboxes in the list, and then click OK.
Now restart Outlook, And check it's working normally.
Enable your add-ins one at a time to identify the culprit.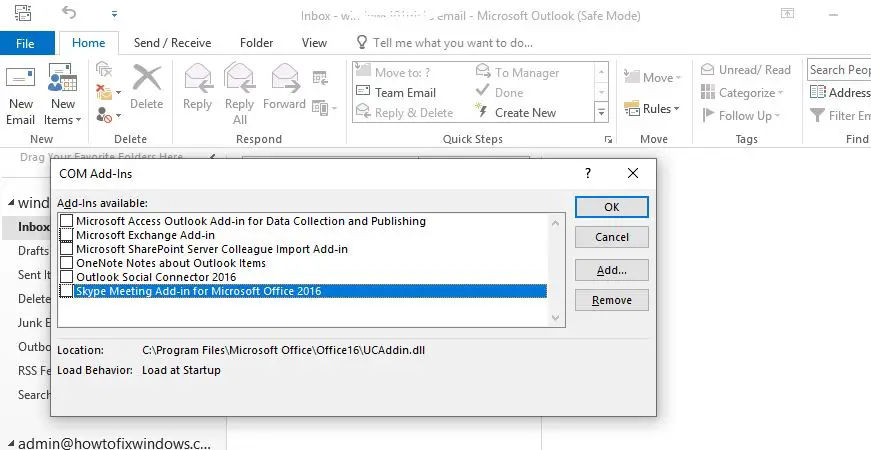 Stop Loading External Content
Sometimes Outlook became unresponsive due to external images, resource-heavy content, and more. Stop Outlook from loading external content, by following the steps below and check if this may be helpful for you.
Open Outlook and go to File.
Proceed to Options and navigate to Trust Center.
Move to Automatic Download and enable the following options:
"Don't download pictures automatically in HTML e-mail messages or RSS items"
"Warn me before downloading content when editing, forwarding, or replying to e-mail"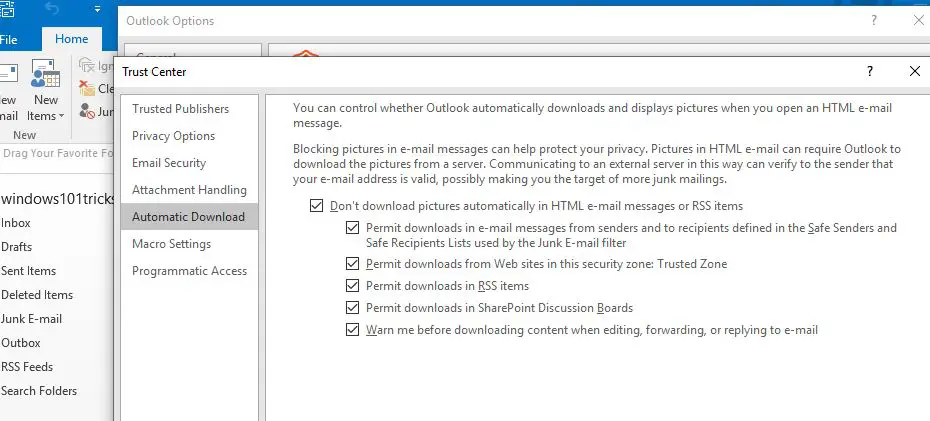 Install the latest Windows and Outlook updates
Installing and updating Outlook help a number of users to fix their problem. If Windows or Outlook is outdated, it may affect using and send emails. So you can install the latest Windows and Outlook updates to fix the not responding issue:
Running an outdated version of Outlook or your operating system can lead to compatibility issues, which may result in Outlook not responding.
First install Windows update from:
Type update in the Search box and click "Check for updates" or "Windows update" to open Windows Update.
To update Microsoft Office (Outlook)
Run Outlook and go to File. Then move to Office Account.
Navigate to Product Information. Select Update Options.
Click on Enable Updates. Choose Update now.
Wait for the process to finish. The "You're up to date!" window will appear.
Now the app is supposed to work well.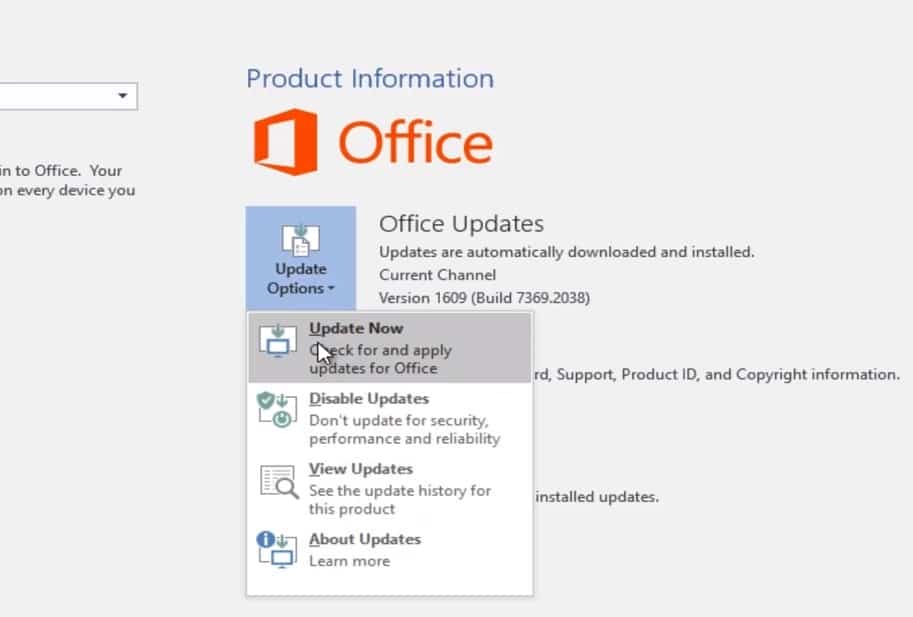 Repair Microsoft Office suite
Temporarily Disable Security software (Antivirus) If installed. And repair the MS Office suite that might be corrupt and causing issues while opening Word, Excel, or Outlook.
To repair the office suite, first, save and close your office documents.
Open the Control panel, and locate the Programs and Features section.
Look for installed office applications (Microsoft Office 2016/2013/2010/2007)
Right-click on it and select the Change option.
Select Repair and click Continue.
Wait for the process to finish. Then restart your PC.
Check office programs (word, excel) include Outlook start normally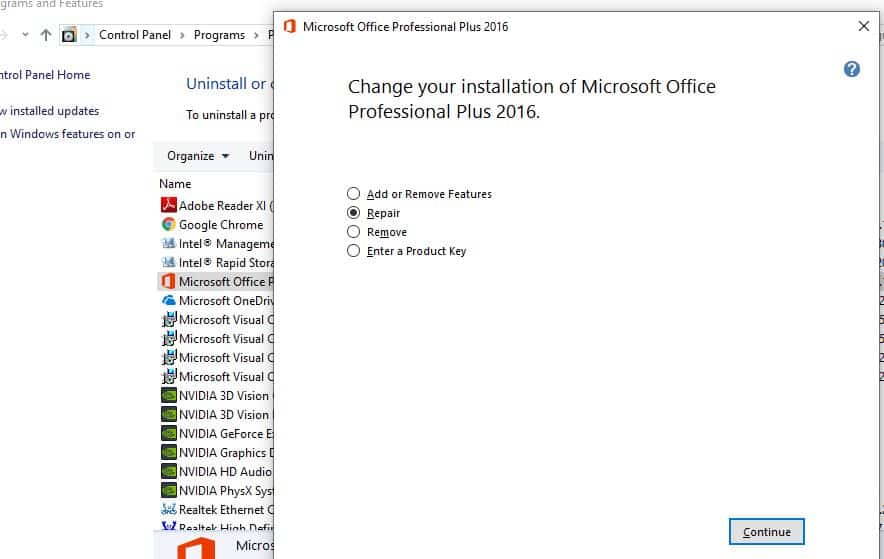 Repair your Outlook data files (.pst file)
Still, the problem is not resolved, Outlook Freezes again and again at startup, and there is a chance of some error on the Outlook data file (.pst). Let's use the SCANPST.EXE to check and repair Outlook data files. Note: before go ahead we strongly recommend to Backup the outlook data file (.pst) to another location.
Close your Outlook app.
Navigate to the location C:\Program Files (or C:\Program Files (x86))\Microsoft Office\Office16.
Note: 
Open Office16 for Outlook 2016
Open Office15 for Outlook 2013
Open Office14 for Outlook 2010
Open Office12 for Outlook 2007
Here Locate SCANPST.EXE, and double-click on it to run the tool.
Click Browse and locate the outlook.pst file You can find it here: File -> Account Settings -> Data Files.
Click Start. Wait for the scan to finish.
Click Repair if there are any errors found.
Close Outlook, And restart Windows. Check everything working properly.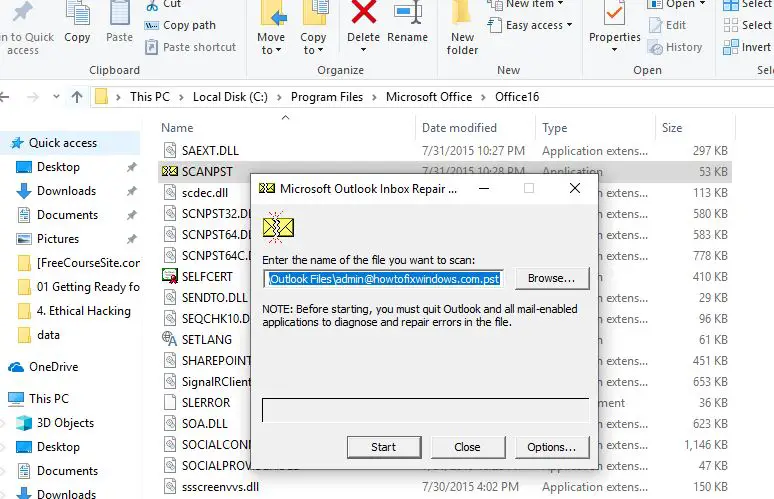 Create a New Outlook User Profile
If everything fails to fix the issue, Out still not responding, crashes or stopped working at startup There is chance the current user profile causing the problem. Creating a new profile may help you in getting rid of Microsoft Outlook not responding problem.
If the profile associated with your Outlook account is corrupted, it can cause Outlook to become unresponsive.
To create a new profile in Outlook,
Open the Control panel, Programs, Then select User accounts and Choose Mail.
The Mail items will open, Select Show Profiles.
Locate your corrupt Outlook profile and click on Remove.
Then click Add to create a new profile.
Type a name for it into the Profile Name dialog box.
Specify the profile details and click on Next to proceed.
Enter your email address and password for the new profile, then follow on-screen instructions.
And after configuring new user profile outlook should work normally without freezing.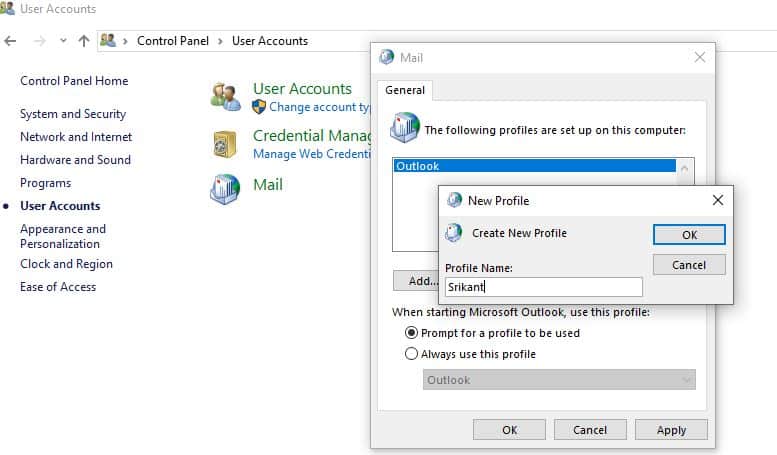 Network or Server Issues
Sometimes, the issue may not be with Outlook itself, but with your network connection or the email server. A slow or unstable internet connection or server outage can lead to unresponsiveness.
Check your internet connection by opening a web browser and trying to load a webpage. If it's slow or doesn't load, there may be an issue with your connection.
Test other applications that require internet access to see if they're working. This can help determine if the problem is specific to Outlook or a broader connectivity issue.
If the problem persists, contact your IT department or email provider to inquire about any server issues or network problems.
Again a mailbox with a large number of emails, attachments, and folders can put a strain on Outlook's resources, leading to slower performance.
Open Outlook and navigate to your mailbox.
Create folders to categorize your emails based on projects, senders, or priority.
Move relevant emails into these folders to keep your main mailbox uncluttered.
Archive older emails that you don't need for immediate access. This stores them in a separate file while still keeping them accessible.
Regularly review and delete any unnecessary emails or attachments to keep your mailbox lean.
Also read