Using VPNs to access Us Netflix but getting error or its not working? Here is how to beat Netflix VPN Ban in 2023
There are lots of advantages VPN (Virtual private network), it not only secures your network and hide your private information to maintain your anonymity online but also VPN encrypts all of your data, effectively hiding any information about you from prying eyes. Using VPN also you can bypass geo restrictions and Get Access to Geo-blocked Services, unblock US Netflix service from a different country, and more. But few users report, Netflix not working with VPN. Getting error message "Oops, something went wrong… You seem to be using an unblocker or proxy" when trying to watch Netflix This error usually means, your VPN server's IP address has been blacklisted by Netflix. But don't worry there are a few tweaks you can apply to bypass Netflix VPN block problem.
This problem usually means Netflix recognizes you're using a VPN server instead of your regular connection based on a list of flagged and blocked IP addresses.
How to bypass Netflix VPN block?
There are several reasons why Netflix Not Working with VPN, you need to check and ensure the internet connection is working and Windows Date and Time settings are correct.
Sometimes it would be helpful to temporarily disable your third-party antivirus software
Free VPNs may fail to unblock Netflix geo-restrictions, you should switch to a premium VPN to bypass certain restrictions from providers like Netflix.
An outdated VPN client, your browser's cache and cookies, or faulty DNS settings also cause such problems, whatever the reason here is How to Fix the Netflix Proxy Error on Windows 11
Sometimes opening Netflix on a different browser is all you need Brave, Chrome, and Firefox worked best for Netflix streaming.
Let's first disconnect the VPN and reconnect to it, Now check this time you can access the Netflix library.  In addition, try to sign out from your VPN account and sign back in using the same login credentials that probably helpful for you.
Check Internet connection
The first thing you need to ensure the internet connection is working. You can check your internet speed at fast.com or speedtest.net. Also press the Windows key + R, type ping google.com -t and click ok, check the ping replay if it breaks between you need to troubleshoot the internet connection first. Here is a dedicated guide on how to fix Internet not working when VPN is connected.
Again if you are using a FREE VPN service to access Netflix, Check internet bandwidth for free VPN. Most free VPNs come with limited bandwidth to use, if you have consumed all the available internet bandwidth with streaming 4k Netflix content via VPN, you need to subscribe to unblock unlimited data usage. Or choose a VPN service have no bandwidth limits and no data caps.
Try a different server location
Netflix not working with VPN, its may be because the server location you've chosen is being blocked by Netflix. If Netflix detects unusual traffic from a specific IP location, block it from accessing the company servers. Most VPN  service providers offer multiple servers in a selected region. Let's try to connect Try a different location and see if this resolves the issue.
 If your VPN provider has a server that is marked "Netflix" or "streaming," then try that first.
This trick worked for us when we couldn't connect to Netflix US. We disconnected from the NewYork server and connected to Washington one.
Update your VPN software
It may be a bug or outdated VPN client software lead to connectivity issues and results Netflix not working when VPN is connected. VPN service provider regularly updates their client software with the latest bug fixes and improvements. And its recommended to install the latest pending update to keep the app functioning normally.
Just go to the official website of your VPN and download & install the latest version.
Or, you can check for an update in the program itself and install the available update.
For a few users Clearing the browser's cache and cookies help them resolve connectivity issues with VPNs. Hence Netflix uses the browser cache to remember account information and search queries, old cache data might be causing the issue with VPN connection. Let's clear the web browser cache that probably fix the problem.
Open Chrome browser, click on the three-dots menu then select settings,
Alternatively, you can copy and paste chrome://settings/ to the address bar and press Enter.

Select the

Privacy and Security

tab, then click

Clear browsing data

.

Under the Advanced tab, choose All Time and make sure Cookies and other site data & Cached images and files are checked.
Now click Clear Data to start the process.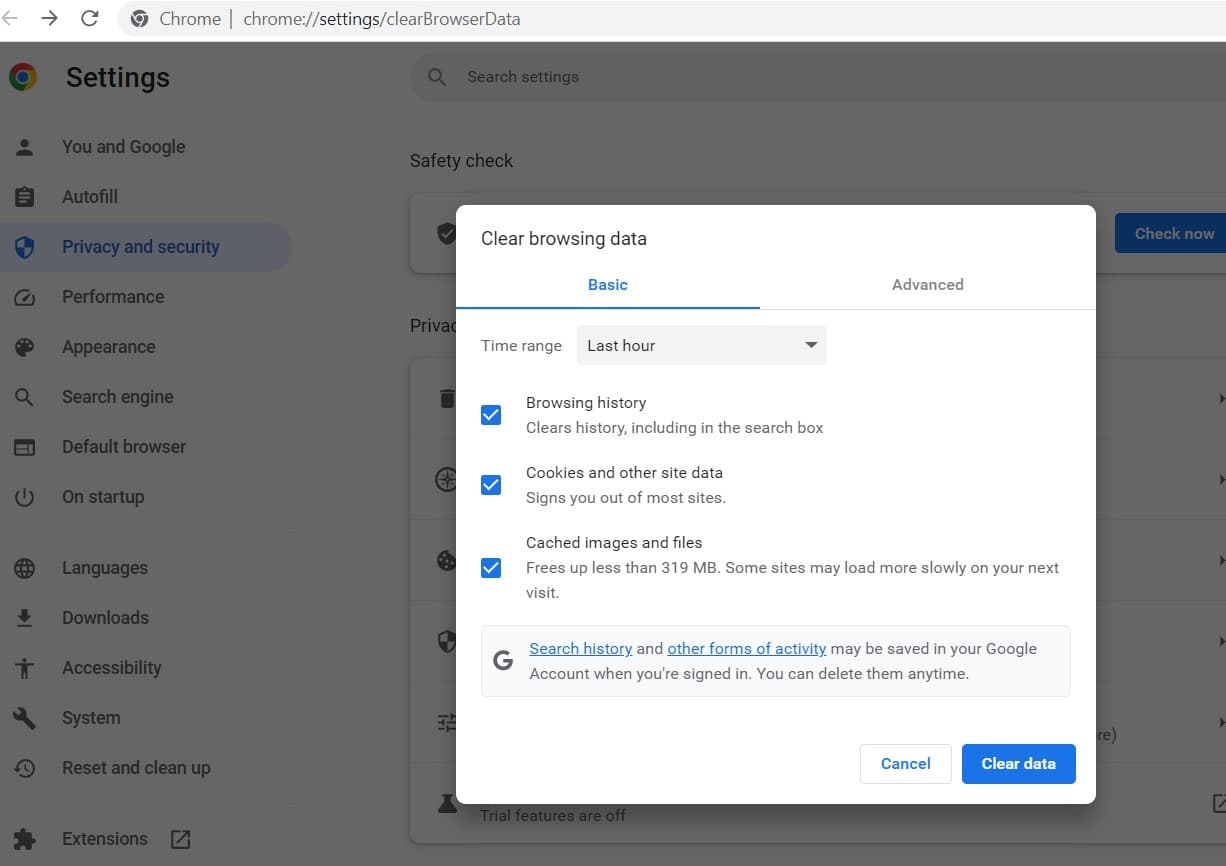 Disable IPv6
Some VPNs may not work with IPv6 enabled. Try disabling IPv6 to see if this resolves any connectivity issues you might be having.
Press the Windows key + R, and type ncpa.cpl then click ok

Locate the

adapter you are connected to

(Ethernet or Wifi), Right-click and choose

Properties

.

Find Internet Protocol Version 6 (TCP/IPv6). Uncheck it.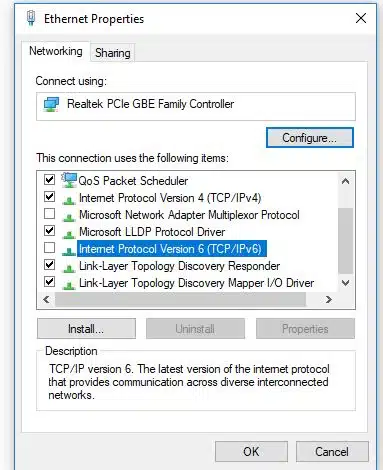 Manually configure DNS settings
Switching to a different DNS address help a few users fix the problem and access Netflix with faster connection speeds.
Press Windows key + R, type ncpa.cpl and click ok
Right-click on the active network adapter, either LAN or Wireless network connection select Properties.
Double-click Internet Protocol Version 4 (IPv4) or just Internet Protocol, then navigate to Properties.
Select Use the following DNS server addresses. Type these Google DNS server addresses: Preferred DNS server – 8.8.8.8 and Alternate DNS server – 8.8.4.4.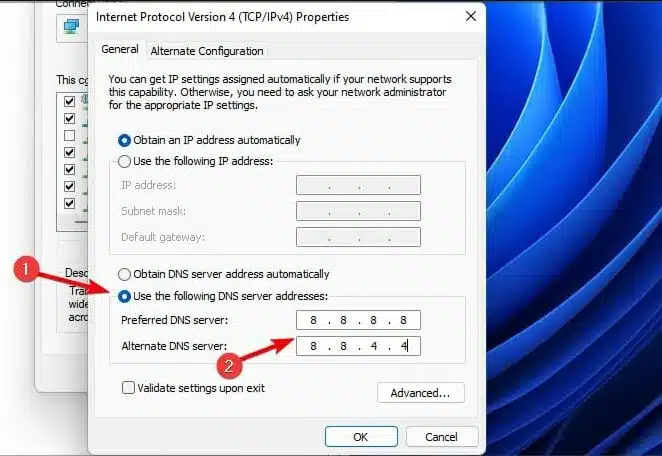 If Google DNS is blocked, try the following: Neustar DNS Advantage (156.154.70.1 and 156.154.71.1) and Level3 DNS (4.2.2.1 and 4.2.2.2) enter and press OK.
Update windows 11
latest Windows updates improve the system's stability and fix various issues you may encounter most especially VPN-related. Let's check and install the latest Windows 11 updates which not only bring the latest bug fixes but also fix the Netflix not loading or not working with VPN problem.
 Another way of fixing the VPN not working with the Netflix problem is by updating your Windows Operating System to the latest version.
Press the Windows key + X and select settings
Go to windows update then hit the check for updates button,
If new updates are available or pending there, allow them to download and install from the Microsoft server,
Once done, reboot your PC to apply the changes.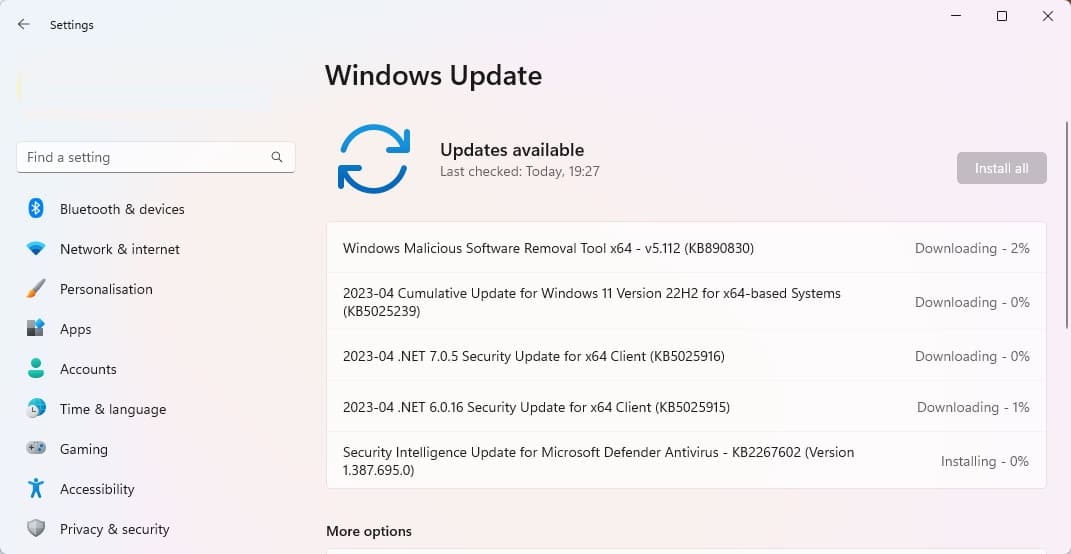 Now connect to VPN server and access Netflix to check whether the problem is resolved or not.
Contact customer support
If the above solutions didn't help its time to reach out to your VPN provider's customer support team. They may be able to offer troubleshooting tips or guide you through more advanced solutions.
ASK THE VPN COMPANY ABOUT WHICH SERVER TO CONNECT
Most paid VPN companies offer excellent customer support to subscribers. If you face issues accessing the Netflix library, you can directly ask the VPN provider (via email) which server you need to use.
Use a dedicated IP address
Using a dedicated IP address may be one of the best solutions but you have to pay additional charges for this. Some VPN providers offer dedicated IP addresses that are less likely to be blocked by Netflix.
Try a different VPN: While it may seem like a hassle, switching to a different VPN provider can often resolve VPN connectivity issues with Netflix.
If you are still facing issues with VPN on Netflix, switching to a different VPN provider can often resolve VPN connectivity issues with Netflix. Here are some best Netflix VPN service providers for 2023.
Also read: