Whenever the speaker icon in the taskbar shows a red, cross mark on it, it means your audio adapter (card) is not working anymore. Once you move the cursor over the icon, you will get the message "No audio output device is installed". And most of the time this problem is triggered due to system upgrade and resulting hardware or software malfunction. When users upgrade their systems, the drivers stop working due to their lack of compatibility. If you are struggling with this type of issue and want to fix "no audio output device is installed windows 10" error then here we have complete information to over this error.
No audio output device installed windows 10
First Check your speaker and headphone connections for loose cables or the wrong jack. New PCs these days are equipped with 3 or more jacks.
Microphone jack
line-in jack
line-out jack.
These jacks connect to a sound processor. So make sure your speakers are plugged into the line-out jack. If unsure which is the right jack, try plugging speakers into each of the jacks and see it produces any sound.
Restart Windows Audio Service
Sometimes this error "no audio output device is installed" occurs if the Windows Audio service not started or stopped responding. It's better to check and Make sure windows audio and dependency services are running.
Press Windows + R and type services.msc and ok.
This will open the Windows services console,
Scroll down and locate Windows audio service,
Check if its running status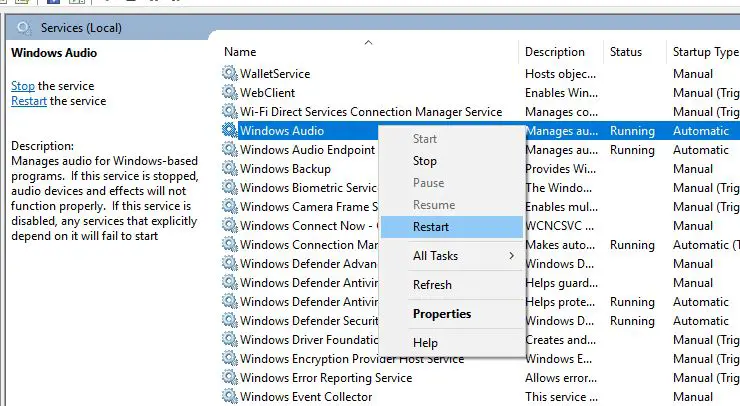 Also, check and make sure that the following services have Running Status and their Startup Type is set to Automatic.
Windows Audio
Windows Audio Endpoint Builder
Plug and Play
Multimedia Class Scheduler
Note: If you find any of these services don't have Running Status and their Startup Type is not set to Automatic, then double-click the service and set this in the service's property sheet.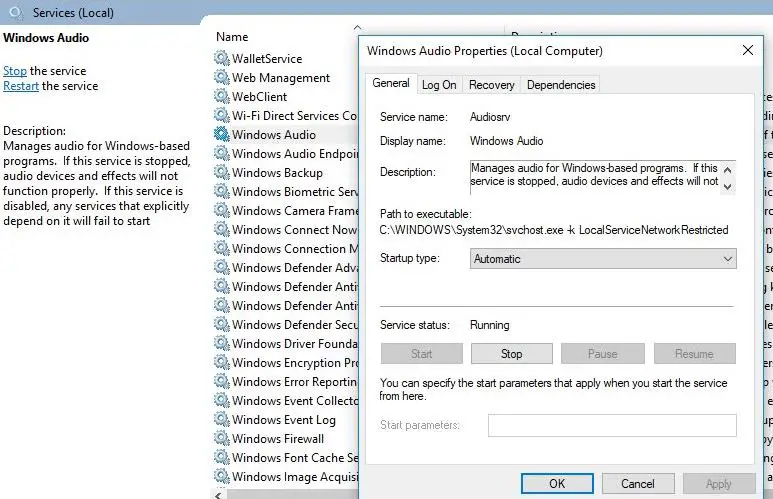 Check after performing these steps, is the audio started working or not. Also, check this post If you find the Microphone not working after install windows 10 version 21H1.
Use The Windows Audio Troubleshooter
Run the Build in Audio sound Troubleshooter, and let windows detect and fix the problem itself first.
Simply Right-click on the Speaker Icon, a pop-up will appear,
Click Troubleshoot sound problems.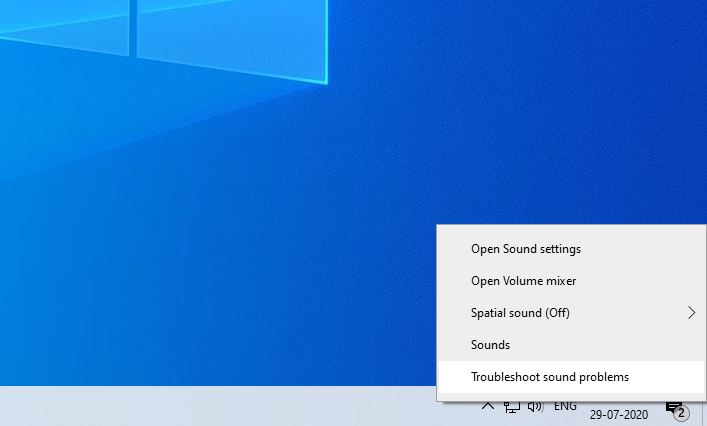 Also, you can Run the Audio troubleshooter from settings -> update & security -> troubleshooting -> click on playing audio and run the troubleshooter. And follow on Screen instructions To complete the troubleshooting process.
The audio troubleshooter will look for the issues and display the results once the search is completed. Play any audio file to check for sound. If there is sound your issue is resolved. Otherwise, click Explore additional options and proceed accordingly.
Enable audio output device windows 10
If the problem started after the recent windows 10 upgrade there is a chance due to incompatibility issues or bed driver windows automatically Disable the audio device, then you might not see it under the list of playback devices.
On the Start menu search Type sound and select it from the search results.
Here Under the Playback tab, right-click on the empty area
Make sure "Show Disabled Devices" has a checkmark on it.
If headphones/Speakers are disabled, it will now show up in the list.
Right-click on the device and Enable it
Select "Set Default" Check if it helps.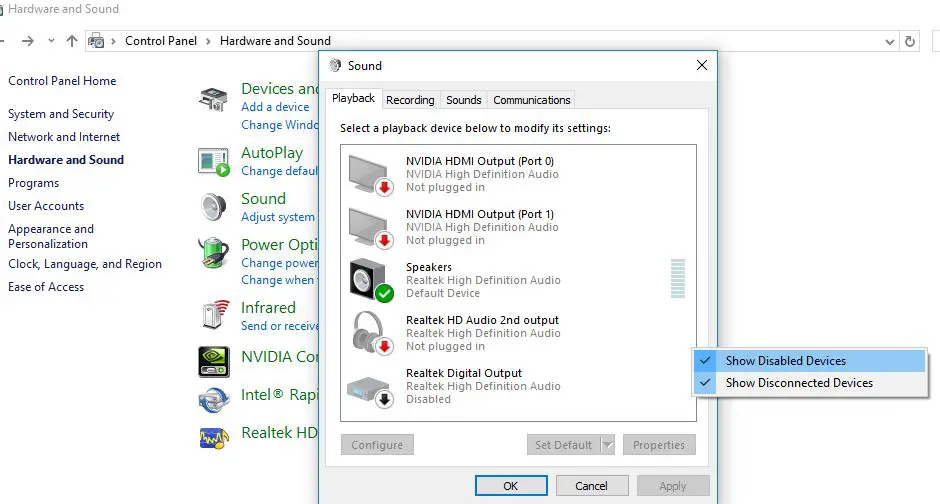 Roll Back and install generic audio Driver
If the issue started after a recent Windows 10 Update, or install the latest audio driver then there is a chance new installed driver causing the issue. Simply try to roll it back to the last good configuration.
Right-click the Start button, select Device Manager,
Right-click your sound driver, select Properties,
Next move to the Driver tab.
Press the Roll Back Driver option if available, and Windows 10 will begin the process.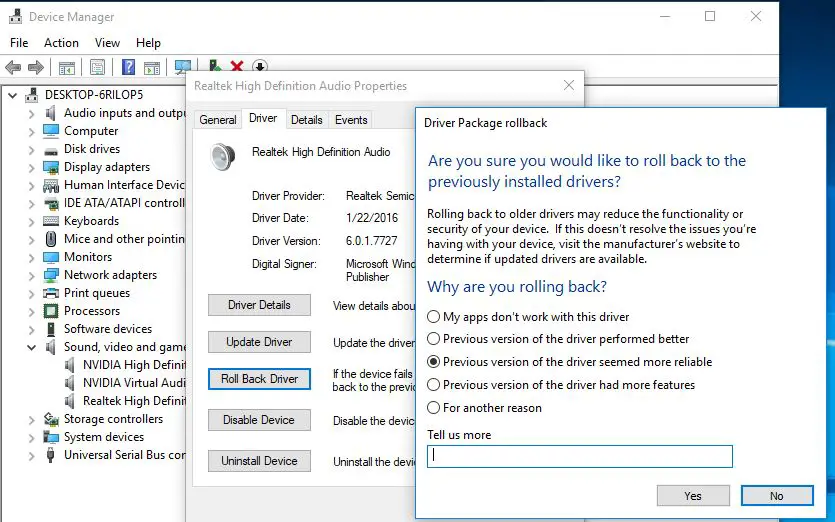 Reinstall the audio driver
Again if the installed audio driver gets corrupted during the upgrade process, it's not compatible with the current Windows 10 version this may also cause no sound issue. That causes try to update the current driver to the latest version or uninstall the old audio driver and install the latest one to fix the problem.
First to update the old audio driver
Right-click on the start menu and select Device manager
Expand Sound, video and game controllers.
Right-click your audio device and then select Uninstall.
Restart your device and Windows will attempt to reinstall the driver.
If that didn't work, try using the generic audio driver that comes with Windows.
Again open Device Manager,
Expand Sound, video and game controllers.
Right-click on the current installed audio driver and select update driver software.
Browse my computer for driver software
Let me pick from a list of device drivers on my computer.
Select High Definition Audio Device, select next and follow the instructions to install it.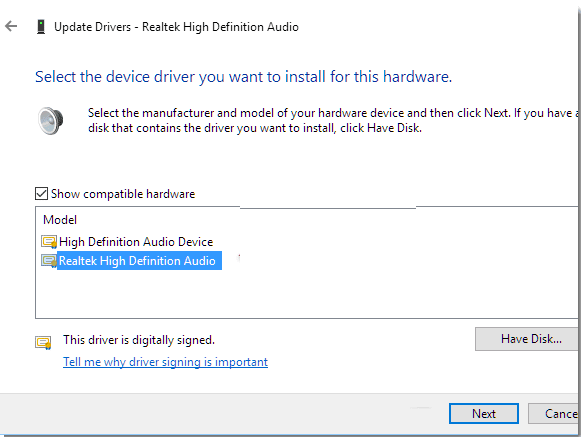 After Install once Restart the windows and check the problem is fixed That's it. Your computer speakers should now be able to play sound normally. If the sound is still not working, then try downloading and installing the latest sound card drivers for Windows 10 from the manufacturer's website.
Change Different Sound Card
If you still have a problem even after trying windows reinstallation then it's 100% a hardware fault. Try with a new sound card to your system and check. This time Windows 10 no audio sound problem gets solved.
Also read: