No Audio sound from your laptop's speaker is a common problem, especially after the recent Windows 10 update. Several users report There is no sound from their system speaker. And the common reason for this issue is the Corrupted, Incompatible Audio Driver. Some other reasons such as Windows 10 November Update changed the privacy settings for your mic so that apps that previously had access to it no longer did and cause the mic not working. If you are also having an issue with no Audio Sound from your Windows computer, Here are some solutions you may try to fix Audio sound problems on Windows 10/11.
Fix Audio Problems on Windows 10
First, check out your speakers and headphone connections and see if some audio cable is loose or connected to the wrong jack.
Now check your volume levels from the audio icon and don't forget to check your external speakers' volume levels.
Sometimes your external speakers might be the reason why you are reading this how to fix audio issues in Windows 10 article. Don't forget to check them with a device other than your Windows 10 PC.
Open Windows services and check Windows audio and AudioEndpointbuildert service is running. If not start the service and change its startup type automatic.
If the microphone not working after the Windows 10 update
Open the Settings app ( Windows + I ).
Go to Privacy – Microphone.
Ensure that the toggle switch under Allows apps to access your microphone is enabled on the right.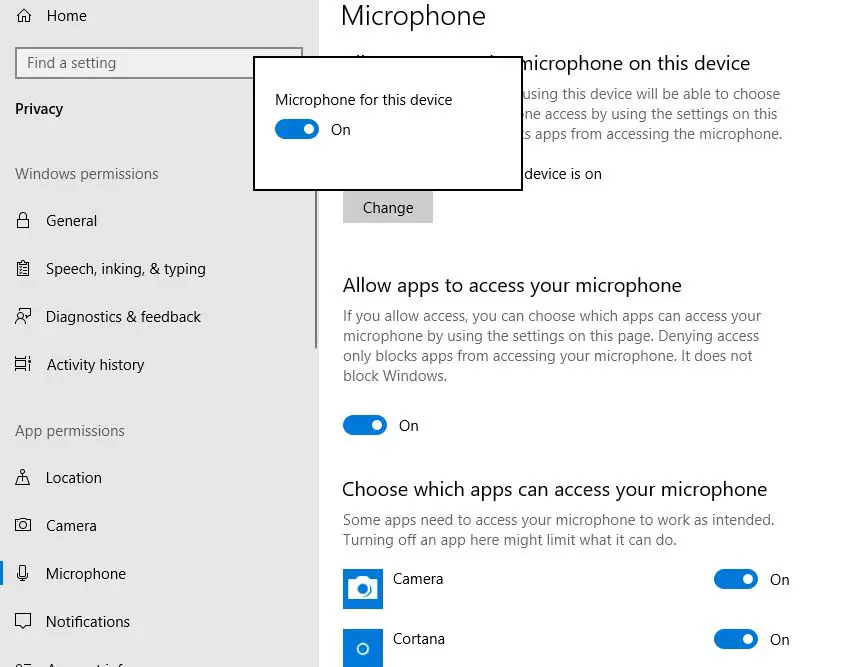 In the list below, you can control microphone access for certain apps individually. Every listed app has its own toggle option which you can enable or disable. Enable it for Skype or other apps which have issues with accessing your microphone, You are done.
Run Audio Troubleshooter
Run the built-in audio troubleshooter, that automatically detect and fix problems causing Windows audio sound problem.
Open the settings app using the Windows + I keyboard shortcut,
Click on Update & security then Troubleshooting,
Click on playing audio and run the troubleshooter as shown image below.
The audio troubleshooter will look for the issues and display the results once the search is completed. Play any audio file to check for sound. If there is a sound, your issue is resolved. Otherwise, click Explore additional options and proceed accordingly.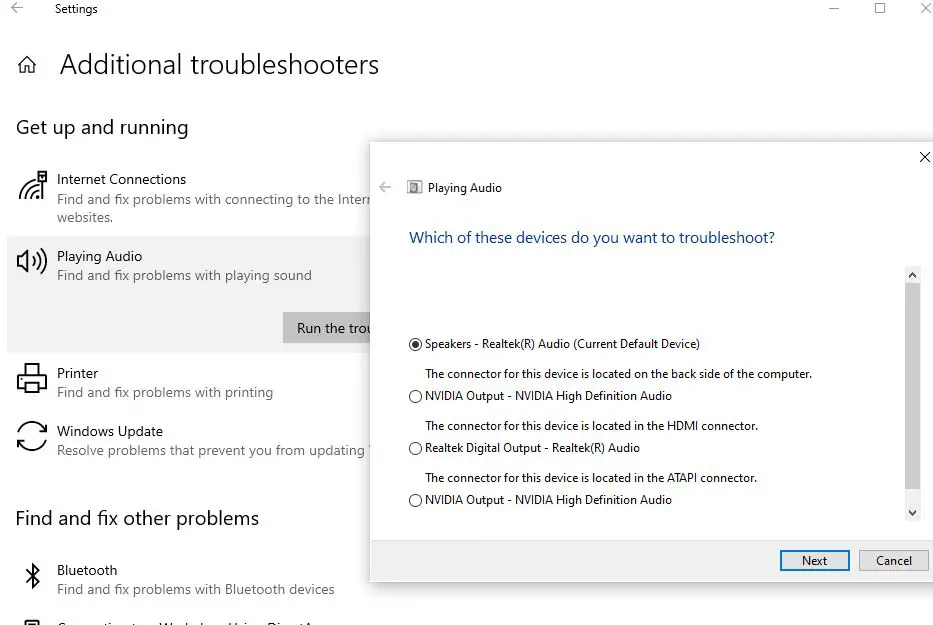 Roll Back Audio Drivers
As discussed before, the corrupted, incompatible audio driver mostly causes no audio sound problems, especially after the recent Windows 10 Upgrade. That causes Rollback or Reinstall the audio driver with the latest version is a beneficial solution.
Roll Back Driver option
Right-click the Start button, select Device Manager
Expand Sound, video and game controllers,
Right-click on Realtek High Definition Audio and select properties.
Here move to the Driver Tab and select the option Roll Back Driver option.
This will Ask for the Reason why you are rolling back the driver select any reason and follow on-screen instructions to roll back the currently installed driver.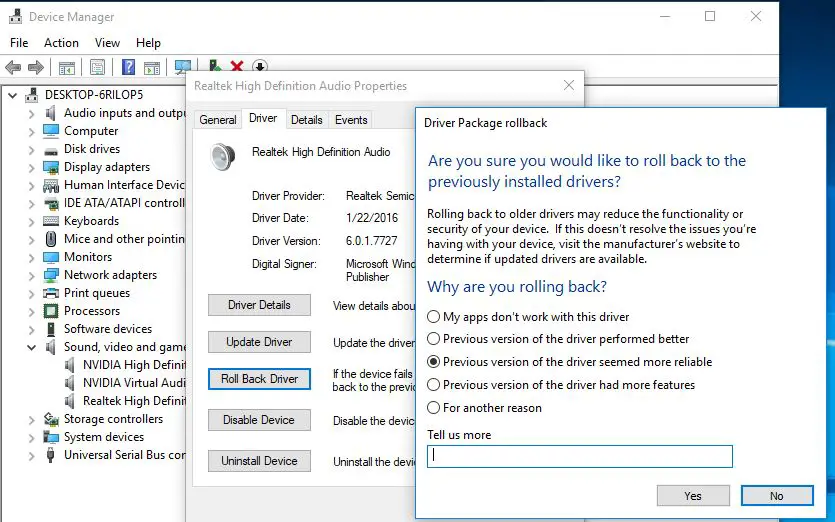 After that Restart windows and Check Audio Sound Worked. If not try to reinstall the audio driver by following the steps below.
Reinstall audio driver
Visit the Device manufacturer's website download the latest available audio Driver and save it. (If you are a desktop user simply visit the motherboard manufacturer website, Or laptop user visit HP, Dell, Acer etc website to download the latest available Driver.)
Again open Device Manager,
Expand Sound, video, and game controllers,
Right-click on Realtek High Definition Audio and select uninstall.
Confirm the deletion message and restart Windows.
Now install the latest audio driver, which you previously downloaded from the device manufacturer's website. Again restart windows and check Audio sound started workings.
Check Default Device
Right-click the speaker icon in the System Tray and select Sounds.
Go to the Playback tab, and make sure your default device is set.
If all the listed devices are disabled, enable them and then set a default device.
Repeat these steps for the Recording tab.
These are some of the best working solutions you may try to resolve Windows audio, and sound problems on Windows 10. However, there is still a small number of users who (recently upgraded to Windows 10 version 22H2) are unable to resolve the problem with these fixes. There isn't any solution as yet and most are fixing it by rolling back to Windows 10.
Also read: