Getting stop code NTFS File System on boot after windows 11 update? This Error code NTFS file system is Related to your Disk Drive and File system problem. Also Corrupted system files and recently installed third-party applications cause different blue screens include Windows NTFS file system error on boot. If you are also struggling with this error here are some of the effective solutions to fix NTFS_File_System Error on windows 10.
Note- solutions listed below are applicable for both windows 11 and windows 10 to fix NTFS File System error.
NTFS file system error on boot
First of all, remove all external devices connected to your PC, that includes printer scanners, external HDD, etc. Now forcefully restart windows and check if windows start normally.
If you are getting stop code NTFS_FILE_SYSTEM on boot, and due to this error Windows won't start normally. We need Windows 11 installation media to access advanced options and perform feature steps. If you don't have to check how to create Windows 11 installation media from here.
Perform Startup Repair
When you are ready with Windows installation media, put it and follow the steps below to first perform startup repair that detects and fixes the problems that prevent windows to start normally.
Restart windows and press F12 to access the boot menu
Select Boot from DVD/CD and press any key to boot from it
Skip the first screen then click repair your PC,
Followed by Troubleshoot -> advanced options
Here a quick video shows how to access advanced options on windows 10
Now click startup repair, When you are an advanced options screen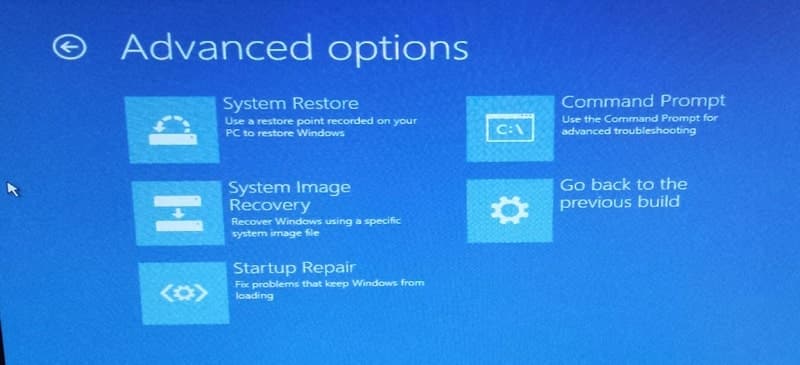 This will restart windows and start to diagnose your system.
During this diagnostic phase, Startup Repair will scan your system and analyze the various settings, configuration options, and system files as it looks for corrupt files or botched configuration settings.
After complete, the process windows automatically restart and start normally.
Rebuild boot manager
If startup repair fails to fix then again access advanced options, This time click command prompt and perform command below to fix and rebuild boot manager.
bootrec.exe /fixmbr
bootrec.exe /fixboot
bootrec.exe /rebuildbcd
bootrec /scanos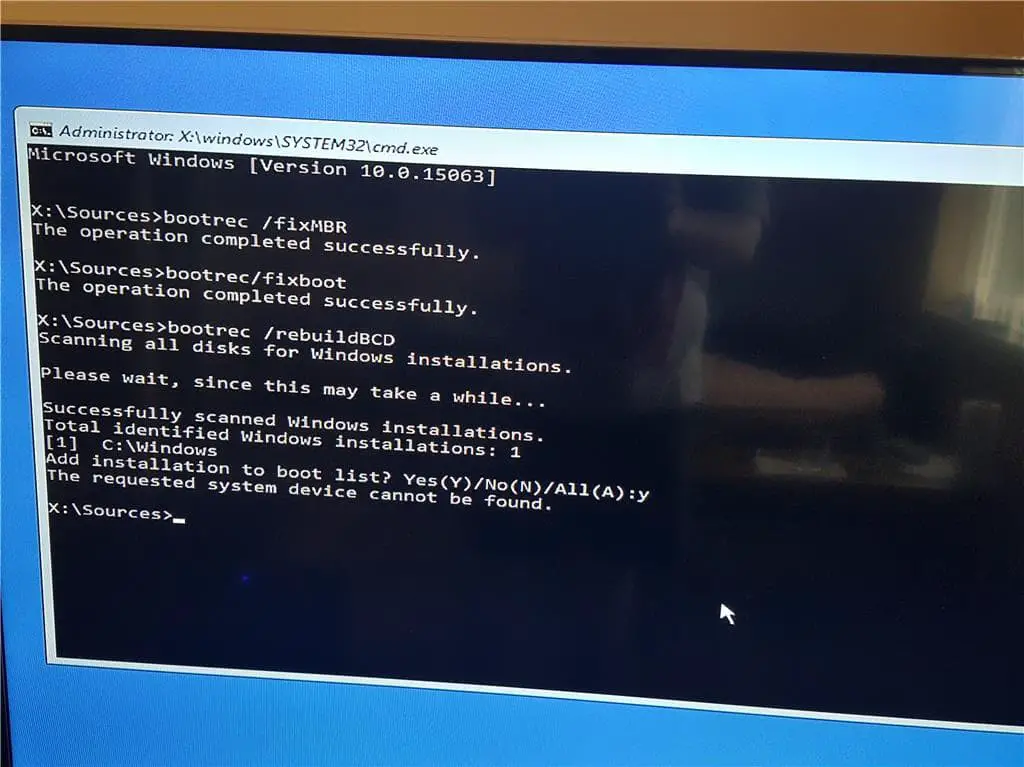 Now restart Windows and check if this helps to fix the NTFS file system error.
Boot Into safe mode
If the above solutions didn't fix the problem, then boot into safe mode, which starts windows with minimum system requirements and allows to diagnose problems.
To boot into safe mode, again access advanced options,
Click startup settings, then restart,
Now press F4 to safe mode and F5 to safe mode with networking.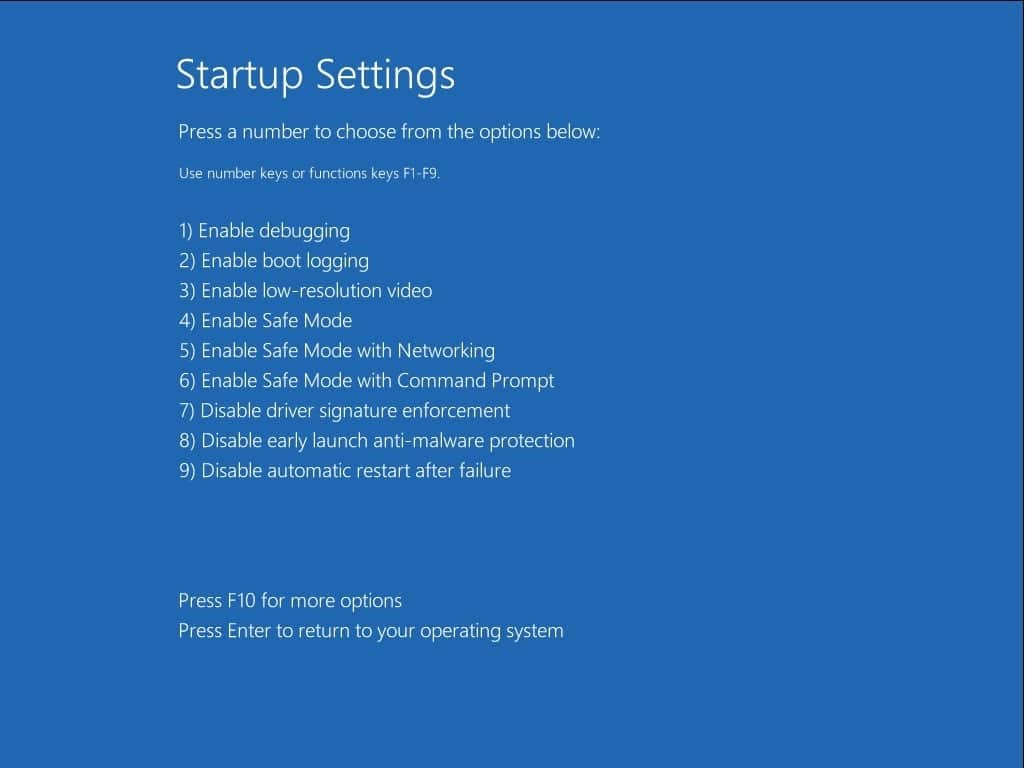 Check Disk Errors
When windows start in safe mode, let's first check the disk drive for errors that may be causing the NTFS_FILE_SYSTEM error.
Disk drive errors can also lead to the NTFS_FILE_SYSTEM error, and you can easily scan for these issues and fix them through chkdsk command.
Open the command prompt as administrator,
type command chkdsk C: /f /r, and ok
Here CHKDSK is short of Check Disk, C: is the drive letter you want to check, /F means fix disk errors, and /R stands for recover information from bad sectors.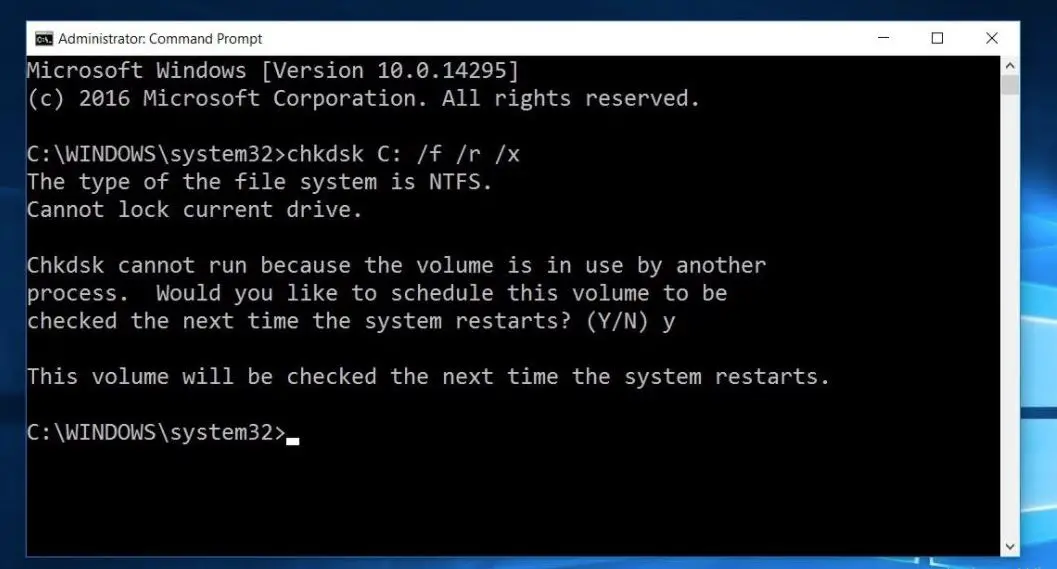 When it prompt "Would you like to schedule this volume to be checked the next time the system restarts? (Y/N)". Answer Yes to that question by pressing the Y key on your keyboard and press Enter.
Then Restart your computer to allow check disk utility to detect and fix disk drive errors.
after complete, 100% complete the scanning process windows restart automatically and start normally.
Check if there is no more NTFS_FILE_SYSTEM error after performing check disk utility.
Run DISM and system file checker utility
Also, run the DISM restore health command and system file checker utility that scan and restore missing corrupted system files and windows image. This may help to fix the NTFS file system blue screen windows 10.
 You can fix it and any other corrupted files using the built-in System File Checker utility (SFC)
Open the command prompt as administrator,
First, run DISM restore health command : DISM.exe /Online /Cleanup-image /Restorehealth
Next run system file checker utility – sfc /scannow 
Restart windows after complete the scanning process and check if this helps to fix NTFS_FILE_SYSTEM error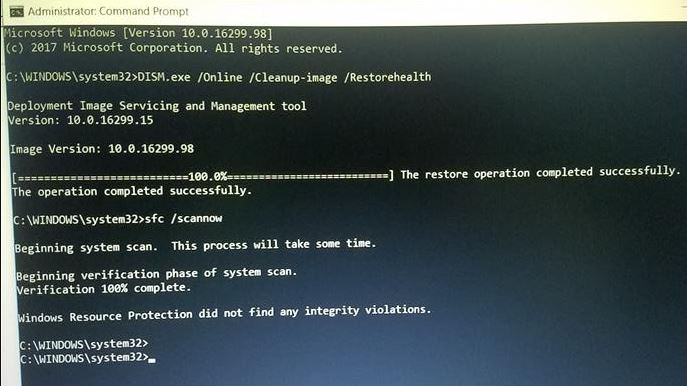 Update device drivers
And the ultimate solution check and make sure all installed device drivers are updated. Or whenever you face Windows 10 BSOD we recommend reinstalling the display driver.
Press Windows + x to open device manager,
Look for any driver's yellow exclamation mark, if fond any update reinstall the driver.
Also, expand the display adapter, right-click on the installed driver software, and select update driver.
Click Search automatically for updated driver software and follow the on-screen instructions.
Restart windows after updating the driver software, and check there is no more NTFS_FILE_SYSTEM error.
Did these solutions help to fix NTFS_FILE_SYSTEM error in Windows 10/8/7? Let us know on the comments below, also read: