On Microsoft Outlook there is a search function that helps to search and find specific emails such as the sender, that date, or folder which is saved. When you type words or email addresses into the search box outlook scan both email messages and any type of attachments for the search phrase and display the matching results. Outlook Search Function is especially helpful for users, have a number of emails on their inbox. But sometimes due to some reason, Outlook search fails to display search results end up with "no search results" For Some other "Outlook search not showing recent emails"
Outlook 2016 Search Not Working

When I'm trying to search something on outlook nothing happens, even if I'm writing whole words it's not working. always says "no search results".
Microsoft outlook search not working
Search results are mostly related to the Windows indexing service that creates an index of files on your computer in order to improve search performance. And rebuild Search index mostly fix windows search problems include Outlook search results. Aside again sometimes corrupted Outlook PST files also cause outlook not responding fails to display search results. Whatever the reason here we have 5 different solutions that helps to fix Microsoft Outlook Search Function Not Working Applicable on Microsoft office 2016/2013/2010/2007 running on Windows 10.
Ensure Windows Search Service is Started
Select "Start" and type "CMD".
Right-click "Command Prompt" then choose "Run as administrator".
Type "sc config wsearch start= auto", then press "Enter". You should get a "SUCCESS" message.
Type "net start wsearch", then press "Enter". You should receive a message that the service was started.
Check Outlook folder is set to Indexing
This is the first thing you must check, the Outlook folder is Set to indexing.
If you are using Microsoft Outlook 2007
Open Tools-> Options-> Search Options… In the Indexing section, you can select which data file to index.
Microsoft Outlook 2010 users
Open File-> Options-> section Search-> button Indexing Options…-> button Modify-> expand Microsoft Outlook. In the list that is shown under Microsoft Outlook, make sure that your pst-file or mailbox is displayed and selected. If it is not listed, you'll have to recreate your mail profile.
And if you are using Outlook 2013 / 2016 / 2019 / Office 365
Open File-> Options-> section Search-> button Indexing Options…-> button Modify. Here, make sure that Outlook is selected. Unlike in Outlook 2007 and Outlook 2010, you cannot specify which mailboxes or pst-files in Outlook to index; You either index Outlook or you don't.
Rebuild the MS Outlook Search Index
If outlook is already check-marked and the folder is set for indexing, But search results not working then try to manually rebuild the Windows search index that helps to fix Outlook search result problems.
Open the Control panel, select the small icon view
Select Indexing Options, then Advanced.
In the 'Advanced Options' window, select the 'Index Settings' tab and click on the 'Rebuild' button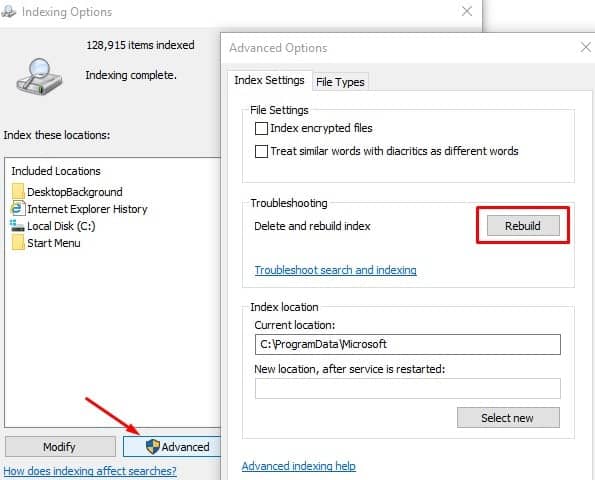 This will prompt a message like the rebuild index might take login time to complete and search results effect until the rebuilding process complete. Click ok and let windows to complete the process for you. After that restart windows, open Outlook and search for something this fixes the problem.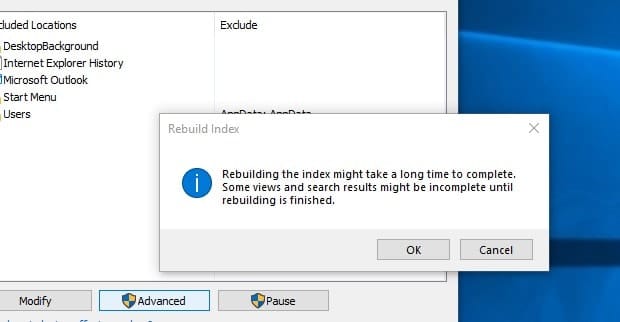 Repair Corrupted Outlook PST File
If the rebuild the Search index didn't fix the problem, then there is a chance the Outlook PST file has error, get corrupted that causing unable to find search results. Run the Inbox Repair Tool (Scanpst.exe) provided by Microsoft that help to analyze and fix errors with corrupted, damaged Outlook PST file.
To Run Inbox Repair Tool, Close outlook (if running) and go to
Outlook 2016: C:\Program Files (x86)\Microsoft Office\root\Office16
Outlook 2013: C:\Program Files (x86)\Microsoft Office\Office15
Outlook 2010: C:\Program Files (x86)\Microsoft Office\Office14
Outlook 2007: C:\Program Files (x86)\Microsoft Office\Office12
Look for SCANPST.EXE file double click to run the Tool.
Click Browse and select the PST file that you want to repair.
Click on the Start button.
This will take some time to analyze and complete the repair process ( it depends on the size of the Outlook PST file.)
After that restart windows and check outlook search working properly.
Note: Outlook PST file mostly located C:\Users\YOURUSERNAME\AppData\Local\Microsoft\Outlook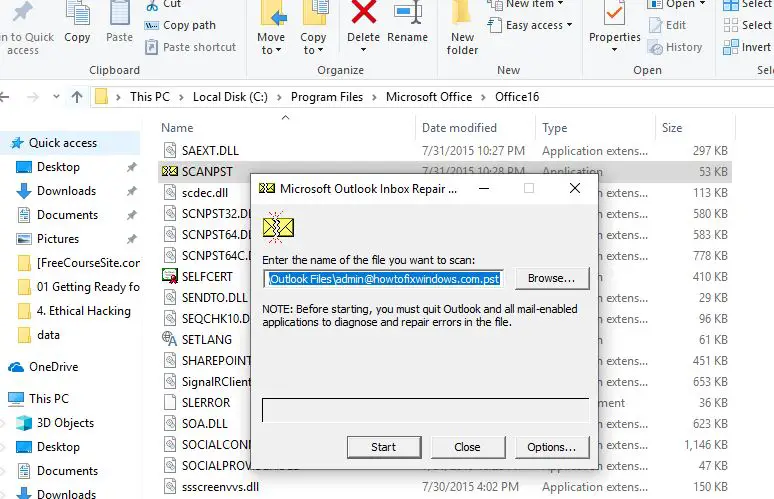 Did these solutions help to fix Microsoft Outlook 2016 Search Not Working problem on Windows 10? Let us know on the comments below, Also read