Come January 2020, Microsoft will no longer be providing technical support, software updates, or security fixes for users who are running the Windows 7 operating system since 2009. While you can continue using your personal computer without these updates, you may be at greater risk of obtaining viruses and malware. With this said users who would prefer to continue editing their photos while staying on Windows 7, are going to need photography software that specifically works with this operating system. Therefore, we have compiled 5 of the best photo editing software for Windows 11. 
PhotoWorks
An Intelligent Picture Editor for Windows 11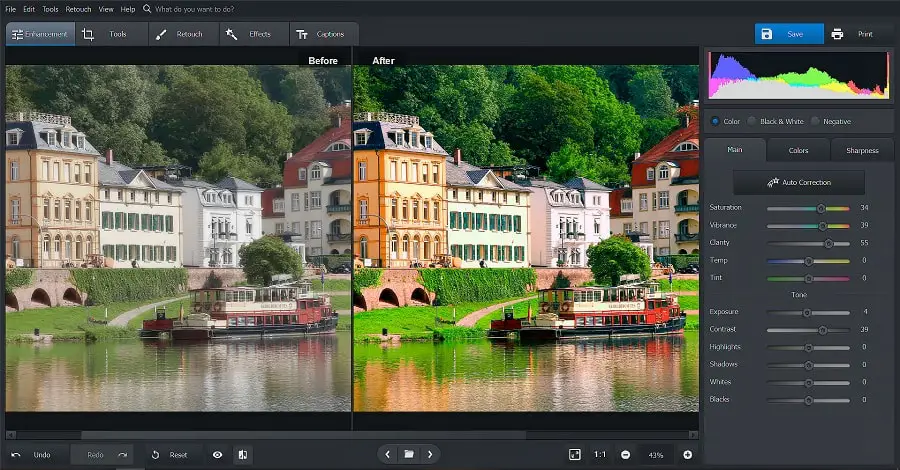 As a photo editor for Windows 11, PhotoWorks provides photographers with a different approach through its image-processing technology that seamlessly blends all of your favorite editing and retouching tools with an easy user interface. Gone are the days of time-consuming photo retouching, as a few clicks and a simple wrist flick will have you sliding your way to stunning shots. 
You can get fantastic headshots with the smart portrait editor, utilize ready-made presets to smoothen out skin, conceal blemishes, add a tab, or remove the glare from a shot. You can change the background, edit objects out of the background, swap the skies, or even add in stylish effects to make your images vintage, retro, or timeless. Simply drag and slide through the options or click through hundreds of effects.
Photoshop
If You Need All the Bells and Whistles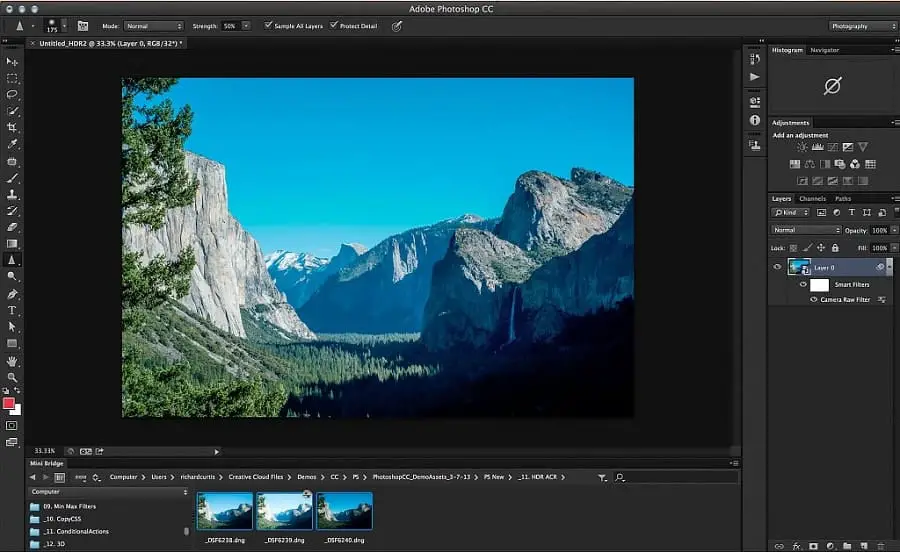 You are likely to come across Photoshop on almost every photo editing software list available because it is well-known and the epitome of professional software. While this is the go-to tool for most, it does have a steep learning curve and is generally only good for those who want in-depth editing options. Photoshop is a picture editor for Windows 11 that has sophisticated touch-ups and retouching tools and a very large number of filters and brushes for those who need to be as detailed as possible. 
The latest release of Photoshop comes with frame tools for easy masking, a content-aware fill workspace that allows you to enjoy an interactive editing experience, and the ability to undo multiple steps with a simple command. Photoshop has multi-layer editing and 3D design functionality as well. 
Lightroom
Short, Sweet and to the Point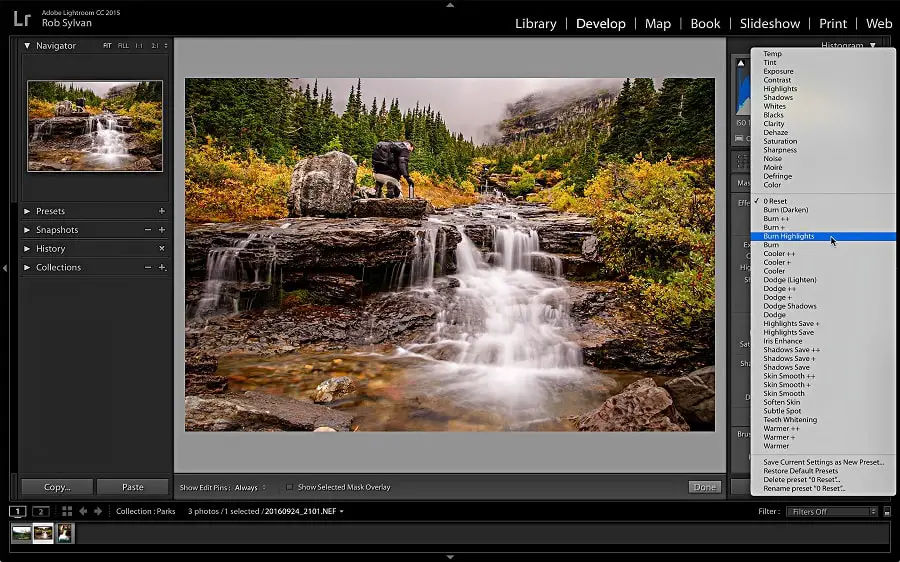 After years of dominating the market, the consensus came in that Photoshop was simply too complex and not beginner-friendly, thus sparking the idea of a straightforward, easy to learn program for the fledgling photographer. Lightroom is now the ideal tool for any beginner who wants to take their hobby just a little bit further than "Point-and-Shoot". 
With a multitude of free tutorials available, users can easily take full advantage of features such as face detection, lens corrections, blurring and focusing tools, filters and gradient alterations. In its most recent update, Lightroom has made color adjustments quick, simple and efficient, replacing its original, problematic system.
GIMP
Free, User-friendly, & Feature Rich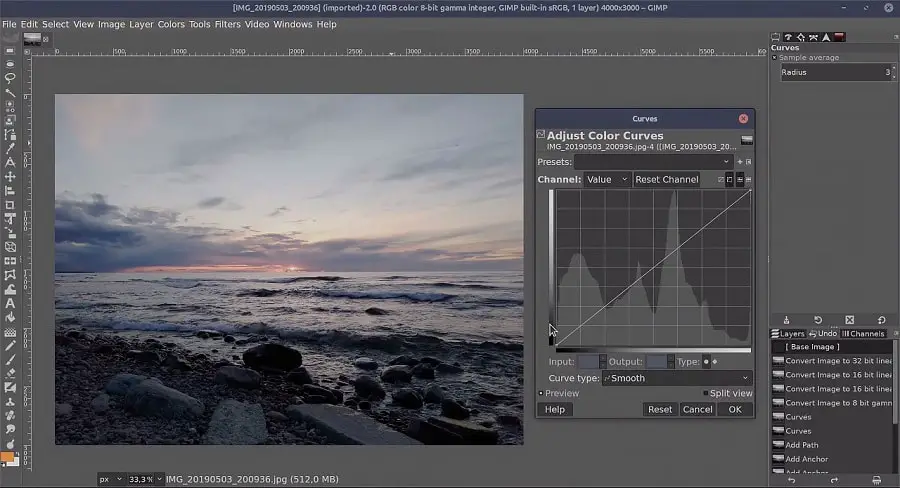 GIMP is one of the oldest image editing programs available for Windows operating systems, with its historical timeline starting way back in 1995. This program is a lightweight program, is open-source and is free across Windows, Linux, and Mac computers. Features include image authority, photo enhancement options, clone and touch-up tools, digital retouching, and optimization modes. It is a fantastic entry-level option for those looking for a photo editor for Windows 11 that is similar to PhotoShop and Lightroom. The most recent update for GIMP was in June of this year which improved the curves tool, added in layer support for TIFF exporting, and provides support for user-installed fonts on Windows computers. 
How to edit photos on Windows 11 with GIMP? Install the software, open it up, and move to where you have your photographs installed. Then simply crop your image, use the navigation menu on the left to retouch and edit your photograph, then export the file. 
PicMonkey
A Complete Graphic Design Package with Editing Options
If you are looking for a photo editing and design software tool all in one, PicMonkey is going to be your go-to program since it allows you to create and design your own media elements while still editing imported or uploaded photographs. With the design section, you are able to create unique digital assets with effects, text tools, and vector graphics, as well as store designs, share image files, and create media in collaboration with others. It has hundreds of templates to choose from for making designs, where you simply click and replace their photography and text with yours. 
PicMonkey's online photo editor for Windows 11 allows you to apply filters, do touch-up work, sharpen and adjust colors, as well as change the exposure of your images. Want a pink fog or better lighting? PicMonkey allows you to adjust this. Beyond this, you can whiten teeth, change hair colors, smooth out skin, get access to over 6,000 graphics and icons, and hundreds of fonts and templates to find inspiration. It comes with a free trial and then charges $7.99 a month. 
Which Software Would We Recommend? PhotoWorks! 
While the photo editing software for Windows 11 on this list is jam-packed with professional features, effects, and retouching options for both beginners and photo editing masters alike, there is one that stands out amongst the rest. We would recommend PhotoWorks to anyone who wants the power of professional editing software without the time requirement needed to complete options like face sculpting, distortion corrections, and portrait enhancements. With 190+ creative effects, presets, and professional tools like curves and tone mapping, you don't miss out on any features that the other programs offer.