In this article we share number of proven solutions for how to fix print spooler errors and problems in Windows 11 PCs.
The print spooler is a built-in service on Windows 11 that organizes printing tasks and queues them up for being sent to connected printers or printing services. If due to some reason print spooler service not started or is stuck running you may experience error The Printer Spooler service is not running or You cannot finish a printing task. A number of users report, Print Spooler Service won't stay running or keeps stopping automatically, and display different types of print spooler errors
"Windows cannot connect to the printer. The local print spooler service is not running."
"Operation could not be completed. The print spooler service is not running."
How to Fix Print Spooler Errors on Windows 11
A printer spooler error is a common error in Windows 11 that usually occurs when the print spooler is overloaded with tasks. Again conflicting with other aspects of the operating system, security suites block the print spooler service or it's being affected by a glitch or bug caused by outdated printer drivers or version of Windows 11.
Restart the print spooler from Windows services probably fix the problem and allows complete print tasks.
Also running the printer troubleshooter scans the system for common print problems and automatically resolves such issues.
Clear print spooler cache files help most users fix the stuck print job or print spooler error in Windows 11
In addition, you need to ensure the latest printer driver is installed, and Windows 11 is up to date.
You can fix the print spooler error by restarting the service or deleting the print queue files
Let's first restart Windows 11, this will clear bugs and glitches on your Windows PC, wipe up memory, refresh all apps and running processes and fix common problems on your PC.
Run the Printer Troubleshooter
One of the more straightforward solutions to fix Print Spooler Errors on Windows 11 is run the built-in printer troubleshooter. It will scan your system for printer and its related issues and try to repair them automatically.
Press Windows key + X and select settings, alternatively you can press the Windows key + I to open settings quickly
Select system in the left panel, then click on Troubleshoot then other troubleshooters,
Now click Run next to the printer troubleshooter option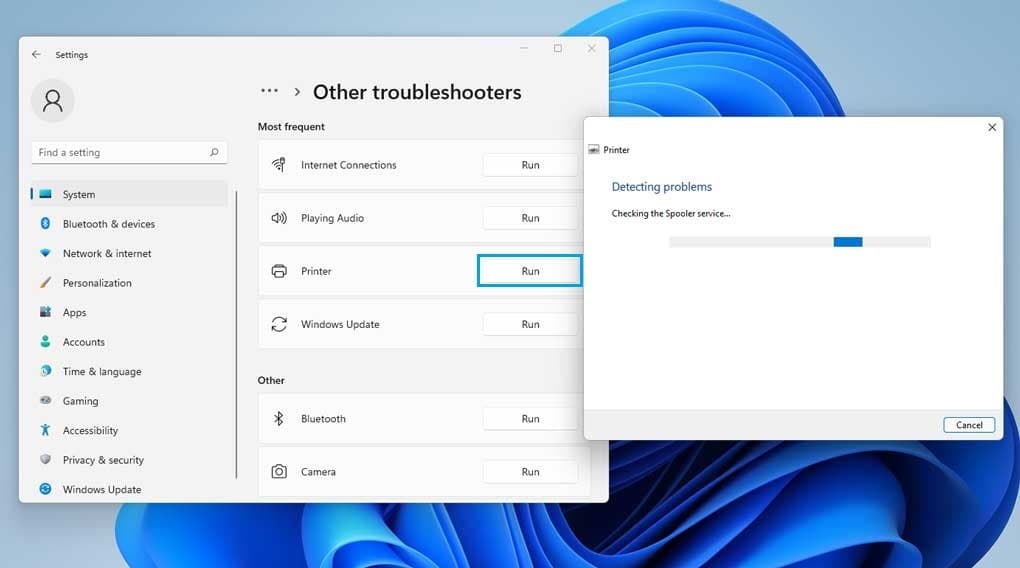 Wait while the troubleshooter identifies and fixes the potential issue with the print spooler service and follow the onscreen instructions.
This will scan your Windows 11 device for printer-related errors and fix them automatically.
Clear Print Spooler Files on Windows 11
Sometimes print spooler errors can trigger due to too many pending or corrupted print jobs. And you need to clear print spooler cache files or corrupt print jobs that could be causing the problem and restart the service to fix such problems on your computer.
To clear print spooler files on Windows 11:
Press Windows key + R, type services.msc and click ok
Locate the print spooler service right click on it select stop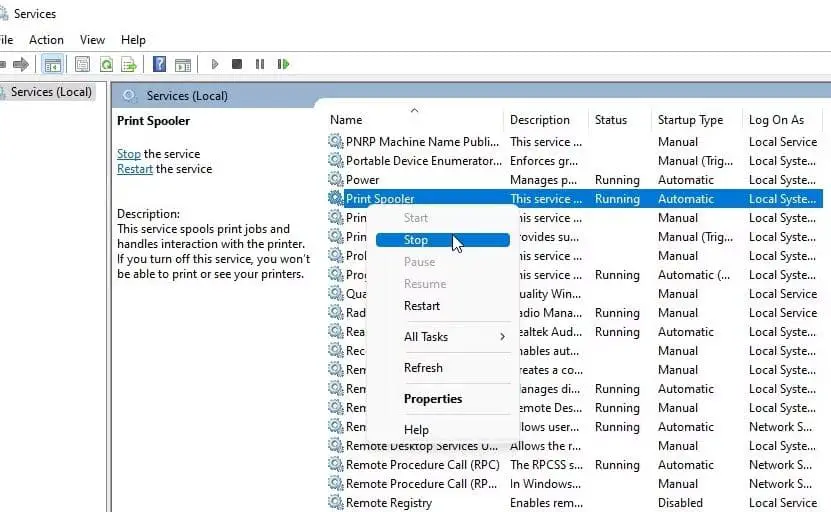 Now press the windows key + E to open file explorer, and navigate to C:\Windows\System32\spool\PRINTERS
Here delete all files in the printer's folder, – do not delete the PRINTERS folder.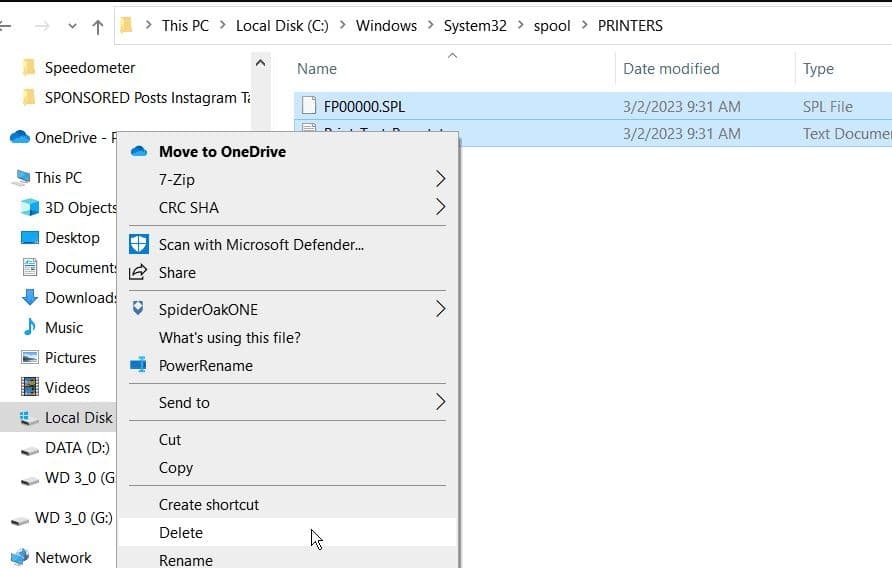 Exit out of File Explorer, locate printer spooler service, right-click on it and select the Start option from the menu.
Now that potentially corrupt print jobs are cleared, start your print job again, and it should work without print spooler errors appearing.
Change

Print Spooler Service startup to automatic
The print spooler service should be set to start automatically when you sign into your PC. But sometimes it may stuck running or not start due to different reasons. Let's check and make changes under print spooler service properties to start the service automatically even if it stops due to some reason.
You can change the startup type for the print spooler service using the Services snap-in.
Press Windows key + R, type services.msc and click ok
Locate print spooler service, right-click on it select restart
Again right-clicks the Print Spooler option, and select Properties.
Set the Startup type to Automatic from the dropdown and click Apply and OK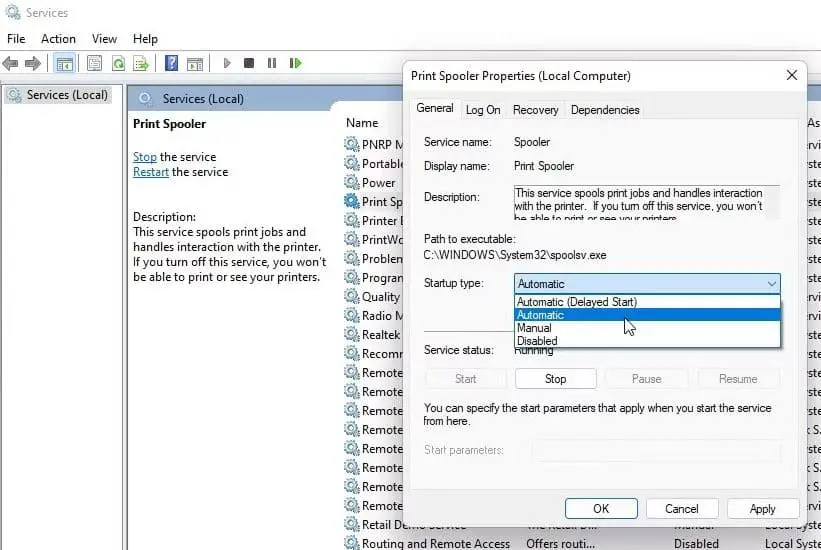 Also, do the same for print spooler dependency services
DCOM Server Process Launcher
Remote Procedure Call (RPC)
RPC Endpoint Mapper
Now try to print some documents from your PC, If you still get a print spooler error, restart Windows 11 and try printing again.
Ensure the Printer Driver is Up to Date
Another way to fix print spooler errors on Windows 11 is updating the printer driver. An old or outdated driver can cause problems with your print jobs, lets try to update the printer driver. If didn't fix the problem then try to reinstall the printer with the latest updated printer driver download from the manufactures site.
To Update the printer driver
Press Windows key + X and select Device manager
Expand the Print queues section, right-click your printer, and select Update driver.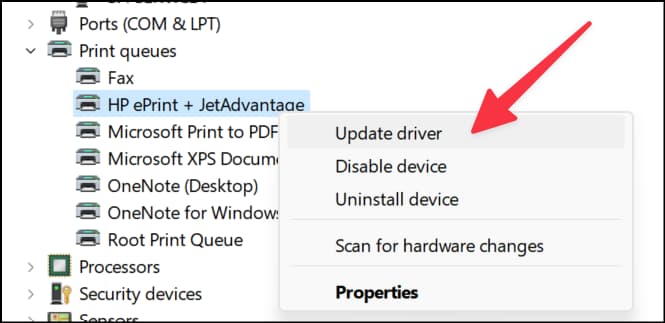 Select the Search automatically for drivers and Windows will scan for an updated driver and install it if available.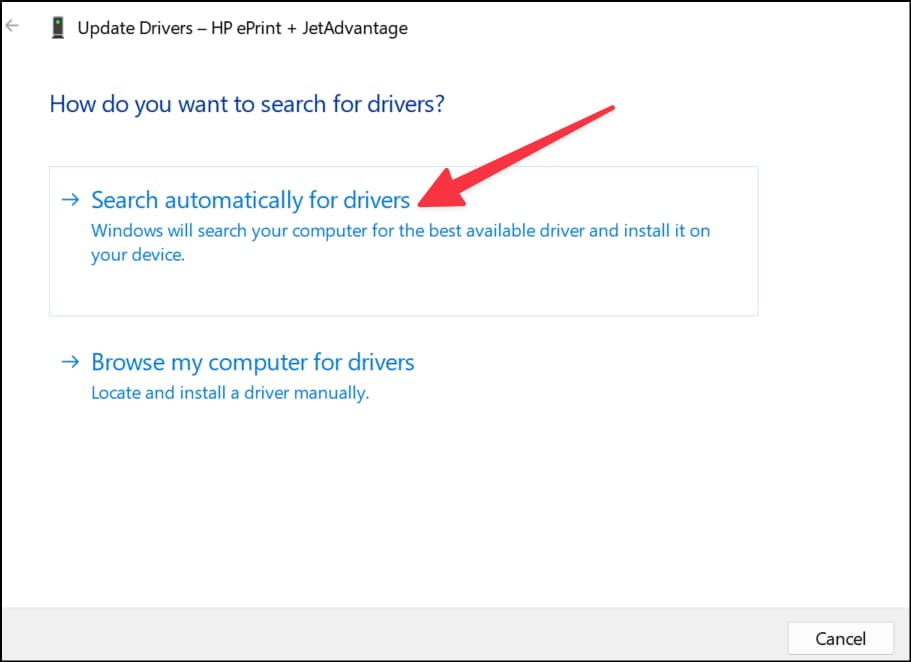 Try to reinstall the printer driver:
Well if the above option didn't fix the problem then try to uninstall the printer driver and perform a clean install of your printer.
This method often solves printing problems, especially if the printer's driver is corrupted
First, disconnect the printer USB cable from your computer,
Press the Windows key + X and select settings
Go to the system then Bluetooth & Devices, and click on the Printers & Scanners option
Now locate and select your printer, click the Remove button in the top right corner
click Yes to confirm the action Once done restart your PC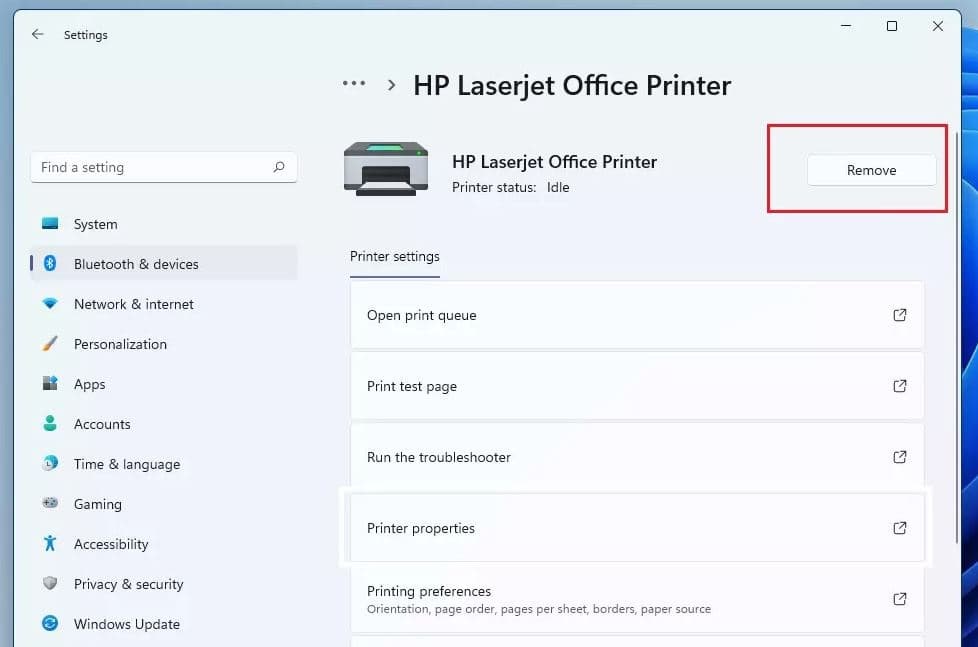 Now connect your printer, then visit your printer manufacturer's website to download the printer driver and install it.
Disable Windows Security Firewall
If you are connected to a Network shared printer or the printer is connected to a Wi-Fi network it may be Windows security firewall preventing the connection resulting in the error. Let's temporarily disable Windows Security and check if this helps.
Press Windows key + S type Windows security then select it from the search results
Select Firewall & network protection option then Click on your currently active network
And finally, Toggle the switch under the Windows Defender Firewall section off.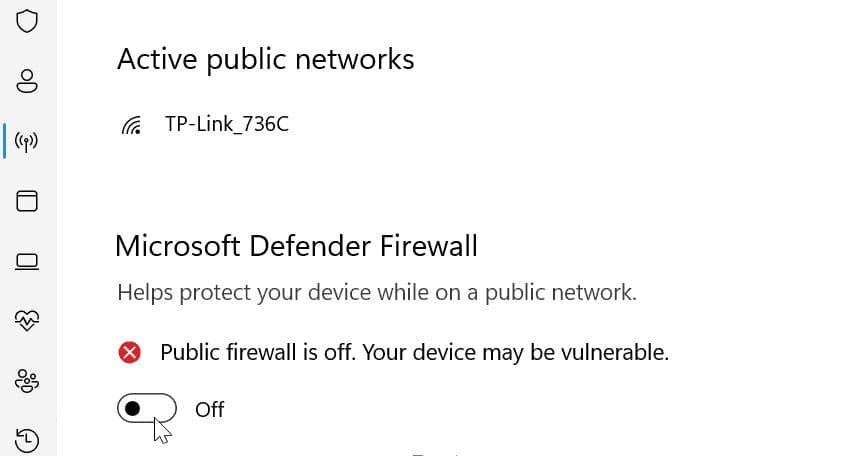 Now try to run the print job causing the error and see if it works. Once complete, toggle the switch back on for maximum Windows Security Protection.
In addition, ensure Windows 11 is updated with the latest security patch that may bring the bug fix for print spooler error.
Did the above solutions help fix the print spooler error on Windows 11? Let us know on the comments below.
How do I fix the Print Spooler in Windows 11?
To fix print spooler errors in Windows 11, run the printer troubleshooter and clear print spooler cache files. In addition, update the printer driver.
How do I enable spooler service in Windows 11?
Open Windows services using services.msc, locate the print spooler service right click on it then select start or restart.
How do I check my Print Spooler status?
Open the Local Services console using services.msc and locate the print spooler service to check its status and start or restart the spooler service.
Is Print Spooler enabled by default?
It's a must-use service for complete printing tasks and is enabled by default in all Windows clients and servers.
Can you print without spooler?
Without the Windows Print Spooler service, you wouldn't be able to print more than one document at a time,
Also read: