Did you come to a situation, Printer not printing continuously, stops printing after 2 or 3 pages, or Sometimes the printer only print one page then hangs until reboot? Here a number of users report the issue on Microsoft forum,
Printer only prints one page then stops

Printer Start printing only one page of a document, even if there are multiple pages. There are no error messages or anything, it just prints one and then stops as if it finished the job.
This problem mostly causes if the print spooler stops responding, Installed Printer driver corrupted and more. Here some solutions you may apply to fix the printer only print one copy on Windows 10, 8.1 and 7.
Run Printer Troubleshooter
Windows itself offers build-in printer Troubleshooter, that checks and fixes problems prevent to complete the printing task. Run the troubleshooter and let windows to fix the problem for you.
Open Control Panel from Start menu search.
From the Small icon view, click on Troubleshooting
Click on View all and Select Printer.
Then click on Advanced, and make sure "Apply repair Automatically" check marked
Click next and let Troubleshooter check and fix the problem for you.
After Complete the process, Restart windows and check now pages printing continuously.
Check Print Spooler Service
If Running printer troubleshooter didn't solve the issue, then Check the print spooler dependency services are running.
Click Start, type services.msc and hit Enter
Scroll down to the Print spooler.
If it's running state, Simply right-click and select restart
If print spooler service not running, Right-click and click properties.
Change the startup type "Automatic", and start the service.
Now click the tab "Dependencies"
Note all of the dependent services listed, and then close the Print Spooler Properties window.
Check these Dependent services running, if not Repeat the above steps to start them.
Clear Print Spooler
Open "Computer" and browse to the below folder and delete all the files in it, "c:\windows\system32\spool\printers"
Do the same to clear the content in the folder "c:\windows\system32\spool\drivers\w32x86"
 Reboot.
Disable Mopier Mode
One of the Users recommend on Microsoft forum, Disable Mopier mode help to resolve the issue "Printer stuck after one page print"
Open the control panel and go to devices and printers, under hardware and sound.
Right-click on your printer (which causing issue) and click on printer properties.
Move to the device settings tab, and scroll down to installable options.
look for an option called mopier mode, disable this option,.
Click on apply and check this helps. Now document immediately printing as the print job is received from the computer.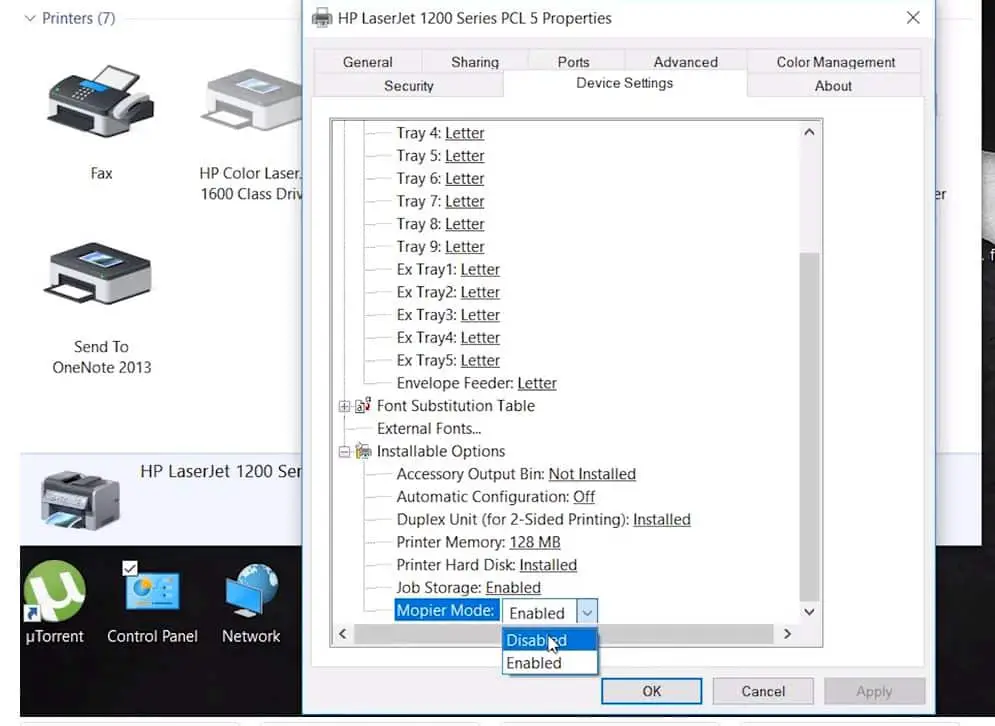 Reinstall Printer driver
If all the above solutions, didn't fix the problem, Reinstalling the printer driver do the magic for you. To do this first Unplug the Printer.
From Windows, search for and open Programs and features
Right-click on your installed Printer driver and Select Uninstall
Than In Windows, search for and open Devices and printers
Here look for your printer if still it listed there right-click on it and choose 'Delete' or'Remove Device'
Now press Windows + R, type printui.exe /s and ok
Under the "Drivers" tab look for your printer name there.
if you see it Click on it and click Remove at the bottom and Select Ok
Select Apply and Ok on the Print Server Properties windows and restart PC
Visit the Printer manufacturer website and download the latest available printer driver.
Now connect your printer via USB cable windows automatically install the basic driver for you to start using the printer.
Or you can run the printer driver, that you downloaded from the manufacturer website.
Now send a print job from your computer. check this helps.
Did these solutions help to fix "printer only print one page then hangs", cant print multiple pages on Windows 10 printer etc? Let us know on comment s below,
Also read