SD cards are tiny storage disks that require minimal space and are highly portable. Hence it is commonly used for the storage and transfer of data, such as documents, images, videos, and other files.
But occasionally you may delete files from the SD card or they just disappear and become inaccessible, and you don't have a backup. This is so frustrating and sometimes causes big trouble.
However, all hope is not lost. You can recover deleted files from SD card with the right method and a reliable tool, which we'll introduce later. But first, let's peruse through why data get lost from your SD card and what you should do after that.
Common reasons for data loss on an SD card
All storage devices are vulnerable to data loss, including SD cards. To retrieve lost data, it's crucial to determine the reasons for data loss and act accordingly. And the below common causes are worth noting.
Virus and malware attacks may potentially delete files and folders secretly.
Accidental deletion of files from your SD card.
If your SD card is corrupted, the directory becomes unreadable and only gives error messages.
Accidental formatting of SD card is another prone cause of data loss.
Hardware issues like having a hard drive that failed may cause data corruption. In this case, it will display an 'access denied' error message, causing your SD data inaccessible.
Physical damages like a breakage on your SD, water damage, spindle seizure, etc.
If the files become inaccessible but the SD card is in proper working condition, you can perform data recovery easily with the method introduced below. However, if the card is physically damaged, it requires a technician to recover lost data.
How to increase the chance of SD data recovery
Meanwhile, keep these in mind to increase the chances of recovery after data loss.
Don't store any new data on the SD card before you recover the lost files, as this will permanently erase the cache.
Switch off and remove the SD card from your device to avert further overwriting of the lost data.
Check to it that you don't reformat your SD card even when prompted to do so as a result of file system corruption.
AnyRecover – Best SD Card Data Recovery Software
When hit with the frustrating situation SD data loss, you should employ the services of the best recovery software, which should have an intuitive user interface and high recovery rate, perform SD card efficiently, and most importantly, is super easy to use.
AnyRecover has all the above qualities, making it a perfect choice for data recovery. And it has more to offer.
Key features of AnyRecover
This SD card recovery tool is trusted by over 500,000 users, and it's all for good reasons. It is compatible with macOS 10.9 to the latest macOS Big Sur 11, as well as Windows 10/8.1/8/7/XP. Besides, it is 100% safe to use, with your data privacy protected.
And when it comes to the functionality of AnyRecover, you will be amazed.
AnyRecover will recover lost data on any kind of storage medium, which includes flash drives, SD cards, memory cards, external and internal hard drives among others.
Get to recover over 1000 different formats such as audio files, zip archives, images, office documents, videos, and much more.
It can recover data from formatted SD card, lost partitions, emptied recycle bin, computer crashes and many other critical data loss cases.
How to Perform SD card data recovery with AnyRecover
You don't have to panic when you experience SD data loss. AnyRecover works efficiently to recover deleted files from SD card in as easy as 1-2-3 steps as follows.
Download AnyRecover and install it
You'll get AnyRecover for both Windows and Mac versions. Just download it from the official website and install it by following the instructions, it takes only a few minutes.
Select a location to find data
You then need to select a location to begin finding your lost SD data. Connect your SD card to the computer and choose it under the 'external removable devices' section, then hit the 'Start' button. The program will commence scanning for your lost SD files.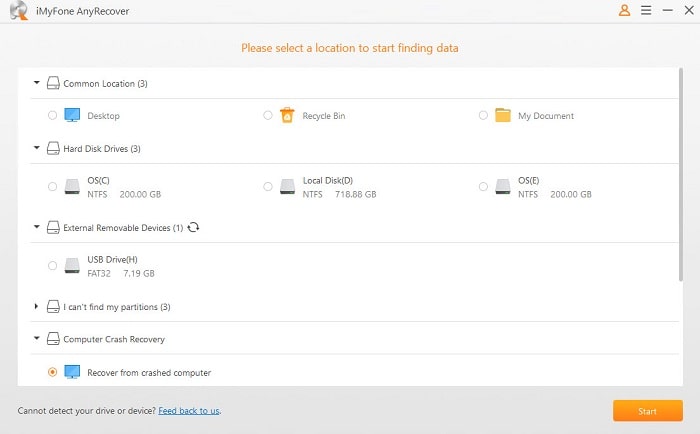 Scan SD card
AnyRecover will begin an all-around scan of your SD card. The scanning duration will depend on the volume of files within the SD card. Once it is done, all the recovered files will be availed in their original file types. It's easy to sort out your files before you recover them.
Preview and Recover your files
Once the scanning process is complete, you can preview your files by double-click them before you recover them. Click the small checkboxes against each file that you wish to recover. When certain, hit the 'Recover' button. Then save your recovered files to the computer. You can also use other external devices to save your files.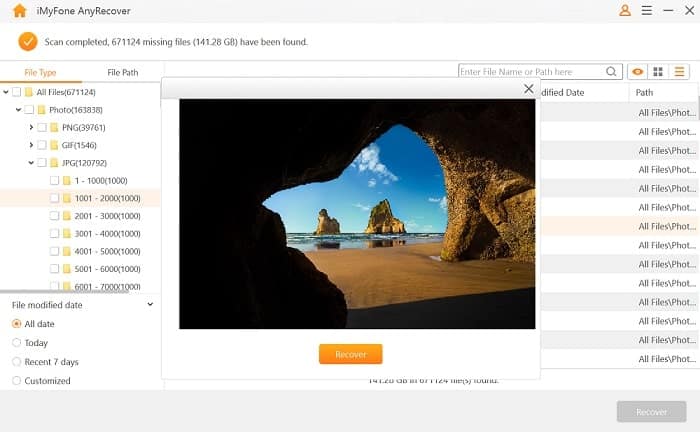 Tips to Prevent Data Loss from an SD Card
Numerous scenarios lead to SD data loss. It is, therefore, vital to know how to avert further losses in the future.
Avoid factory resetting your device as this may wipe out data from the SD card.
Keep a habit of backing up your data such that when it's lost from the SD card, you can get a copy from your backups.
Keep your SD card safe from external and physical damages like breakage.
Avoid interruption of any data transfer process. Just wait for it to finish the transfer before ejecting the SD card.
Ensure you properly eject your SD card via 'Safe Removal' to avoid data corruption.
Keep in mind that your SD card is safe from virus attacks. So, ensure scanning it to remove any malware for safety.
Conclusion
Losing files from an SD card is a big nuisance, especially when you store huge volumes of important data in it. But now you can quickly recover deleted files from SD card by yourself via the most reliable recovery tool – AnyRecover.  In a few simple steps, all your lost data will be back. And always remember to keep a backup of your important data!
Also read: