Have you ever come to a situation, where you have accidentally deleted something important and you have to get it back? Or Due to OS corruption or virus infection your important files missing from your PC. These situations are very painful right When there is no backup of lost data. Well, accidents are bound to happen, and losing data from a hard drive becomes inevitable at times. But you don't have to worry about this, Here in this post we have the right solution to 100% recover your important data. Yes, you are right, with help of Remo Recover you can easily Recover Data from crashed OS, Formatted partitions. Also, restore pictures from memory cards and Digital cameras, Find data from a formatted USB drive and Recover missing files from memory cards and more.
About Remo Recover
Remo Recover is easy to use data recovery program for Windows, Mac, and Android that offer 100% data recovery from accidental deletion, formatted, virus-infected drive with easy and simple steps.
The application is capable to recover data from RAID drives, formatted windows, re-formatted partitions, RAID drive partitions, external hard drives, flash drives, cameras and much more. Also recover data Even after a clean Windows reinstallation or deletion of partition, which supports almost every file system including FAT16, FAT32, NTFS, NTFS5, ExtFAT and more.
Remo Recover offers a Free trial or demo edition that only allows scan and recovery 1GB of Data. If you have accidentally deleted a small amount of data, download the free version and get the job done quickly.
If you have more than 1GB data to recover, the company offers Two different editions you have to buy as your requirement.
The Basic Edition (Remo Photo Recovery Software) supports Recover all types of files, Photo, Video, and Audio even RAW photos taken from a digital camera and even recover files from emptied recycle bin or Shift+ Del.
And the Pro Edition combines everything that the Basic edition does and adds enhanced support for recovering lost data from accidentally formatted partitions, lost/missing partitions or when a partition is corrupt, formatted, re-partitioned or deleted.
Features
The Remo recover is a complete data recovery package, that you need to Get back your lost formatted Data.
Offers the fastest recovery of data from simple data loss situations like file deletion, and emptied Windows recycle bin.
Allows you to recover permanently deleted or lost data files from your Windows computer or any other external storage devices.
Recovers data from hard drives, USB external drives, memory cards, SD cards, pen drives, thumb drives, FireWire drives, iPods etc.
The Remo data recover Pro Edition is capable to Recover data after a Windows OS crash due to a power surge, improper shutdown, file system corruption or bad sectors
Supports data recovery from FAT, exFAT, and NTFS file systems. Furthermore, you can make use of this application to retrieve formatted partitions after Windows OS reinstallation, files lost during file system conversion, resizing partitions, transfer, etc.
Also capable to Recovering files from formatted partitions and deleted / corrupt partitions from a RAID0, RAID1 and RAID5 array.
How to Recover Deleted Data using Remo recover (pro)
The Application is really super easy to use, with a clean user interface and clear instructions for anyone without technical knowledge use and Recover data with Three easy steps simply Launch the software Then Scan the device Where you lost data and recover the data. Let's see Step by step how to install and use the product.

First of all download Remo recover (Windows) from the official download page here. And run the Setup.exe to install the application.
After completing the installation process, when you Launch the software you notice a clean UI representing the Home screen.
If you have purchased the product use the license key to activate the product that unlocks the advanced options. Or you can continue with the Free trial.
Select the drive from which you are looking to recover deleted or lost files and click Scan.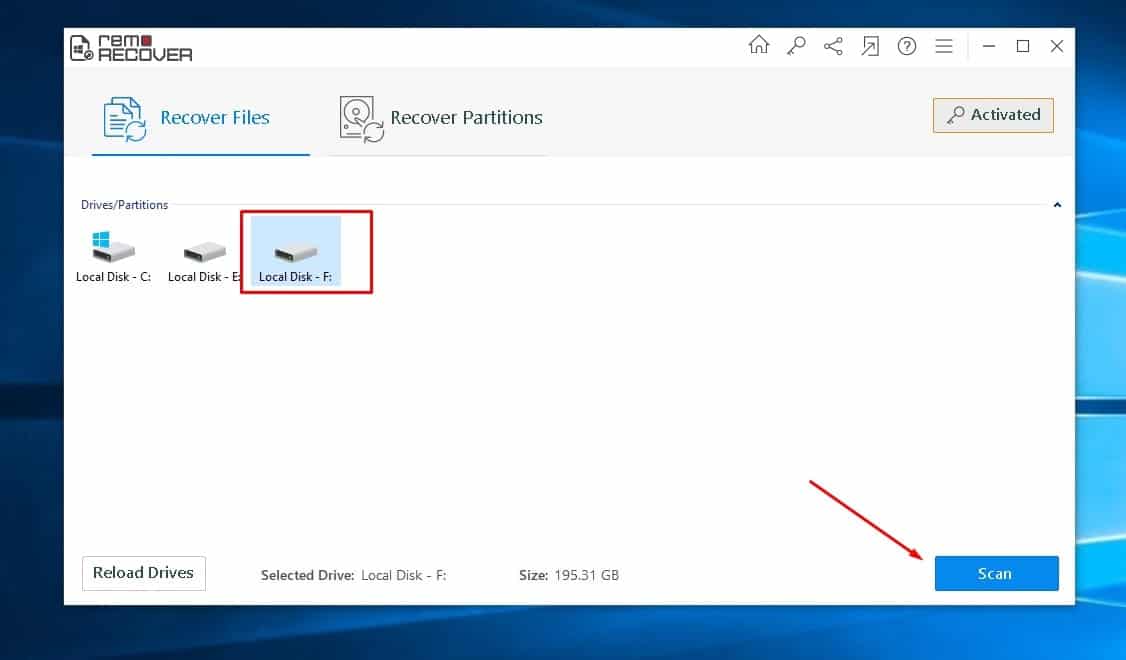 Wait a few minutes to scan and retrieve lost data.
After a quick scan the software display the existing and deleted data in File Type View and Data View. If you are not satisfied with the scan results you can perform Deep Scan, which performs an advanced scan based on file signature to scan for deleted, corrupted, and overwritten files.
Note: the deleted files and folders will have a Red X mark that distinguishes between existing and lost data.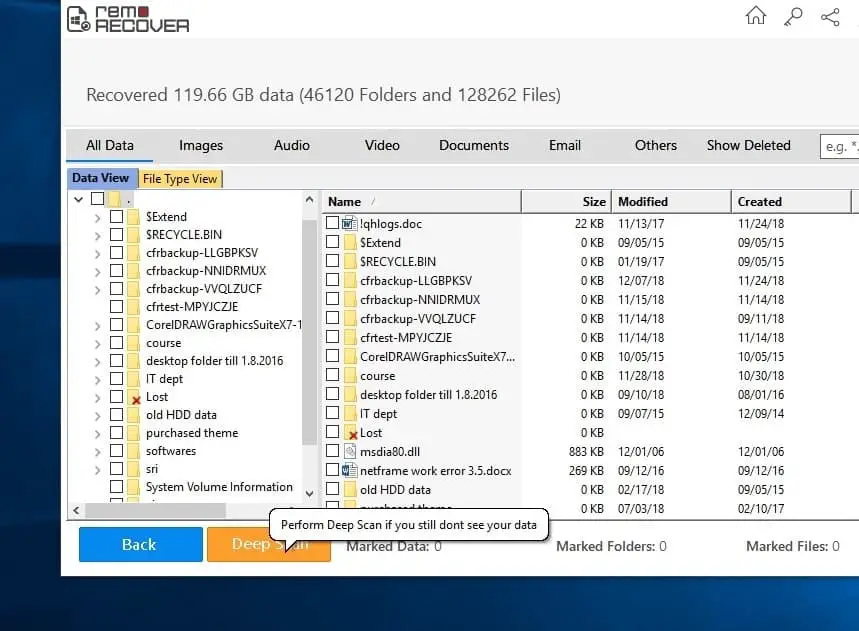 Here The files are categorized based on the file types, And there is option "Show deleted" to only display the deleted and lost data.
Select the file type you looking for recover, and yes the software offer preview of photo, music, or video that helps to recover the exact data you looking for.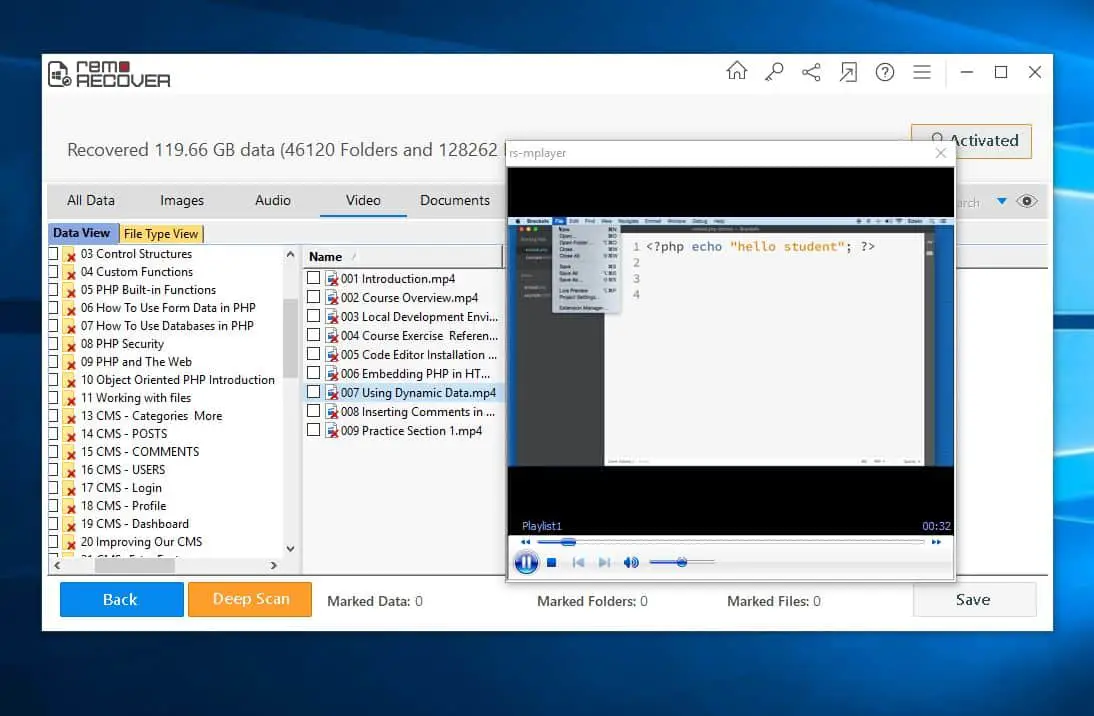 Then select the files you wish to recover and click on Save. Select the location to save the recovered data. For Better results "Do not save the recovered data to the same drive from which you are trying to recover"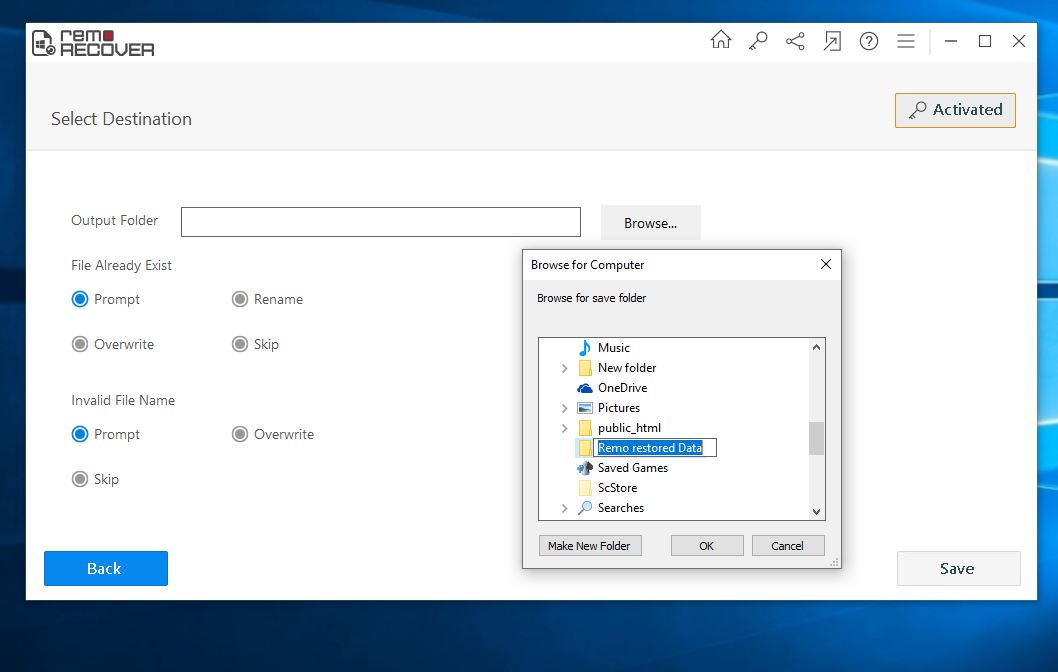 When you click on Save the application quickly restores your deleted data.
Note: Recover time depends on the size of the Data you try to recover.  We have selected 5 video files of 732 MB and the recovery process takes only 23sec to complete.
Once the saving process completes, the software opens the location where the recovered data is saved.
Overall Remo Recover (Windows) is a great software if you need to recover something that's lost by accident deletion. You can not only recover lost or deleted files but also files from deleted partitions, formatted partitions and even after clean Windows reinstall. Download and test the Free edition before deciding to purchase the product. If already used the product do share your experience in the comments below.
Also, Read