Which is the most secure and safest web browser for your computer, Google Chrome, Mozilla Firefox, or Microsoft Edge? Its quite complicated. Microsoft claim Edge is fast and secure browser, Google says Chrome is the most popular and safest browser and Mozilla Foundation says Firefox is the best and most secure browser. But the answer is no single browser is bulletproof, and you need to put some effort to make sure your favorite browser is as secure as possible. Here we have some tips apply to enhance your browser's security and be hackproof.
How to Increase Web Browser Security
The following tips help improve your browser security for Safer Web Browsing in Google Chrome, Microsoft Edge, and Mozilla Firefox.
Keep your browser software up-to-date.
Review your browser's security settings and preferences.
Block ads and third-party trackers.
Use different passwords on every website
Restrict access to your location, camera, and microphone.
Turn on Send a Do Not Track request.
Keep your browser updated
Most popular browsers like Chrome, Edge, and Firefox receive updates on a regular basis with the latest bug fixes, including new functionality and most importantly patch security vulnerabilities. And to make your web browser experience safe and secure the first thing you need to ensure the web browser you are using is updated. An updated version of web browser not only brings new features and the latest bug fixes but also prevents cybercriminals from taking advantage of the security vulnerabilities your current version may contain.
If you are Google Chrome or Microsoft Edge user just open the browser type chrome://settings/help in the address bar then press enter key to check and install the latest updates.
Firefox users, Click the 'More' overflow menu icon in the top right corner of the browser, Click Help > About Firefox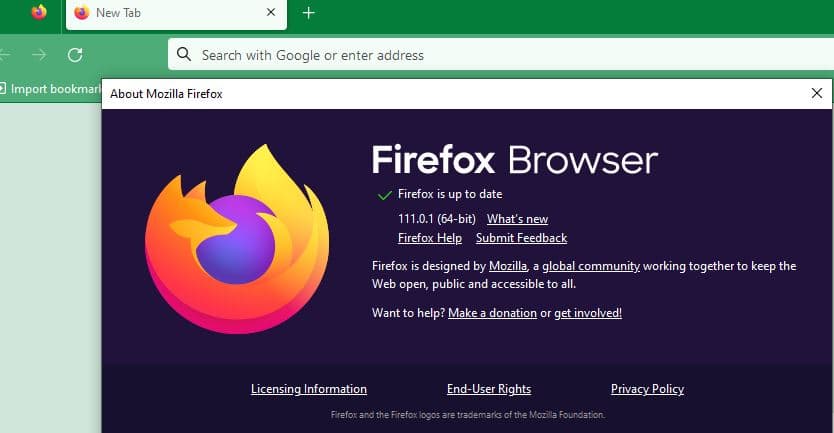 Check privacy settings
Configuring your browser privacy settings is crucial to secure the browsing experience. Most browser settings by default expose your personal information, and you need to look at this and lock it down.
Configure your browser to Restrict access to the microphone, camera, and location, Let your browser prompt permission to access these features.
Select Do not track option to the prevention of websites from tracking your internet activity
Delete the cookies and disable third-party cookie access after a browsing session.
Let's disable the automatic download
If you are Microsoft Edge user or Firefox user, under the privacy and search option change the tracking prevention/protection to Strict.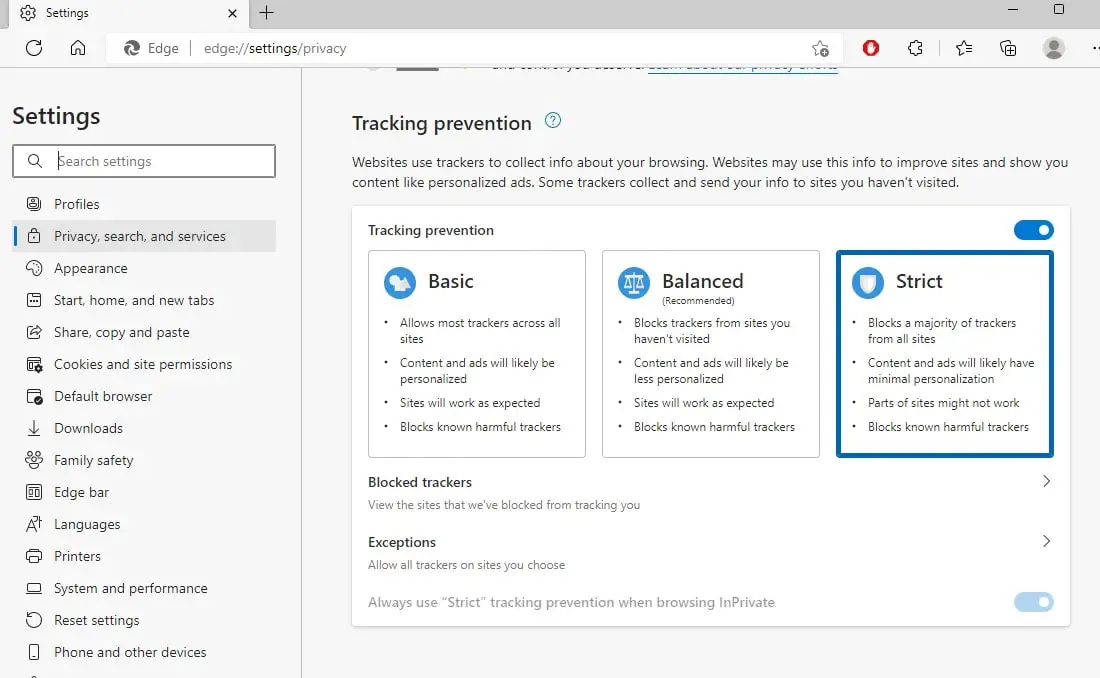 Be cautious when installing plug-ins
Browser Extensions extend the functionality of web browsers But sometimes malicious browser extensions put you at risk. Some Chrome extensions can change service or ownership without notification to users. be conscious of installing a malicious web browser extension always pick the one that has been around for a while and has received many positive reviews.
The majority of plug-ins and extensions are safe, however, and some can help bolster your browser's security some of them include.
HTTPS Everywhere encrypts your data on most major websites
Adblock Plus prevents ads from popping up on your videos and pages.
Click and Clean erases all private data such as cache, browsing history, cookies, form data, local storage, and passwords.
Privacy Badger works to block invisible website trackers automatically.
Disconnect blocks hundreds of invisible tracker requests inside your browser and apps, increasing page load times
In addition, avoid shortened links open especially those embedded on social media Twitter or Facebook, Because shortened links have been known to mask malicious links. If you're unsure of a shortened link, copy and paste it into the search box at LongURL.org. You'll see where the link would take you, without having to actually click through to the site. LongURL.org is also available as a Firefox browser extension.
Use a VPN while browsing
Also, consider getting a VPN extension that not only Disguises your location and IP address but also encrypts your data so no one can track you on the internet. VPN connection establishes a secure connection between you and the internet and all your data traffic is routed through an encrypted virtual tunnel.
A VPN Disguises your IP address and location and makes it seem that you're located in a different country than you really are. So you can't be tracked by your ISP (Internet service provider), Search engines and websites.
With VPN connection when you visit web pages all data packets are hidden inside additional packets, so your data moves in a private "tunnel" over unsecured networks.
And most importantly VPN encrypts your web traffice with military grade encryption, so your data is virtually impossible to hack by outside forces. It's vital when browsing over public Wi-Fi.
Thus using VPN makes it harder for third parties to break in and steal your data and ensure your privacy and security.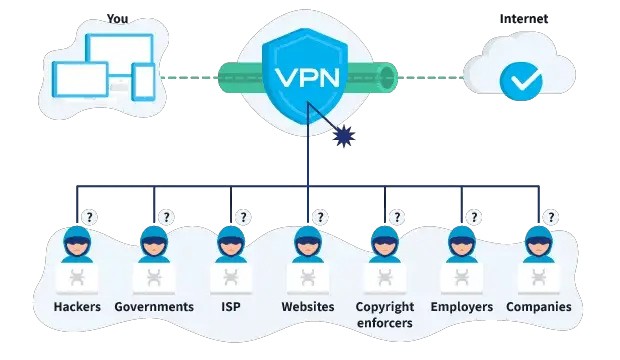 Disable the Autofill Feature
The purpose of the Autofill feature is to make your life easier by automatically populating form fields with previously-entered information, such as addresses, passwords, and credit card data. But this feature make it way too easy to fill in sensitive information in a form created by malicious code, hackers or cybercriminals. Also this saved information can be retrieved by anyone with access to your computer. Hence the Autofill feature outweighs the web browsing security risks associated with it we recommend disable it.
Firefox: Open Settings > select the Privacy & Security panel > find the Forms and Autofill section > turn off the Autofill addresses feature.
Edge: Open Settings > select the Profiles tab > open the Personal info category > turn off the Save and fill custom info feature.
Chrome: Open Settings > select the Autofill tab > turn off all autofill options.

Delete Unwanted Cookies
Cookies are small blocks of data where websites save information about each user's session to offer personalized experiences. Some websites also use a special type of cookie, called tracking cookie, to track user's web browsing habits. To prevent cookies from tracking you and compromising your privacy, you should delete all cookies except for those that are associated with websites you regularly visit and trust.
Firefox: Open Settings > select the Privacy & Security panel > navigate to the Enhanced Tracking Protection section > choose Always under Send websites a "Do Not Track" signal that you don't want to be tracked.
Edge: Open Settings > use the search bar to find the Send "Do Not Track" requests option > enable the option.
Chrome: Open Settings > navigate to Privacy and Security> go to Cookies and other side data > enable the Send a "Do Not Track" requests with your browsing traffic option.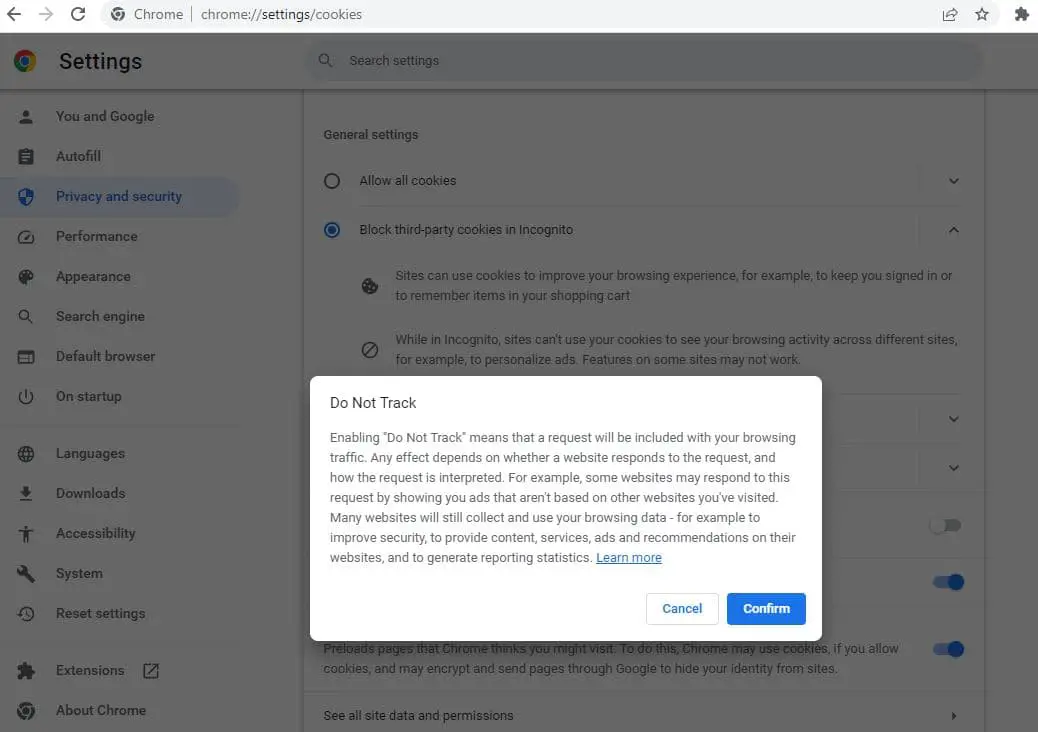 Also, An extension like Click&Clean makes this easy, but all major web browsers come with a cookie manager, so you don't really need a third-party extension.
Enable HTTPS-Only Mode
HTTPS (Hypertext Transfer Protocol Secure) is a web protocol used for secure communication over a computer network, typically the Internet. Virtually all reputable websites these days use HTTPS to encrypt data in transit, and major web browsers make it possible to enable HTTPS-only mode to help users avoid unsecured sites.
Firefox: Open Settings > go to Privacy & Security > find the HTTPS-Only Mode option > enable it > restart your browser.
Edge: Go to edge://flags > enable the Automatic HTTPS flag > restart your browser.
Chrome: Open Settings > go to Privacy and Security> click Security > enable the Always use secure connections option > restart your browser.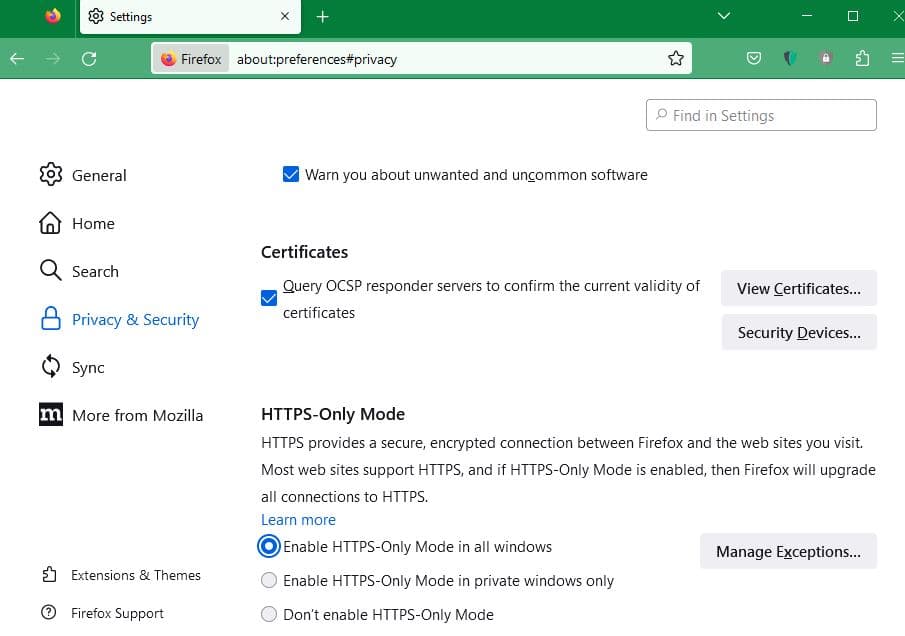 Potentially unwanted programs (PUPs) can slip past when you install any sort of software. These little buggers can switch browsers on you without warning and you might never even notice. Its recommended install antivirus program installed is one of the best ways to keep PUP from hijacking your browser and ruining your day.
In addition, Browsing in incognito or private mode does not give you total privacy, but it prevents your browser cache, cookies, form data, and web history from being stored after a browsing session it means the next person use the browser cannot access your browsing activities.
Also read: